Tesla Cybertruck – The Luxury Pickup Truck Of The Future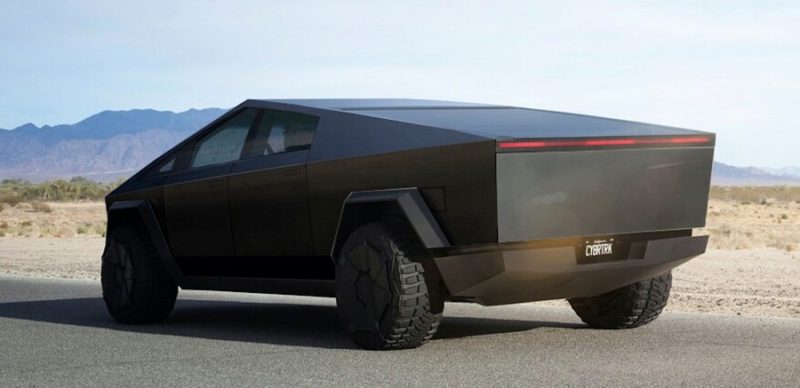 Automotive enthusiasts were treated to a rather interesting unveil of the Cybertruck by Telsa's CEO, Elon Musk. The Tesla team had managed to keep everything under wraps ahead of the unveil despite a lot of anticipation surrounding the car. On the 21st November, a visibly eager CEO took to the stage to announce the arrival of the Tesla Cybertruck.
Once the Cybertruck was driven on to the stage, it elicited mixed reactions. Many wondered whether it was a prank of whether that was really the car they had waited so long to see. The Cybertruck looked like a concept car for another more conventional car. However, based on Elon Musk's track record, this weirdly shaped car doesn't come as a surprise.
Even the much-beloved Tesla cars had to take some getting used to. This seems to be the case with the Cybertruck as Elon Musk doesn't shy away from bizarre designs. This hasn't stopped people from making a mockery of the car.
The angular shape isn't just by accident. The Cybertruck has heavy steel exterior and shatterproof windows which makes it difficult to bend it. However, during a demonstration, a member of Tesla's team threw a metal ball at it and the windows cracked. This was a bit embarrassing for Tesla. There are other more accurate features in the car including a 2-meter long bed dubbed "the vault", a continuous LED light strip at the front and two at the back, a 17-inch center display, a marble-like dashboard and a 6-seater spacious cabin.
If you can ignore the spaceship-like design, the Tesla Cybertruck is actually a really impressive car. Just like other Tesla models, the Cybertruck is fully electric with a range of 400 km to 800 km. This is quite impressive especially for a car of its size. It can go from 0-100 km in 6.5 seconds with a rear-wheel and all-wheel drive option for off-roading. With a ground clearance of 16 inches, the Cybertruck can maneuver through most terrain effortlessly.
Despite these exceptional features, many people predicted that the Cybertruck won't do very well in the market. Elon Musk himself didn't have high hopes for it mainly because most truck drivers don't really care for electric vehicles. Additionally, the target market for electric vehicles might not care for trucks. However, this electric truck continues to outdo itself as it already has over 250,000 pre-orders in less than a week. It looks like there were lots of people who were waiting for it.
There are speculations that this isn't the final product and the car will get some redesigns. If you want to be the owner of a Tesla Cybertruck, it will cost you roughly 40,000 dollars for the base model.
---
If you have a question about this model or any other automotive questions, you can now get answers on our forum.
If you want to sell or trade-in you vehicle, you can list it for free via our seller portal.
If you wish to purchase this model local or abroad, you can do that via our marketplace.