Subaru Tribeca Review
On paper, the Subaru Tribeca ticks all the right boxes for a modern SUV.  It's reliable, spacious and off-road capable but it real life, it performed worse than any SUVs . Even closer home in Kenya where SUVs are popular, the Tribeca is considered an outlier and most people do not even know how it looks like.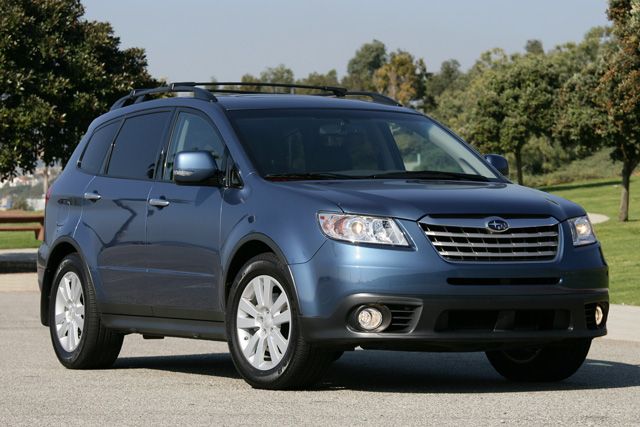 The idea was to build a 7-seater SUV that could effectively compete in the growing SUV market. Things did not go as planned and upon its release in 2005 it was met with immediate criticism for its lackluster design. It was effectively doomed from the start and even a refresh in 2007 could not salvage the situation. It was eventually discontinued in 2014 and it was replaced by the Subaru Ascent in 2018.
First Generation Subaru Tribeca (2005 – 2014)
The Subaru Tribeca was in production for a single generation that comes with two engine options; a 3.0-Litre EZ30 H6 engine and a 3.6-Litre EZ36 H6 engine. These are linked to a 5-Speed Automatic Transmission and available in full time 4WD. The Tribeca is offered in either 7-seater option or 5-seater option.

Subaru Tribeca Interior Features
The Subaru Tribeca is spacious on the first and second rows but the third row is small for tall adults

Subaru Tribeca Exterior Features
On the outside, the Subaru Tribeca is big and comparable in size to the Toyota Vanguard. The earlier version that comes with round bug-eye headlights was not as popular but the later version that comes with square headlights is respectable.

Subaru Tribeca Safety Features
Vehicle Dynamics Control(VDC), SRS Airbags(Chest, Waist, Curtain, and Side), pedestrian protection
Subaru Tribeca Maintenance Costs in Kenya
The Subaru Tribeca comes with engines that are also used in the Subaru Outback and their parts are well available in Kenya Body parts are not easy to find and they can be very expensive to buy locally or to import due to the limited number of these cars.
Subaru Tribeca Reliability
The Most Commonly Report Subaru Tribeca problems are;
Engine Warning Light and Stalling
Loss of Power
Timing Chain problems
Gearbox Problems
Subaru Tribeca Alternatives you can buy in Kenya: Toyota Vanguard, Mazda CX-5, Mitsubishi Outlander, Nissan X-Trail
Price of the Subaru Tribeca in Kenya and where to buy it: https://cars.topcar.co.ke/vehicles/subaru
Import the Subaru Tribeca in Kenya: https://topcar.co.ke/import-your-car/
Categories:
Cars in Kenya