The Toyota Mirai is a revolutionary Fuel Cell Electric Vehicle(FCEV) that entered production in 2014 and was a global leader in this category. Toyota has completely redesigned it and launched it in early December 2020 with much fanfare. FCEVs run on hydrogen, a fuel that can be obtained from multiple sources. Hydrogen has a zero carbon emission footprint and it's one of the energy sources with minimal impact to the environment.
Though the Mirai is yet to make an entry into the Kenyan market, there is growing enthusiasm with the second generation model due to Toyota's ambition to make it a mass production vehicle. There are barriers to entry similar to those of electric vehicles such as availability of charging infrastructure and hydrogen fueling stations and this will hinder its entry into this market.
Toyota Mirai Engine and Transmission
The second generation Toyota Mirai is powered by  a combination of a 174 HP engine that is powered by hydrogen fuel cell and a 4JM fuel cell powered electric motor which are coupled to a 1-Speed transmission.
Toyota Mirai Interior
The interior is neatly laid out with modern instruments such as a large touchscreen infotainment system and LCD displays. Theres is a large center console with easily accessible controls and buttons. The legroom is excellent on both rows and is comparable in size to the Toyota Mark X.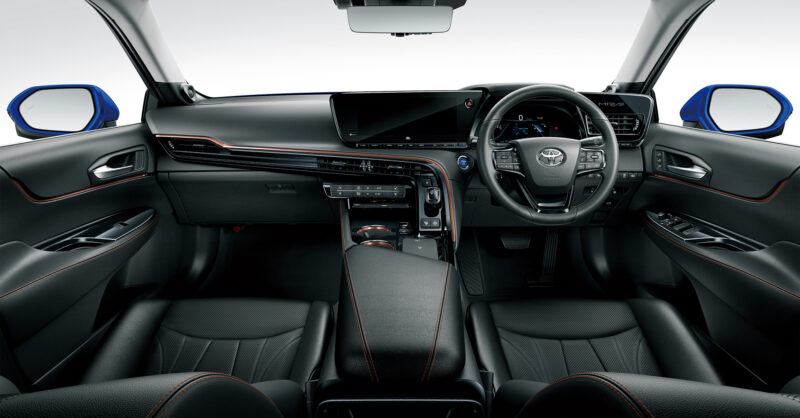 Toyota Mirai Exterior
The exterior has a striking resemblance to the Tesla Model S and its clear that this was a deliberate move by Toyota. Nevertheless, the Toyota Mirai is a well designed car with an aerodynamic form that gives it a sports car posture. You get different features depending on grade.
Toyota Mirai Grades
Toyota Mirai G – This is the entry level grade that is further graded as A Package and Executive Package
Toyota Mirai Z – This is the luxury grade that comes with all the features such as leather seats, 18″ alloy rims etc. Its further graded as Executive Package
Toyota Mirai Availability in Kenya
The Toyota Mirai is currently not available for import into Kenya due to the lack of hydrogen fueling stations.
---
If you have a question about this model or any other automotive questions, you can now get answers on our forum.
If you want to sell or trade-in you vehicle, you can list it for free via our seller portal.
If you wish to purchase this model local or abroad, you can do that via our marketplace.