2013 BMW 5 Series Review
The BMW 5 Series is an executive car that bridges the gap between the smaller 3 Series and the swanky 7 Series. In Kenya, the 5 Series appeals to a corporate and upscale clientele that is drawn to its high-end luxury and uncompromising safety features. It's locked in an eternal duel with the similarly loaded Mercedes Benz E-Class with buyers torn between the two. Both are really excellent cars and a choice between either usually boils down to personal preference.
You can get more about this
Bmw 5-series
Detailed Review
The BMW 5 Series is a timeless classic that has defied the winds of change to remain on top of its class for close to four decades. Even when the competition has floundered, the 5 Series has been setting the trend in terms of technology, luxury and safety since 1975. The blend of comfort and performance makes it one of the most dynamic and refined executive cars in the market today. It faces stiff competition from the Mercedes Benz E-Class, Jaguar XF, Audi A6, Lexus ES and Volvo S90.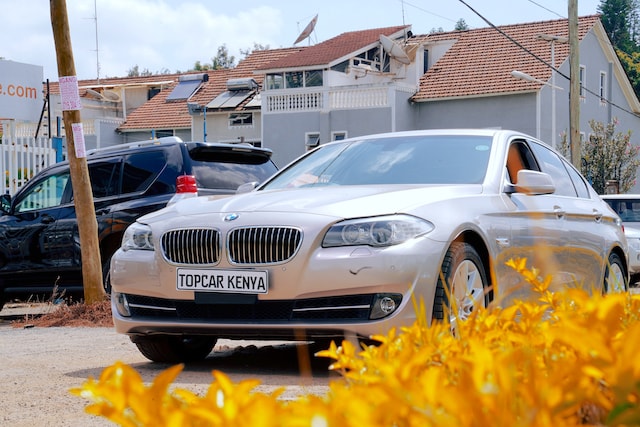 The 2013 BMW 5 Series falls in the sixth generation known as the F10 that was in production from 2010 to 2017. It is offered in saloon and station wagon body styles and comes with a range of petrol and diesel engines. The station wagon is known as the BMW 5 Series Wagon.
2013 BMW 5 Series Engines
2013 BMW 528i – 2.0L, 4 Cylinder, Petrol engine, 240 Horsepower
2013 BMW 535i – inline, 3.0L, Turbocharged, 300 Horsepower
2013 BMW 550i – 4.4L, V8, Turbocharged, 400 Horsepower
2013 BMW ActiveHybrid 5 – inline, 3.0L, Turbocharged, 355 Horsepower
2013 BMW 5 Series Grades
2013 BMW 5 Series SE – 17-inch wheels, customisable driving settings, automatic and adaptive bi-xenon headlights, sunroof, cruise control, auto-dimming mirrors, LED running lights, fog lights, automatic wipers, heated mirrors,  and keyless ignition/entry, eight-way power front seats, driver memory functions dual-zone automatic climate control, split-folding rear seats, leatherette premium vinyl upholstery, power tilt-and-telescopic leather-wrapped steering wheel, BMW Assist emergency communications system, Bluetooth, 10-speaker sound system with a CD player, HD radio, an auxiliary audio jack and USB port.
2013 BMW 5 Series Modern – This adds 18-Inch alloy rims, Dakota Leather Upholstery, Door still finishers illuminated with BMW designation, Exhaust tailpipes with Matt Chrome finisher and Front LED
2013 BMW 5 Series Luxury – This adds 250GB hard disc, BMW Connected Drive, Navigation System, and Voice Control
2013 BMW ActiveHybrid – This adds the 3.0L ActiveHybrid engine
2013 BMW M Sport – 18-Inch M double-Spoke alloy rims, door sill finishers with M designation, headlining, anthracite, M aerodynamic body styling, M designation on front side panels, M sport multifunction leather steering wheel, M Sport suspension and sports seats.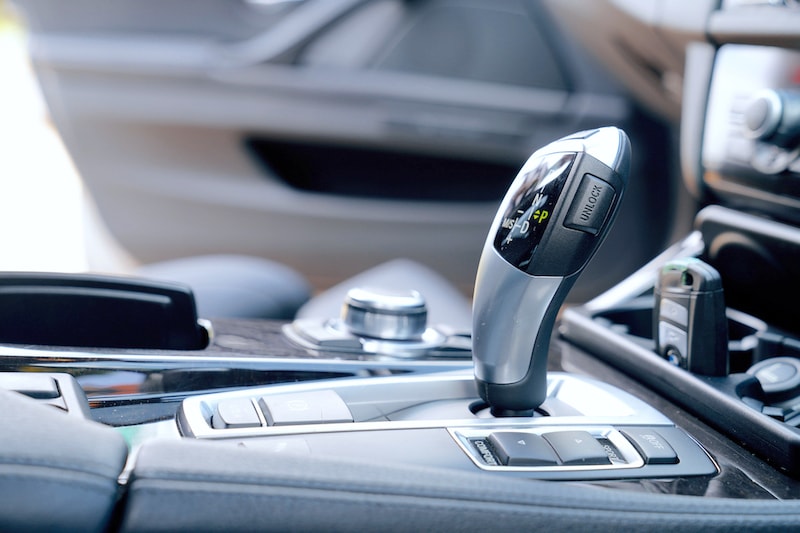 2013 BMW 5 Series Interior
The 5 Series is larger than the Mercedes E-Class and thus affords passengers with executive legroom and headroom. At the first row, the legroom is excellent and the electrically adjustable seats can be configured to any desirable position.  The standard 6.2-inch iDrive interface makes the dashboard look clean and functional by placing most controls in the touch interface. At the second row, the legroom is VIP class and tall people will have enough room to stretch and recline.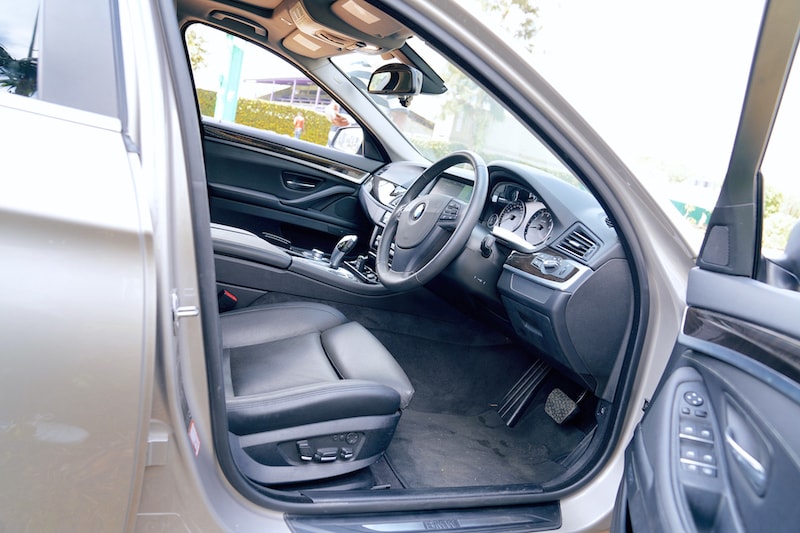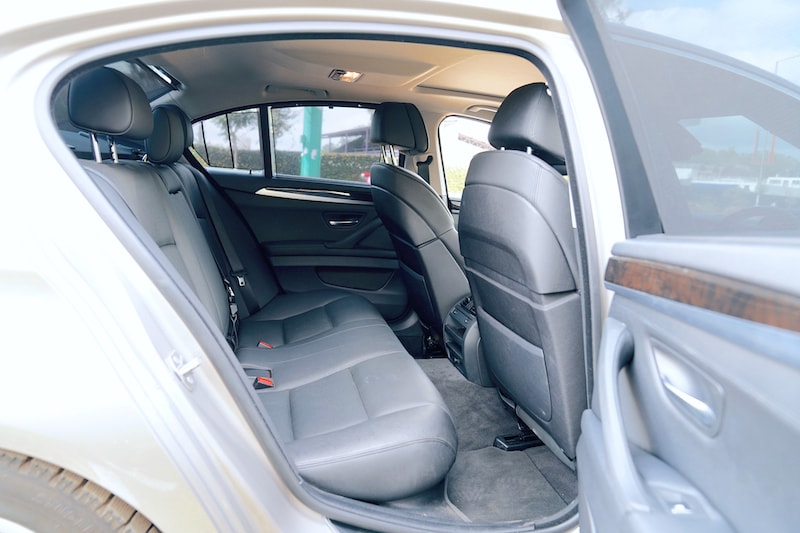 2013 BMW 5 Series Cabin Storage
In the first row, there are door panel storage, a glovebox and the center-box. For the second row, there are front seat jacket pockets and door pockets and armrest compartment.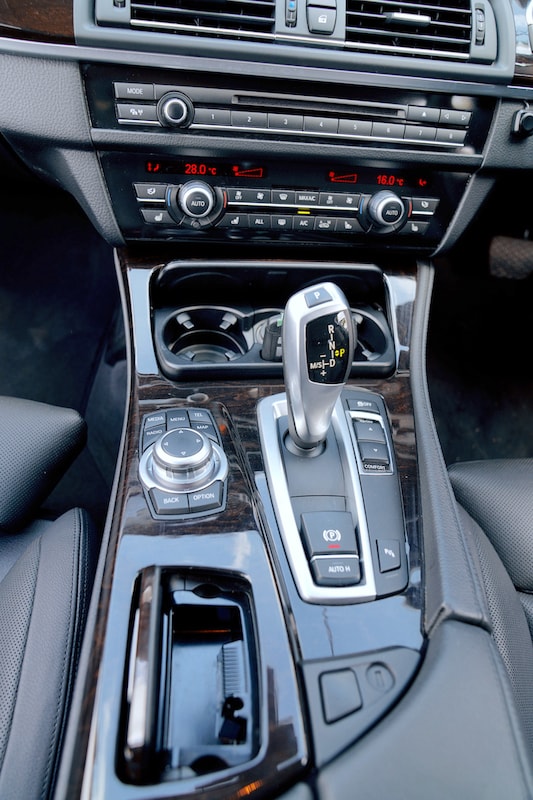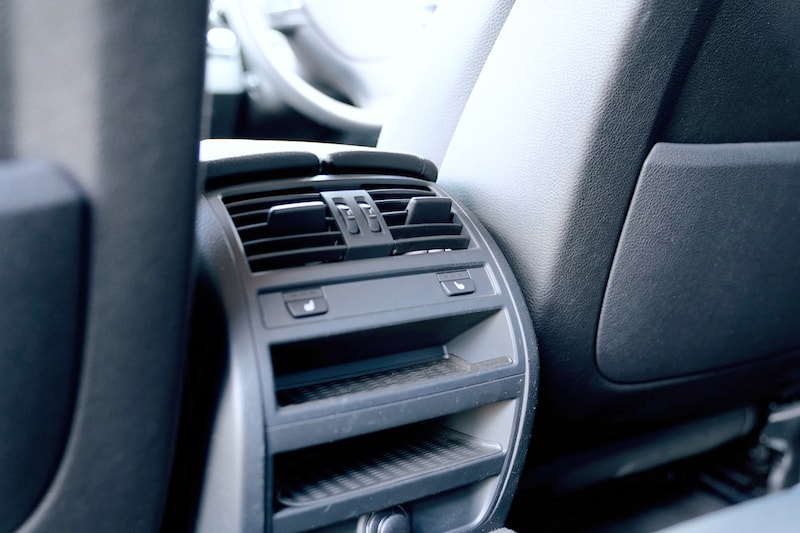 2013 BMW 5 Series Boot Space
The boot is reasonably sized for a sedan. It lies between the Audi A6 and Mercedes E-Class. It can fit medium luggage includes shopping bags and suitcases. However, the boot space cannot be expanded by folding the rear seats as they are fixed.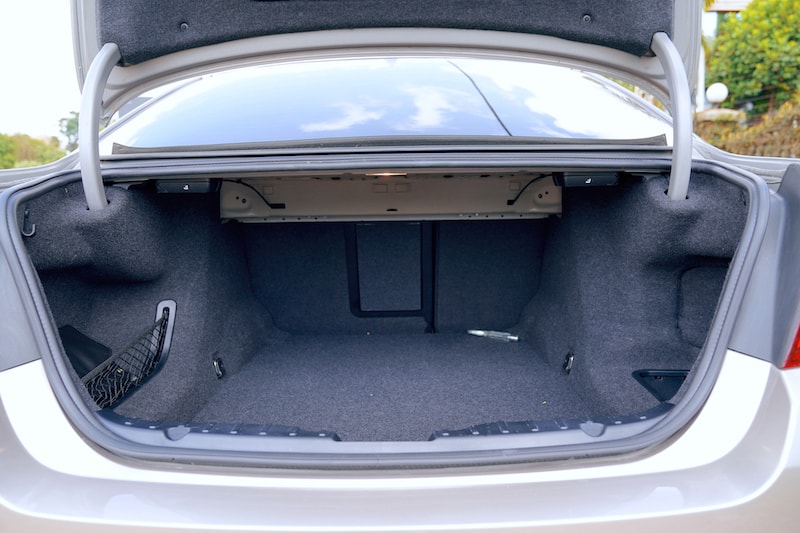 Extras: USB Charging Ports, Heads-up Display, heated seats, Adaptive Dynamic Suspension, Panoramic Sunroof.
2013 BMW 5 Series Safety Features
SRS Airbags, Curtain airbags, DCS and TCS, ABS, Electronic Stability Control, Pre-crash Safety System, Radar Cruise Control, Blind Spot Detection, Pedestrian Warning, Lane Departure Alert, Frontal Collision Warning, Automatic High Beam, Run Flat tyres, Active Roll Stabilization, Electronic Damping Control
2013 BMW 5 Series Exterior
The 5 Series is an executive car that comes with a conservative but yet imposing stature that is hard to miss on the road and it commands respect everywhere it goes. All grades come with alloy rims and fog lights while higher grades come with Daytime Running Lights and subtle chrome finishing.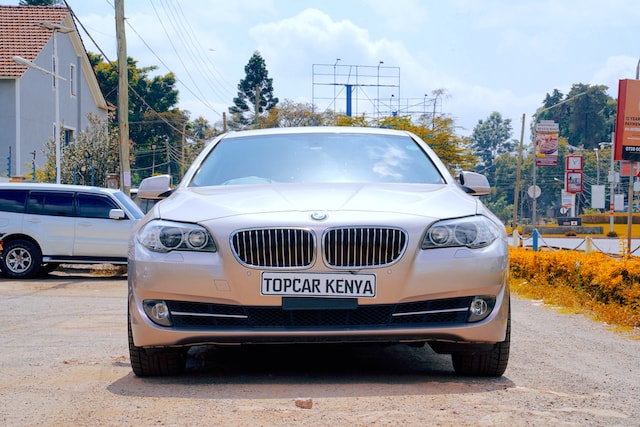 2013 BMW 5 Series Consumption
2013 BMW 528i fuel consumption: 11.9 km/L
2013 BMW 535i fuel consumption: 12.7 km/L
2013 BMW 550i fuel consumption: 9.3 km/L
2013 BMW ActiveHybrid 5 fuel consumption: 12.7 km/h
2013 BMW 5 Series Acceleration
2013 BMW 528i accelerates from 0-100 km/h in 6.4 sec.
2013 BMW 535i accelerates from 0-100 km/h in 5.9 sec.
2013 BMW 550i accelerates from 0-100 km/h in 5.2 sec.
2013 BMW ActiveHybrid 5 accelerates 0-100 km/h in 5.7 sec.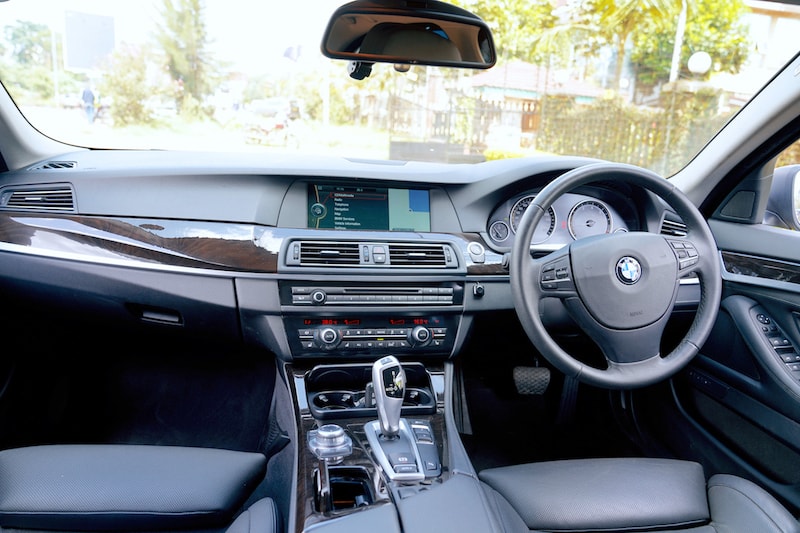 2013 BMW 5 Series Fuel Tank Capacity: 70 Litres
2013 BMW 5 Series Stability and Handling
The BMW 5 Series is a by-product of precision engineering, famed for its outstanding ability to hold the tarmac like glue even under extreme G forces. The low center of gravity and the perfectly engineered suspension coupled with powerful engines gives it a thrilling performance that is addictive and gratifying. The 5 Series is a performance car par excellence.
Service Intervals
Minor Service: At 5,000 km. Requires Air Cleaner, Oil Filter, and Engine Oil
Major Service: At 10,000km. Requires Air Cleaner, Oil Filter, Fuel Filter, ATF Filter, Cabin Filter, Plugs, Front Brake Pads, Rear Brake Pads, ATF Oil, and Engine Oil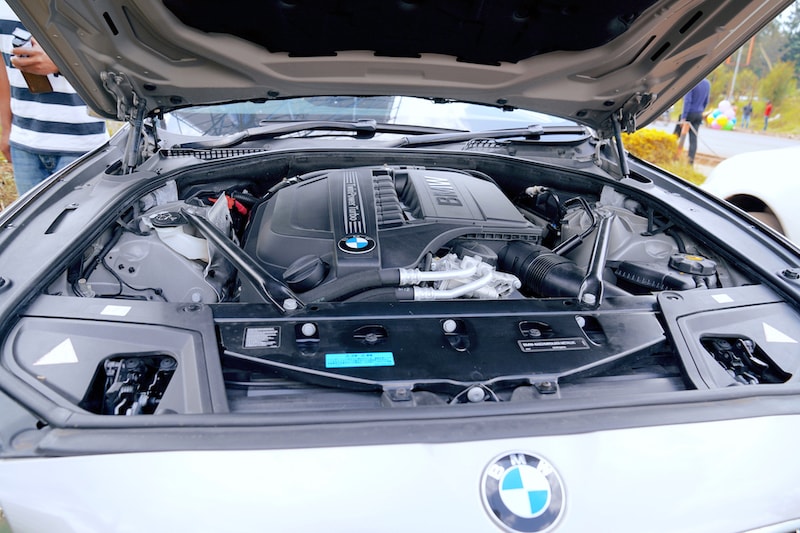 BMW 5 Series Maintenance Cost and Spare Parts Availability 
The BMW 5 Series is not a poor man's car and if your pockets don't run deep, then look elsewhere. It requires prompt maintenance with genuine parts which can be expensive when compared to say a Toyota Crown. Any shortcuts will earn you a quick trip on a tow truck and familiarity with all BMW mechanics in town. Service parts are fairly priced and widely available in Kenya. Body parts are expensive and mostly available in Nairobi. You can find here shops that sell BMW Spares Parts In Kenya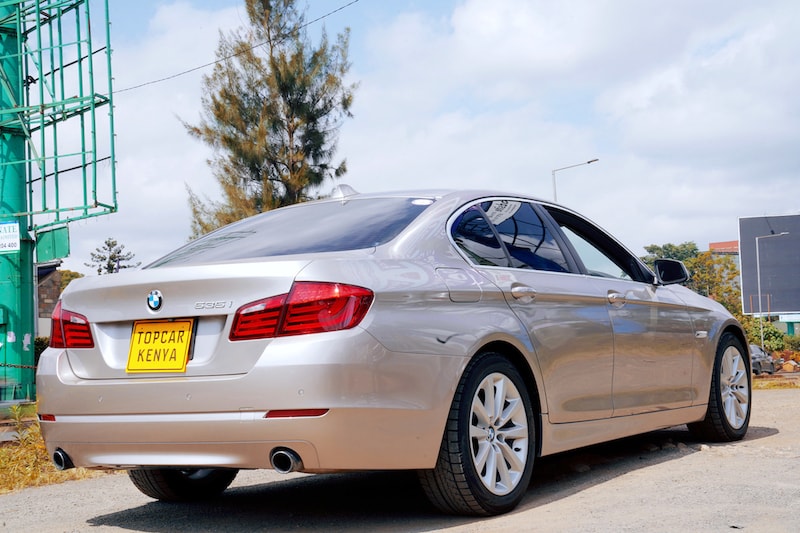 2013 BMW 5 Series Reliability
Modern German cars tend to develop problems with age and the 5 Series is no exception. This is due to an overload of sensors and software that controls virtually everything from simple tasks such as switching on wipers to complex tasks such as avoiding collisions. These systems are good when they work but can be a major headache when they fail and age plays a big role in this.
Another factor is the quality of maintenance and the service history of the car. These greatly determine the long-term reliability of the car and its important to have the car thoroughly examined by a qualified technician before you purchase it. Once this is done and you have purchased the right car, you then have to ensure that service is done on time using genuine parts.
If you are planning to own or currently own the 2013 BMW 5 Series, it's vital that you read the Owner's Manual. If you need the manual, you can request it from us via [email protected]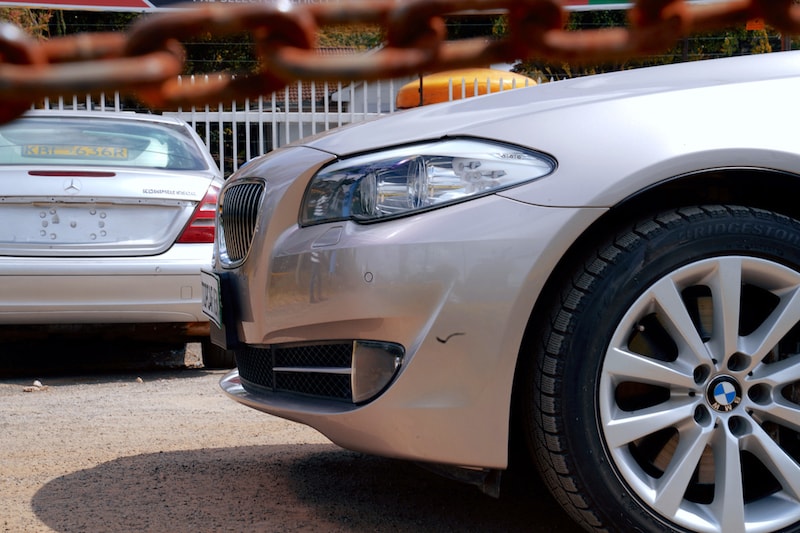 Resale Value: Average
2013 BMW 5 Series Competitors: Mercedes Benz E-Class, Jaguar XF, Audi A6, Lexus ES and Volvo S90
Cost of Ownership
Purchase Price: from Ksh.2,500,000
Comprehensive Insurance: Average Ksh. 100,000/ per annum- Or
3rd Party Insurance: Ksh. 7,000/- per annum
Change of Tyres(If necessary) Ksh. 100,000/- for 4 Tyres
See Latest BMW 5 Series Prices here
What we like about the 2013 BMW 5 Series
Comfortable
Excellent Performance
Spacious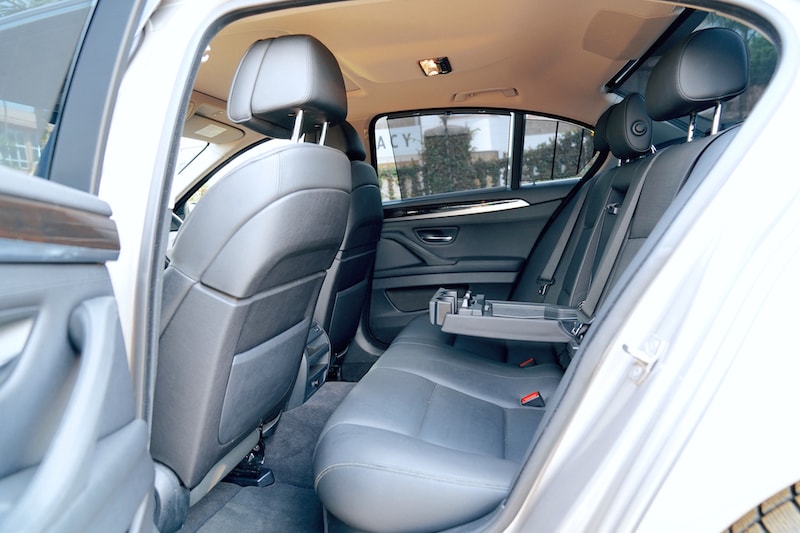 What we don't
Low ground clearance
Expensive parts
Conclusion
The BMW 5 Series is a top tier luxury sedan that always sets the standards in design, performance, luxury and driving pleasure. The hybrid option caters to the growing demand for environmentally-friendly cars and is ideal for people looking for comfort and economy in one package.
Where to Buy the 2013 BMW 5 Series in Kenya
If you are looking to either import or buy the BMW 5 Series locally, we can help you with this process. Over the years, we have developed a network of trusted dealers both in Kenya and UK who supply us with exceptional cars. Simply call us or send us a message through our contacts below and we'll get you the right car at the right price.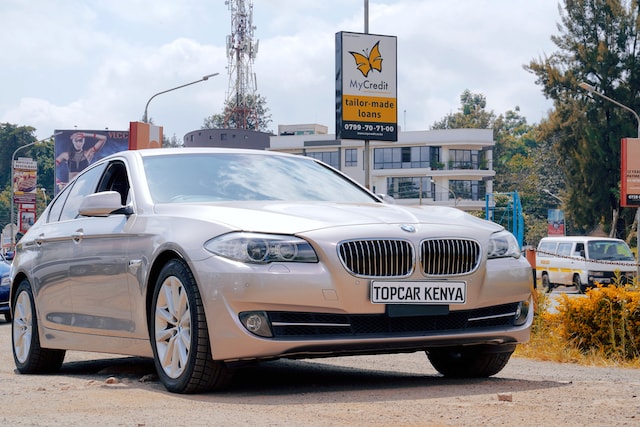 ---
If you have a question about this model or any other automotive questions, you can now get answers on our forum.
If you want to sell or trade-in you vehicle, you can list it for free via our seller portal.
If you wish to purchase this model local or abroad, you can do that via our marketplace.
You can get more about this
Bmw 5-series