2013 Toyota Premio Review
The Toyota Premio is an all-time favorite amongst Kenyans who love it for its style, comfort and low maintenance costs. It is comparable in size to the Audi A4, Subaru Legacy Saloon, Mercedes C180, and the BMW 318i. The Toyota Premio is arguably the cheapest among these but it maintains a decent level of class and top notch reliability
You can get more about this
Toyota Premio
Detailed Review
The Toyota Premio has been in production for two generations. The the first generation known as the T240 was in production from 2001 to 2007 and the second generation known as T270 has been in production from 2007 to Present. The Toyota Premio is sold exclusively in Japanese market.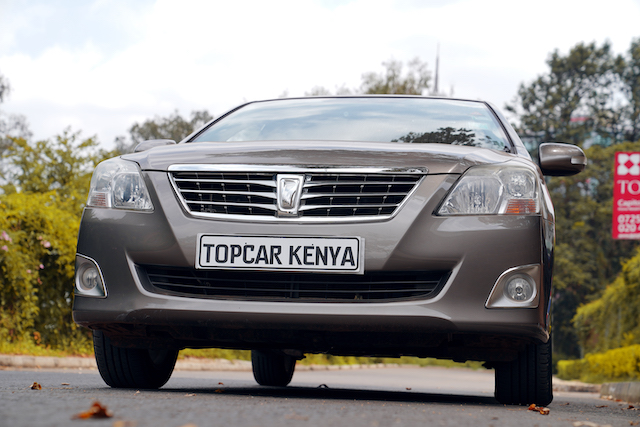 The 2013 Toyota Premio T260 is available with 3 engine options: These are the 1.5Litre 1NZ engine, the 1.8Litre 2ZR engine and the 2.0Litre 3ZR engine which are all linked to an automatic CVT transmission and available in both 2WD and 4WD options. The 4WD option only comes with the 1.8L engine.
2013 Toyota Premio Grades
The Toyota Premio F – This is the base level grade that comes with the 1.5 Litre 1NZ-FE engine, CVT Transmission and 2WD.
The Toyota Premio X – This comes with the 1.8 Litre 2ZR-FE engine, CVT Transmission, 2WD/4WD options.
The Toyota Premio G – This is the premium grade version that comes with the 2.0 Litre 3ZR-FAE engine, CVT Transmission and 2WD. Its got many other extras such as Alloy Rims as standard, fog lights, navigation, and a sunroof option.
Interior
Legroom & Space
The 2013 Toyota Premio is a comfortable car with seats that are well padded, all with headrests. There's sufficient legroom on both rows.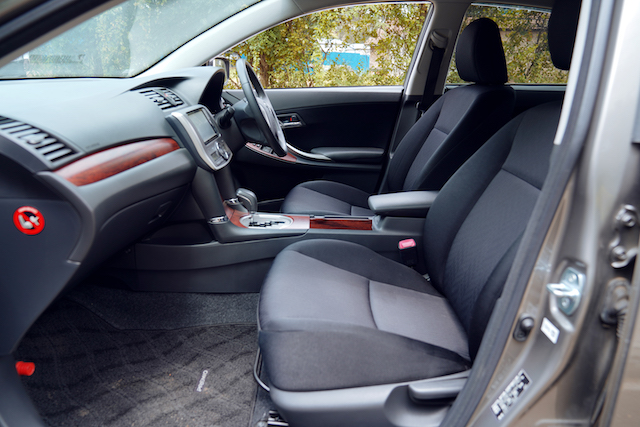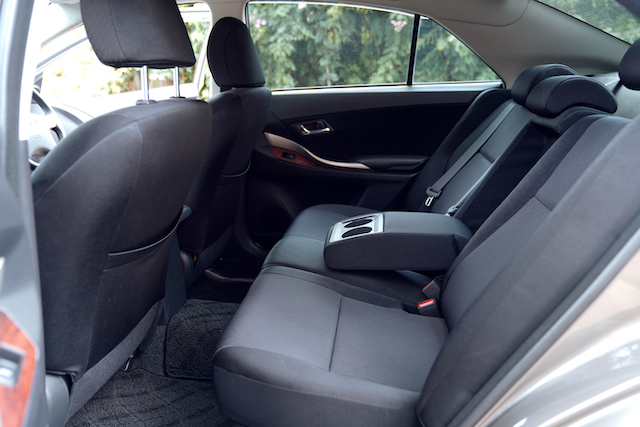 Cabin Storage
There are several storage compartments in the 2013 Toyota Premio. These are useful for storing items such as smartphones, beverages, goggles, handbags etc. For the 1st row, there 4 cup-holders on the centerbox and door panels, a storage shelf below the dashboard, a glovebox and the centerbox. For the 2nd row, the only storage is the seat jacket pockets.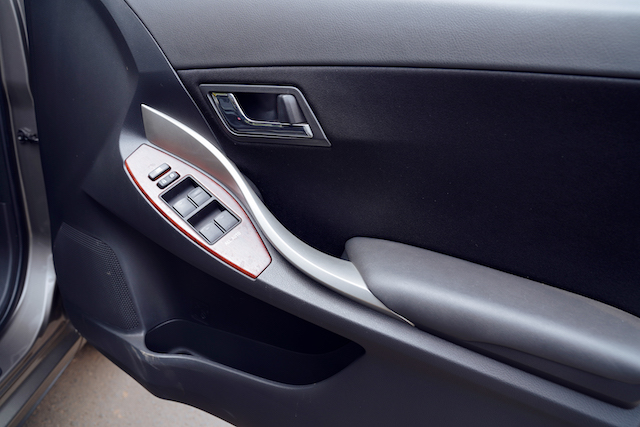 2013 Toyota Premio Boot Space
The boot space for the 2013 Toyota Premio is typical of any saloon car. The boot can carry medium sized luggage such as suitcases and groceries. The rear seats are foldable to create extra space. However, it cannot carry bulky or oversized luggage that station wagons would typically carry.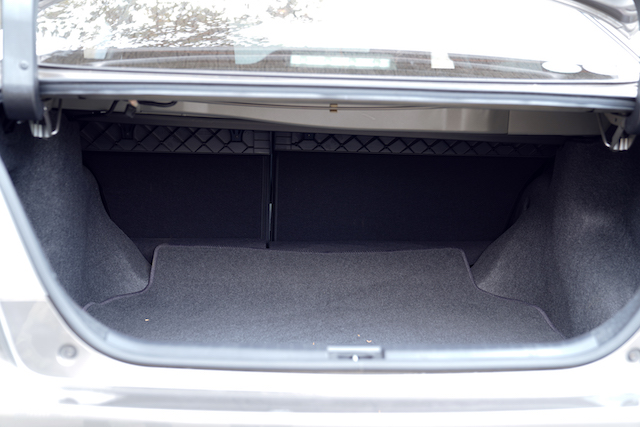 Other Extras: Double Din Stereo, Navigation(Optional), Reverse Camera, Auto Headlamps, Keyless Entry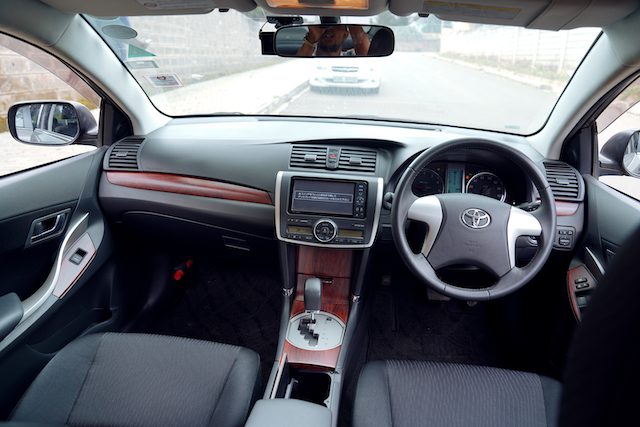 Exterior
The exterior dimensions are close to those of the Toyota Allion and Avensis. Most come with steel rims with plastic covers, but go for alloy rims as much as possible.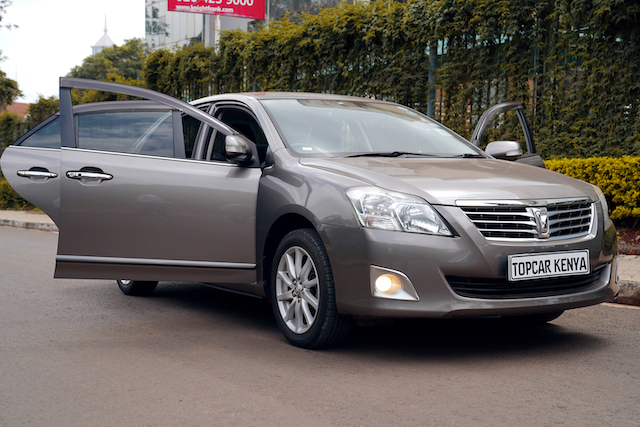 2013 Toyota Premio Fuel Consumption
Toyota Premio 1.5L Fuel Consumption: 16.6 km/L
Toyota Premio 1.8L Fuel Consumption: 15.3 km/L
Toyota Premio 2.0L Fuel Consumption: 15.0 km/L
2013 Toyota Premio Acceleration
Toyota Premio 1.5L accelerates from 0-100 km/h in 11.0 secs.
Toyota Premio 1.8L accelerates from 0-100km/h in 10.5 secs.
Toyota Premio 2.0G accelerates from 0-100km/h in 10.0 secs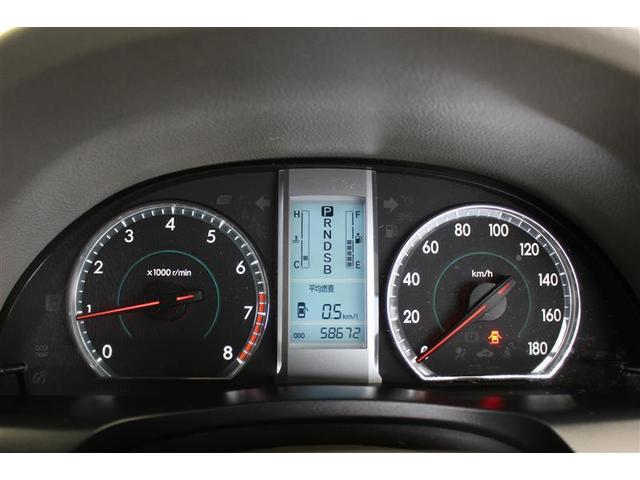 2013 Toyota Premio Fuel Tank Capacity: 60 Litres
2013 Toyota Premio Ground Clearance
The Toyota Premio has a ground clearance of 6.4Inches(165mm) when unmodified. This height may not be a problem if the vehicle is lightly loaded. However, when fully loaded the vehicle may not clear some speed bumps on Kenya roads. In this case, you many need to increase ground clearance. Read our guidelines on how to safely increase a vehicle's ground clearance.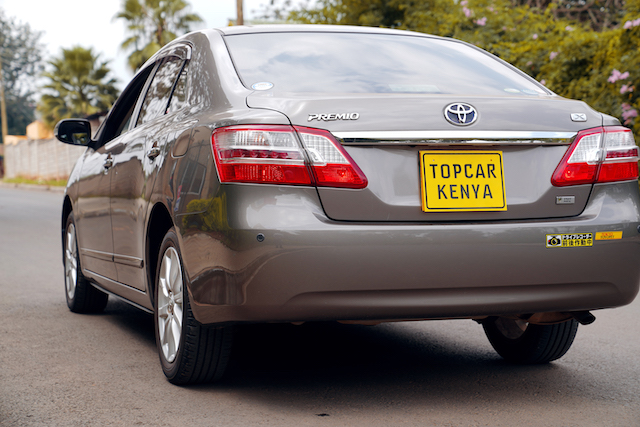 2013 Toyota Premio Stability and Handling
In terms of stability, the Premio is a well built car that can handle sharp corners better than the Allion and the Axio. This is due in part to its larger body weight and low center of gravity.
Toyota Premio Service Intervals
Minor Service – At 10,000 km. Requires Air Cleaner, Oil Filter, and Engine Oil
Major Service – At 15,000km. Requires Air Cleaner, Oil Filter, Fuel Filter, ATF Filter, Cabin Filter, Plugs, Front Brake Pads, ATF Oil, and Engine Oil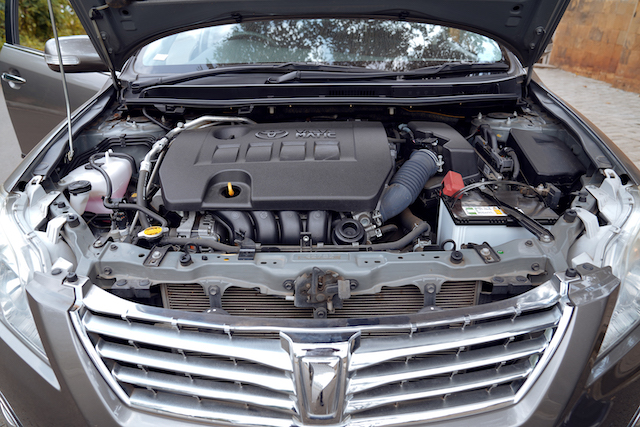 Spare Parts Availability, Cost & Where to buy
The beauty of driving a Toyota in Kenya, so it goes, is that spare parts are relatively cheap and readily available. This statement holds true for the Toyota Premio. Service parts and suspension parts are readily available. With a monthly budget of Ksh.5,000/- , you will cover maintenance costs. Used parts generally require negotiations and their prices vary depending on your knowledgeable. In Nairobi, most spare shops in Industrial area and Kirinyaga road stock these spare parts. You can get listings for these shops in this link
2013 Toyota Premio Reliability
The driving conditions in Kenya are significantly different from those in Japan and Europe. Reliability reviews done for those markets largely do not apply to the Kenyan market. There are differences in roads, fuel, climate, spares, and technical expertise. To give you accurate and reliable local insights, we interview experts such as mechanics and car dealers, who have in-depth knowledge of the Kenyan market. We also test the cars ourselves. Our aim is to give you the right information to enable you make an informed decision when buying a car.
The Toyota Premio is a reliable car with no known mechanical defects. As usual, we interviewed several Toyota mechanics and experts around Nairobi for this review. They particularly praise the 1.5L 1NZ FE engine as being a reliable workhorse with bullet proof reliability. The 1.8L 2ZR and the 2.0L 3ZR are also well regarded and no major issues were reported. These engines can clock high mileage without skipping a beat. . Always follow the recommended guidelines as per the Owner's manual. To download the 2012 Toyota Premio Owner's Manual click here
Resale Value: Very Good
Toyota Premio Competitors: Toyota Allion, BMW 318i, Subaru Legacy, Mercedes Benz C180
Cost of Ownership
See latest price here
What we like about the 2013 Toyota Premio
1. Comfortable
2. Affordable parts
3. Reliable
What we don't
1. Hefty price tag
Conclusion
The Toyota Premio is a reliable, economical car with cabin comfort that approaches German levels. The dashboard is minimalistic and somewhat plain but the wood trim adds some touch of class . I found the price tag to be high for the car of its class but understandably so due to its strong demand. Given its good fuel economy and affordable parts, I guess it makes some long term sense as you might recoup through these . The Premio also commands a strong resale value in the Kenyan market even after many years of use. Other models such as BMW, Mercedes and Subaru do not retain such a strong resale value.
Where to Buy the 2012 Toyota Premio in Kenya
If you are looking to either import or buy the Toyota Premio locally, we can help you with this process. Over the years, we have developed a network of trusted dealers both in Kenya and Japan who supply us with exceptional cars. Simply call us or send us a message through our contacts below and we'll get you the right car at the right price.
Related Reviews
---
If you have a question about this model or any other automotive questions, you can now get answers on our forum.
If you want to sell or trade-in you vehicle, you can list it for free via our seller portal.
If you wish to purchase this model local or abroad, you can do that via our marketplace.
You can get more about this
Toyota Premio