2018 Suzuki Jimny Review
The Suzuki Jimny, the Land Rover Defender, the Mercedes G Wagon and the Jeep Wrangler all have two things in common; they trace their roots to military cars and they appeal to a distinctly masculine clientele. These are cars that awaken a sense of adventure like no other and the Suzuki Jimny stands out amongst these as the only car that offers the same level of off-road capability but at a significantly lower price point. It's a highly modifiable platform that can be fitted with a wide range of accessories which makes it a highly desirable car. 
Detailed Review
The Suzuki Jimny is a four seater mini SUV that is manufactured in Japan and sold in various markets around the world including Kenya. It traces its roots to a military jeep and it retains the original features such as a ladder frame and rigid axles that give it exceptional off-road capability. It may not be the most comfortable or powerful car on the road but it's definitely a unique car.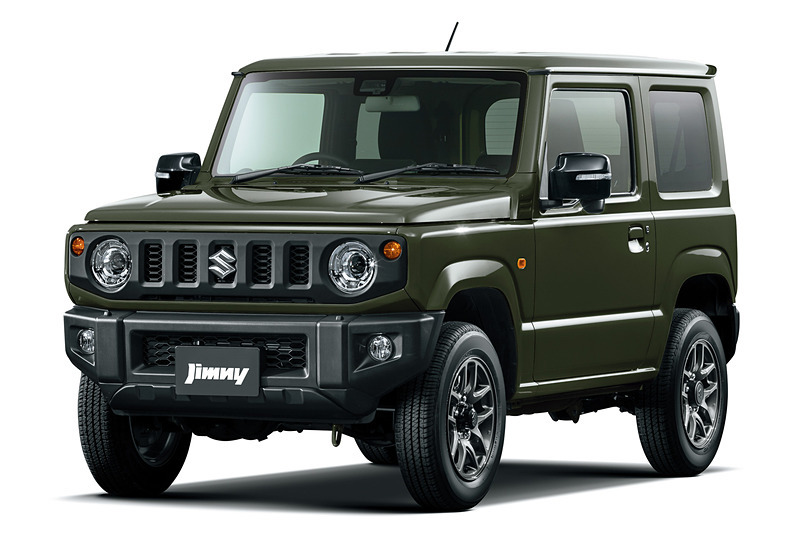 The 2018 model comes with two engine options; a 3 cylinder, 0.66-Litre turbo petrol engine and a 4 cylinder, 1.5-Litre petrol engine that are linked to either a 5-Speed Manual Transmission or a 4-Speed Automatic Transmission. It employs a traditional part time 4WD system with an auxiliary gearbox that allows the driver to switch to 4WD mode using a gear lever. The driving modes are like a traditional 4×4 where 2H is 2WD for normal driving, 4H for 4WD high speed driving and 4L for low speed 4WD driving that is ideal for difficult terrains such as steep hills and muddy swamps.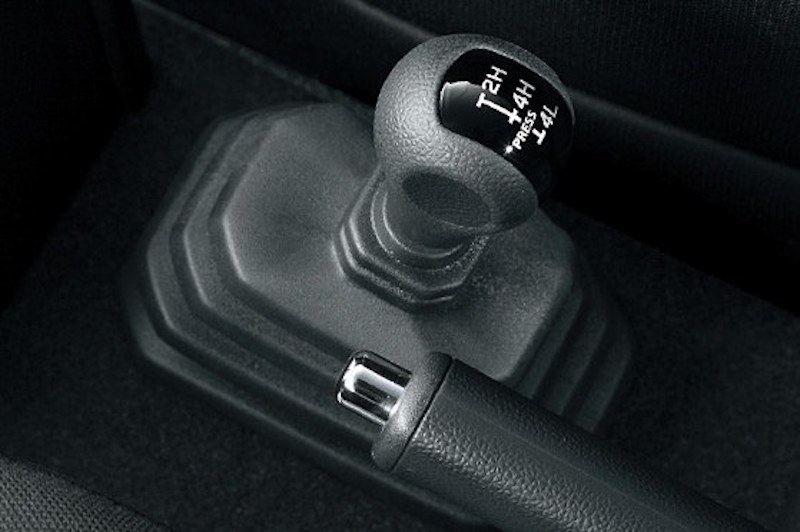 2018 Suzuki Jimny Grades
Suzuki Jimny XG – This is the entry level grade that comes with the 0.66L engine, steel rims, manual windows and manual AC.
Suzuki Jimny XL – This grade adds alloy rims and electric windows
Suzuki Jimny XC – This grades adds off road package and accessories
Suzuki Jimny Sierra JL – The Sierra grade is slightly larger and comes with the 1.5L engine. It's got bigger bumpers and a wider track for better on road performance.
Suzuki Jimny Sierra XC – This grades adds off road package and accessories
2018 Suzuki Jimny Interior
There's clearly a lot of thought that went into the interior design and it was deliberately kept simple and authentic to give it the retro look. It has a similar ruggedness and feel of the original Land Rover Defender 90 albeit in a smaller package. The seats are firm and comfortable with enough legroom for tall people at the front and the seats can slide as far back as possible. The legroom on the second row is however tight and there's minimal room to recline. It is ideal for short people or children.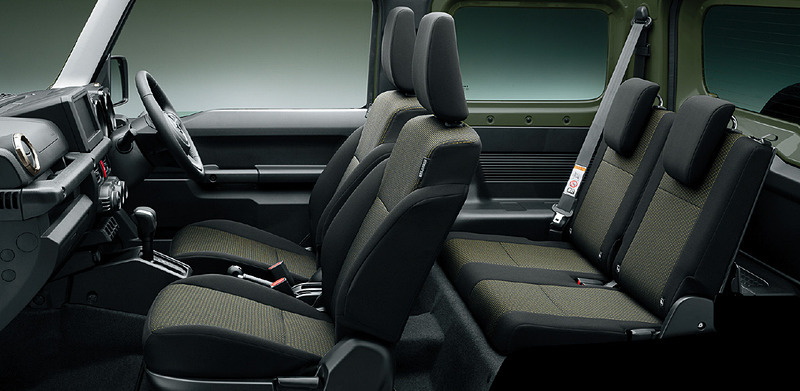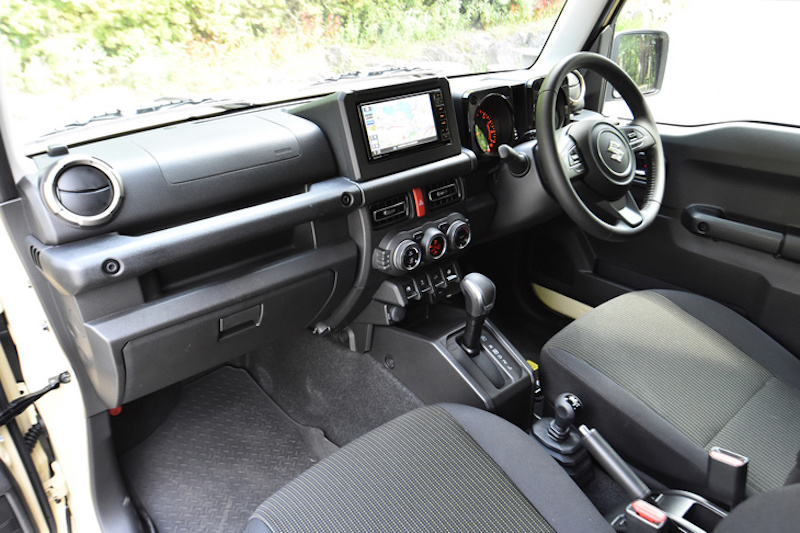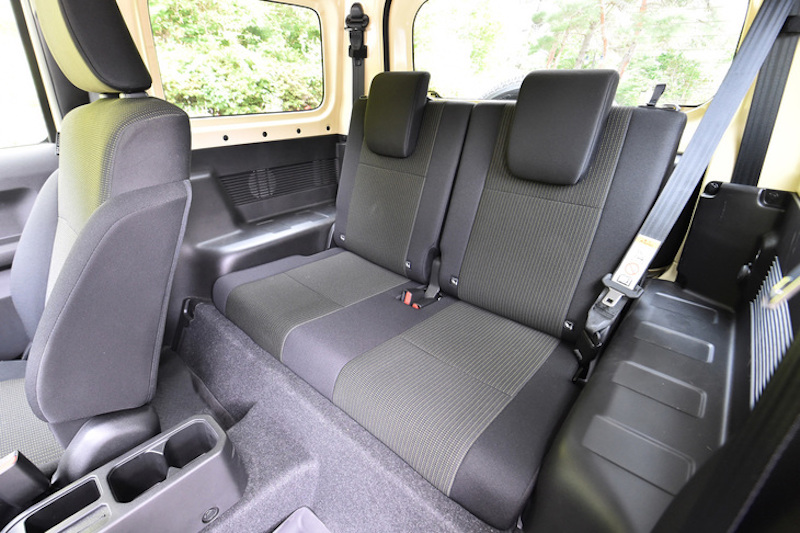 2018 Suzuki Jimny Exterior
From the Front, the Suzuki Jimny resembles a knocked down version of the Hummer and towards the rear it cleverly morphs into a Land Rover Defender 90. Its boxy shape greatly appeals to traditional 4×4 enthusiasts and it offers a highly modifiable platform that can be re-imagined in a thousand ways.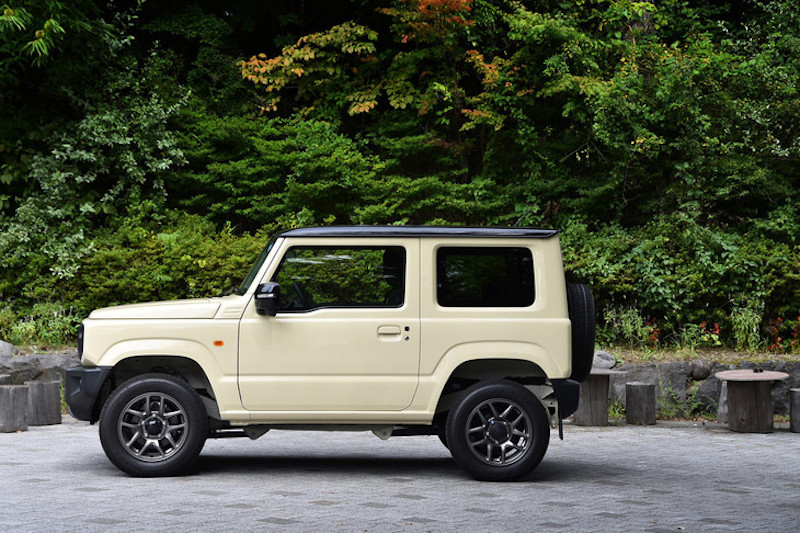 Cabin Storage
There are several storage compartments in the cabin that are useful for storing items such as smartphones, beverages, goggles, handbags etc. At the first row there are 2 cupholders, door panel storage, a glovebox and the center-box.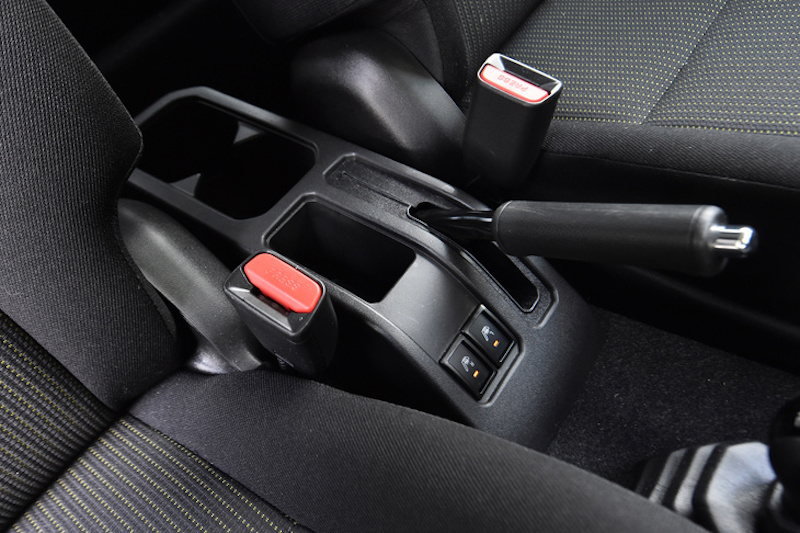 2018 Suzuki Jimny Boot Space
The Suzuki Jimny is a small car and boot space is non existent. If you plan to carry passengers and cargo then you're going to be thoroughly disappointed. For long distance travel and overland trips, the Jimny is ideal for either one person or a maximum of two people.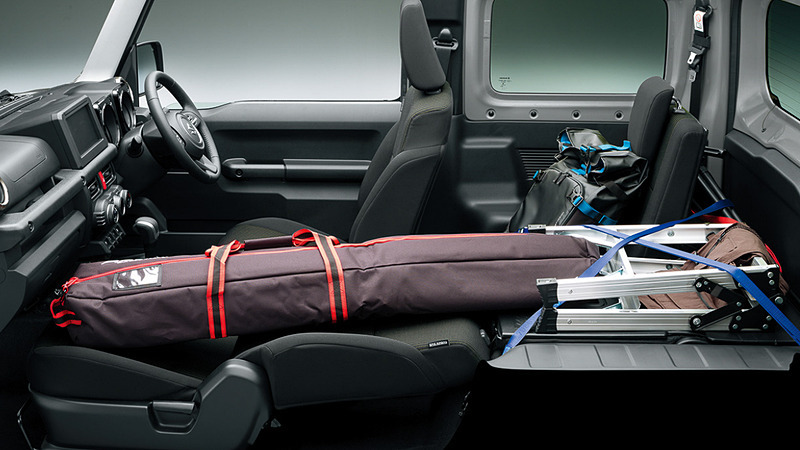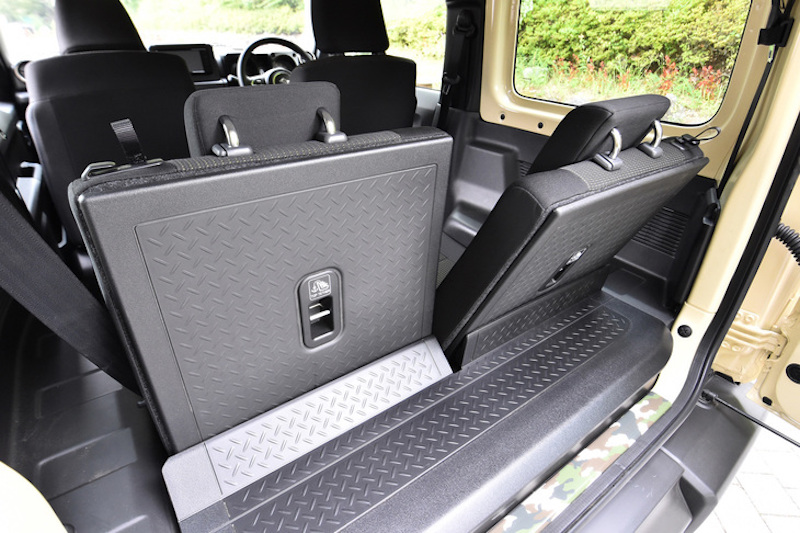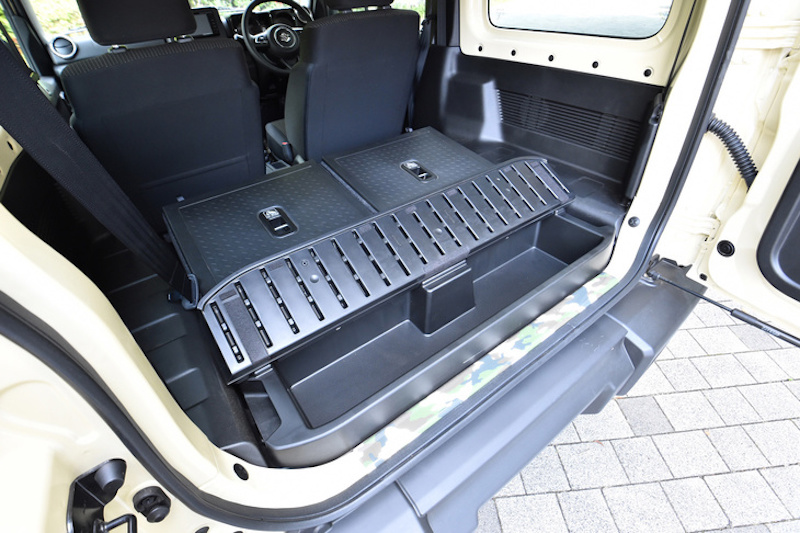 Extras: Radio/DVD Player, Air Conditioning, Blinkers
Safety Features: Front SRS Airbags, Side Airbags, Curtain Airbags, ABS, Dual Sensor Brake Support, Lane Departure Warning, Erroneous Start Suppression
2018 Suzuki Jimny Fuel Consumption
2018 Suzuki Jimny 0.66L fuel consumption: 16.20 km/L (Manual Transmission)
2018 Suzuki Jimny 0.66L fuel consumption: 13.20 km/L (Automatic Transmission)
2018 Suzuki Jimny 1.5L fuel consumption: 15.00 km/L (Manual Transmission)
2018 Suzuki Jimny 1.5L fuel consumption: 13.60 km/L (Automatic Transmission)
2018 Suzuki Jimny Acceleration
2018 Suzuki Jimny 0.66L accelerates from 0-100 km/h in 15.2 sec.
2018 Suzuki Jimny 1.5L accelerates from 0-100 km/h in 13.5 sec.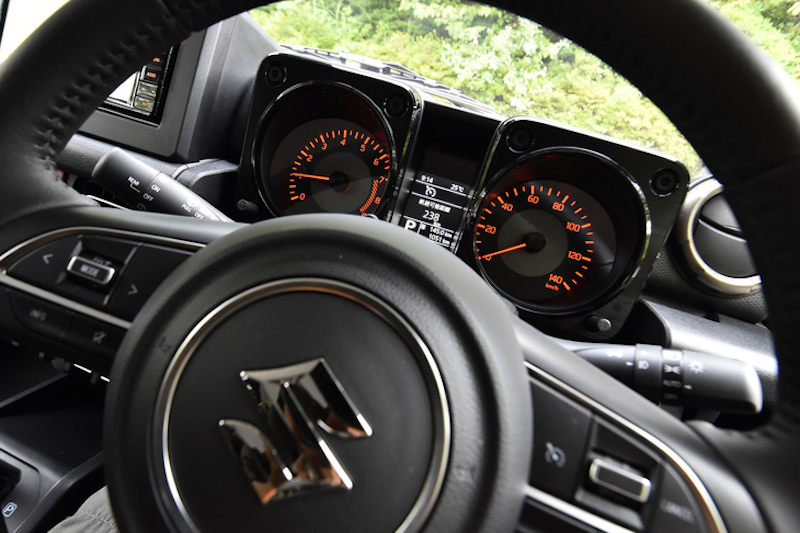 2018 Suzuki Jimny Fuel Tank Capacity: 40 Litres
2018 Suzuki Jimny Stability and Handling
The Suzuki Jimny is an easy car to drive with a leisury accelerations that fits a laid back style of driving. A steering damper has been newly adopted to reduce kickback to the steering when driving on rough roads and vibration of the steering when driving at high speeds.
Suzuki Jimny Service Intervals
Minor Service: At 5,000 km. Requires Air Cleaner, Oil Filter, and Engine Oil
Major Service: At 10,000km. Requires Air Cleaner, Oil Filter, Fuel Filter, ATF Filter, Cabin Filter, Plugs, Front Brake Pads, Rear Brake Pads, ATF Oil, and Engine Oil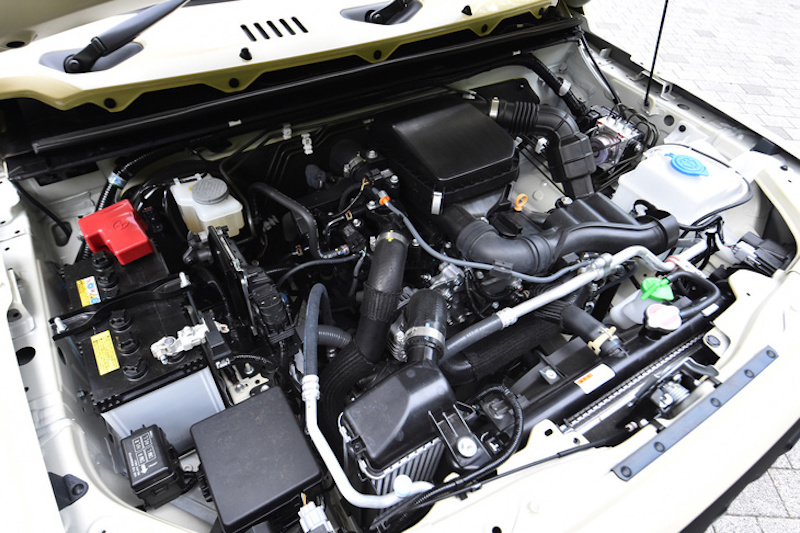 Suzuki Jimny Spare Parts Availability, Cost and Where to buy
Service parts for the Suzuki Jimny are available and fairly priced in Kenya. Body parts can be bought brand new from local dealerships or from second hand shops in Nairobi. You can find listings for this shops here
2018 Suzuki Jimny Reliability
The Suzuki Jimny is historically a reliable car with few complexities thanks to its simple mechanics. The most commonly reported problems by owners are;
1. Suspension Noise
2. Uneven Idling
3. CV Joints wearing out quickly
If you are planning to own or currently own the 2018 Suzuki Jimny, it's vital that you read the Owner's Manual. If you need the manual, you can request it from us via [email protected]
Resale Value: Very Good
2018 Suzuki Jimny Competitors: Mitsubishi Pajero Mini, Land Rover Defender 90
Cost of Ownership
Purchase Price: from Ksh.2,000,000
Comprehensive Insurance: Average Ksh. 80,000/ per annum- Or
3rd Party Insurance: Ksh. 7,000/- per annum
Change of Tyres(If neccessary) Ksh. 40,000/- for 4 Tyres
See Latest Suzuki Jimny Prices
What we like about the 2018 Suzuki Jimny
1. Retro Design
2. Excellent Off-road capability
3. Strong resale value
What we don't
Limited cargo capacity
Conclusion
The demand for the Suzuki Jimny far outstrips supply and you will be lucky to get hold of one. But if you do, then you are most likely going to spend your time exploring the country roads. This is an excellent car for those that love adventures and the possibilities of what you can do with this small 4×4 are endless.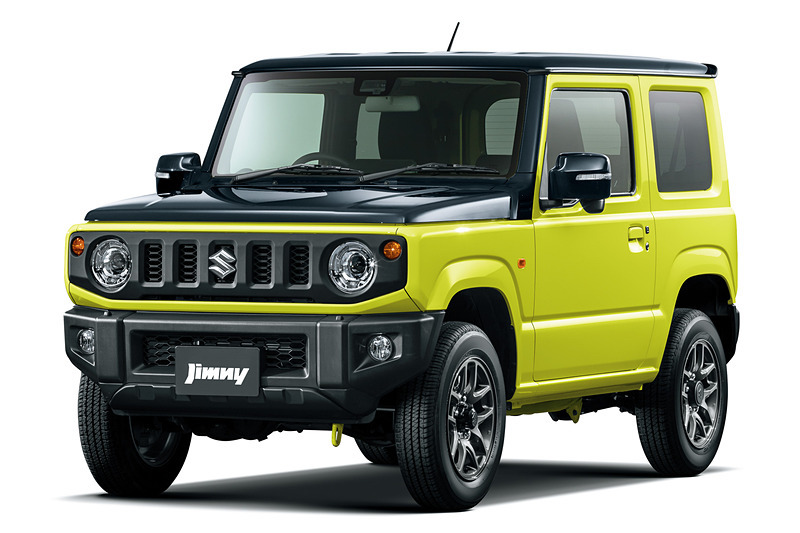 Where to Buy the Suzuki Jimny in Kenya
The best option for now is to import one from Japan. If you are looking to either import or buy the Suzuki Jimny locally, we can help you with this process. Over the years, we have developed a network of trusted dealers both in Kenya and UK who supply us with exceptional cars. Simply call us or send us a message through our contacts below and we'll get you the right car at the right price.
---
If you have a question about this model or any other automotive questions, you can now get answers on our forum.
If you want to sell or trade-in you vehicle, you can list it for free via our seller portal.
If you wish to purchase this model local or abroad, you can do that via our marketplace.