2019 Mazda 6 Review
Mazda 6 also known as the Mazda Atenza is a midsize sedan car manufactured by Mazda since 2002. Mazda 6 has been in production for three generations. The first-generation Mazda6 was launched in Japan as the Mazda Atenza in May 2002 and lasted until 2008. The second generation debuted in 2008 up to 2013. The third generation began in 2014 and is up to date.
You can get more about this
Mazda Atenza
Detailed Review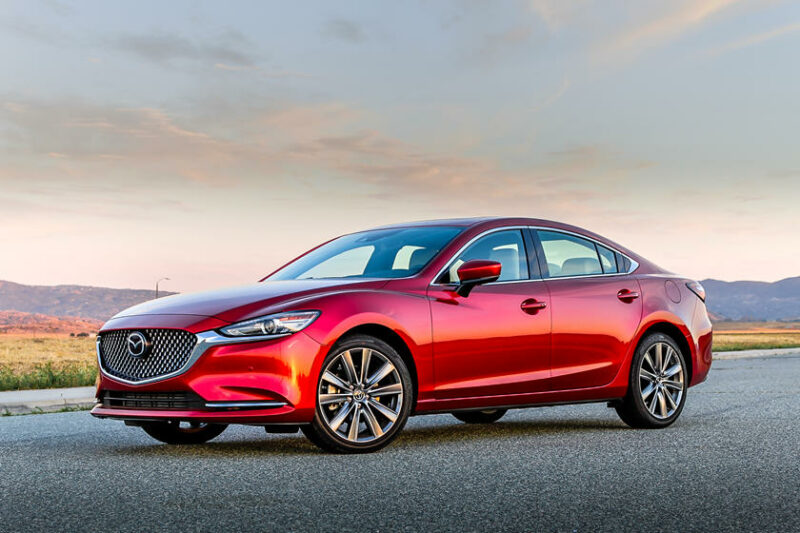 The Mazda 6 is not the most powerful sedan in its class, nor is it the most technologically advanced. Where it distinguishes itself from other cars in its market is as a package that offers comfort, room, a beautiful appearance, and a chassis that is enjoyable to drive in every scenario. Additionally, the sculpted and chiseled bodywork and welcoming interior are of the caliber typically associated with higher-priced vehicles, as are the sporty sensations imparted while driving.
The 2019 Mazda 6 does not offer a hybrid version the 6, so you'll need to shop around for the best fuel economy.
Engine Performance
The 2019 Mazda 6 is equipped with a 2.5-liter four-cylinder (187 horsepower, 186 lb-ft of torque) and a six-speed automatic transmission. The zero to sixty run takes around 6.5 seconds, placing it in the middle of the midsize sedan pack.
Interior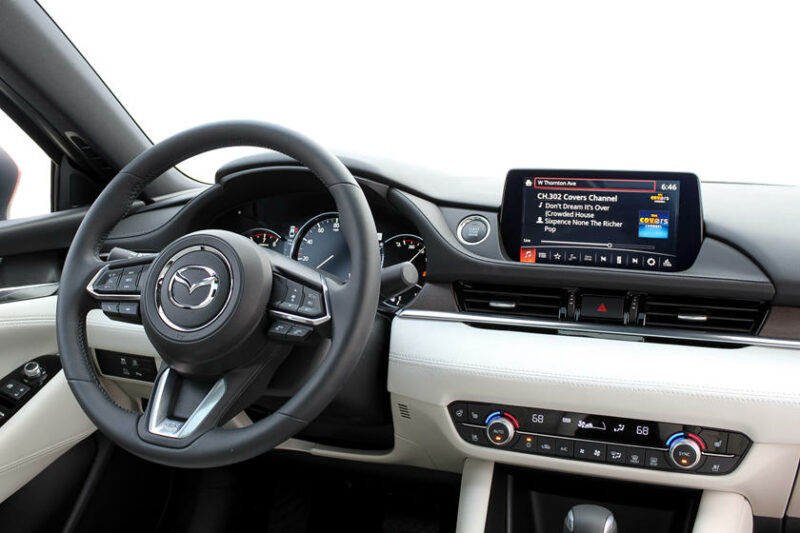 While the Mazda 6 is not as spacious as the competitors, it blends effortless elegance and ergonomics in a well-thought-out interior. Mazda has gone a long way in terms of interior design; even their entry-level models feature impeccably built cabins. A striking detail is the dashboard's level design, which complements the sleek external design and logically incorporates control knobs and buttons.
The sunroof, headroom, shoulder, and hip room are all superb. Although rear passengers will feel less knee room than in the Accord or Camry, the space is suitable for people of average stature.
Exterior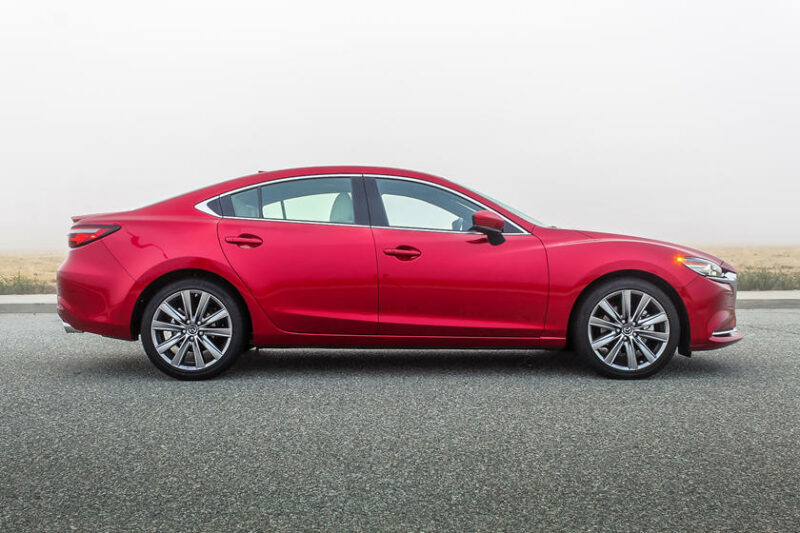 Mazda has significantly improved its design over the last decade, as evidenced by the 2019 Mazda 6. 
Flowing lines and controlled angles elevate this Mazda to one of the best-looking midsize sedans on the market today; while it may not shout it from the rooftops, the way this car has been constructed has a subtle elegance. 
The 2019 Mazda 6 boasts 17-inch alloy wheels, LED headlights, rain-sensing wipers, motorized side mirrors, and twin exhaust outlets that are all standard.
 All Grand Touring trim levels get 19-inch wheels and a power sliding sunroof, while the Grand Touring Reserve adds adaptive LED lighting, automatic power-folding side mirrors, chrome lower front molding, and a rear lip spoiler.
Cargo Space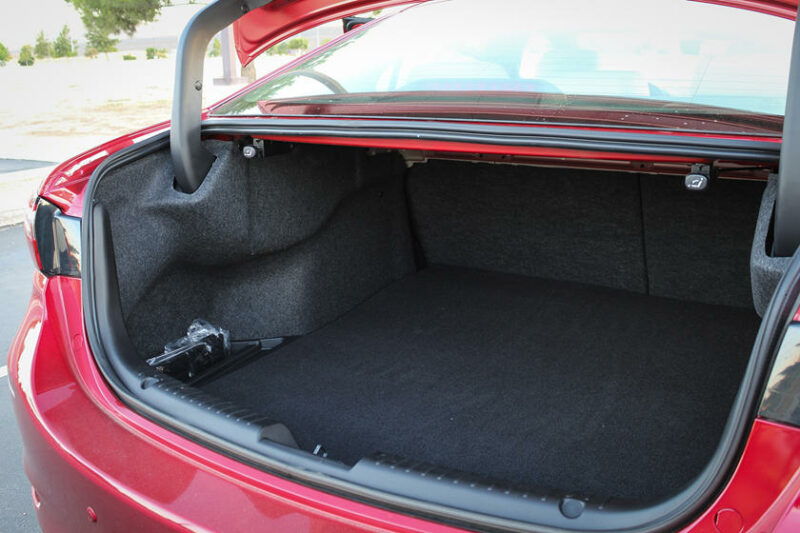 You'd be amazed how much space the Mazda 6 offers, particularly with the back seats folded down. While its 14.7 cubic feet of trunk capacity falls short of the top cargo category numerically, most purchasers will notice the difference in reality. Its cabin storage is adequate, but less when compared to its competitors.
The Mazda 6 does an outstanding job in its cabin on storing personal belongings such as phones and purses. The storage box in front of the shifter is large enough to hold a smartphone and a set of keys, and the center console can swallow a pair of Coke cans. 
The door pockets are also large enough to hold a standard-size water bottle, while back seat occupants receive pockets of the same size.
Dimensions
The 2019 Mazda 6 measures 192.7 inches in length and stands 57.1 inches off the ground. Its width is 82.3 inches including the mirrors and 72.4 inches without. 
Handling And Stability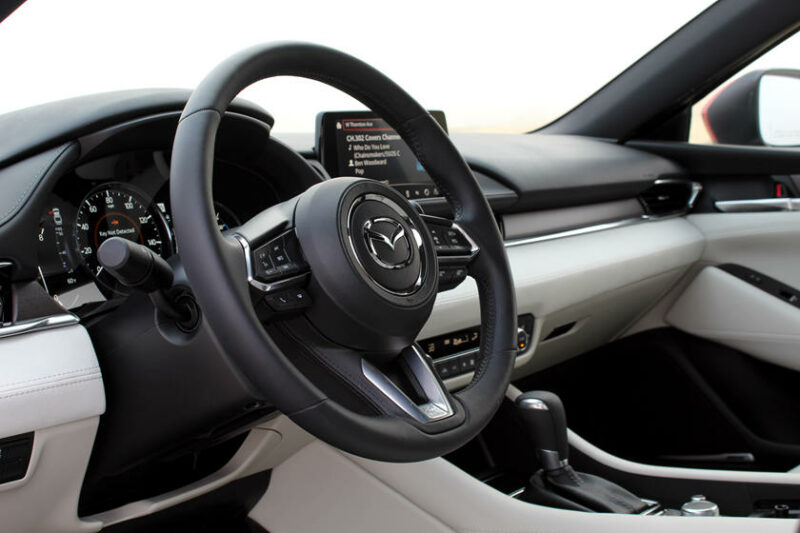 The Mazda 6's handling is exceptional. It never hesitates at the turn-in and plants itself firmly in the corner, instilling drivers with a sense of security. The body roll is minimal, and it maintains its line over moderate bumps and maintains its composure turn after turn. Mazda excels at handling.
It has the class's heaviest steering weighting, which means low-speed maneuvers require considerable muscle. However, the payoff occurs during cornering, where the feedback is excellent. The steering has an excellent on-center feel and is also naturally self-centering. It's a section highlight.
The 2019 Mazda 6 requires 129 feet to come to a complete stop from 60 mph, which is about average for the class. The brakes are quick without being grabby, and the pedal effort is light but confident.
Safety Features
The Mazda 6 is one of the safest cars in its class thanks to a variety of standard driver aid systems. The list of standard features includes an advanced six-airbag system, stability control, traction control, and a tire pressure monitoring system.
---
If you have a question about this model or any other automotive questions, you can now get answers on our forum.
If you want to sell or trade-in you vehicle, you can list it for free via our seller portal.
If you wish to purchase this model local or abroad, you can do that via our marketplace.
You can get more about this
Mazda Atenza