Honda Stepwagon Kenya: Reviews, Price, Specifications, Import
The Honda Stepwagon is steadily gaining traction in the Kenyan market especially the later models that have proven to be reliable and comfortable offering an alternative to the popular Toyota Noah and Voxy. Even with this latest attention, the Stepwagon is yet to break into the big market and it's only a few people that have discovered the potential of this van.
Other competitors in the Kenyan market include the equally capable Mitsubishi Delica D5, Nissan Serena and the Mazda Biante.
For a more detailed comparison refer to the Honda Stepwagon Buyer's Guide
Generations
First Generation (1996 -2001)
The first generation Honda StepWagon is a smaller van that seats 5 to 8 people. It was not popular in Kenya and very few units were shipped to this market. It comes with a 2.0-Litre B20B engine that is linked to a 4-Speed Automatic transmission. The same engine was also installed in the Honda CRV
Second Generation (2001-2005)
The second generation retains many features of the previous more so in appearance but the chassis, suspension and body were new. In particular, the body was strengthened to withstand front, side and rear collisions. The gear shift lever was repositioned from the previous column shift to instrument panel shift. It uses two engines; a 2.0-Litre K20A petrol engine and a 2.4-Litre K24A petrol engine that are linked to either a 4-Speed or 5-Speed Automatic Transmission and available in a choice of 2WD or 4WD.
Third Generation (2005-2009)
The third generation Honda StepWagon became more popular in Kenya than the previous generations and it's at this point that people started noticing it. Some of the unique features that were introduced in this generation include the dual sliding doors for rear passengers and a low floor of 60mm.
It retains the same engines from the previous generation, these are a 2.0-Litre K20A petrol engine and a 2.4-Litre K24A petrol engine that are linked to either a 4-Speed or 5-Speed Automatic Transmission and available in a choice of 2WD or 4WD.
Fourth Generation (2009-2015)
The fourth generation Honda StepWagon is much bigger than the previous generation having increased by 50mm in length and 45mm in height. Additionally a panoramic sunroof that is said to be among the world's largest was added giving it a touch of luxury not seen in any of its competitors.
The  third row seat folds into the floor as opposed to most vans that fold to the sides. This makes the Honda StepWagon more configurable and adaptable for various applications.
The 2.4-Litre engine was abolished and the only available is the 2.0-Litre R20A. The transmission is a CVT with a torque converter for the 2WD version and a 5-Speed Automatic Transmission for the 4WD. The Spada grade which is the luxury version is equipped with paddle shifters.
Fifth Generation (2015-Present)
The fifth generation Honda StepWagon underwent significant improvements over the previous generations starting from the newly developed 1.5-Litre VTEC Turbo engine which was first to be installed in the StepWagon. The CVT has been improved to match the displacement of the turbo engine. Fuel economy and performance was consequently improved.
The tailgate was reworked to include a door for passengers to access the third row- its called the Waku Waku door. For easy accessibility, the third row seat folds either the left or right and can also be folded entirely into the floor. This allows for passengers to access the third row seats from the rear door.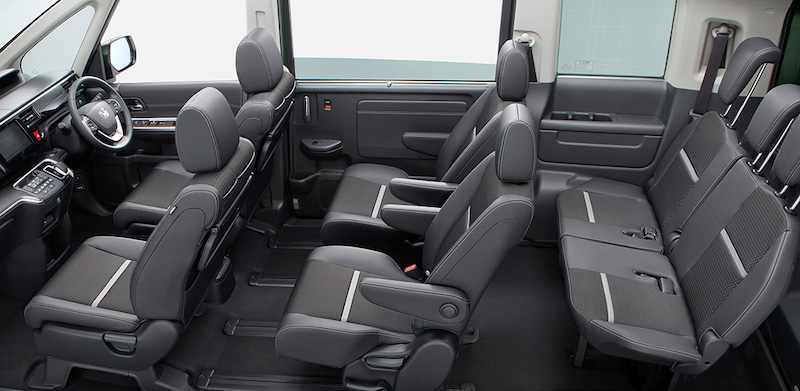 Safety has greatly been enhanced with Honda SENSING which is an array of safety features which includes; Collision Mitigation Braking System, False Start Suppression Function, Pedestrian Accident Reduction Steering, Off-road Departure Suppression Function, Adaptive Cruise Control, Lane Keep Assist System, Leading Vehicle Start notification Function, Sign Recognition Function, Auto High Beam, Rear False Start Suppression Function and Traffic Jam Assist.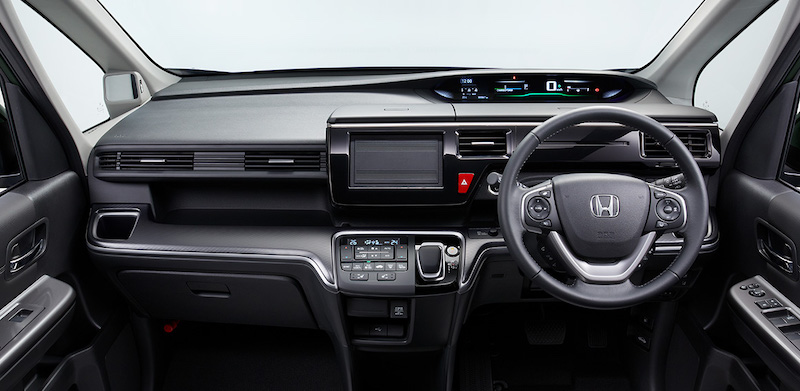 Honda StepWagon Maintenance Costs In Kenya
In terms of maintenance, the Honda StepWagon shares engine parts and suspension parts with other Hondas such as the CRV, Fit, Insight etc, therefore parts are easily available and affordable. Body parts on the other hand are expensive and not easily available in Kenya.
Honda StepWagon Reliability In Kenya
The Honda StepWagon is reliable and suffers from fewer problems if well maintained. The 5th generation(2015- ) comes with a turbo engine that is sensitive and requires extra care. The commonly reported Honda StepWagon problems in Kenya are;
CVT Transmission Failure
Engine Hard Start
Loss of power
Underbody damage – due to low ground clearance
More details in the Honda Stepwagon Buyer's Guide
Honda StepWagon Alternatives you can buy in Kenya: Toyota Noah, Toyota Voxy, Nissan Serena, Mitsubishi Delica D5, Honda StepWagon and Mazda Biante.
Price of the Honda StepWagon in Kenya: https://cars.topcar.co.ke/vehicles/honda/stepwagon
Import the Honda StepWagon in Kenya: https://topcar.co.ke/import-your-car/
---
If you have a question about this model or any other automotive questions, you can now get answers on our forum.
If you want to sell or trade-in you vehicle, you can list it for free via our seller portal.
If you wish to purchase this model local or abroad, you can do that via our marketplace.