The Mitsubishi eK is a small car that has been in production for four generation starting from 2001 and it's based on the long-running Mitsubishi Minica. It's a very popular car in Japan due to its excellent functionality and practicality especially in urban settings. It's not popular in Kenya where small cars are yet to find acceptance but the trend is shifting as more people are moving to economical cars. It is the same as the Nissan Dayz.
Mitsubishi eK Generations
First Generation: 2001-2006
Second Generation: 2006-2013
Third Generation: 2013-2019
Fourth Generation: 2019-Present
Mitsubishi eK Engines and Drivetrain
The third and fourth generation Mitsubishi eK comes with two engine options; a 658cc, 3-cylinder petrol engine and a 658cc, 3-cylinder turbo petrol engine. These are linked to a CVT transmission and available in 2WD.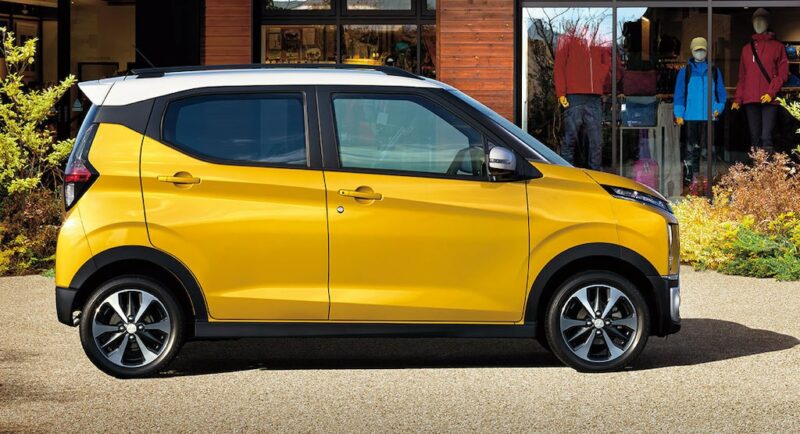 Mitsubishi eK Interior
On the inside, the cabin is modern and well designed with a digital instrument cluster that features a touchscreen monitor and LCD displays. It can seat 4 people and the space is good for a small car.
The legroom on the first row is decent and tall people will find it tolerable. The legroom on the second row is ideal for medium sized people and tall people will find it tight. The headroom is good thanks to the high roof.
Mitsubishi eK Exterior
The exterior is narrow and boxy with a front that resembles the Delica D5 albeit in a smaller package. Towards the rear, it flattens out finished with a top hinged tailgate that is ideal for loading luggage in tight spaces.
Mitsubishi eK Maintenance Costs In Kenya
The Mitsubishi Pajero eK is an affordable car to maintain and spare parts are fairly priced in Kenya. Body parts are slightly expensive and not easily available in Kenya.
Mitsubishi eK Reliability In Kenya
The Mitsubishi eK is a fairly simple car that runs well and suffers from minimal mechanical issues. The turbo engine requires extra care and it can get problematic if not well maintained. Some of the reported problems with the Mitsubishi eK include;
CVT transmission problems
Loss of power
Suspension noise
Mitsubishi eK Alternatives you can buy in Kenya: Suzuki Alto, Daihatsu Mira, Honda N-Box, and Nissan Dayz
Price of the Mitsubishi eK in Kenya: https://cars.topcar.co.ke/vehicles/mitsubishi/ek-wagon
Import the Mitsubishi eK in Kenya: https://topcar.co.ke/import-your-car/ 
Trade in or Sell Your Car
If you currently own a car that you want to sell or trade-in, we can help you to;
1. Sell it quickly and conveniently to thousands of buyers on our website.
2. Trade-it in for a new one. We work with trusted dealers and you get the car of your choice.
3. Get financing and hire purchase terms on the car you choose.
Simply list your car on our website through this link and let us do the rest. You get these services for only Ksh. 500.
Related Cars for Sale on Topcar
---
Categories:
Cars in Kenya