It's clear that Suzuki is capitalizing on the demand for small SUV cars that are economical but yet offer the desirable SUV ride characteristics. The Suzuki Hustler is inspired by its successful older sibling the Suzuki Jimny and It's fairly new in the Kenyan market but we predict that it will do well given its strong appeal as an affordable small SUV. It comes with a wide range of features that make it ideal for both daily commute and outdoor activities like camping and road trips. This endears it to the adventure-seekers and the younger clientele.
The Huster is similar to the Suzuki Jimny but sleeker and more refined for on-road use to appeal to a wider demographic. It comes with standard 15-inch wheels, two-tone roof, rear wipers and washers, and circular headlights. It's also available in a wide range of colours including orange, blue metallic, and pink metallic which target a more feminine clientele.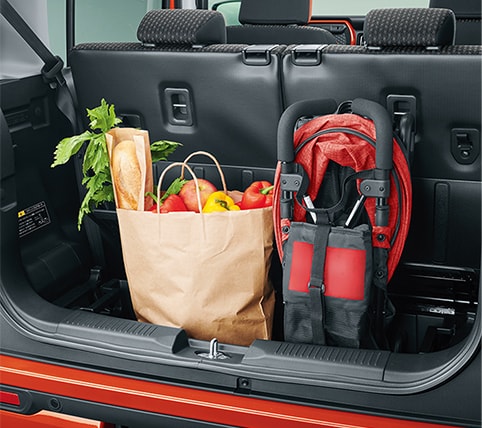 On the inside, it has a pretty spacious cabin that's equipped with high-end features like 6 speakers (front + rear + tweeter), genuine leather-wrapped steering wheel, passenger vanity mirror (with lighting), door mirror with LED lights. The dashboard is modern and well-arranged with LCD touchscreens.
Generations
First Generation (2014-2019)
Second Generation (2019-Present)
Suzuki Hustler Maintenance Costs In Kenya
Similar to the Suzuki Jimny, the Huster is a low maintenance car. The first generation comes with two engine options; a naturally aspirated 658cc engine and a turbo charged 658cc engine that are linked to either a 5-Speed Manual Transmission or a CVT. Service parts are shared with the Jimny and they are affordable and easy to find in Kenya.
Suzuki Hustler Reliability In Kenya
The naturally aspirated version is the most reliable with minimal issues. The turbo version requires extra care and it can develop engine problems if not well maintained.
Suzuki Huster Alternatives you can buy in Kenya: Suzuki Jimny, Subaru XV, Mitsubishi Pajero Mini, Land Rover Defender 90, Jeep Wrangler, Mazda CX-3
Price of the Suzuki Hustler in Kenya and where to buy it: Check Here
Import the Suzuki Hustler in Kenya: https://topcar.co.ke/import-your-car/
Categories:
Cars in Kenya