2011 Honda Fit Review
The Honda Fit is a 5 seater hatchback that has been in production since 2001. Its popularity in Kenya has been gaining steadily as more and more people are appreciating the quality and reliability of Hondas. Locally it competes with the Toyota Vitz, Mazda Demio and Nissan Tiida. It scores high marks in safety, comfort, reliability and fuel consumption. It is best suited for urban driving but can be used for long distance driving occasionally.
You can get more about this
Honda Fit
Detailed Review
This is an update to the 2010 Honda Fit Review
The 2011 Honda Fit falls in the second generation known as the GE that was in production from 2007 to 2014. The second generation is longer and wider than the previous generations, with major improvements to the engine, suspension and interior.
Read a detailed analysis of the new Honda Fit Here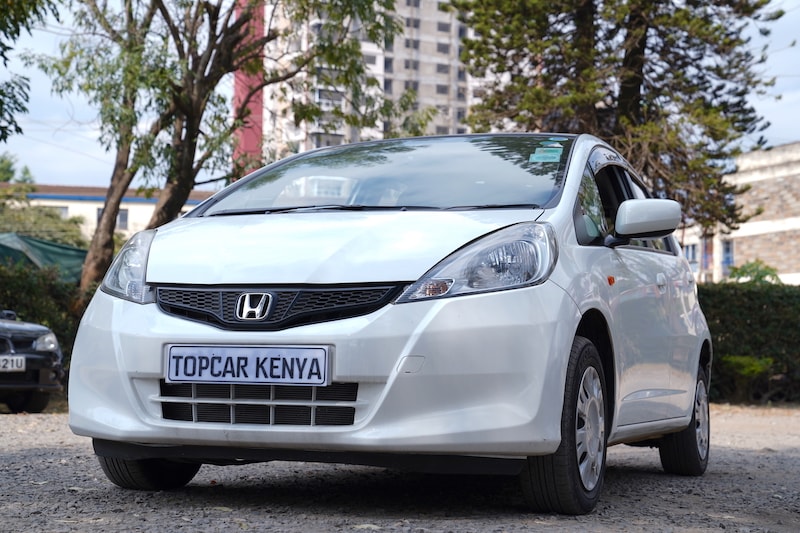 There are 2 engine options available with the 2011 Honda Fit, The 1.3 Litre L13AI4 engine and the 1.5 Litre L13AI4 engine. These are linked to either a 5-Speed Automatic or a 6-Speed manual transmission.
2011 Honda Fit Grades
Honda Fit 13G: This comes with the 1300cc engine and standard features that include Air Conditioner, Automatic Transmission, ABS, 13inch Steel rims or 14 Inch Alloy Rims, CD/Navigation system, Driver and Passenger Airbags, and Fog Lights on some.
Honda Fit 15G: This comes with the 1500cc engine and standard features that include Air Conditioner, Automatic Transmission, ABS, 13inch Steel rims or 14 Inch Alloys, CD/Navigation system, Driver and Passenger Airbags, Fog Lights on package editions
Honda Fit RS: This is the sports version of the Honda Fit that has been tuned for performance. It has an upgraded suspension that features heavy duty coilovers, front and rear disc brakes and 16 Inch Alloy rims. It comes with the 1500cc engine that has been tuned for extra power and mated to a 6 Speed Manual Transmission or a 5 speed Auto. On the exterior, it has a body kit, fog lights and rear spoiler.
2011 Honda Fit Interior
Legroom & Space
As we said earlier, the second generation Fit is longer and wider than previous generations. This translates to more legroom and space both for driver and passengers. On the inside, the 2011 Honda Fit feels very spacious and you can be mistaken to think you are in a much bigger car. At the first row, the driver is afforded a comfortable position with a good view of the road. With the tilt steering and an adjustable seat, the driver is able to configure the desired driving position. A tall driver should not have a problem finding an acceptable driving position. The passenger seat is similarly well spaced and offers the best legroom in the car. At the second row, the seats are set at an elevated position which provides for a natural seating position.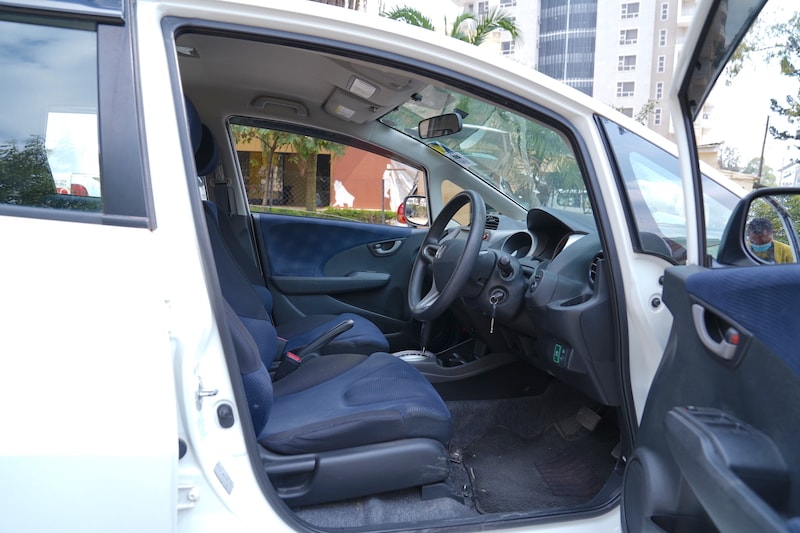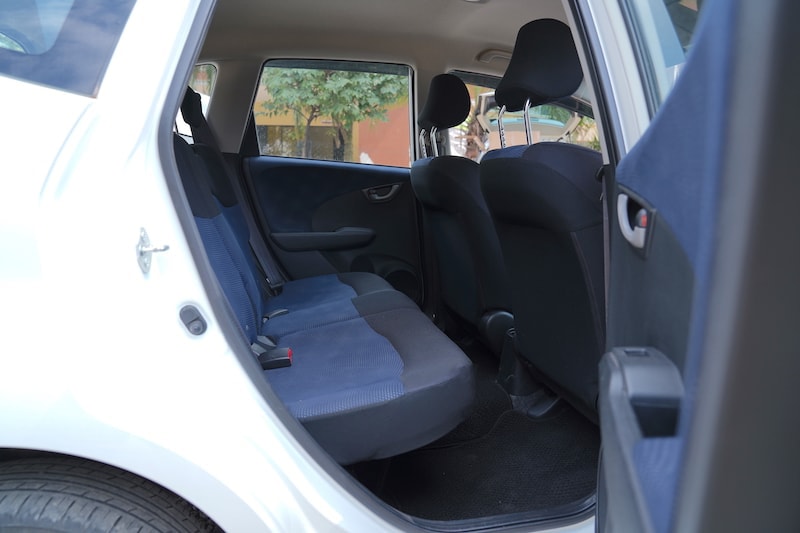 When compared to the Mazda Demio and the Toyota Vitz, the 2011 Honda Fit has better interior space and legroom. It feels much more roomier thanks to the elevated seats and a wider interior.
Cabin Storage
There are sufficient storage compartments for items such as smartphones, beverages, goggles, handbags etc. For the 1st row, there are 4 cup-holders, door panel storage, a shelf below the dashboard, a glovebox and cubby box. For the 2nd row, the only storage is on the seat jacket pockets.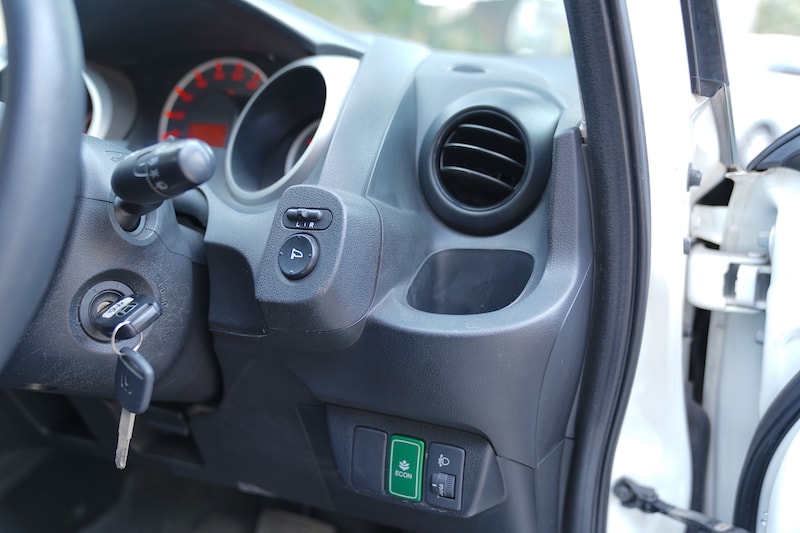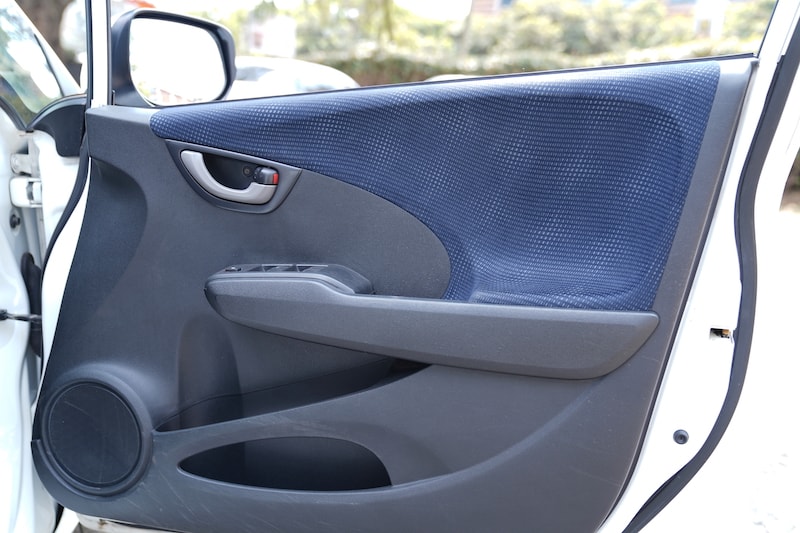 2011 Honda Fit Boot Space
The boot space for the 2011 Honda Fit is simply awesome. For the car of this size, you're not going to get any better boot space. There's also extra storage shelfs below the floor of the boot. With the rear seats folded down, the boot space is quite sizeable . We love it.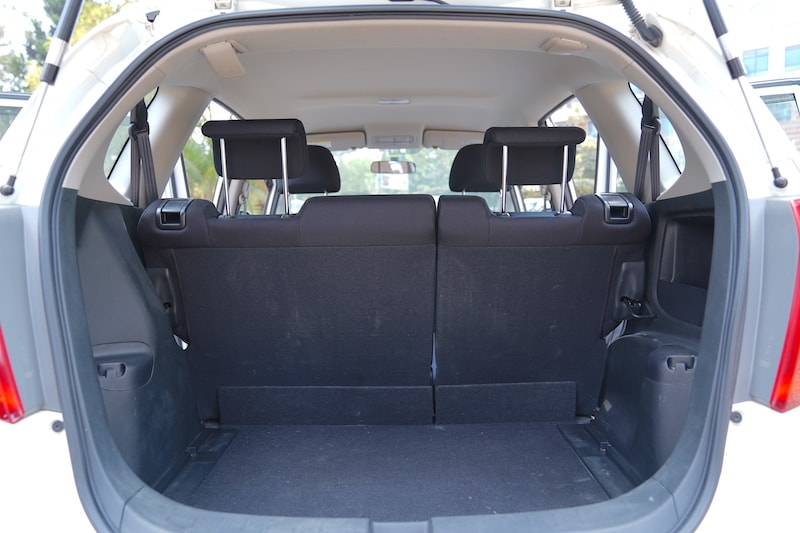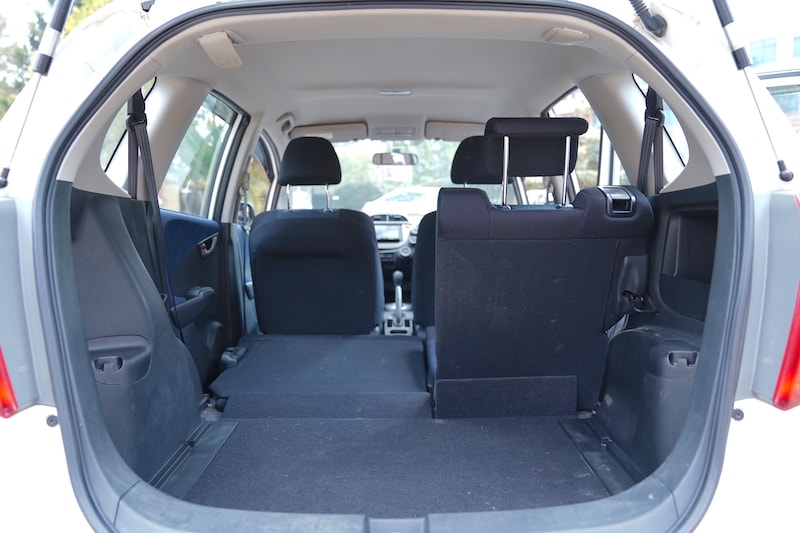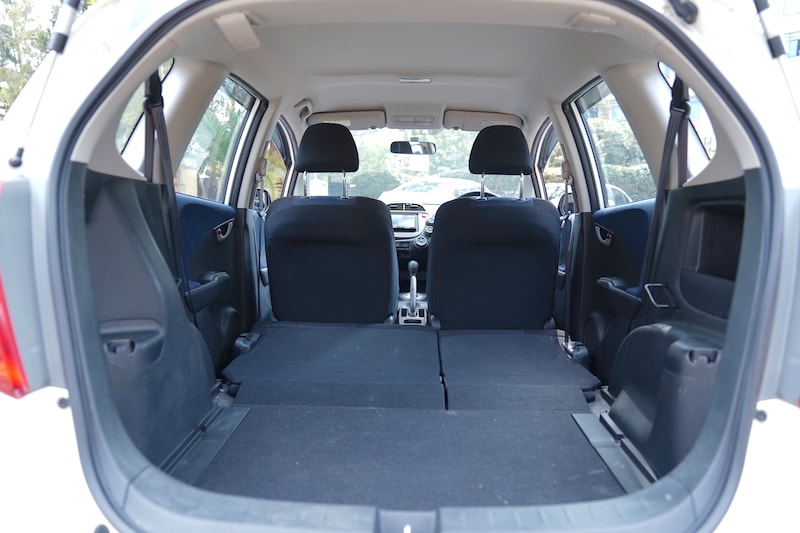 Extras:  Double Din Stereo, Navigation(Optional), AC, Heater, Fog Lights(optional)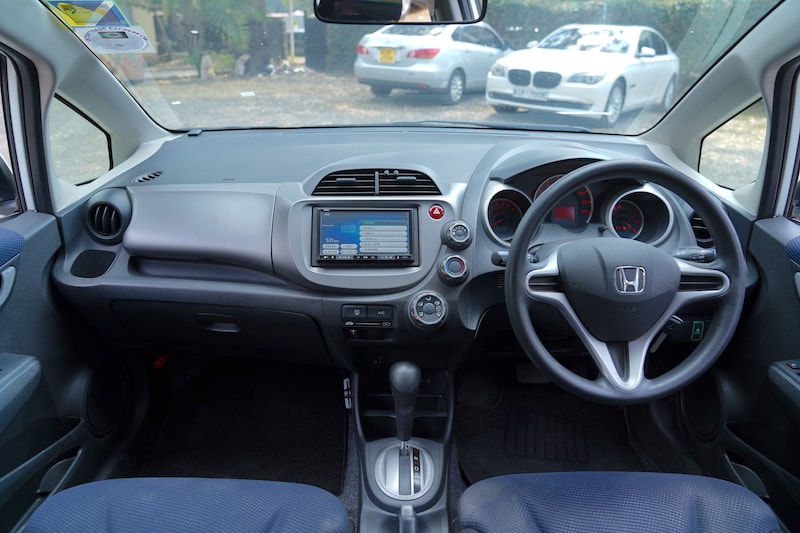 2011 Honda Fit Safety Features: 6 SRS Airbags, ABS, ESC
2011 Honda Fit Exterior
On the exterior, the 2011 Honda Fit looks boxier and taller than the Vitz and Demio. Some people like it that way while others don't but its really a matter of preference. It looks good in alloy rims as opposed to the steel rims that look rather cheap.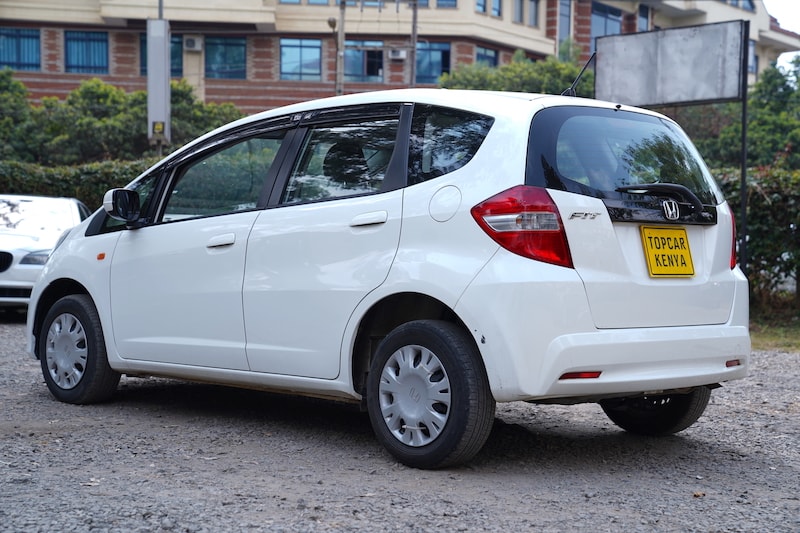 2011 Honda Fit Fuel Consumption
2011 Honda Fit 13G consumes 20.6 km/L
2011 Honda Fit 15G consumes 19.0 km/L
2011 Honda Fit RS consumes 16.2 km/L
2011 Honda Fit Acceleration 
2011 Honda Fit 13G accelerates from 0-100 km/h in 12.1 secs.
2011 Honda Fit 15G accelerates from 0-100 km/h in 10.9 secs.
2011 Honda Fit RS accelerates from 0-100 km/h in 9.6 secs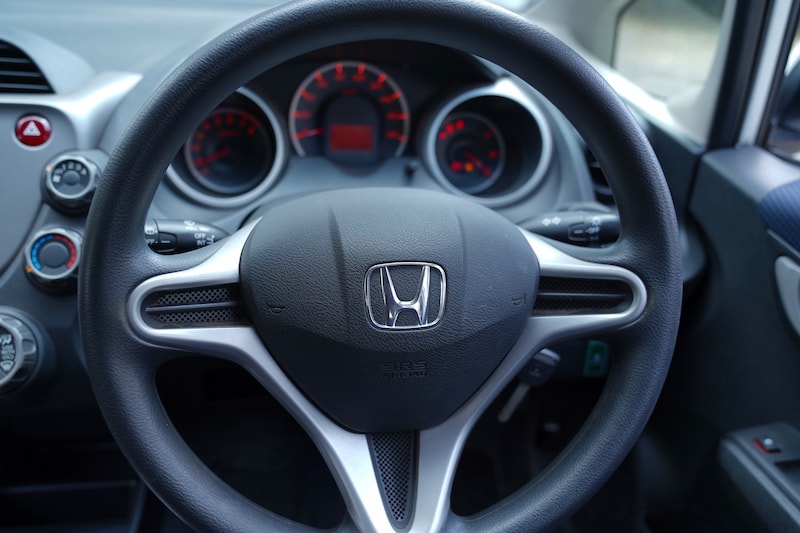 2011 Honda Fit Fuel Tank Capacity: 42 Litres
2011 Honda Fit Ground Clearance
The 2011 Honda Fit has a ground clearance of 5.90 Inches(150mm). This is below the minimum recommended clearance of 6.5 Inches for Kenyan roads and it will not clear some speed bumps. It may be necessary to modify the ground clearance to adjust the car to Kenyan roads. Read our guidelines here on how to safely increase a vehicle's ground clearance.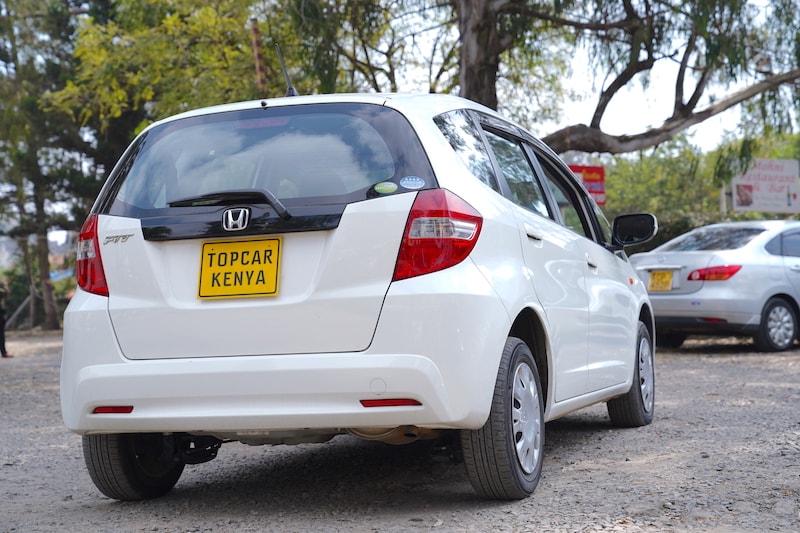 2011 Honda Fit Stability and Handling
The 2011 Honda Fit handles the corners really well and the stability feels right. When compared to the Demio and the Vitz, it's got better stability and ride quality.
Service Intervals
Minor Service: At 5,000 km. Requires Air Cleaner, Oil Filter, and Engine Oil
Major Service: At 10,000km. Requires Air Cleaner, Oil Filter, Fuel Filter, ATF Filter, Cabin Filter, Plugs, Front Brake Pads, Rear Brake Pads, ATF Oil, and Engine Oil
Spare Parts Availability, Cost & Where to buy
In the years past, Honda spare parts were generally hard to find in Kenya however, things are different now. We sampled a list of important parts for the 2011 Honda Fit and set about looking for them in Nairobi. We easily found service parts and suspension parts such as plugs, filters, brake pads and shocks. We recommend Honda Kenya on Mombasa road among many other shops that sells Honda genuine parts. Body parts require more time and negotiations but we found all of them. Spare parts for the 2011 Honda Fit are fairly priced and comparable to prices of Toyota Vitz, so no worries about cost of repair here. For a list of shops that sell Honda Spares in Kenya, follow this link
2011 Honda Fit Reliability
The driving conditions in Kenya are significantly different from those in Japan and Europe. Reliability reviews done for those markets largely do not apply to the Kenyan market. There are differences in roads, fuel, climate, spares, and technical expertise. To give you accurate and reliable local insights, we interview experts such as mechanics and car dealers, who have in-depth knowledge of the Kenyan market. We also test the cars ourselves. Our aim is to give you the right information to enable you make an informed decision when buying a car.
Many people in Kenya may not actually be aware that Honda builds more reliable cars than Toyota. That's, a fact and the 2011 Honda Fit is no different. Locally, we interviewed several Honda mechanics and they were unanimous that the Honda Fit is a reliable car.
However they caution that the Honda Fit suffers from gearbox malfunctions attributed to use of bad quality Automatic Transmission Fluids(ATF). Always use the recommended oil as per the Owner's Manual.
Another caution is to avoid engine wash unless done by a professional. Water may sip into the coil plugs and cause uneven idling and stalling. We recommend that you always follow the guidelines in the Owners Manual.
To download the 2011 Honda Fit Owner's Manual click here
Resale Value: Average
Honda Fit Competitors: Toyota Vitz, Mazda Demio, Nissan Note
Cost of Ownership
Purchase Price: See the Latest Honda Fit Prices in Kenya
Comprehensive Insurance: Average Ksh. 30,000/- Or
3rd Party Insurance: Ksh. 7,000/-
Change of Tyres(If neccessary) Ksh. 20,000/- for 4 Tyres
What we like about the 2011 Honda Fit
1. Reliable
2. Spacious Interior
3. Excellent on Fuel Consumption
Conclusion
The 2011 Honda Fit is an incredibly practical car that can carry 5 adults and their luggage. When we compare it to cars in its class, it emerges as a stronger contender for the top position.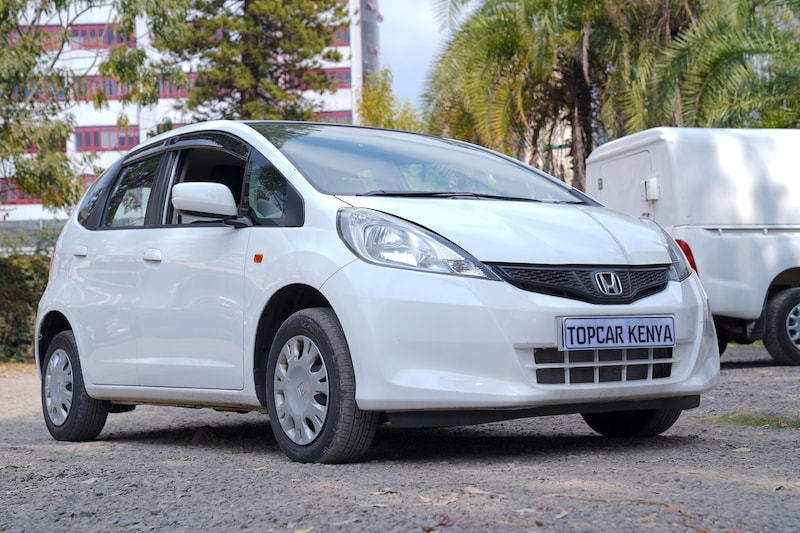 ---
If you have a question about this model or any other automotive questions, you can now get answers on our forum.
If you want to sell or trade-in you vehicle, you can list it for free via our seller portal.
If you wish to purchase this model local or abroad, you can do that via our marketplace.
You can get more about this
Honda Fit