2012 Mitsubishi Outlander Review
The 2010 Mitsubishi Outlander is a 5 or 7 seater SUV that is offered in both 2WD and 4WD. It competes with the Nissan Xtrail, Toyota Vanguard, Toyota Rav4, Subaru Forester and the VW Tiguan. In this category, the Outlander and the Vanguard are the only 7 seaters.
You can get more about this
Mitsubishi Outlander
Detailed Review
The Mitsubishi Outlander is a medium sized SUV manufactured in Japan since 2001. The first generation was sold as the Mitsubishi Airtrek in Japan and Mitsubishi Outlander in other markets. In 2006, the second generation was introduced to the market and the Outlander name was adopted globally. Production of the Mitsubishi Airtrek continued until 2008 when it ceased and the Airtrek was dropped entirely. The popularity of the Outlander has been growing steadily in the past few years thanks to its appealing design, 7 Seater capacity and improved reliability.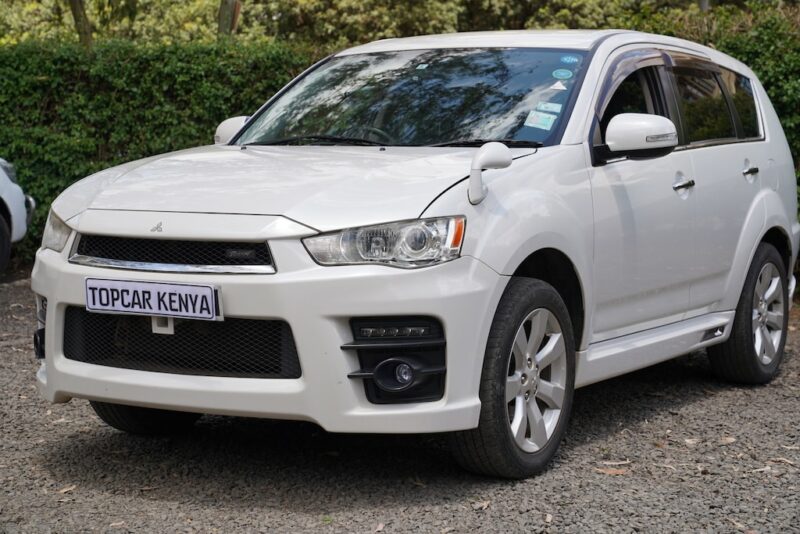 The 2012Mitsubishi Outlander comes with 3 engine options; The 2.0L petrol DOHC MIVEC, the 2.0L Turbodiesel DOHC and the 2.4L petrol DOHC MIVEC. The petrol engines use the MIVEC technology (Mitsubishi Innovative Valve Timing Control) and the diesel engine uses a Common Rail fuel injection system. The prevalent transmission is a 6-speed CVT but manual options are also available.
2012 Mitsubishi Outlander Grades
The 2012 Mitsubishi Outlander comes in 3 grades. These are; the Mitsubishi Outlander 2.0M, the Mitsubishi Outlander 2.4G and the Mitsubishi Outlander 2.0DiD. Below are specs for each of these grades.
1. Mitsubishi Outlander 2.0M – This comes with the 2.0L DOHC MIVEC engine, available in 2WD or 4WD, and 5 or 7 Seater.
2. Mitsubishi Outlander 2.4G – This comes with the 2.4L DOHC MIVEC engine, available in 2WD or 4WD, and 5 or 7 Seater.
3. Mitsubishi Outlander 2.0DiD – This comes with a turbocharged Volkswagen 2.0L common rail diesel engine, available only in 4WD, and 7 Seater
2012 Mitsubishi Outlander Interior
Legroom & Space
The 2012 Mitsubishi Outlander is a well designed car as is evident in its well laid out interior. On the dashboard, the various dials are neatly arranged in a functional and accessible way. The permanently illuminated instrument cluster provides for good visibility day and night.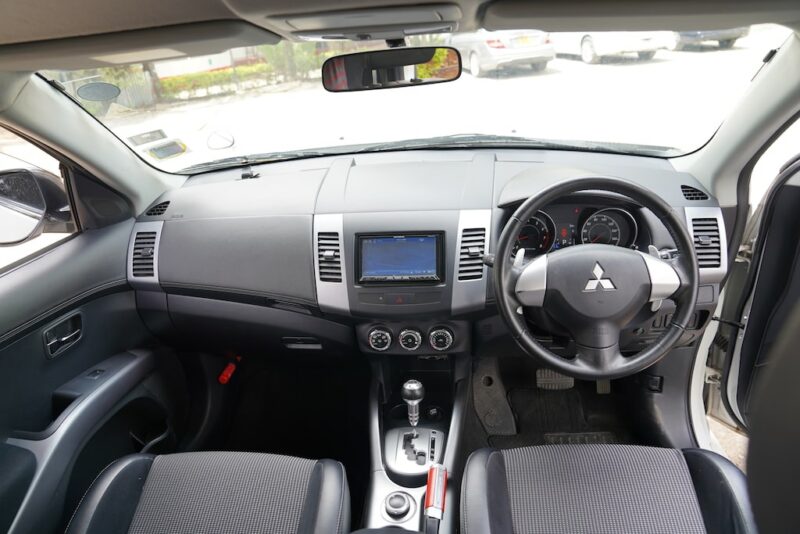 Being a 7 seater, we thought the interior space will be compromised but we were pleasantly surprised. At the first row, the legroom is good for both driver and passenger. Tall people can be comfortably accommodated here. For the second row, the legroom is decent with seats that are well elevated and ideal for long distance travel. For the third row, unfortunately the space is very tight.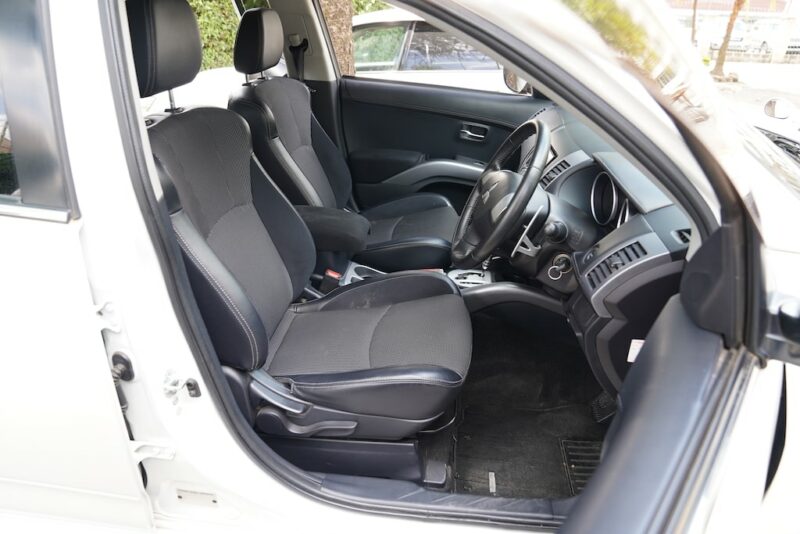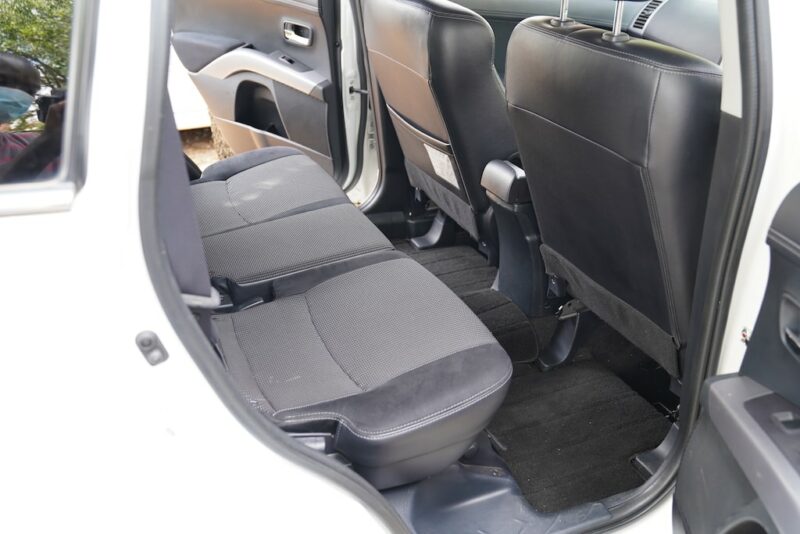 Cabin Storage
The 2012 Mitsubishi Outlander has many clever storage compartments. These are useful for storing items such as smartphones, beverages, goggles, handbags etc. For the 1st row, there 4 cup-holders, door panel storage, a storage shelf below the dashboard, a glovebox and a center-box. For the second row, the only storage is on the front seat jacket pockets. For the third row, there is one pocket compartment on the left wheel arch.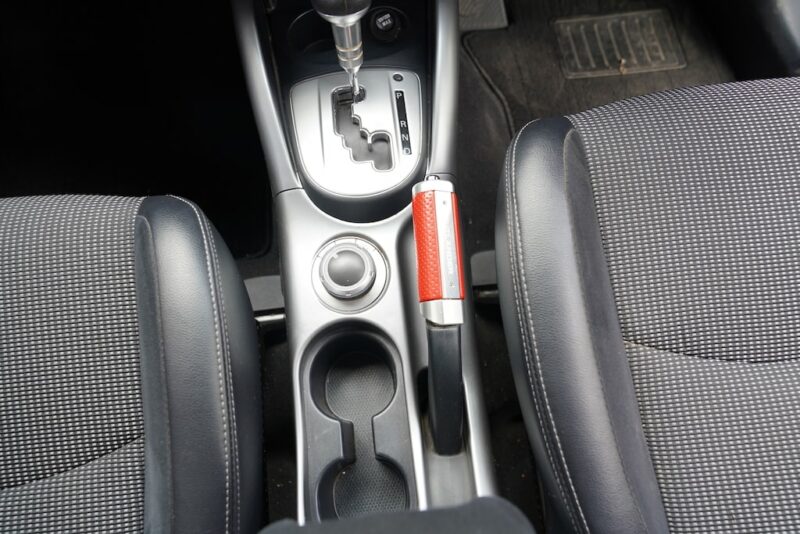 2012 Mitsubishi Outlander Boot Space
In the 7 seater configuration, the boot space is non existent and can only squeeze small luggage. In the 5 seater configuration, the boot space is ok and can carry sizable luggage such as suitcases, etc. In the 2 seater configuration, the rear seats can be folded to create a big space. One major flaw is, the 2nd row seats do not fold completely into the floor as we have seen in other cars such as the X-Trail.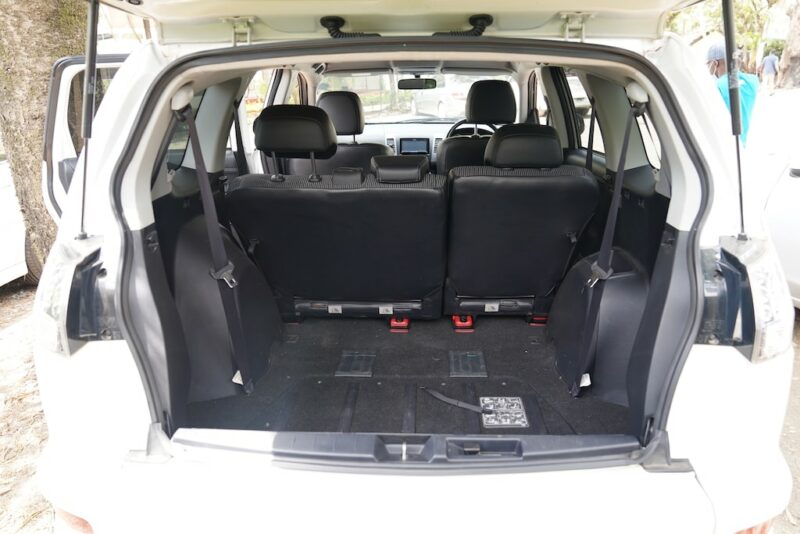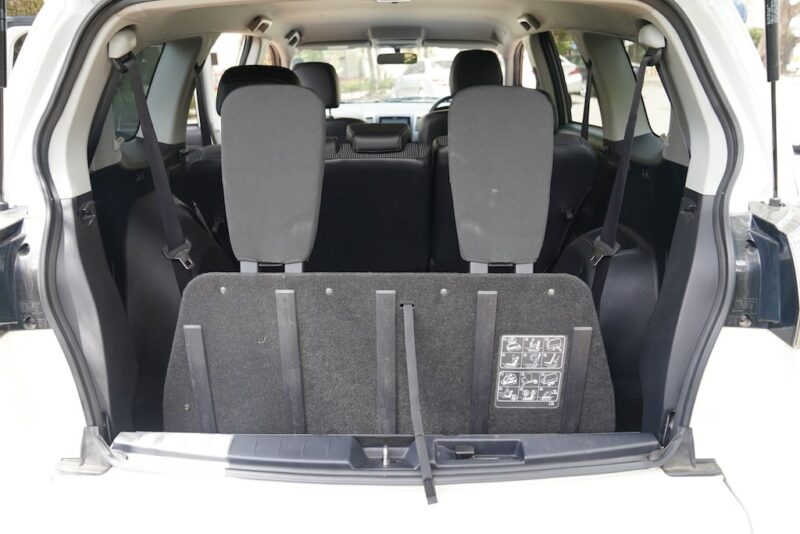 Other Extras – Double Din Stereo, Navigation(Optional), Reverse Camera, Keyless Entry
2012 Mitsubishi Outlander Exterior
The 2012 Mitsubishi Outlander is a sleek SUV with a well designed exterior.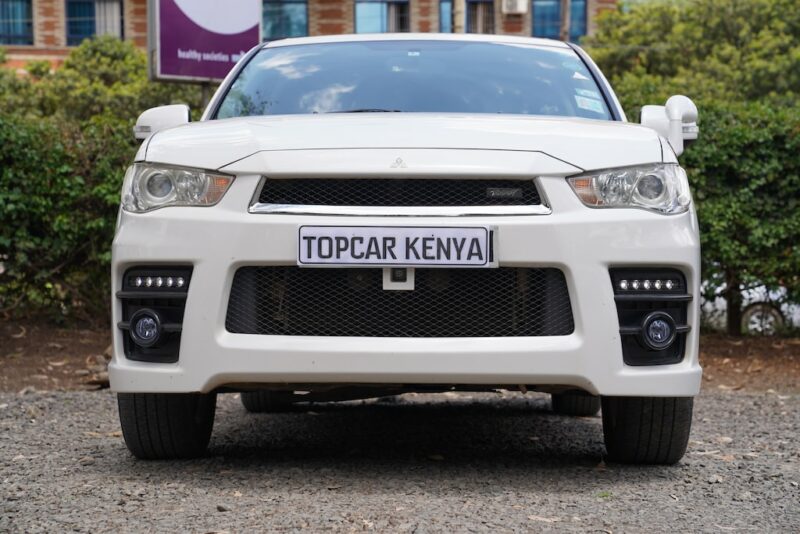 2012 Mitsubishi Outlander Fuel Consumption
2012 Outlander 2.0M(4WD) Fuel Consumption: 12.4 km/L (On Average)
2012 Outlander 2.4G Fuel Consumption: 10.9 km/L (On Average)
2012 Outlander 2.0DiD Fuel Consumption: 14.9 km/L (On Average)
2012 Mitsubishi Outlander Acceleration :
2012 Outlander 2.0M(4WD) accelerates from 0-100 km/h in 12.6 sec.
2012 Outlander 2.4G(4WD) accelerates from 0-100 km/h in 10.9 sec.
2012 Outlander 2.0DiD(4WD) accelerates from 0-100 km/h in 10.8 sec.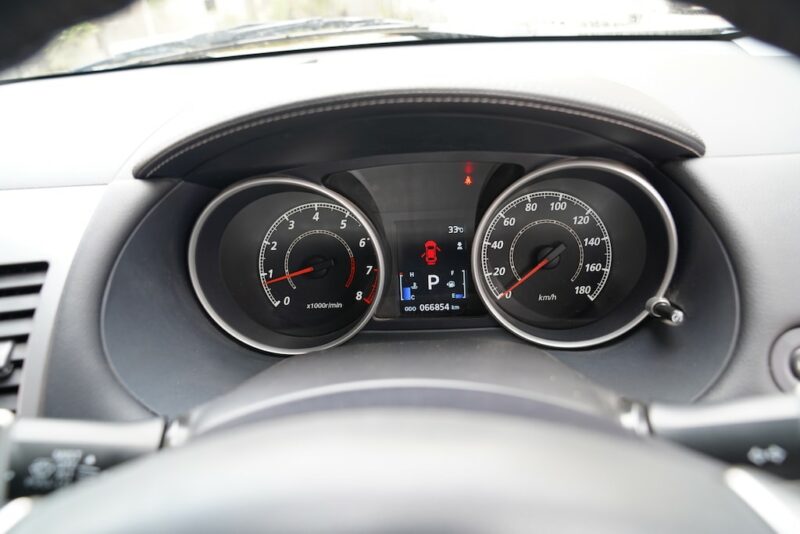 2012 Mitsubishi Outlander Fuel Tank Capacity: 60 Litres
2012 Mitsubishi Outlander Ground Clearance
The 2012 Mitsubishi Outlander has a ground clearance of 8.5 Inches(216mm). This is very good ground clearance and is the same as that of the Subaru Forester SH. It is better than the Nissan Xtrail at 8.3 Inches. The 2012 Outlander will comfortably clear road obstacles such as speed bumps and potholes.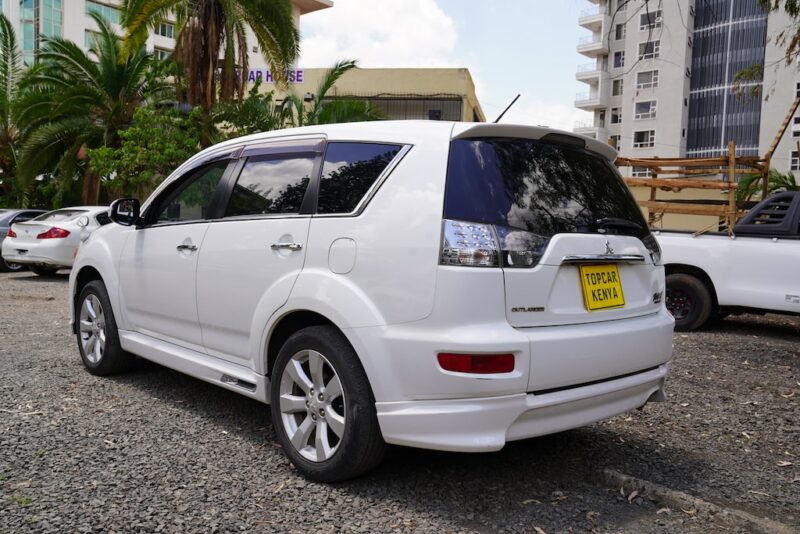 2012 Mitsubishi Outlander Stability and Handling
The 2012 Mitsubishi Outlander is a solid car on the road that seems as if it floats over potholes and other road obstacles. The multi-link strut coil springs do a good job at keeping the car under control even at sharp turns. The Outlander has good stability and handling and we guess it was built by the same engineers as the Mitsubishi Evolution. Its pretty good.
Service Intervals
Minor Service: Done at 10,000 km. Requires Air Cleaner, Oil Filter, and Engine Oil
Major Service: Done at 15,000km. Requires Air Cleaner, Oil Filter, Fuel/Diesel Filter, ATF Filter, Cabin Filter, Plugs, Front Brake Pads, Rear Brake Pads, ATF Oil, and Engine Oil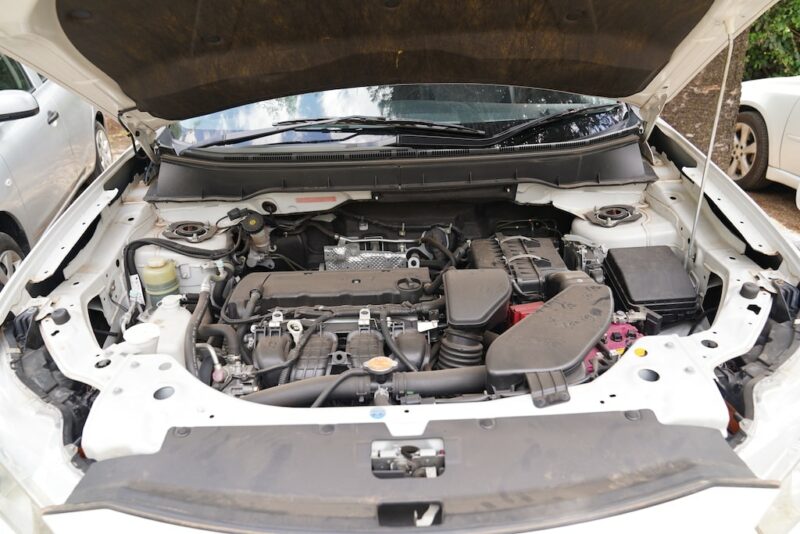 Spare Parts Availability, Cost & Where to buy
Mitsubishi Outlander spares are not easily available in Kenya and if you don't know where to find them, it can be a nightmare. We spent 4 hours trying to locate dealers for the parts but we eventually found them. Service parts and suspension parts are averagely priced and are comparable to those of the Subaru Forester. With a monthly budget of about Ksh.8,000/- you will cover maintenance costs. Body parts such as headlights and side mirrors are expensive so get comprehensive insurance cover. Used parts generally require negotiations and their prices vary from shop to shop. In Nairobi, most spare shops that stock Mitsubishi Parts are located in Industrial Area and Kirinyaga road. You can get the listings for these shops here 
2012 Mitsubishi Outlander Reliability
The driving conditions in Kenya are significantly different from those in Japan and Europe. Reliability reviews done for those markets largely do not apply to the Kenyan market. There are differences in roads, fuel, climate, spares, and technical expertise. To give you accurate and reliable local insights, we interview experts such as mechanics and car dealers, who have in-depth knowledge of the Kenyan market. We also test the cars ourselves. Our aim is to give you the right information to enable you make an informed decision when buying a car.
Mitsubishi vehicles got a bad reputation in Kenya during the Pajero V600 era. This was a very cranky car with a choking engine and a sub-par suspension. Whatever the history, the Mitsubishi Outlander has banished those memories. We interviewed several Mitsubishi mechanics and their feedback on the petrol engines was positive. They say if well maintained, the petrol Outlander is a reliable car with few mechanical problems. We have heard scary tales of the diesel engine and our advise is to steer clear. If you're absolutely bent on diesel then go for a low mileage and well maintained car.
Always follow the recommended guidelines as per the Owner's manual. To download the 2012 Mitsubishi Outlander Owner's Manual click here
Resale Value: Average
Comparable Cars: Toyota Harrier, Nissan X-Trail, Toyota Vanguard, Toyota Rav4, Mazda CX-5 and Subaru Forester.
Cost of Ownership
Purchase Price: See Latest Mitsubishi Outlander Prices here
Comprehensive Insurance: Average Ksh. 64,000/ per annum- Or
3rd Party Insurance: Ksh. 7,000/- per annum
Change of Tyres(If neccessary) Ksh. 60,000/- for 4 Tyres
What we like about the 2012 Mitsubishi Outlander
1. Good interior design
2. Good off-road capability for the 4WD
3. 7 Seater capacity
What we don't
1. Third row seats are not for adults
2. Expensive parts
Conclusion
The 2012 Mitsubishi Outlander packs a big punch for the car of its size. The third row seats are really for children and adults should use them for short distance. It performs well on the road and has got a sporty feel to it. The 2.4L is thirsty but it offsets this by supplying plenty of power for a quick and exciting acceleration.
Where to Buy the Mitsubishi Outlander in Kenya
If you are looking to either import or buy the Mitsubishi Outlander locally, we can help you with this process. Over the years, we have developed a network of trusted dealers both in Kenya and Japan who supply us with exceptional cars. Simply call us or send us a message through our contacts below and we'll get you the right car at the right price.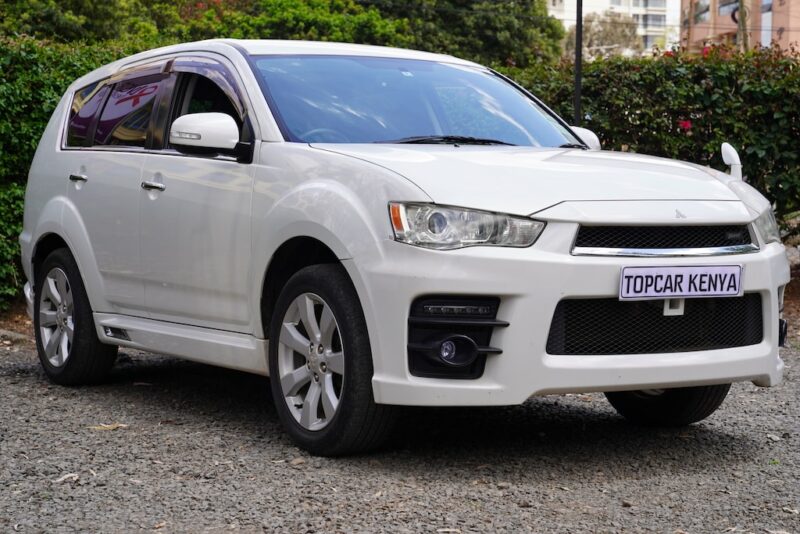 ---
If you have a question about this model or any other automotive questions, you can now get answers on our forum.
If you want to sell or trade-in you vehicle, you can list it for free via our seller portal.
If you wish to purchase this model local or abroad, you can do that via our marketplace.
You can get more about this
Mitsubishi Outlander