2011 Toyota RAV4 Review
Ever since it was introduced to the market in 1994, the Toyota RAV4 has been a top selling car. It was the first car to successfully bridge the gap between the big SUVs and the small Compacts. It was by way of the Toyota RAV4 that the world was introduced to the now popular Crossover category and over the years, there have been many competitors but the RAV4 has weathered the storm. In the Kenyan market, it competes with the Honda CR-V, Nissan X-Trail, Subaru Forester, VW Tiguan, Mitsubishi Outlander and Land Rover Freelander.
You can get more about this
Toyota Rav4
Detailed Review
The Toyota RAV4 has been in production for five generations starting from 1994. The First generation known as the XA10 was in production from 1994 to 2000; the second generation known as XA20 was in production from 2000 to 2005; the third generation known as the XA30 was in production from 2005 to 2016; the fourth generation known as the XA40 was in production from 2012 to 2018; the fifth generation known as the XA50 has been in production from 2018 to Present.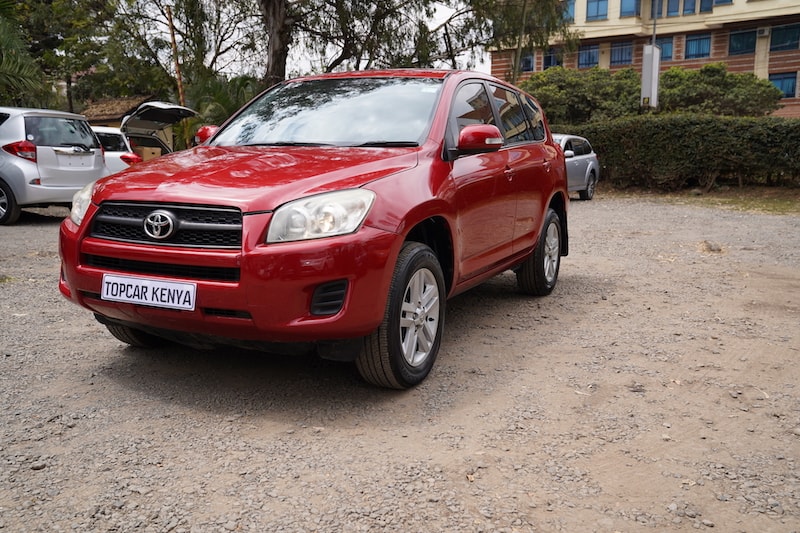 The Toyota RAV4 is virtually the same as the Toyota Vanguard save for differences in body size and engine lineup. The RAV4 is smaller and does not have a seven seater option.In the Japanese market, the RAV4 is only offered with the 2.4L 2AZ-FE engine whilst the Vanguard is offered with both the 2AZ-FE engine and a 3.6L 2GR-FE engine. Both the RAV4 and the Vanguard are offered in 2WD and 4WD with manual or automatic transmissions.
2011 Toyota RAV4 Grades
Toyota RAV4 X – This is the base package that comes with 17-Inch steel rims, 2WD/4WD, rear mounted spare wheel, CD/Radio Player without LCD, Plain steering wheel, keystart and no fog lights
Toyota RAV4 STYLE – This is the luxury package that comes with 17-Alloy rims, 2WD/4WD, internal mounted spare wheel, Infotainment with Navigation, multi function steering wheel, smart start, fog lights, and Bluetooth connectivity
Toyota RAV4 SPORT – This is the sports package that comes with 18-Alloy rims, 4WD, rear mounted spare wheel, Infotainment with Navigation, multi function steering wheel, smart start, fog lights and Bluetooth connectivity
2011 Toyota RAV4 Interior
Legroom & Space
Similar to the Vanguard, the RAV4 is also a spacious car. The legroom on the first row is excellent, even a tall driver will have enough room to play with. On the second row, the legroom is also good including the middle seat which is usually squeezed on most cars.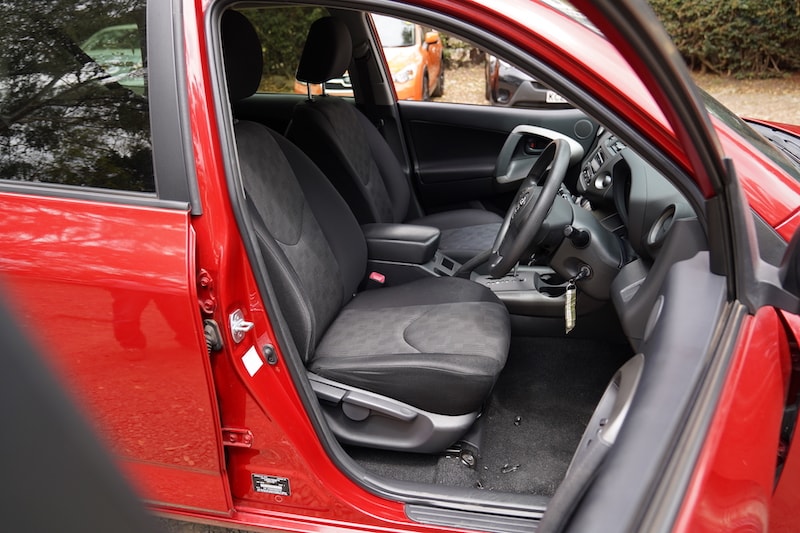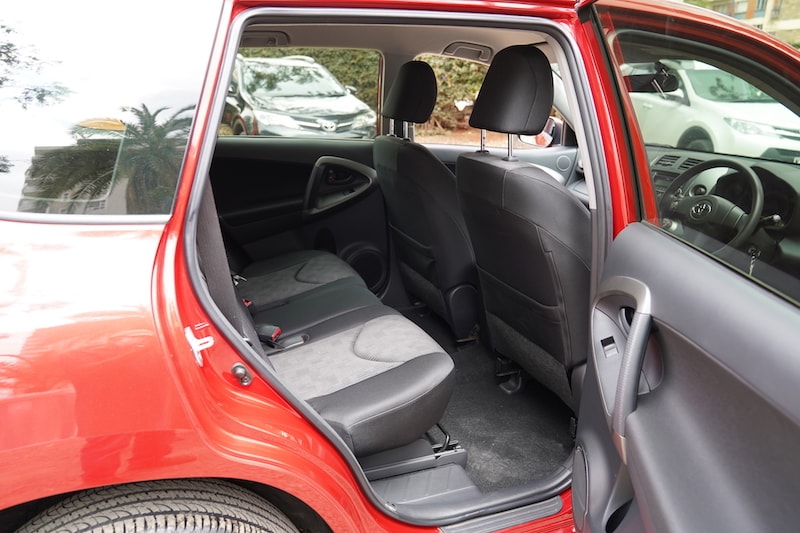 Cabin Storage
The Toyota RAV4 has plenty of storage spaces that are essential for storing items such as smartphones, water bottles and other hand luggage. For the first row there are 4 cup holders, side pockets, center box & glove box. For second row seats there are 2 cup holders – with middle seat folded and pocket storage on front seats.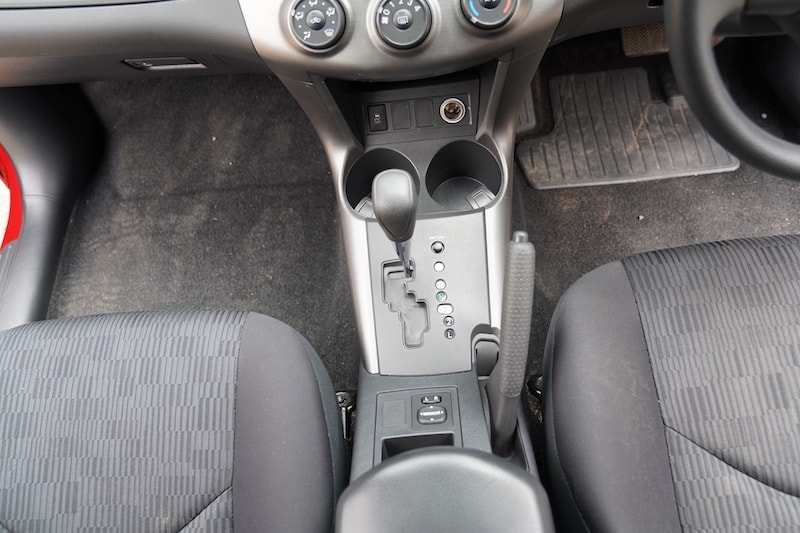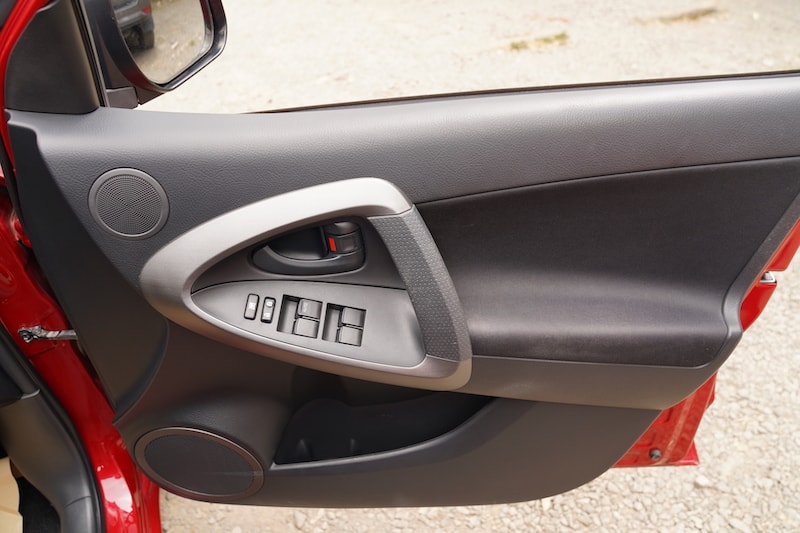 2011 Toyota RAV4 Boot Space
The Toyota RAV4 has a sufficient boot space that can comfortably carry luggage for a family of five. When extra space is required, the second row seats fold neatly into the floor and this way, it can carry bulky luggage. The only issue I have with the RAV4 boot is the side hinged tailgate that is not ideal for loading luggage in tight spaces. A top hinged tailgate would have been the most ideal for this car.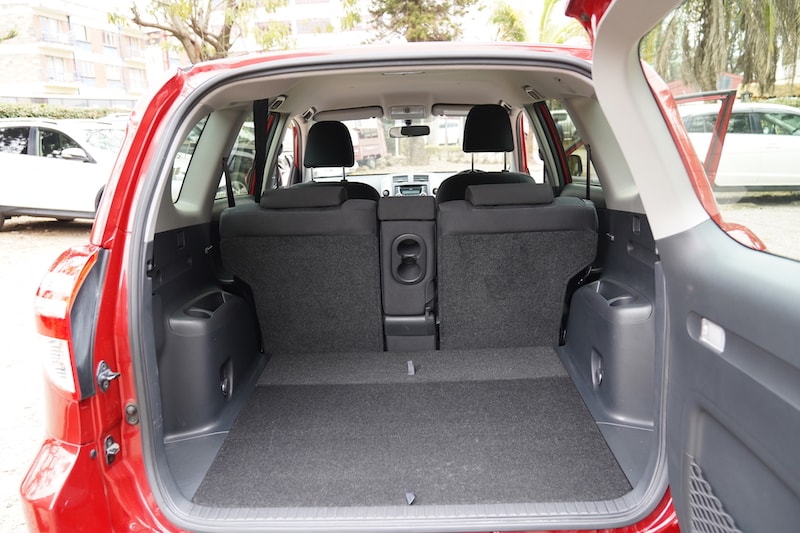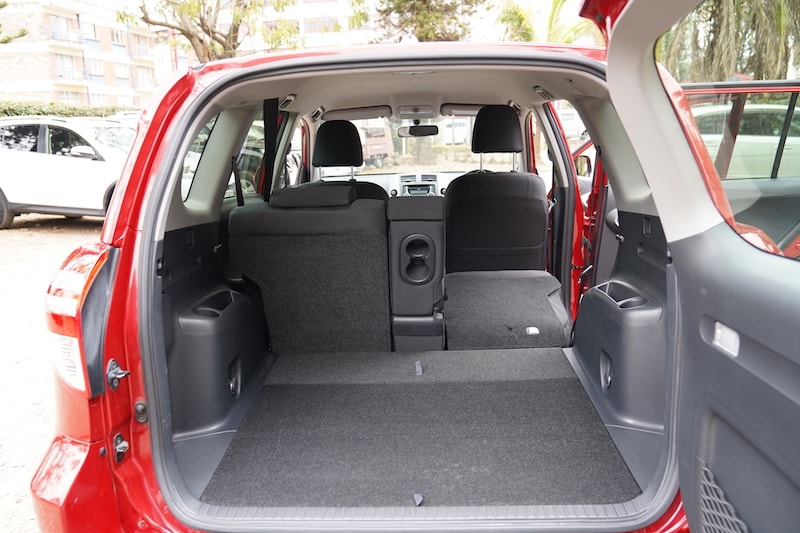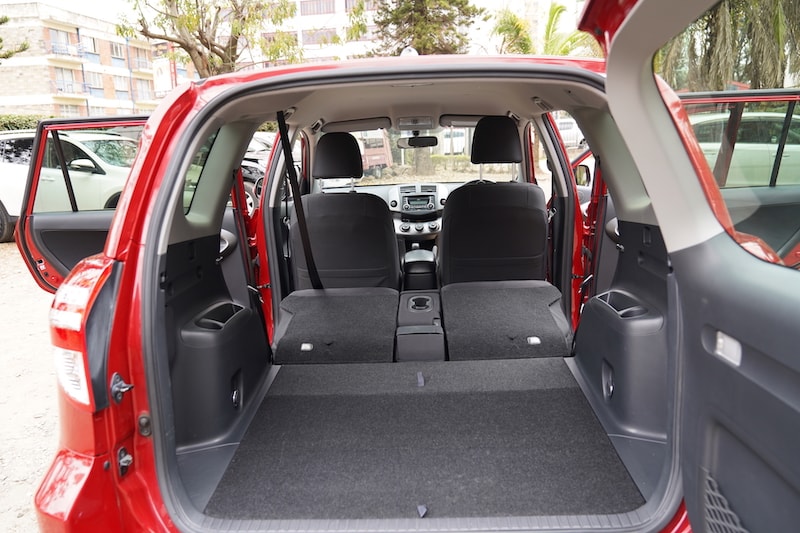 Extras: Navigation, DVD Player, Reverse Camera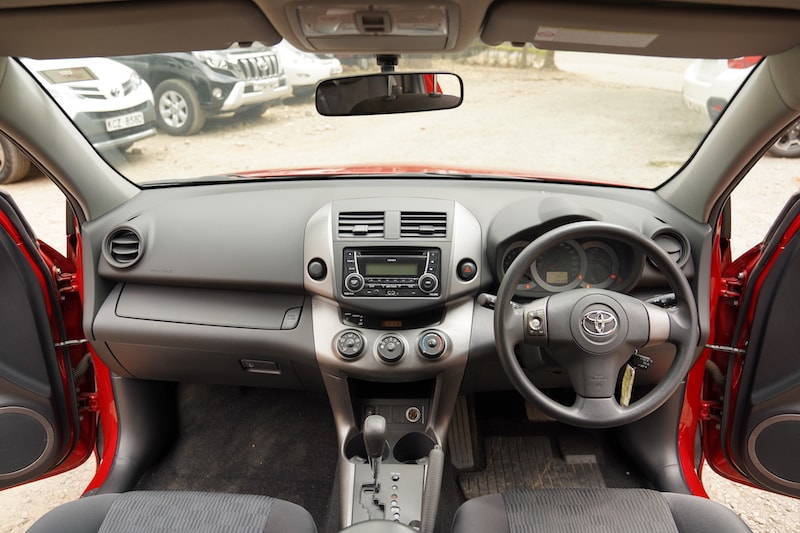 Safety Features: SRS Airbags, ISOFIX, ABS, EBD, DAC, TRC, VSC, NAVI-AI-SHIFT
2011 Toyota RAV4 Exterior
The Toyota RAV4 is a well designed car that appeals to both feminine and masculine customers. The base grade X comes with steel rims while the higher grades come with alloy rims.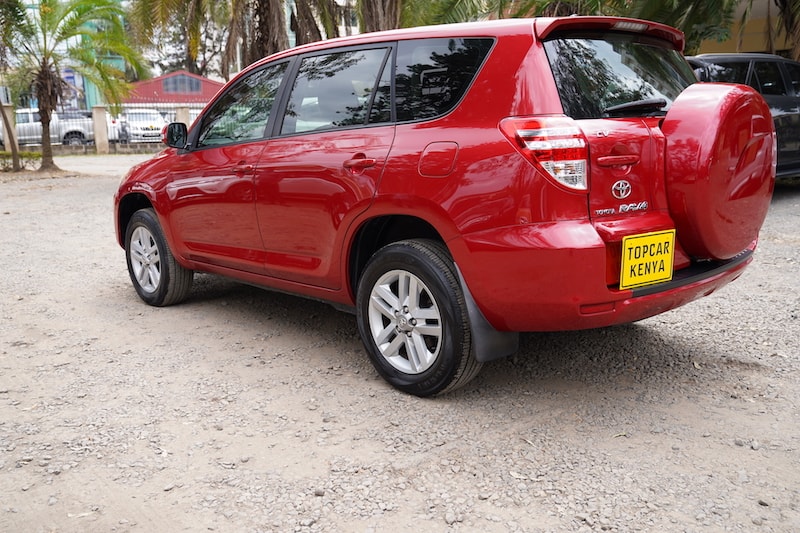 2011 Toyota RAV4 Fuel Consumption
2011 Toyota RAV4 2.4L 2WD consumes 13.4 Km/L
2011 Toyota RAV4 2.4L 4WD consumes 12.6 Km/L
2011 Toyota RAV4 Acceleration
2011 Toyota RAV4 2.4L Accelerates from 0-100 Km/h in 9.6 Sec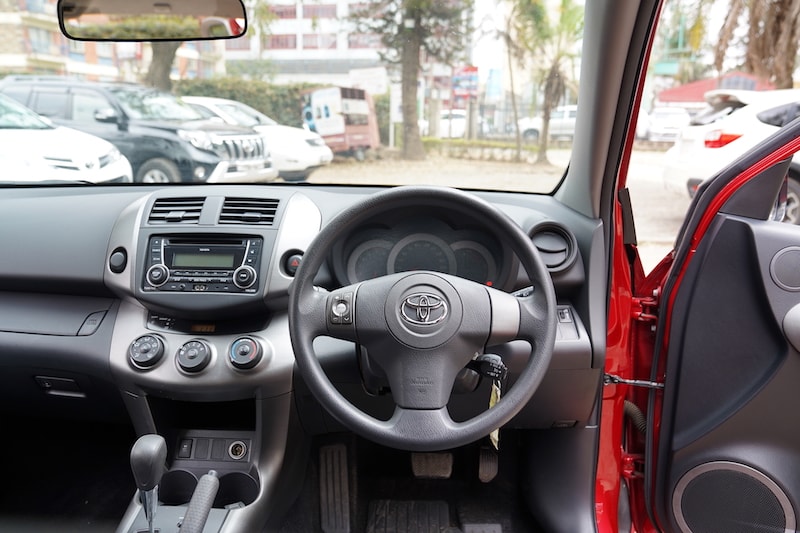 2011 Toyota RAV4 Fuel Tank Capacity: 60 Litres
2011 Toyota RAV4 Ground Clearance
The Toyota RAV4 has a ground clearance of 7.5 Inches which is good for both on road and off road driving. Even when fully loaded, the car easily clears the biggest of speed bumps. While not a pure off road vehicle, the 4WD RAV4 has some useful off-road capabilities.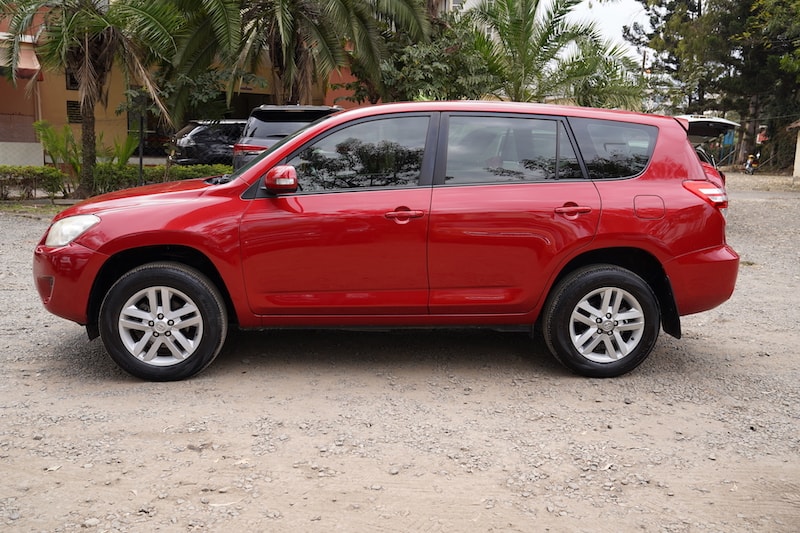 Service Intervals
Minor Service – At 10,000 km. Requires Air Cleaner, Oil Filter, and Engine Oil
Major Service – At 15,000km. Requires Air Cleaner, Oil Filter, Fuel Filter, ATF Filter, Cabin Filter, Plugs, Front Brake Pads, Rear Brake Pads, ATF Oil, and Engine Oil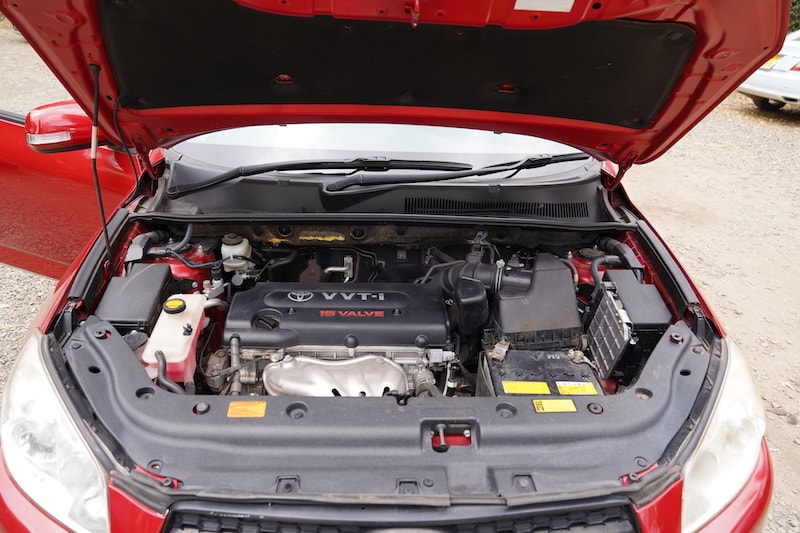 2011 Toyota RAV4 Maintenance – Spare Parts -Availability, Cost &Where to buy
The Toyota RAV4 Spare Parts are easily available in Kenya, especially service and suspension parts. For body parts, it's a mixed bag as some such as headlamps can be hard to find. The price for service and suspension parts is affordable. Body parts can get expensive depending on the part and its availability. Follow this link for a list of Toyota RAV4 Spare Parts
Reliability
The driving conditions in Kenya are significantly different from those in Japan and Europe. Reliability reviews done for those markets largely do not apply to the Kenyan market. There are differences in roads, fuel, climate, spares, and technical expertise. To give you accurate and reliable local insights, we interview experts such as mechanics and car dealers, who have in-depth knowledge of the Kenyan market. We also test the cars ourselves. Our aim is to give you the right information to enable you make an informed decision when buying a car.
The Toyota RAV4's 2AZ-FE Engine is a reliable power plant that serves in many Toyotas around the world. The mechanics we interviewed for this review pointed out one major issue which of course can be mitigated. Some engines that have not been well maintained may develop a tendency to burn oil. When buying the RAV4 either straight from Japan or used locally, ensure that the car has had a good service history.
Resale Value: Good
Competitors: Mitsubishi Outlander, Nissan X-Trail, VW Tiguan, Honda CR-V and Subaru Forester
Cost of Ownership
Purchase Price: Between Ksh. 1,600,000/-
Comprehensive Insurance: Ksh. 64,000/- Or
3rd Party Insurance: Ksh. 7,000/-
Change of Tyres(If neccessary) Ksh. 40,000/- for 4 Tyres
See Latest Toyota RAV4 Prices in Kenya
What we like about the 2011 Toyota RAV4
Spacious interior
Good fuel economy
Affordable to maintain and easily available spares
Good resale value
Conclusion
The Toyota RAV4 is a versatile and functional vehicle that can serve medium sized families well. As much as possible, go for the 4WD option as it offers better handling and off road capability. Whether buying locally or from Japan, be sure to inspect the vehicle for engine faults and underbody damage.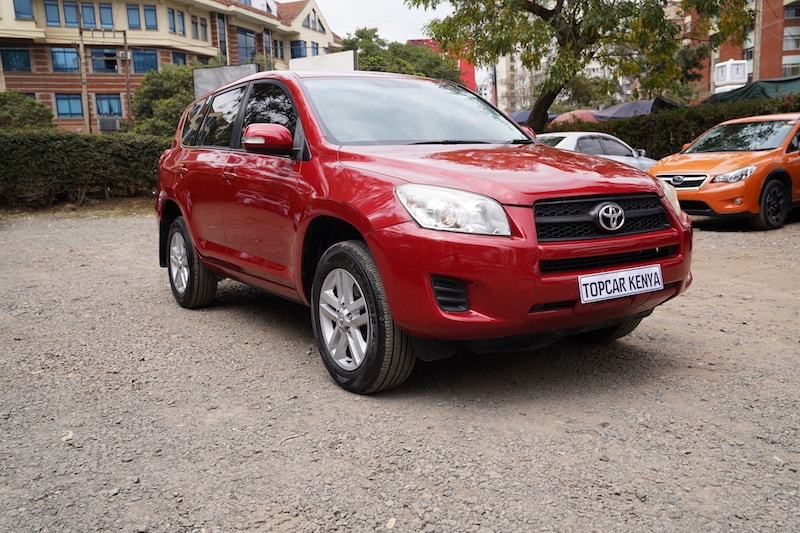 ---
If you have a question about this model or any other automotive questions, you can now get answers on our forum.
If you want to sell or trade-in you vehicle, you can list it for free via our seller portal.
If you wish to purchase this model local or abroad, you can do that via our marketplace.
You can get more about this
Toyota Rav4