2013 VW Tiguan Review
The VW Tiguan is a compact SUV that has enjoyed considerable success in Kenya over the last couple of years. It has perennially been overshadowed by the more popular Japanese rivals and has never broken into the big league per se. It's a crossbreed between the Touareg and the Passat, combining the desirable features of both worlds. It's unique selling points have been comfort and safety but new rivals such as the Mazda CX-5 and the Subaru Forester are fielding all these plus more. Other competitors include the Nissan X-Trail, Toyota Rav4, Mitsubishi Outlander and Honda CRV.
Detailed Review
The VW Tiguan is a five seater compact SUV that has been in production for two generations starting from 2007 till present. It is the best selling SUV in Europe with excellent safety and reliability ratings. Its built on the same platform as the VW Passat and they share many components.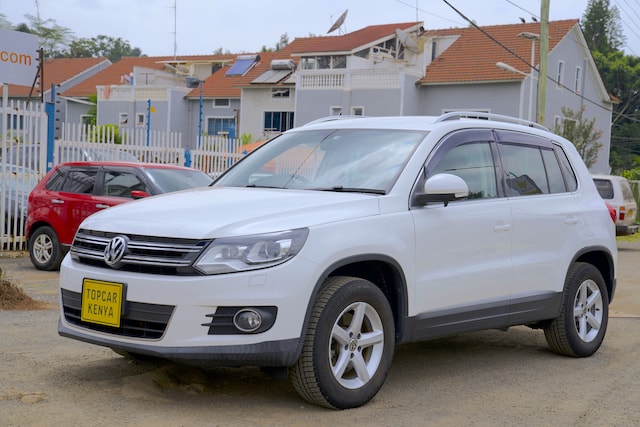 Engines
Petrol: 1.4 Litre TSI 160 PS engine, 2.0 Litre TSI 180 PS engine, 2.0 Litre TSI 210 PS engine
Diesel: 2.0 Litre TDI 110 PS engine, 2.0 Litre TDI 140 PS engine, 2.0 Litre TDI 170 PS engine
These are linked to either a 6-Speed manual transmission or a 7-speed automatic DSG transmission and available in both 2WD and 4WD.
2013 VW Tiguan Grades(UK)
VW Tiguan S – This is the entry level grade that comes with 16-Inch alloy rims, Pakata clothe upholstery, driver and front passenger height adjustable seats, semi-automatic air conditioning, CD/Radio player and electronic parking brake
VW Tiguan SE – This adds 17-Inch alloy rims, comfort seats with height and lumbar adjustment, 2-zone electronic climate control, heat insulating rear tinted windows, MP3 Player/CD changer, Bluetooth connectivity, leather trimmed three spoke steering wheel, parking sensors and fatigue detection system.
VW Tiguan Sport – This is a sports grade that adds 18-Inch alloy rims, front fog lights, chrome plated roof rails, Alcantara leather upholstery, multifunction steering wheel, sports suspension, automatic coming/leaving home lighting function and footwell illumination.
VW Tiguan Escape – This is an off-road package that comes with a 24″ front module and underbody protection that enables it to take steep angles, 17-Inch alloy rims, clothe upholstery, hill descent assist, 4MOTION 4WD, tyre pressure monitoring system, rain sensors and automatic dimming interior.
2013 VW Tiguan Interior
The interior of the Tiguan is furnished with a choice of clothe and leather upholstery. The steering wheel on the luxury grades is wrapped in soft leather and both the driver and passenger seats are electrically adjustable. An optional panoramic sunroof fills the cabin with natural light and adds a sense of space. The legroom is decent for both rows and there's enough room for tall passengers.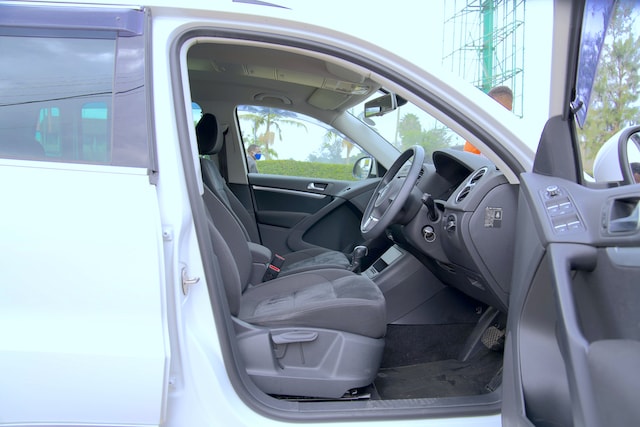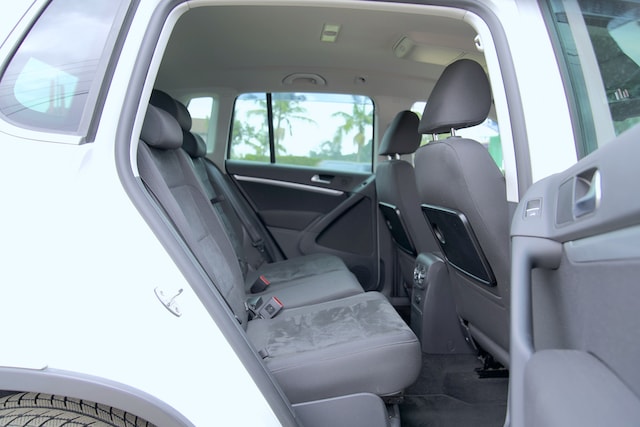 2013 VW Tiguan Exterior
On the outside, the Tiguan resembles the Touareg albeit in a smaller package with a commanding SUV posture and attractive alloy rims across the range. It features Bi-xenon LED headlights with automatic range adjustment and dynamic curve lighting continually following the steering movements. Higher grades come with fog lights and LED daytime running lights.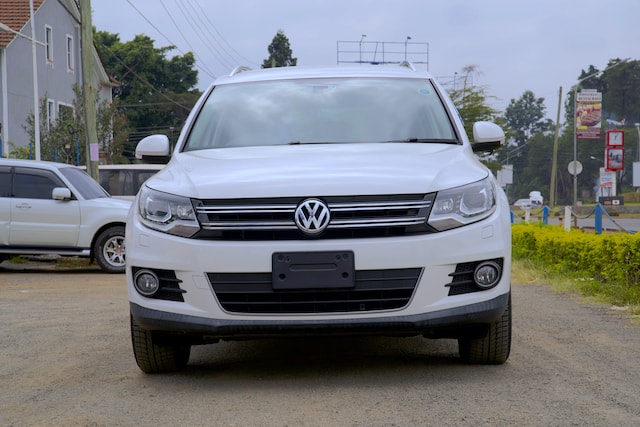 Cabin Storage
There are several storage compartments in the cabin that are useful for storing items such as smartphones, beverages, goggles, handbags etc. At the first row there are 4 cup-holders, door panel storage, a glovebox and the center-box. At the second row, there are 2 cupholders in the armrest compartment, front seat jacket pockets, overhead storage and door pockets.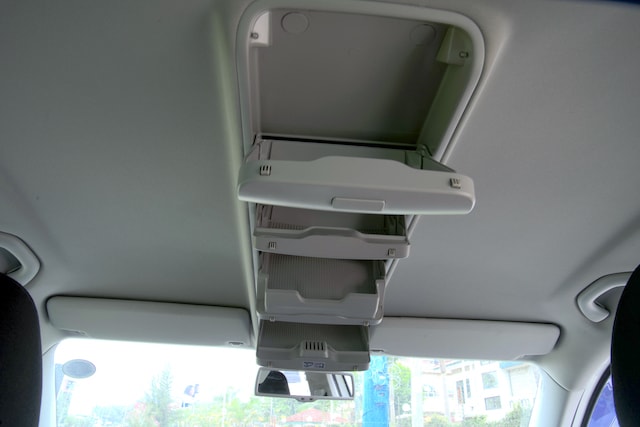 2013 Tiguan Boot Space
The VW Tiguan is highly configurable for carrying passengers and luggage. The rear seats split 60:40 and each side can be moved lengthways, while all but the driver's seat can be folded flat, providing a massive loading volume of up to 1,510 litres.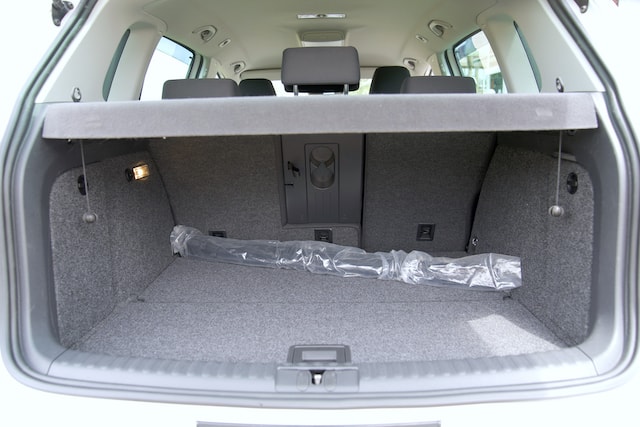 Other Extras: USB Charging Ports, Cruise Control, heated seats, Panoramic Sunroof, touch-screen DVD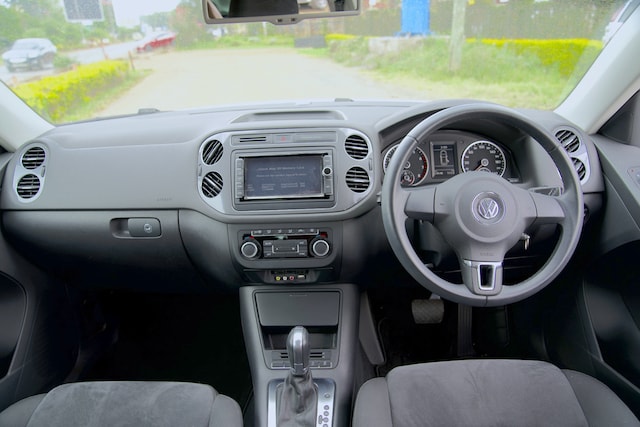 Safety Features: Electronic Stability Control(ESC), Antilock Braking System(ABS), Hydraulic Brake Assist(HBA), a comprehensive Airbag system, Intelligent Crash Response System(ICRS), Tire Pressure Monitoring(TPMS),] Park Assist System and Traction Control
2013 VW Tiguan Fuel Consumption
2013 VW Tiguan 1.4L 160 PS Petrol fuel consumption: 17.9 km/L
2013 VW Tiguan 2.0L 180 PS Petrol fuel consumption: 13.9 km/L
2013 VW Tiguan 2.0L 210 PS Petrol fuel consumption: 13.9 km/L
2013 VW Tiguan 2.0L 110 PS Diesel fuel consumption: 22.6 km/L
2013 VW Tiguan 2.0L 140 PS Diesel fuel consumption: 22.6 km/L
2013 VW Tiguan 2.0L 140 PS 4MOTION Diesel fuel consumption: 20.0 km/L
2013 VW Tiguan 2.0L 170 PS 4MOTION Diesel fuel consumption: 20.0 km/L
2013 VW Tiguan Acceleration
2013 VW Tiguan 1.4L 160 PS Petrol accelerates from 0-100 km/h in 8.9 sec.
2013 VW Tiguan 2.0L 180 PS Petrol accelerates from 0-100 km/h in 7.9 sec.
2013 VW Tiguan 2.0L 210 PS Petrol accelerates from 0-100 km/h in 7.3 sec.
2013 VW Tiguan 2.0L 110 PS Diesel accelerates from 0-100 km/h in 11.9 sec.
2013 VW Tiguan 2.0L 140 PS Diesel accelerates from 0-100 km/h in 10.2 sec.
2013 VW Tiguan 2.0L 170 PS 4MOTION Diesel accelerates from 0-100 km/h in 8.9 sec.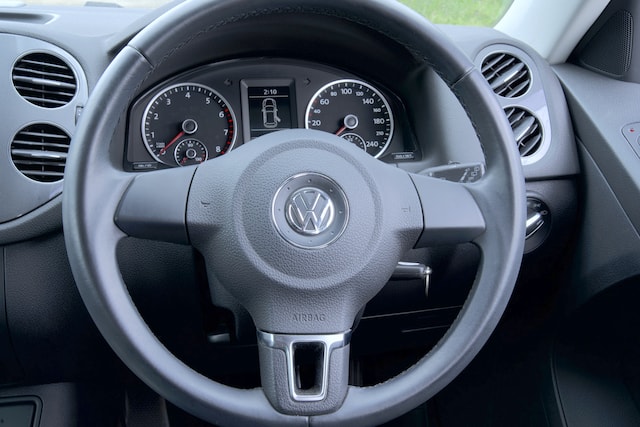 2013 VW Tiguan Fuel Tank Capacity: 64 Litres
2013 VW Tiguan Stability and Handling
The Tiguan handles the road well and it feels stable at high speed. It's not as accelerative as the Forester XT or the diesel CX-5 but for day to day driving, it's sufficiently powered.
Service Intervals
Minor Service: At 5,000 km. Requires Air Cleaner, Oil Filter, and Engine Oil
Major Service: At 10,000km. Requires Air Cleaner, Oil Filter, Fuel Filter, ATF Filter, Cabin Filter, Plugs, Front Brake Pads, Rear Brake Pads, ATF Oil, and Engine Oil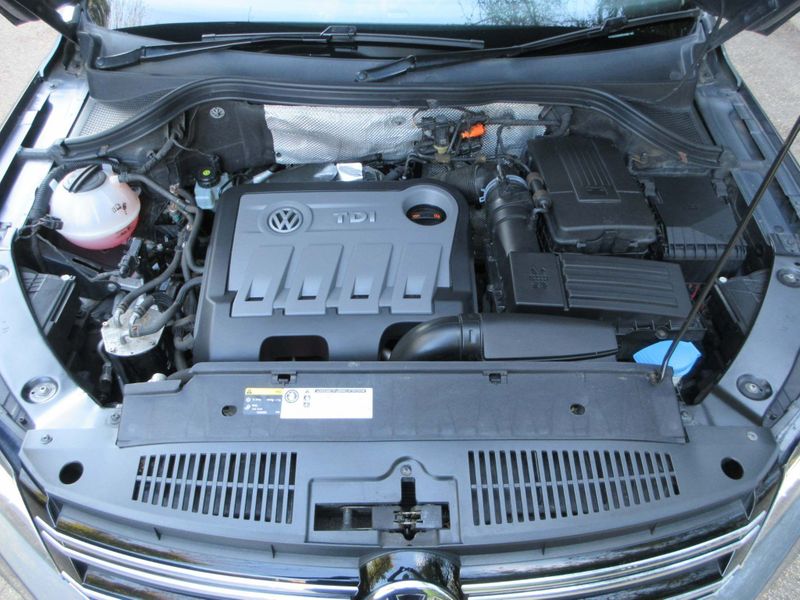 Spare Parts Availability, Cost & Where to buy
Service parts are available and fairly priced in Kenya. Body parts on the other hand are expensive and not as easily available. Find here VW Tiguan Spare Part dealers in Kenya
2013 VW Tiguan Reliability
The driving conditions in Kenya are significantly different from those in Japan and Europe. Reliability reviews done for those markets largely do not apply to the Kenyan market. There are differences in roads, fuel, climate, spares, and technical expertise. To give you accurate and reliable local insights, we interview experts such as mechanics and car dealers, who have in-depth knowledge of the Kenyan market. We also test the cars ourselves. Our aim is to give you the right information to enable you make an informed decision when buying a car.
The DSG gearbox is problematic and many failures have been reported here in Kenya. It has elaborate maintenance procedures that should be religiously adhered to otherwise it will develop problems. It should also be serviced by a qualified technician who understands the DSG gearbox and the requirement for an expensive transmission fluid with dedicated additives. Anything short of this will be catastrophic.
Another factor to consider is the quality of maintenance and the service history of the car. These greatly determine the long-term reliability of the car and its important to have the car thoroughly examined by a qualified technician before you purchase it. Once this is done and you have purchased the right car, you then have to ensure that service is done on time using genuine parts. If you skimp on any of these, then be prepared for serious problems down the road.
If you are planning to own or currently own the 2013 VW Tiguan, it's vital that you read the Owner's Manual. If you need the manual, you can request it from us via [email protected]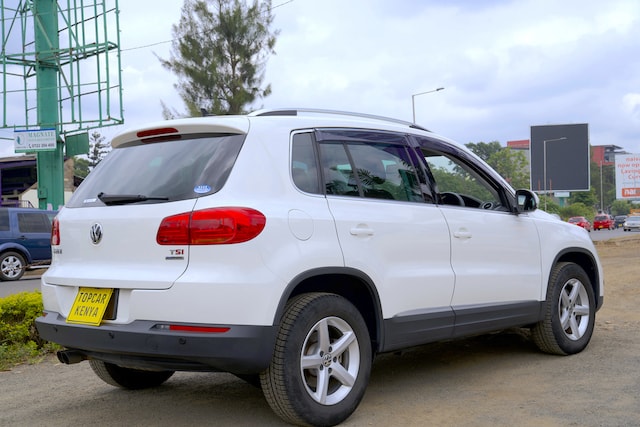 VW Tiguan Resale Value: Average
2013 VW Tiguan Competitors: Mitsubishi Outlander, Nissan X-Trail, Toyota Vanguard, Toyota Rav4, Mazda CX-5 and Subaru Forester.
Cost of Ownership
Purchase Price: from Ksh.2,000,000
Comprehensive Insurance: Average Ksh. 80,000/ per annum- Or
3rd Party Insurance: Ksh. 7,000/- per annum
Change of Tyres(If neccessary) Ksh. 40,000/- for 4 Tyres
See Latest VW Tiguan prices here
What we like about the 2013 VW Tiguan
1. Top notch safety ratings
2. Luxurious interior
3. Exceptional luggage capacity
What we don't
1. Expensive parts
Conclusion
The VW Tiguan is a quality family car that offers exceptional build quality and 5 star safety ratings. It's an affordable German SUV that's ideal for families that value comfort and safety.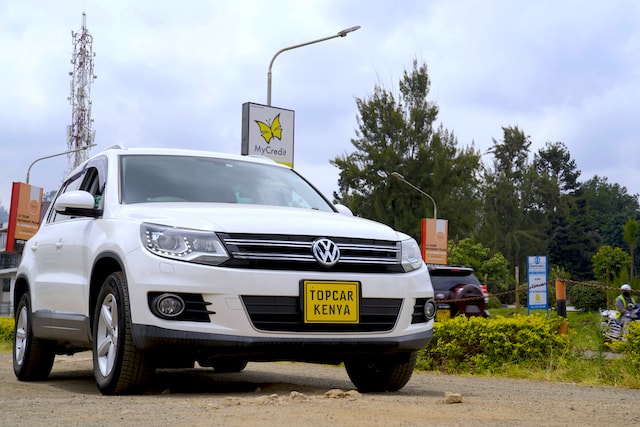 Where to Buy the 2013 VW Tiguan in Kenya
If you are looking to either import or buy the VW Tiguan locally, we can help you with this process. Over the years, we have developed a network of trusted dealers both in Kenya and UK who supply us with exceptional cars. Simply call us or send us a message through our contacts below and we'll get you the right car at the right price.
---
If you have a question about this model or any other automotive questions, you can now get answers on our forum.
If you want to sell or trade-in you vehicle, you can list it for free via our seller portal.
If you wish to purchase this model local or abroad, you can do that via our marketplace.