2013 BMW X1 Review
As the world pivots from fuel guzzling SUVs to fuel efficient compacts, the BMW X1 is emerging as a popular alternative. It comes with Efficient Dynamics, a technology designed to improve fuel economy and reduce C02 emissions without compromising on performance or driving dynamics. In Kenya, its popularity is steadily growing and its poised to become the best selling European compact SUV. It's going up against established Japanese rivals such as the Mitsubishi RVR, Nissan Juke, Subaru XV and Honda Vezel.
Detailed Review
The BWM X1 is a 5 seater luxury compact SUV that has been in production for two generations from 2009 until present. The first generation known as the E84 was in production from 2009 to 2015 and the second generation known as the F48 has been in production from 2015 to present. It's built on the same platform as the BMW 3 Series E91.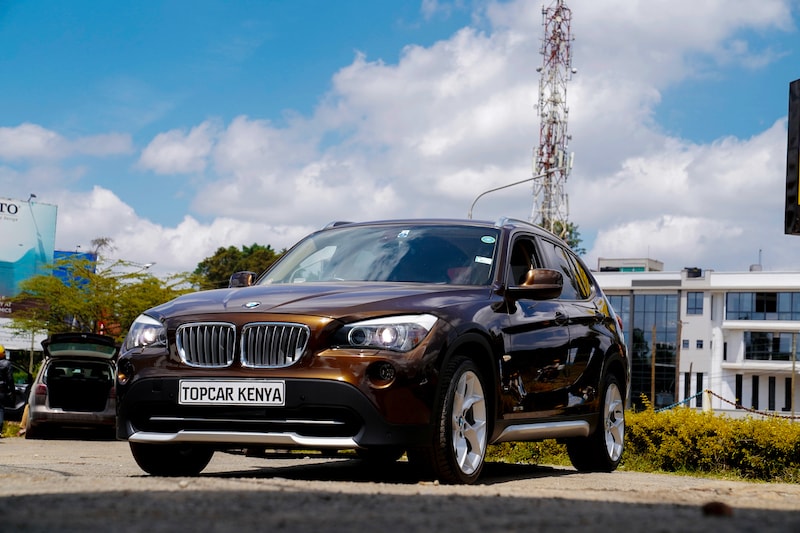 It's offered with 3 engine options; these are a 2.0 Litre turbo petrol engine, a 2.0 Litre turbo diesel engine and a 2.0 Litre twin turbo diesel engine. These are linked to either a 6-speed manual transmission or an 8-speed Automatic Transmission and available in 2WD and 4WD.
2013 BMW X1 Grades
BMW X1 SE – This is the entry level grade that comes with 17-Inch alloy rims, two-zone automatic air conditioning, Bluetooth, Electra clothe upholstery, multi-function leather steering wheel, Park Distance Control(PDC) and roof rail
BMW X1 EfficientDynamics – This adds 17-Inch light alloy Streamline style 306 and run flat tyres
BMW X1 EfficientDynamics Business – This adds Nevada leather upholstery, seat heating for driver and front passenger, Media package consisting – Navigation system, BMW emergency call, BMW TeleServices.
BMW X1 Sport – This adds ambient lighting, dual stainless exhaust, sport seats, floor mats with red piping, and other sports detailing.
BMW X1 xLine – This is the top of the line grade that adds 18-Inch light alloy, door sill finishers with xLine designation, floor mats with piping, Nevada leather uphostery with X headrest emobssing, matt aluminium roof rails, sport leather multi-function steering wheel.
Interior
The X1 has a luxurious interior that has a dashboard layout and setup similar to the 3 Series. The cabin is sufficiently spaced with decent legroom and heads room on both rows. For the first row, both seats have excellent legroom and can comfortably accommodate tall people. At the second row, the legroom is decent and tall people will find it tolerable.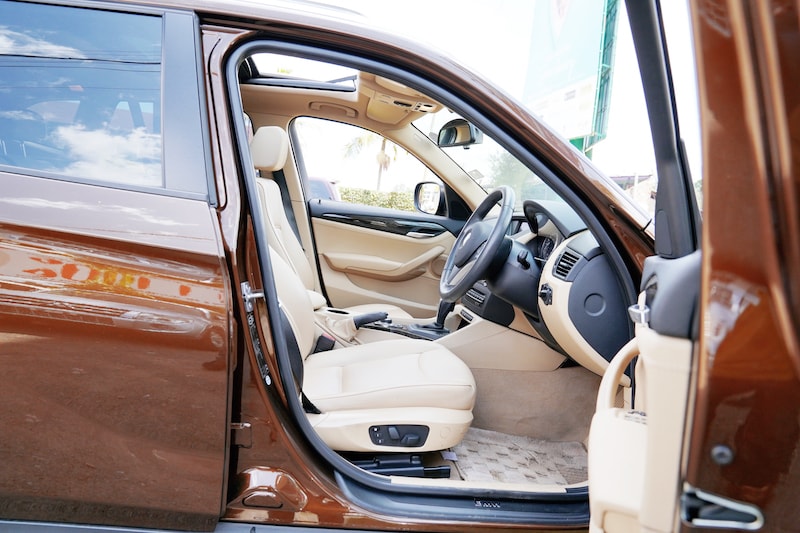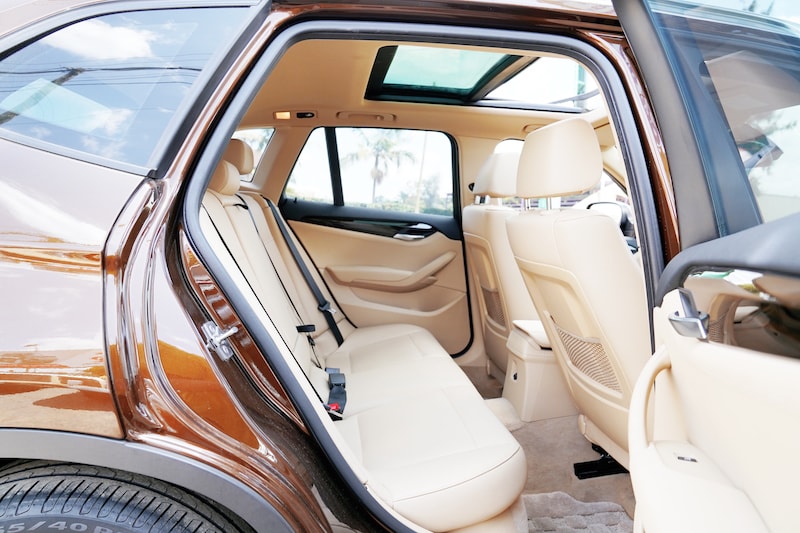 Exterior
On the outside, the X1 has a striking design and it looks more like a hatchback than a compact SUV. The frontal design is similar to the X3 with the large kidney grille and LED headlights. It's not a tall or boxy vehicle and It slants off towards the rear giving it a smooth, sporty look.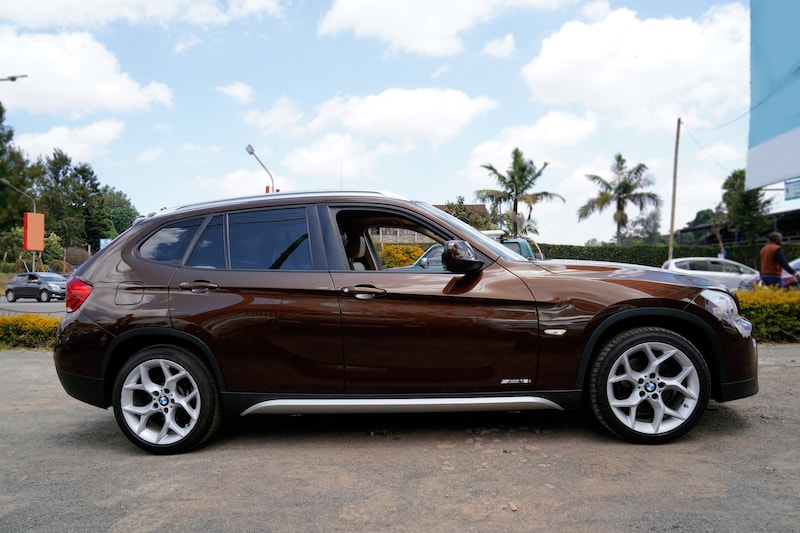 Cabin Storage
There are several storage compartments in the cabin that are useful for storing items such as smartphones, beverages, goggles, handbags etc. At the first row there are 4 cup-holders, door panel storage, a glovebox and the center-box. For the second row, there are 2 cupholders, front seat jacket pockets and door pockets.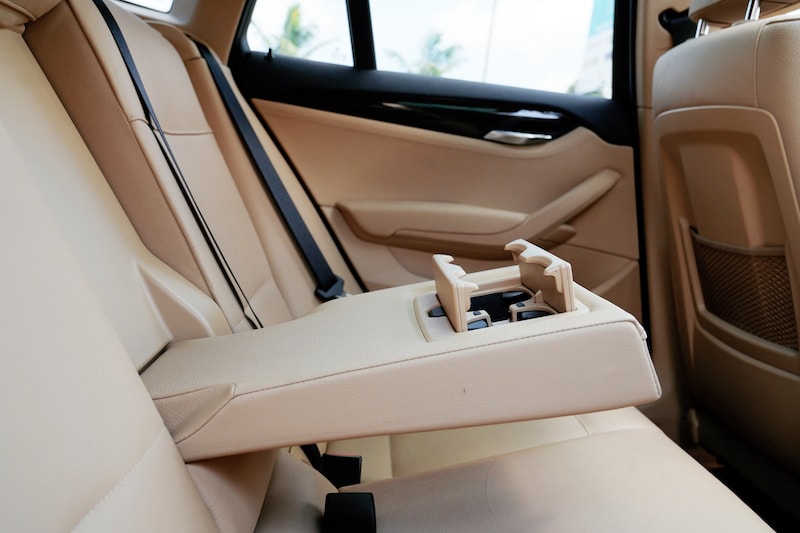 2013 BMW X1 Boot Space
The boot is not big and is comparable to that of a hatchback. When extra space is required, the second row seats can be folded in a split configuration to free up extra boot space.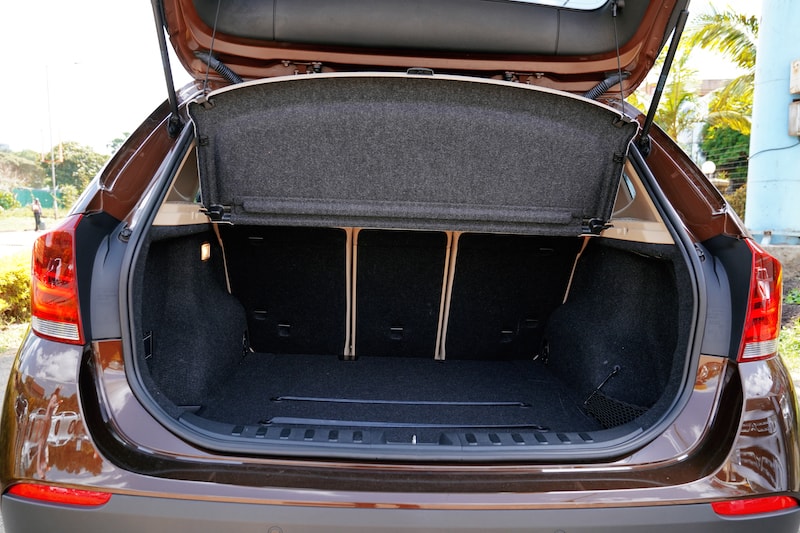 Extras: USB Charging Ports, Panoramic Sunroof, heated seats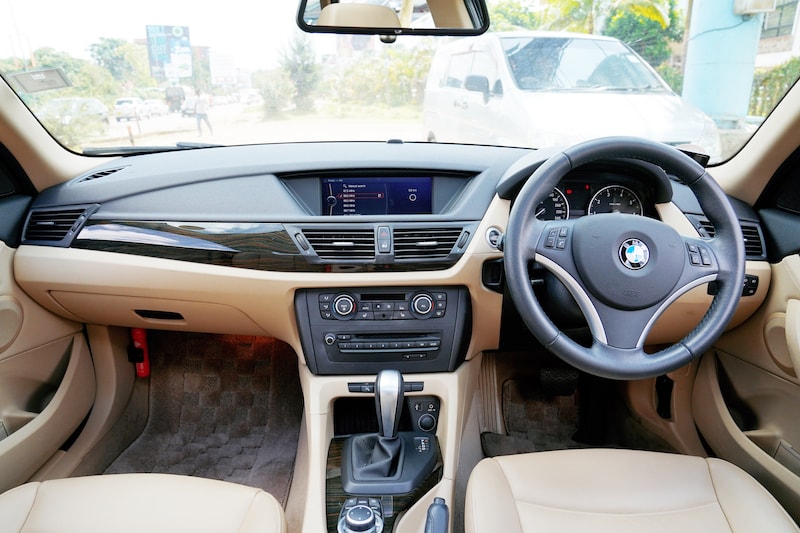 Safety Features: SRS Airbags, Curtain airbags, DCS and TCS, ABS, Electronic Stability Control, Run Flat tyres, Adaptive Headlights, Cruise control with brake function, Park Distance Control(PDC)
2013 BMW X1 Consumption
2013 BMW X1 2.0 Litre turbo petrol fuel consumption: 17.39 km/L
2013 BMW X1 2.0 Litre turbo diesel fuel consumption: 24.49 km/L
2013 BMW X1 2.0 Litre twin turbo diesel fuel consumption: 20.36 km/L
2013 BMW X1 Acceleration
2013 BMW X1 2.0 Litre turbo petrol accelerates from 0-100 km/h in 7.7 sec.
2013 BMW X1 2.0 Litre turbo diesel accelerates from 0-100 km/h in 11.5 sec.
2013 BMW X1 2.0 Litre twin turbo diesel accelerates from 0-100 km/h in 6.8 sec.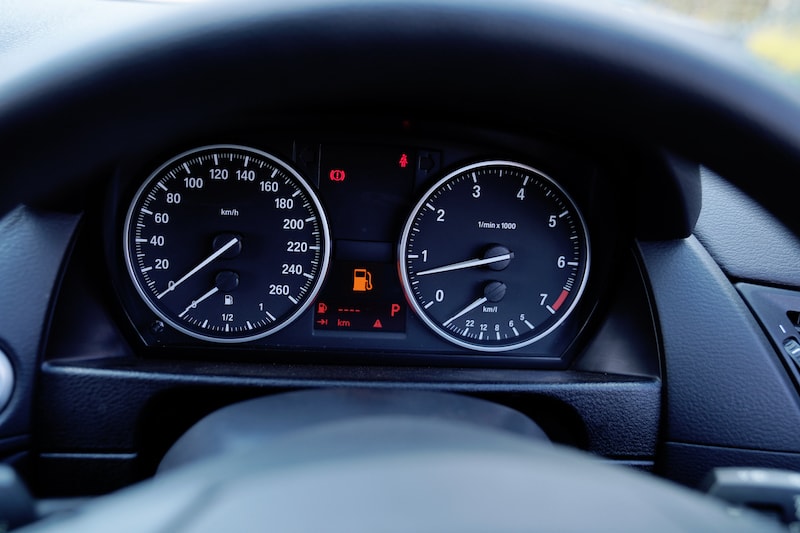 2013 BMW X1 Fuel Tank Capacity: 61 Litres
2013 BMW X1 Stability and Handling
The BMW X1 is a well engineered car with a solid suspension and a perfectly weighted steering. It comes with BWM's legendary on-road handling and minimal body roll around corners. Acceleration varies depending on engine and its important to choose the engine that fits your driving preference.
Service Intervals
Minor Service: At 5,000 km. Requires Air Cleaner, Oil Filter, and Engine Oil
Major Service: At 10,000km. Requires Air Cleaner, Oil Filter, Fuel Filter, ATF Filter, Cabin Filter, Plugs, Front Brake Pads, Rear Brake Pads, ATF Oil, and Engine Oil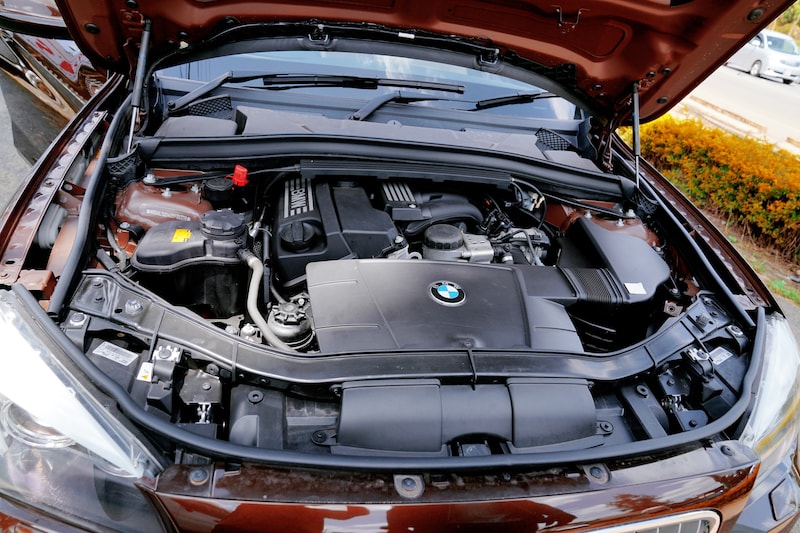 Spare Parts Availability, Cost & Where to buy
Service parts are available and fairly priced in Kenya. Body parts on the other hand are expensive and not as easily available.
2013 BMW X1 Reliability
The driving conditions in Kenya are significantly different from those in Japan and Europe. Reliability reviews done for those markets largely do not apply to the Kenyan market. There are differences in roads, fuel, climate, spares, and technical expertise. To give you accurate and reliable local insights, we interview experts such as mechanics and car dealers, who have in-depth knowledge of the Kenyan market. We also test the cars ourselves. Our aim is to give you the right information to enable you make an informed decision when buying a car.
The X1 shares many components with the 3 series and therefore most problems are common across. If well maintained, it presents with minimal issues and can run for many years without a problem. The most commonly reported problems are; parking brake failure, turbo failure, fuel pump failure, and engine warning light.
If you are planning to own or currently own the 2013 BMW X1, it's vital that you read the Owner's Manual. If you need the manual, you can request it from us via [email protected]
Resale Value: Average
2013 BMW X1 Competitors: Subaru XV, Nissan Juke, Mitsubishi RVR, Honda Vezel
Cost of Ownership
Purchase Price: from Ksh.1,800,000
Comprehensive Insurance: Average Ksh. 72,000/ per annum- Or
3rd Party Insurance: Ksh. 7,000/- per annum
Change of Tyres(If neccessary) Ksh. 40,000/- for 4 Tyres
See Latest BMW X1 Prices here
What we like about the 2013 BMW X1
1. Luxurious interior
2. Exceptional build quality
3. Excellent fuel economy
What we don't
1. Expensive parts
Conclusion
The BMW X1 is an excellent compact SUV that boasts of top notch safety ratings and premium quality build. Its ideal for small families or single people that are looking for quality and economy in one package.
Where to Buy the 2013 BMW X1 in Kenya
If you are looking to either import or buy the BMW X1 locally, we can help you with this process. Over the years, we have developed a network of trusted dealers both in Kenya and UK who supply us with exceptional cars. Simply call us or send us a message through our contacts below and we'll get you the right car at the right price.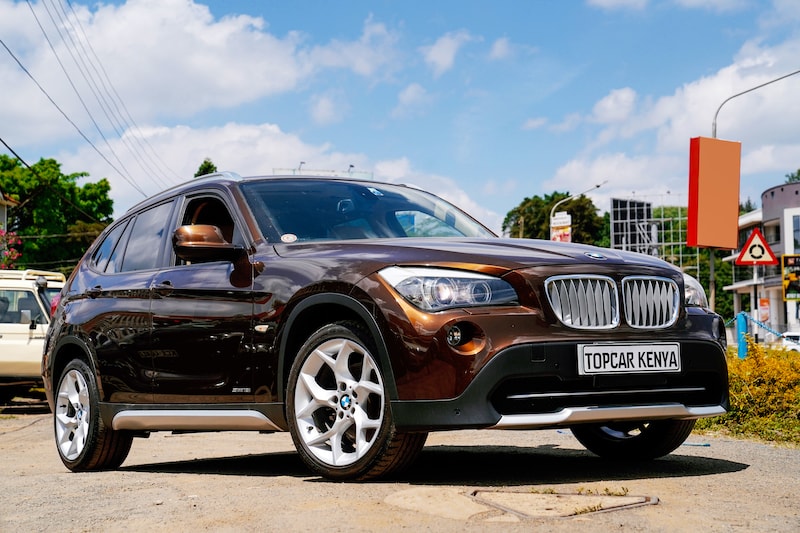 ---
If you have a question about this model or any other automotive questions, you can now get answers on our forum.
If you want to sell or trade-in you vehicle, you can list it for free via our seller portal.
If you wish to purchase this model local or abroad, you can do that via our marketplace.