2013 Mitsubishi Mirage Review
The Mitsubishi Mirage is a small car that is marketed as a fuel efficient and affordable compact. It replaced the Mitsubishi Colt that was fairly popular in Kenya especially the 1.5L turbo version that was revered by young people and racing enthusiasts. All the power is gone and racing enthusiasts will have to look elsewhere. The Mirage comes with a docile 1.0L engine that cannot mount any meaningful race. On the plus side, the Mirage is the perfect car for practical and business minded people. It's economical, utilitarian and reliable.
You can get more about this
Mitsubishi Mirage
Detailed Review
The Mitsubishi Mirage is a small car that has been in production from 1978 to present. Production took a pause in 2003 and resumed in 2012. It replaced the Mitsubishi Colt that was discontinued in 2013 and has since become a favorite economy car in many markets around the world. It competes with the Nissan March, Suzuki Alto and Daihatsu Mira.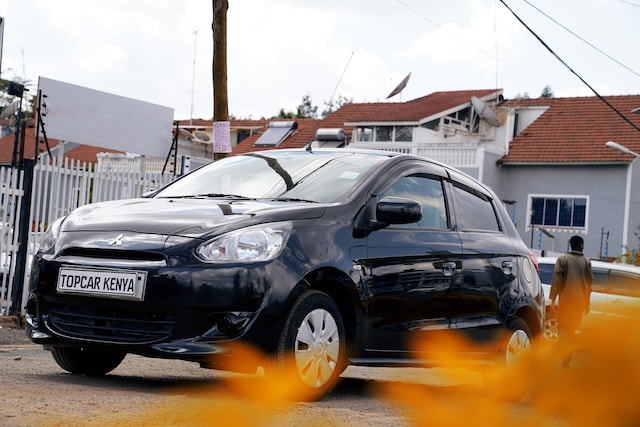 The 2013 Mitsubishi Mirage comes with a 3-cylinder 1.0-Litre MIVEC engine that is mated to an INVECS-III CVT transmission and is only available in 2WD.
2013 Mitsubishi Mirage Grades
Mitsubishi Mirage E – This is the base grade that comes with ABS, Driver/Front Passenger SRS Airbags, 3-Point ELR seatbelts on all seats, UV/IR solar glass in windshield and keyless entry system.
Mitsubishi Mirage M – This is the intermediate grade that adds Auto Stop & Go (AS&G), Hill Assist, regenerative braking, ground effects, UV/IR reducing glass in front door windows, UV reducing privacy glass and electric folding door mirrors.
Mitsubishi Mirage G – This is the highest grade that adds full amenities such as silver ornamentation in the interior, keyless operation system with remote control engine button, immobilizer and auto light control.
2013 Mitsubishi Mirage Interior
Legroom & Space
The Mitsubishi Mirage is a utilitarian car that comes with basic features and fewer luxuries. The legroom at the front row is decent and people of average height will find it manageable. At the second row, the legroom is decent but tall people will find it tight.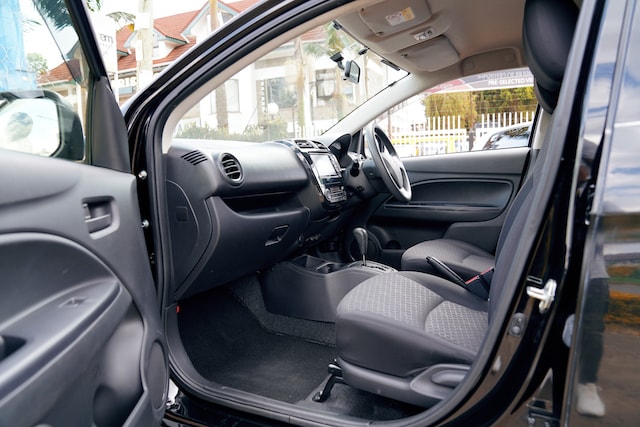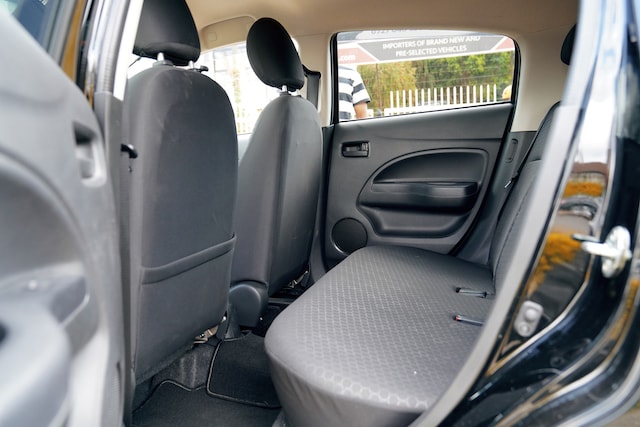 Cabin Storage
There are several storage compartments in the cabin that are useful for storing items such as smartphones, beverages, goggles, handbags etc. At the first row there are 2 cup-holders, door panel storage, a glovebox and center-box. For the second row, there's storage in the front seat pockets.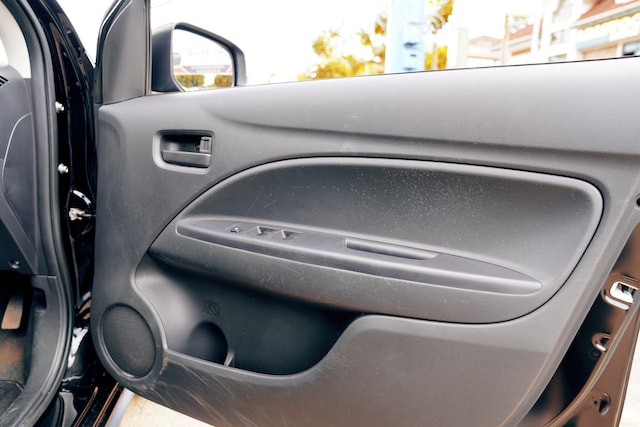 2013 Mitsubishi Mirage Boot Space
For a small car, the boot is functional and can carry medium sized luggage. The rear seat can fold to create extra space when needed.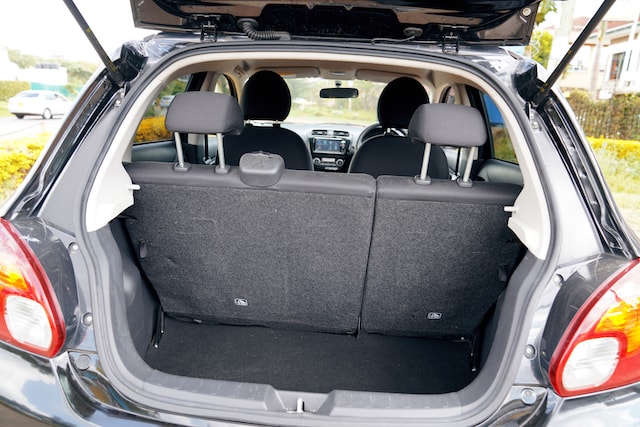 Extras: AC, Power Windows, CD Player
Safety Features: SRS Airbags, ABS, Hill Assist, 3-Point ELR seatbelts
2013 Mitsubishi Mirage Exterior
The Mitsubishi Mirage is a narrow and short car that is best suited for navigating tight urban roads. It is offered with a choice of bright colors such as lemonade yellow, pop green and purple cassis, which endears it to a more feminine clientele.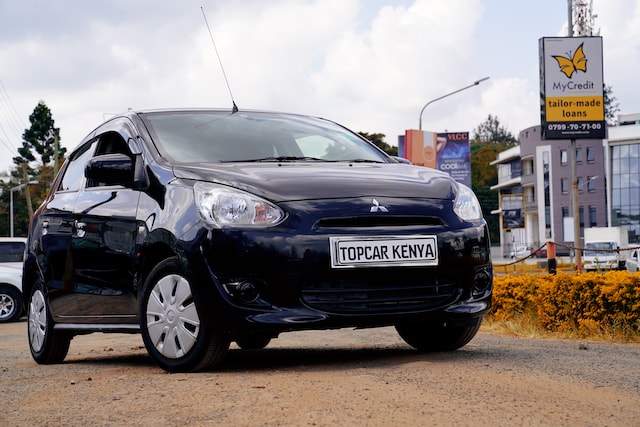 2013 Mitsubishi Mirage Fuel Consumption
2013 Mitsubishi Mirage 1.0L non ASG Fuel consumption: 23.2 Km/L
2013 Mitsubishi Mirage 1.0L with ASG Fuel consumption: 27.2 Km/L
2013 Mitsubishi Mirage Acceleration
2013 Mitsubishi Mirage accelerates from 0-100 km/h in 15.2 sec.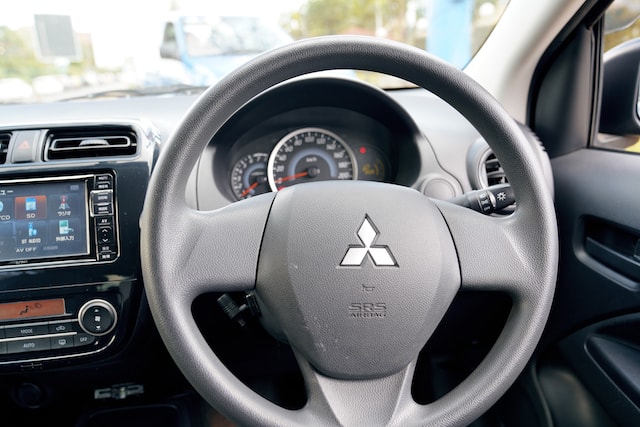 2013 Mitsubishi Mirage Fuel Tank Capacity: 35 Litres
2013 Mitsubishi Mirage Ground Clearance
The 2013 Mitsubishi Mirage has a ground clearance of 6.3 Inches(160mm). This is slightly below the minimum recommended clearance of 6.5 Inches for Kenyan roads and may not clear some speed bumps when fully loaded. It may be necessary to modify the ground clearance to adjust the car to Kenyan roads. Read our guidelines here on how to safely increase a vehicle's ground clearance.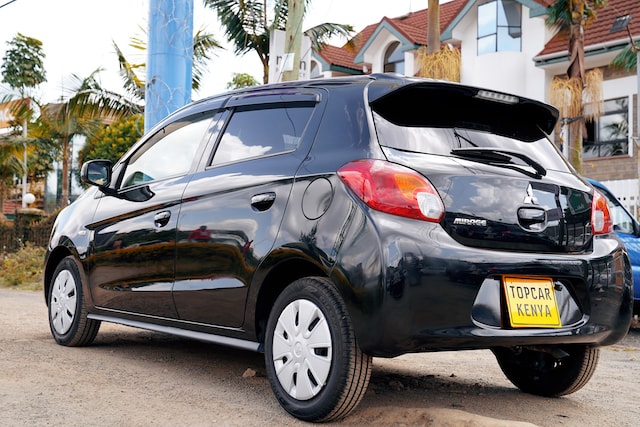 2013 Mitsubishi Mirage Stability and Handling
The Mitsubishi Mirage has a turning radius of 4.4 meters which is among the best in its class making it one of the most maneuverable small cars around. The open front-end design provides excellent visibility and makes it easier for the driver to maneuver the car in tight urban spaces.
Service Intervals
Minor Service: At 5,000 km. Requires Air Cleaner, Oil Filter, and Engine Oil
Major Service: At 10,000km. Requires Air Cleaner, Oil Filter, Fuel Filter, ATF Filter, Cabin Filter, Plugs, Front Brake Pads, Rear Brake Pads, ATF Oil, and Engine Oil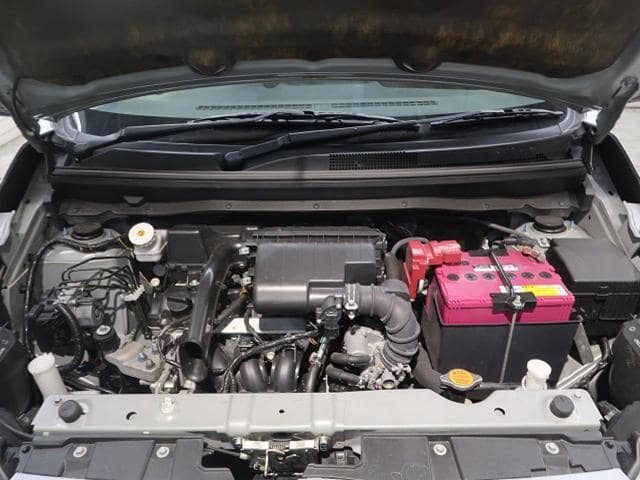 Mitsubishi Mirage Maintenance Costs – Spare Parts Availability, Cost & Where to buy
Service parts for the Mitsubishi Mirage are very affordable and widely available in Kenya. Body parts are sometimes not easily available and may take a while to find. In Nairobi, most spare shops in Industrial Area and Kirinyaga Road stock these parts. You can get listings for the Mitsubishi Spare Part Shops here
2013 Mitsubishi Mirage Reliability
The Mitsubishi Mirage comes with a simple 3-Cylinder 1-Liter engine that is largely reliable. The AS&G models are more prone to failure but if well maintained, they are equally reliable. The most commonly reported Mitsubishi Mirage problems are;
Engine problems – Failure to start, vibrations, smoking
Transmission Problems
With proper maintenance as per the owner's manual, most issues can be avoided. To request the 2013 Mitsubishi Mirage Owner's Manual, write to [email protected]
Resale Value – Average
Mitsubishi Mirage Competitors: Nissan March, Suzuki Alto and Daihatsu Mira
Cost of Ownership
Purchase Price: Starting from Ksh.550,000
Comprehensive Insurance: Average Ksh. 60,000/ per annum- Or
3rd Party Insurance: Ksh. 7,000/- per annum
Change of Tyres(If neccessary) Ksh. 20,000/- for 4 Tyres
See Latest Mitsubishi Mirage Prices here
What we like about the 2013 Mitsubishi Mirage
Economical
Affordable
Maneuverable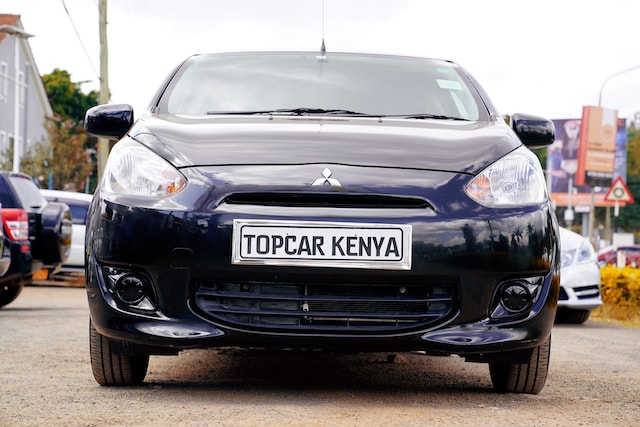 What we don't
Slow
Conclusion
The Mitsubishi Mirage is an excellent compact car that is ideal for urban commuting and local errands. It can be used for occasional long distance travel but the 1.0 Litre engine is woefully shorthanded for this particular task. We love the its fuel efficiency and its one of the few cars that makes you forget the ever rising fuel costs. It's recommended for people that are looking for a practical and economical car for urban commuting.
Where to buy the Mitsubishi Mirage in Kenya
If you are looking to buy a Mitsubishi Mirage, we can help you with this process. We have a network of vetted dealers who offer clean cars at the best prices. Get in touch with us below. We guarantee you a safe and pleasant experience.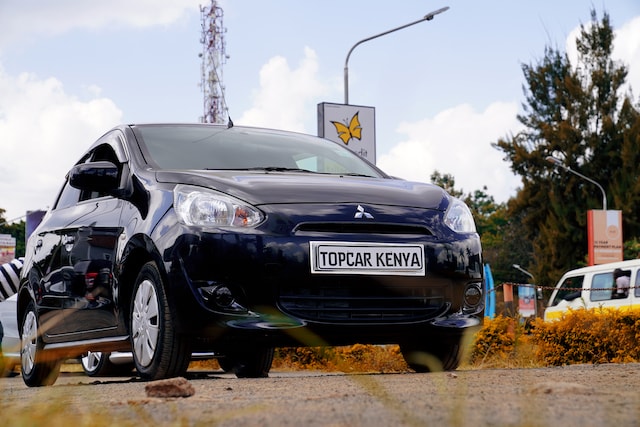 ---
If you have a question about this model or any other automotive questions, you can now get answers on our forum.
If you want to sell or trade-in you vehicle, you can list it for free via our seller portal.
If you wish to purchase this model local or abroad, you can do that via our marketplace.
You can get more about this
Mitsubishi Mirage