2013 Subaru Outback Review
The Subaru Outback has been an all time favorite amongst Kenyans ever since it was introduced to this market back in 2004. In essence the Subaru Outback is the same as the Subaru Legacy save for suspension and engine variations. The Subaru Outback is a very capable off-road vehicle, a fact that is sometimes lost on a casual observer. On the tarmac, there are few station wagons that can keep pace with the Subaru Outback and off the tarmac, it can go toe-to-toe with the best 4x4s. It competes with the Audi Allroad and The Volvo XC70.
You can get more about this
Subaru Outback
Detailed Review
The Subaru Outback that has been in production for five generations since 1994. The first generation known as the BG was in production from 1994 to 1998. The second generation known as the BH was in production from 1998 to 2003. The third generation known as the BP was in production from 2004 to 2009. The fourth generation known as the BR was in production from 2010 to 2014 and the fifth generation known as the BS was in production from 2015 to 2019.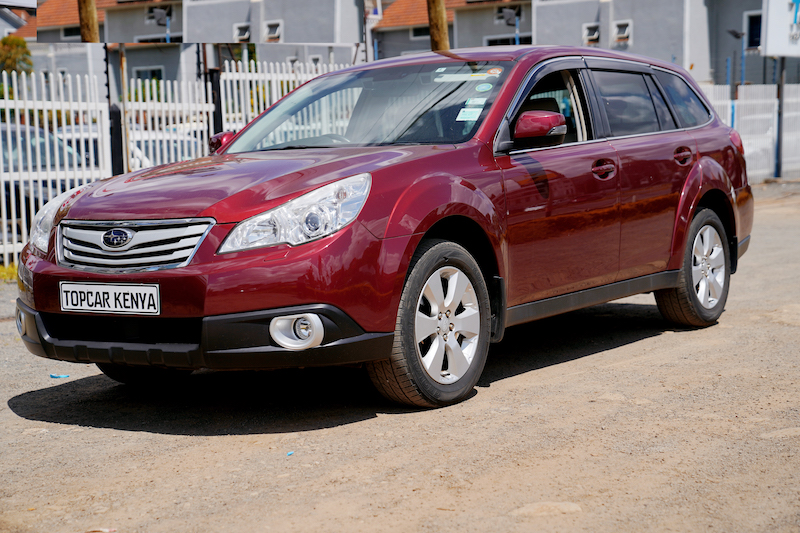 The 2013 Subaru Outback is available with two engine options, these are the 2.5L EJ25 Engine and the 3.6L EZ36 Engine. There is a 2.0L DOHC Turbodiesel engine available in the European markets but not prevalent in Kenya. There are 2 transmission options available; a 5 speed automatic and a 6 speed manual transmission most common in the 3.6R Outback, all available in full-time 4WD.
2013 Subaru Outback Grades
2013 Subaru Outback 2.5i – This is the base package that comes with the 2.5L EJ25 engine 17Inch alloy rims, SI Drive, keyless, dual climate control, non-xenon headlights, cloth trim and manual seats
2013 Subaru Outback 2.5i L Package – This is luxury package that comes with all the features of the 2.5i plus Navigation, power seats, reverse camera, steering function control buttons, cruise control, xenon headlights, Bluetooth, optional sunroof and optional leather seats
2013 Subaru Outback 2.5i S Package – Comes with all the features of the L Package plus Subaru Eyesight 
2013 Subaru Outback 3.6R – This comes with all the features of the S Package plus the 3.6L EZ36 Engine
2013 Subaru Outback 3.6R SI Cruise – This is top of the line Outback that comes with all the features of the 3.6R plus SI Cruise. The SI Cruise is an advanced form of cruise control that monitors vehicles ahead and automatically adjusts speed to maintain a safe distance.
Interior
Legroom & Space
At the first row, both the driver and passenger are afforded good legroom and the seats recline far back enough to accommodate the tallest of persons. We recommend to go for automatic seats as they are more functional and comfortable than the manual seats. At the second row, the seats have executive-class legroom with the exception of the middle seat that is restricted by the transmission tunnel.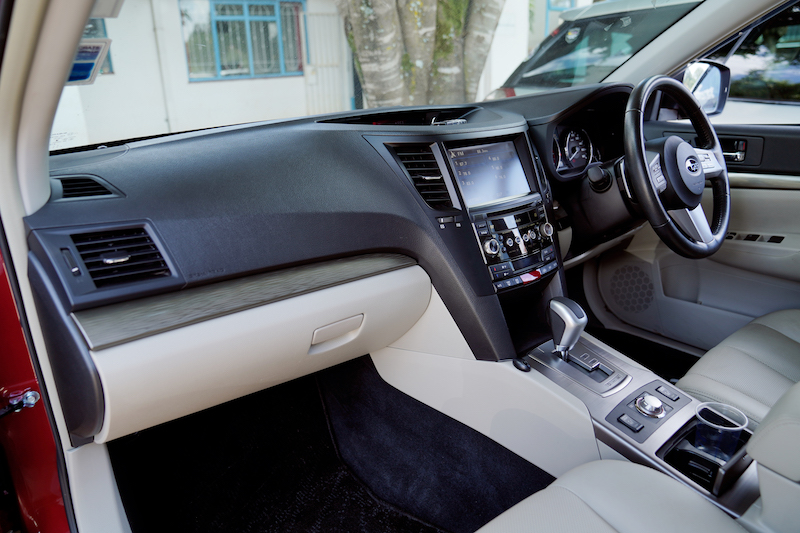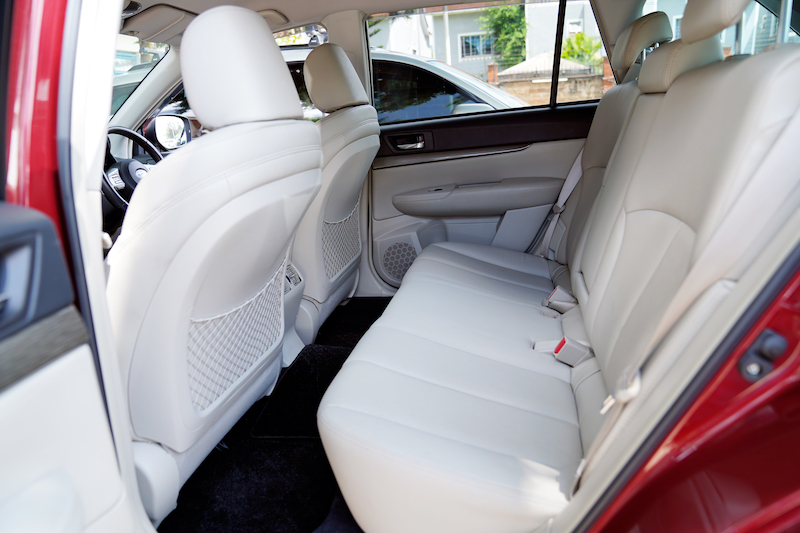 Cabin Storage
Cabin storage is essential for storing items such as smartphones, beverages, goggles, handbags etc. For the 1st row the 2013 Outback has 2 cup holders, door panel storage , a storage shelf below the dashboard, a glovebox and the center-box. For the second row, the storage is on the front seat jacket pockets and door side pockets.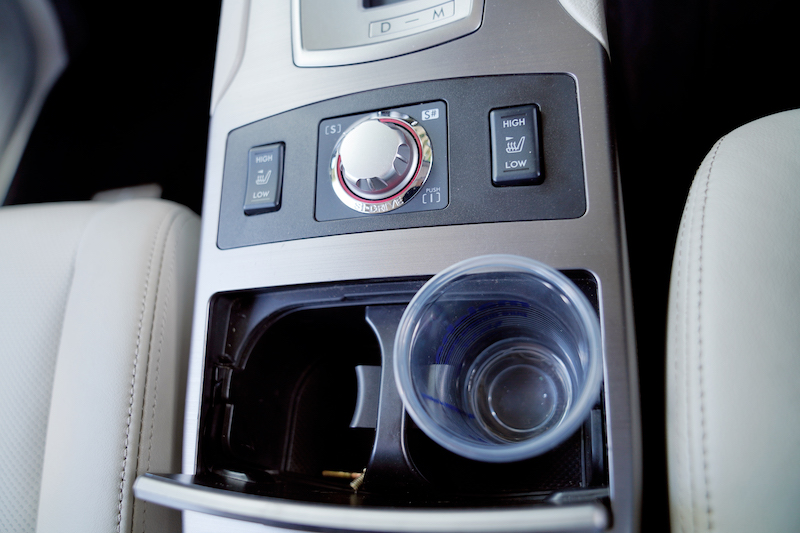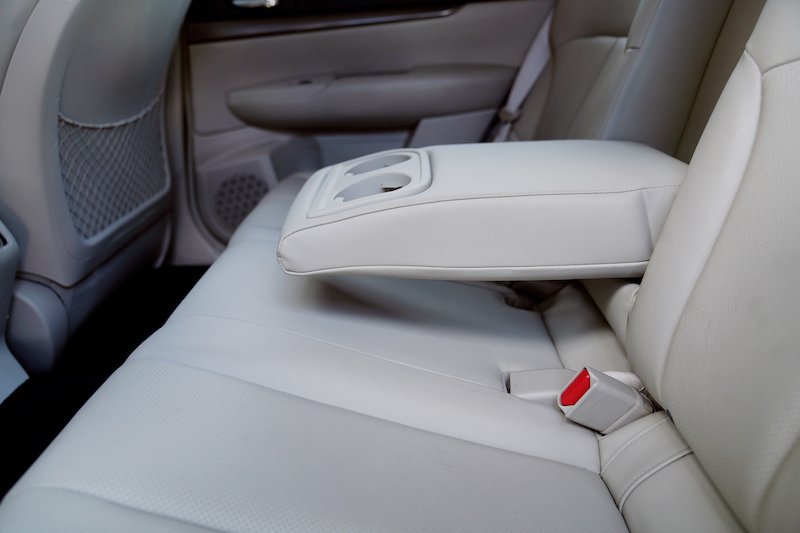 2013 Subaru Outback Boot Space
The 2013 Outback has a large boot that can carry sizable luggage. It can comfortably accommodate luggage for a family of five. The rear seats can also be folded down to create extra space when required.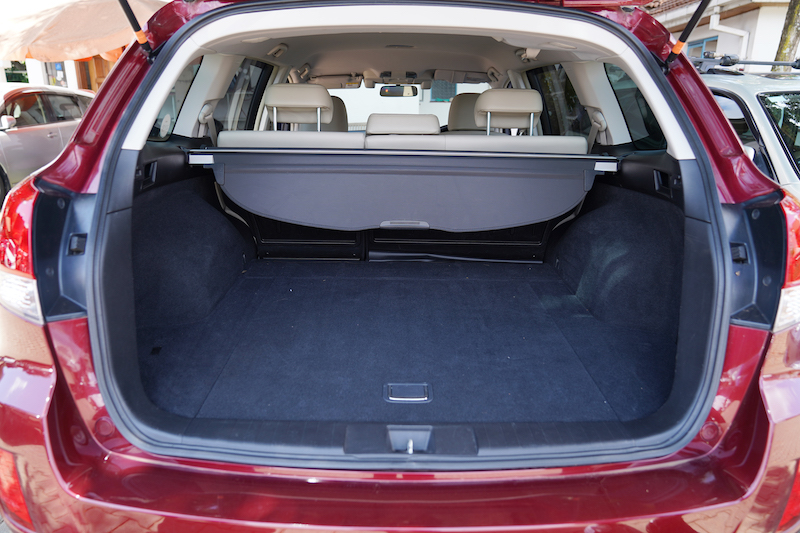 Other Extras: Infotainment, Navigation(Optional), Smart Start and USB charging
2013 Subaru Outback Safety Features: SRS Airbags, Side Airbags, Curtain airbags, ABS, Brake Assist, Traction Control, ESC, 3 Point ELR seatbelt and Eyesight
Exterior
The BR series Outback has a trimmed exterior as compared to previous generations. The plastic claddings that gave the Outback its strong characteristic looks have been removed. All grades come with dual exhaust and 17Inch alloy rims.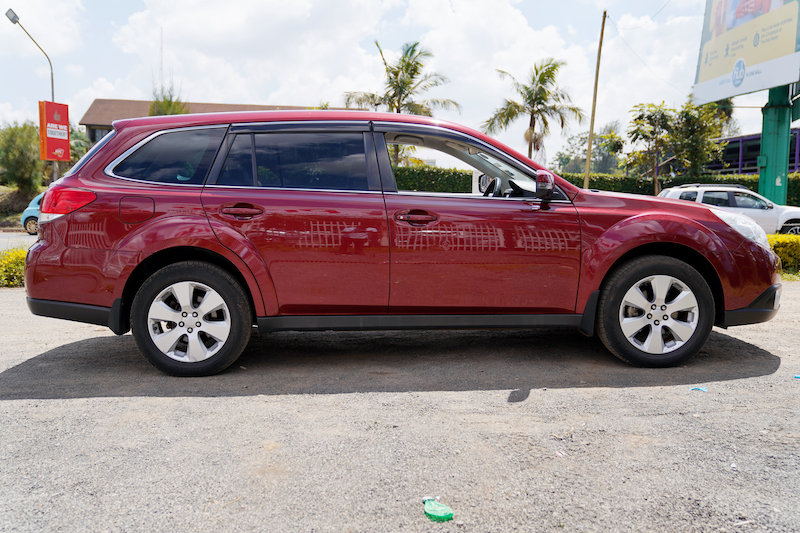 2013 Subaru Outback Consumption
2013 Subaru Outback 2.5L Fuel Consumption: 11.0 km/L (On Average)
2013 Subaru Outback 3.6L Fuel Consumption: 9.7 km/L (On Average)
2013 Subaru Outback Acceleration 
2013 Subaru Outback 2.5L accelerates from 0-100 km/h in 10.4 sec.
2013 Subaru Outback 3.6L accelerates from 0-100 km/h in 7.6 sec.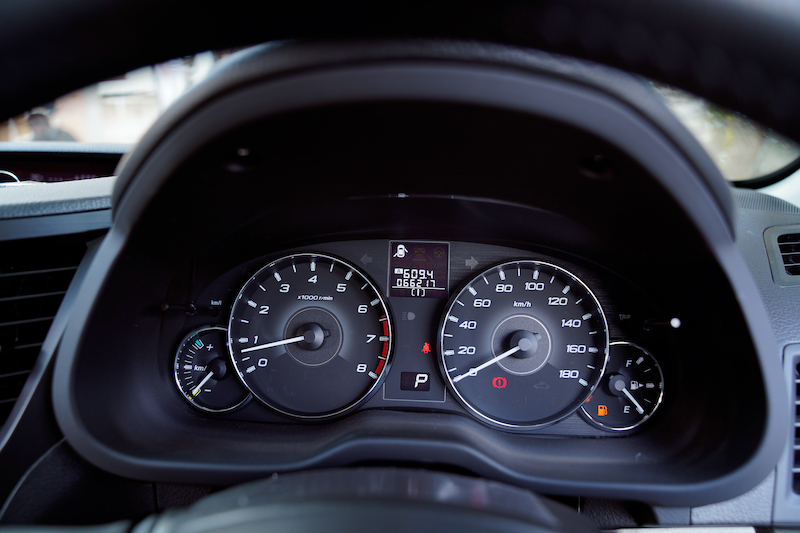 2013 Subaru Outback Fuel Tank Capacity: 65 Litres
2013 Subaru Outback Ground Clearance
The 2013 Subaru Outback has a ground clearance of 8.7 Inches(221mm). This is excellent ground clearance that is actually better than most of the so called crossovers such as the X-trail. The Outback is suitable for all driving conditions in Kenya be it on-road or off-road.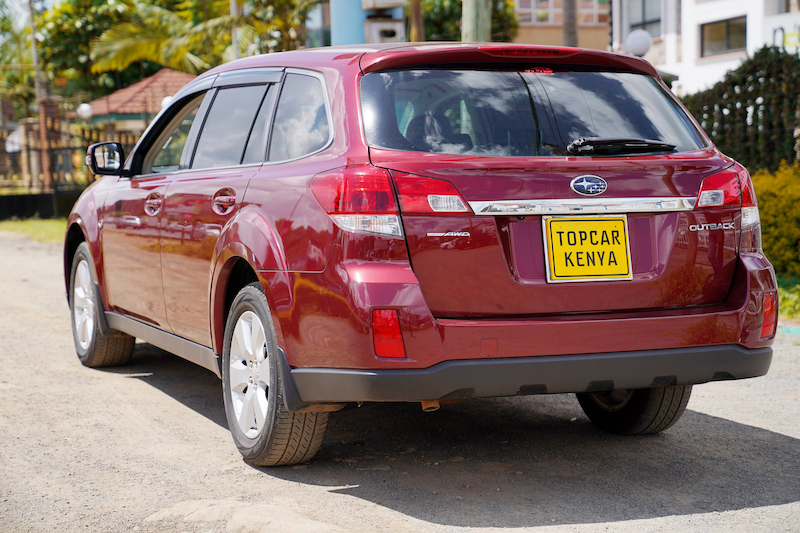 2013 Subaru Outback Stability and Handling
Even with its raised suspension, the 2013 Subaru Outback is a very stable on the road. The self-levelling rear shocks do a great job at keeping the car on the road around sharp bends. The brakes are precise and do a good job at controlling the car under hard braking. The higher rated 3.6R feels more sure footed and nimble thanks to its endless power supply and upgraded brakes.
Service Intervals
Minor Service: At 5,000 km. Requires Air Cleaner, Oil Filter, and Engine Oil
Major Service: At 15,000km. Requires Air Cleaner, Oil Filter, Fuel Filter, ATF Filter, Cabin Filter, Plugs, Front Brake Pads, Rear Brake Pads, ATF Oil, and Engine Oil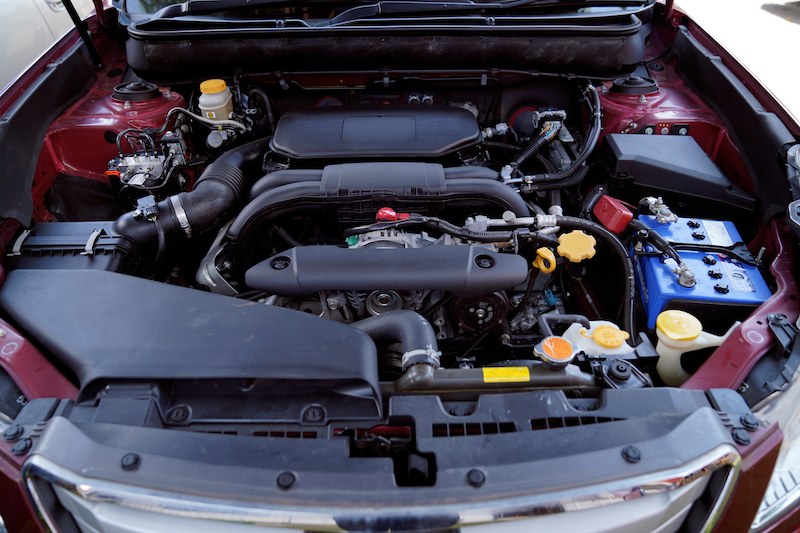 Spare Parts Availability, Cost & Where to buy
A few years ago, Subaru spares parts were expensive and hard to find in Kenya, but things have changed. Subaru parts especially service parts are now affordable and easy to find both in Nairobi and other major towns. However, specialty parts such as the gearbox, engine components and sensors can get very expensive and hard to find. For a list of Subaru Spare Part dealers in Kenya, follow this link
2013 Subaru Outback Reliability
The driving conditions in Kenya are significantly different from those in Japan and Europe. Reliability reviews done for those markets largely do not apply to the Kenyan market. There are differences in roads, fuel, climate, spares, and technical expertise. To give you accurate and reliable local insights, we interview experts such as mechanics and car dealers, who have in-depth knowledge of the Kenyan market. We also test the cars ourselves. Our aim is to give you the right information to enable you make an informed decision when buying a car.
The Subaru Outback is acclaimed the world over as one of the most reliable cars. The 2013 Outback is no exception, it inherits engines from the previous generation that are bullet proof. The introduction of new technologies such as the SI Drive, SI Cruise, and Eyesight, has added a layer of complexity but overall this does not affect its reliability. These systems when used correctly do not fail, but when they do, they can be expensive to repair. We recommend that you insure your Outback comprehensively as even minor damages can be very expensive to repair.
Always follow the recommended guidelines as per the Owner's manual. To download the 2013 Subaru Outback Owner's Manual click here
Resale Value: Good
Subaru Outback Competitors: Audi Allroad Quattro, Volvo XC70
Cost of Ownership
Purchase Price: Between Ksh.1,900,000 and Ksh.2,350,000
Comprehensive Insurance: Average Ksh. 140,000/ per annum- Or
3rd Party Insurance: Ksh. 7,000/- per annum
Change of Tyres(If neccessary) Ksh. 60,000/- for 4 Tyres
See Latest Subaru Outback Prices Here
What we like about the 2013 Subaru Outback
Spacious and Comfortable
Excellent on-road and off-road performance
Top notch reliability
What we don't
Lack of a 3.0L or 2.5L Turbo option to bridge the power gap between the 2.5L and the 3.6L
Conclusion
The 2013 Subaru Outback is an excellent car that is worth the money. We would have loved to see either the 3.0L or 2.5L Turbo engine brought back in the BR lineup to bridge the crucial power gap between the mild 2.5L and the powerful 3.6L.
Where to Buy the 2013 Subaru Outback in Kenya
If you are looking to either import or buy the Subaru Outback locally, we can help you with this process. Over the years, we have developed a network of trusted dealers both in Kenya and Japan who supply us with exceptional cars. Simply call us or send us a message through our contacts below and we'll get you the right car at the right price.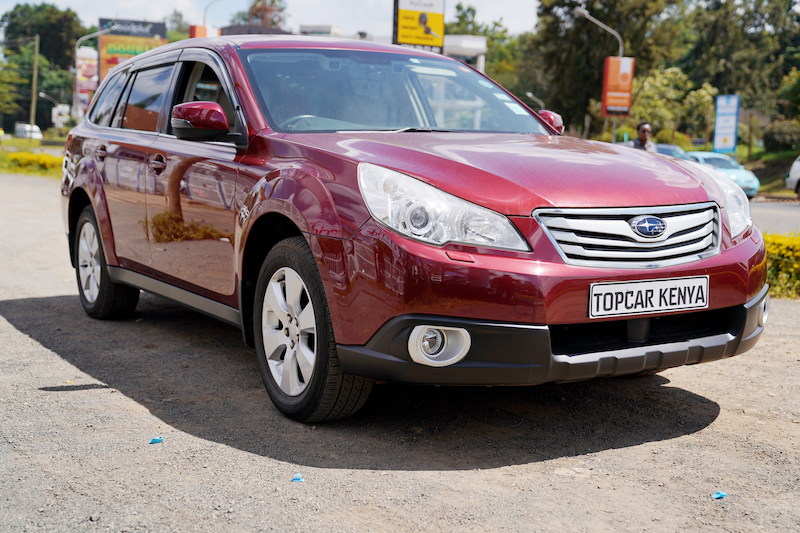 ---
If you have a question about this model or any other automotive questions, you can now get answers on our forum.
If you want to sell or trade-in you vehicle, you can list it for free via our seller portal.
If you wish to purchase this model local or abroad, you can do that via our marketplace.
You can get more about this
Subaru Outback