2013 Toyota Crown Review
The Toyota Crown keeps getting better and better with each iteration and there's no question it's one of the best Japanese luxury cars. The 14th generation that was launched in late 2012 is near impeccable and it pushed things a notch higher with a futuristic exterior design and a flawless interior that rivals the world's best.  
You can get more about this
Toyota Crown
Detailed Review
The Toyota Crown has been in continuous production from 1955 to present. It targets a high-end clientele and places great emphasis on luxury, safety and performance. The 14th generation continues on this line by introducing evolutionary technologies such as the newly developed 2.5L hybrid system and the Toyota Multi-Operation Touch system. New safety systems have been introduced and old systems upgraded such as Pre-Crash Safety System.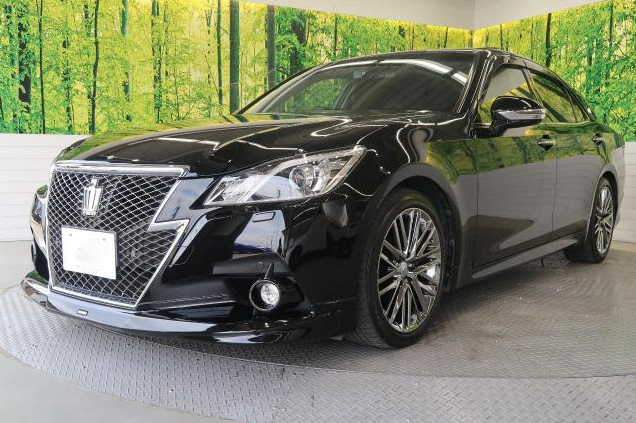 The 2013 Toyota Crown is offered with 3 engine options: a 2.5 Litre 4GR-FSE V6 petrol engine, a 2.5L THS II petrol Hybrid and a 3.5 Litre 2GR-FSE V6 petrol. These are linked to either a 6-speed Super ECT or an 8-speed Super ECT and available in both 2WD and 4WD. The 4WD options are denoted by i-Four. If you want to know the right engine for the Kenyan market, refer to the Toyota Crown Buyers Guide
2013 Toyota Crown Grades
Toyota Crown Royal Saloon – This is the base model that comes with either the 2.5L engine or Hybrid engine,  optional leather, sunroof, navigation system and 2WD/4WD options.(Further graded as Royal, Royal Saloon, Royal Saloon G, Royal i-Four, Royal Saloon G i-Four)
Toyota Crown Athlete – This is the sports model that comes with either the 2.5L, 3.5L or Hybrid engine,  optional leather, sunroof, navigation system and 2WD/4WD options.(Further graded as Athlete, Athlete S, Athlete G, Athlete i-Four, Athlete S i-Four, Athlete G i-Four.
Interior
Legroom & Space
The Toyota Crown has a very comfortable interior that is comparable to the Mercedes E-Class. The cabin is actually bigger in size and offers better legroom. The seats are made of a plush fabric or premium leather similar to what you find in many high-end German automobiles. At the front, both driver and passenger are afforded with excellent legroom. At the rear, there is enough legroom on the outer seats to fully stretch and recline. The legroom for the middle seat is however restricted by the transmission tunnel. The cabin is so well insulated that you hardly hear any engine or road noise.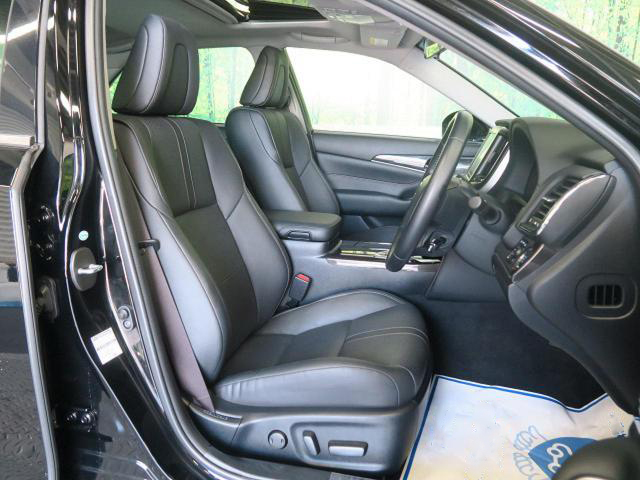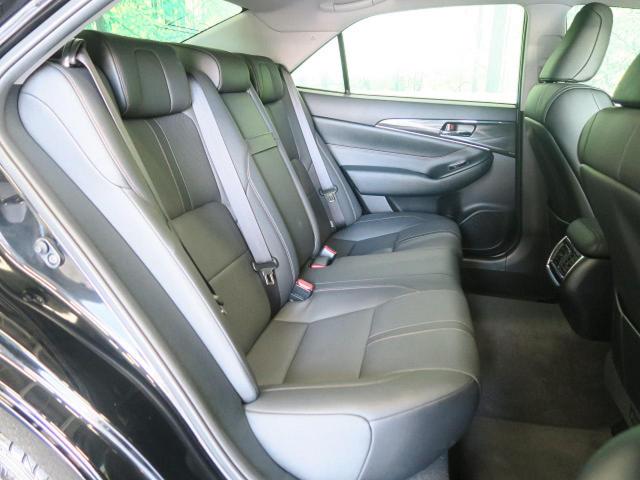 Cabin Storage
At the first row there are 2 cup holders, door panel storage , a storage shelf below the dashboard, a glovebox and the center-box. For the second row, there are 2 cup holders on the fold down armrest, seat pockets and door pockets.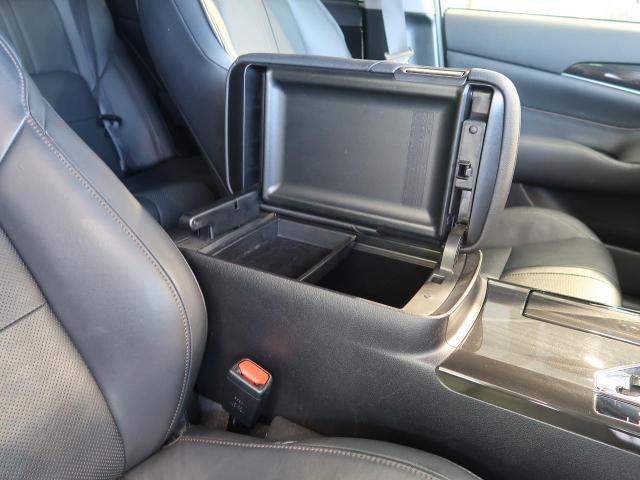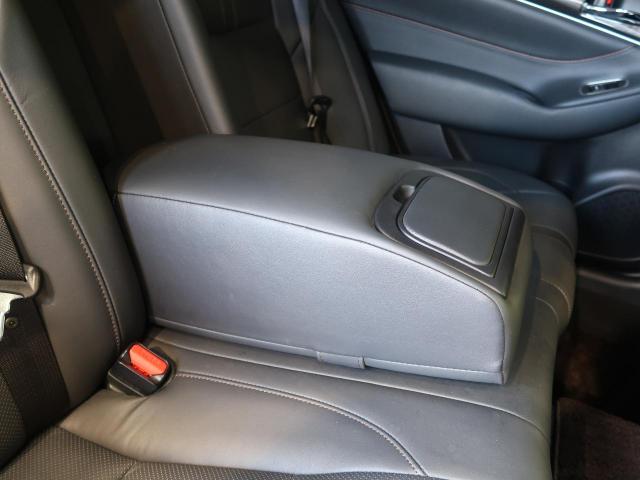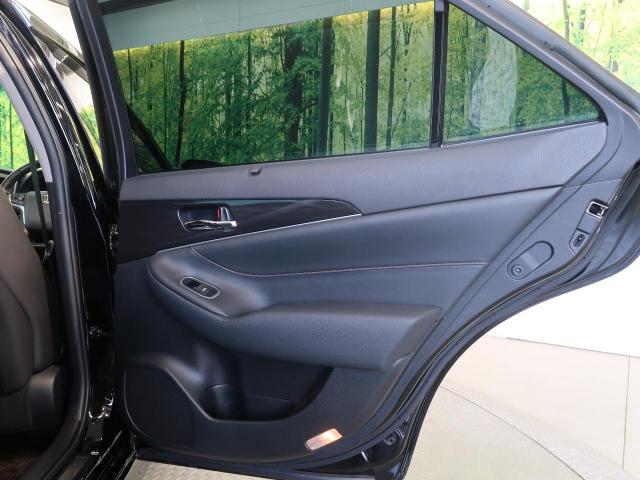 2013 Toyota Crown Boot Space
The boot is sufficient to carry normal family luggage such as suitcases and grocery but nothing bulky. The compartment is permanently sealed therefore it cannot be extended by folding down the rear seats.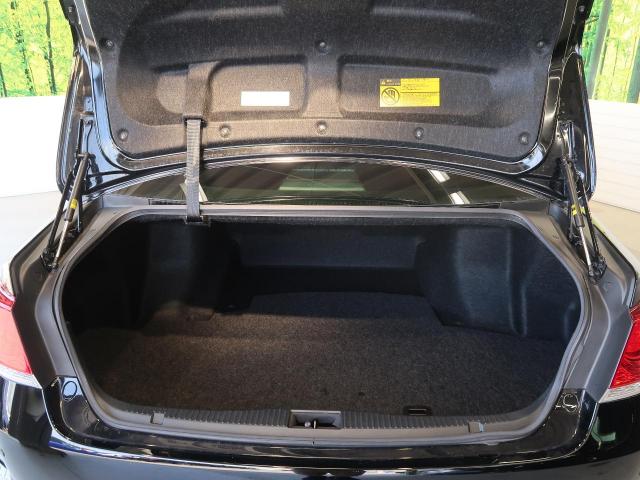 Other Extras: Toyota Multi-Operation Touch, Navigation(Optional), Keyless Smart Access, tyre pressure display, electric seats, active noise control, Sunroof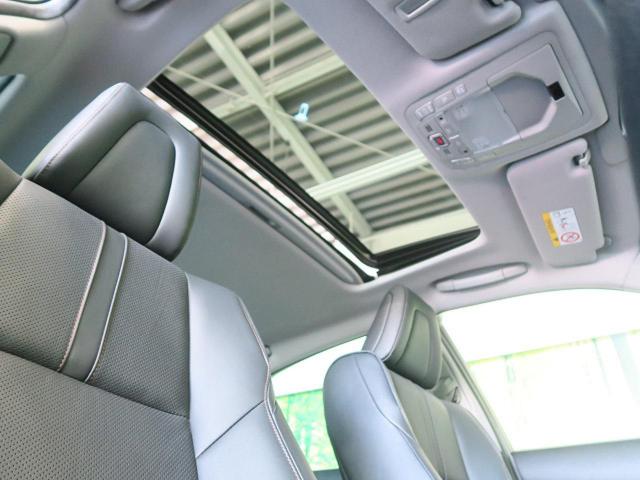 Safety Features: ABS and TRC, EPS with EBD, VDIM, Radar Cruise Control, Intelligent Clearance Sonar and Back Sonar, Pre-Crash Safety System-Millimeter Wave Radar
Exterior
The Toyota Crown comes standard with alloy rims, fog lights and a dual exhaust. The Crown Athlete is more angular with sharper headlights, a dual-level grille and sports alloy rims.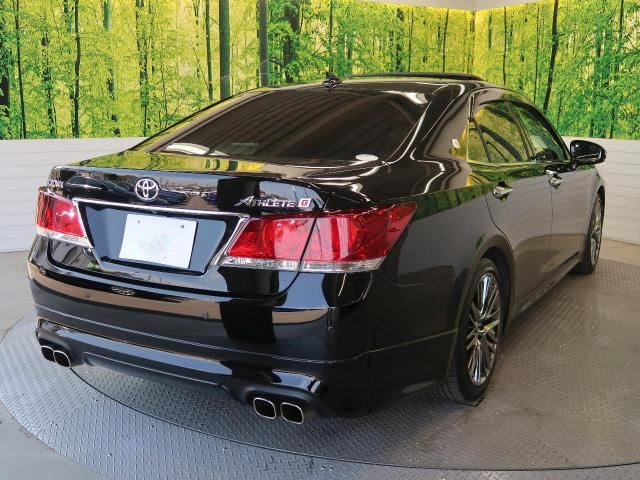 2013 Toyota Crown Fuel Consumption
The 2.5L Toyota Crown Fuel Consumption: 13.0 km/L
The 3.5L Toyota Crown Fuel Consumption: 9.0 km/L
The 2.5L Hybrid Toyota Crown Fuel Consumption: 23.2km/L
2013 Toyota Crown Acceleration
The 2.5L Toyota Crown accelerates from 0-100 km/h in 10.8 sec.
The 3.5L Toyota Crown Athlete accelerates from 0-100 Km/h in 6.0 sec
The 2.5L Toyota Crown Hybrid accelerates from 0-100 Km/h in 7.4 sec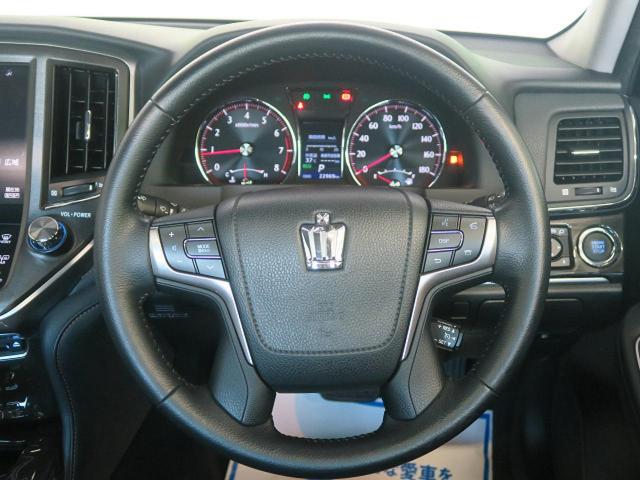 2013 Toyota Crown Fuel Tank Capacity: 71 Litres
2013 Toyota Crown Ground Clearance
The 2013 Toyota Crown has a ground clearance of 5.9 Inches(150mm). This is very low by Kenyan standards and will not clear speed bumps. A height adjustment is necessary for the vehicle to be comfortably driven on Kenyan roads. Read our guidelines on how to safely do this.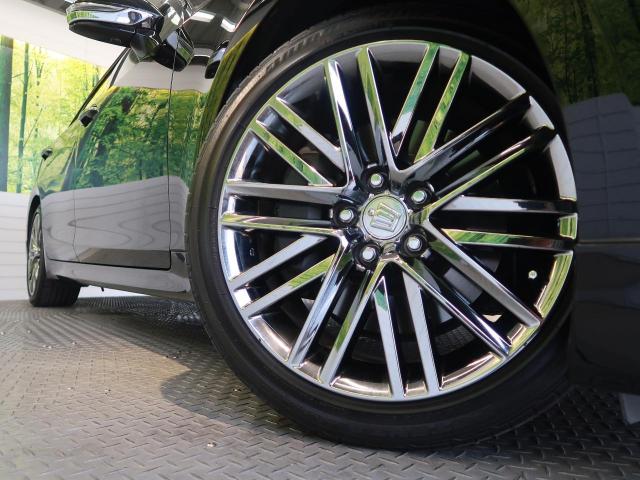 2013 Toyota Crown Stability and Handling
The Toyota Crown felt reassuringly stable even when we pushed it hard around corners. In particular, we found the 3.5L 4WD Crown Athlete to be much more lively and has better traction. The Crown Royal Saloon has a soft suspension that makes for a comfortable and leisurely ride. The Crown Athlete has a stiffer suspension that gives it a quicker sprint and a sporty feel. You can opt for the Hybrid that returns better fuel economy and an excellent performance.
Service Intervals
Minor Service: Done at 10,000 km. Requires Air Cleaner, Oil Filter, and Engine Oil
Major Service: Done at 15,000km. Requires Air Cleaner, Oil Filter, Fuel Filter, ATF Filter, Cabin Filter, Plugs, Front Brake Pads, Rear Brake Pads, ATF Oil, and Engine Oil
Note: The Crown Hybrid has a separate Service schedule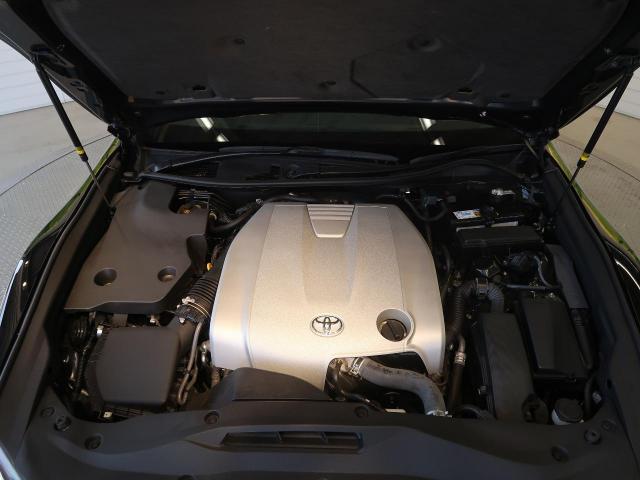 Spare Parts Availability, Cost & Where to buy
Service parts for the Toyota Crown are affordable and easy to find. Body parts and electronics are expensive and can be difficult to find. The Crown Hybrid is still new in this market so it's spares are not as common. For a list of Toyota Crown spare part dealers in Kenya, follow this link
2013 Toyota Crown Reliability
For a detailed Toyota Crown reliability report, refer to the Toyota Crown Buyer's Guide
Resale Value: Average
Toyota Crown Competitors: Lexus LS, Mercedes E-Class, BMW 5 Series, Audi A6, Jaguar XF and Nissan Fuga
Cost of Ownership
See Latest Toyota Crown Prices here
What we like about the 2013 Toyota Crown
1. Executive class build and quality
2. Excellent safety ratings
3. Value for money
What we don't
Low ground clearance
Conclusion
The Toyota Crown is one of the few cars that are priced well in the Kenyan market considering how well equipped it is. We highly recommend it for the value for money, build quality, comfort, safety and affordability.
If you are looking to buy a Toyota Crown, we can help you with this process. We have a network of vetted dealers who offer clean cars at the best prices. Get in touch with us through our contacts below. We guarantee you a safe and pleasant experience.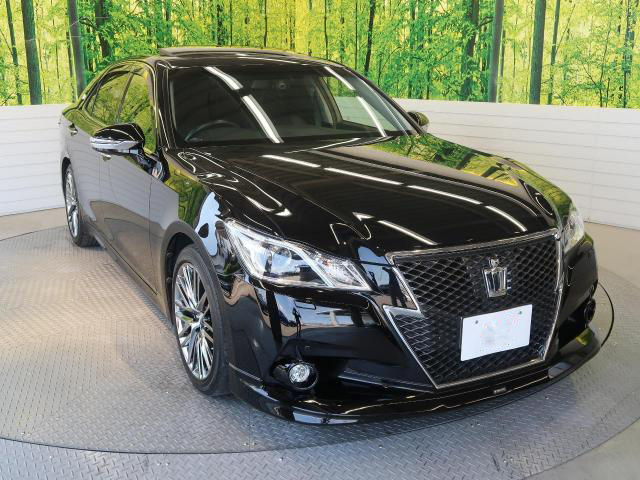 ---
If you have a question about this model or any other automotive questions, you can now get answers on our forum.
If you want to sell or trade-in you vehicle, you can list it for free via our seller portal.
If you wish to purchase this model local or abroad, you can do that via our marketplace.
You can get more about this
Toyota Crown