2014 Toyota Vitz Review
The Toyota Vitz is one of the most sought small hatchbacks in the Kenyan market due to its great fuel economy, reliability, affordability and utility. The Vitz competes with established brands such as the Mazda Demio, Nissan March, Suzuki Swift and Honda Fit.
You can get more about this
Toyota Vitz
Detailed Review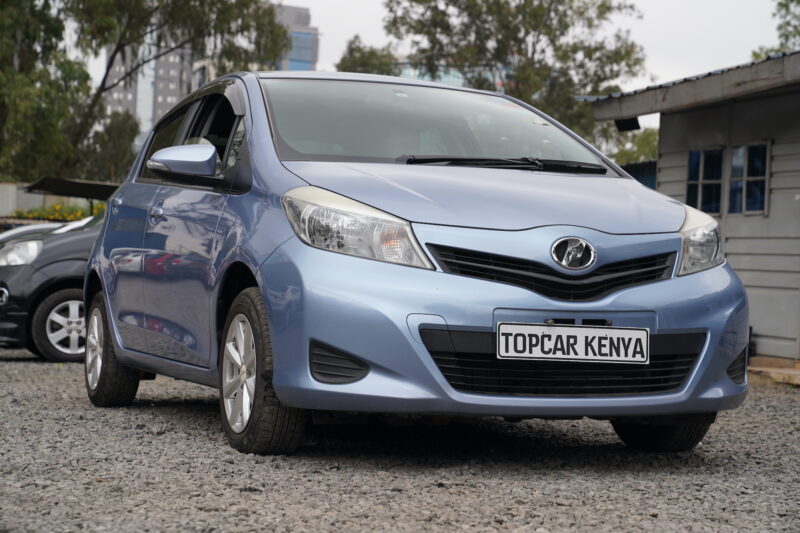 Toyota Vitz has been manufactured since 1999 and is only offered in Japan. In other markets, it is branded as the Toyota Yaris. The Toyota Vitz is available in three generations: the first, known as the XP10, was produced from 1999 to 2005, the second, known as the XP90, was produced from 2005 to 2010, and the third, known as the XP130, has been in production since 2011.
The 2014 Toyota Vitz is available in three engine options namely the 1.0-liter (990cc) 1KR engine, the 1.3-liter (1290cc) 1NR engine, and the 1.5-liter (1490cc) 1NZ engine.
2014 Toyota Vitz Grades
Toyota Vitz F– This is the base grade and comes with a 1.0liter or 1.3-liter engine. Standard features include 14-inch steel rims, a plain steering wheel, halogen headlights, key start, and a manual AC. It has two subgrades (M Package and SMART STOP)
Toyota Vitz Jewela– This grade boasts the same features as grade F, but has more exotic colors, including maroon, pink, purple, and red. It caters to a predominantly female clientele.
Toyota Vitz U- This is the luxury trim that comes with either the 1.3-liter or 1.5-liter engine, 2 or 4 wheel drive, chrome accents, radio controls on the steering wheel, xenon headlights, keyless/smart start, turn signals on the side mirrors, luggage cover, cushioned seats, automatic air conditioning, and 15-inch steel wheels.
Toyota Vitz RS– This is the sports trim, that is equipped with a supercharged 1.5-liter 1NZ engine (1490cc), 2WD, steering audio controls, fog lights, xenon headlights, chrome trim, keyless/smart start, turn signal on side mirrors, luggage cover, cushioned seats, automatic air conditioning, and 16-inch alloy rims. The C Package is a sub-grade of the RS that comes with manual air conditioning, halogen headlights, and key start.
Interior Legroom & Space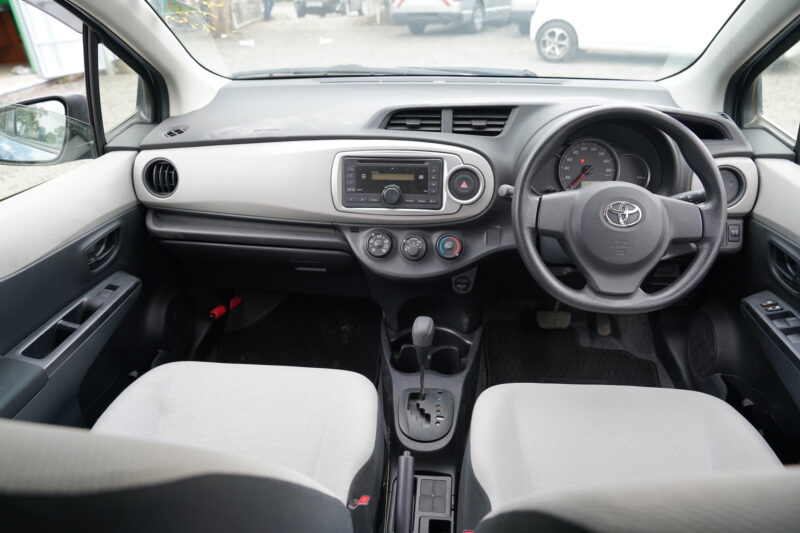 The interior of the Vitz is as straightforward as it gets. A huge speedometer is situated immediately in front of the driver, and there are only a few gauges to read. The high-mounted front seats help provide good sightlines for those concerned that a tiny car will provide a poor view of the road, while the lack of a telescoping steering wheel can be a problem for short and tall drivers alike. There is plenty of legroom in the back, and even taller passengers will have enough headroom.
Although the 2014 Toyota Vitz's plastics and upholstery are not remarkable, the materials are well finished and constructed. Although the 2014 Toyota Vitz lacks a navigation system, it does include all of the essential tech features you will want, such as Bluetooth with streaming audio and a USB port items that you will normally have to spend extra for in this price bracket.
Cargo Space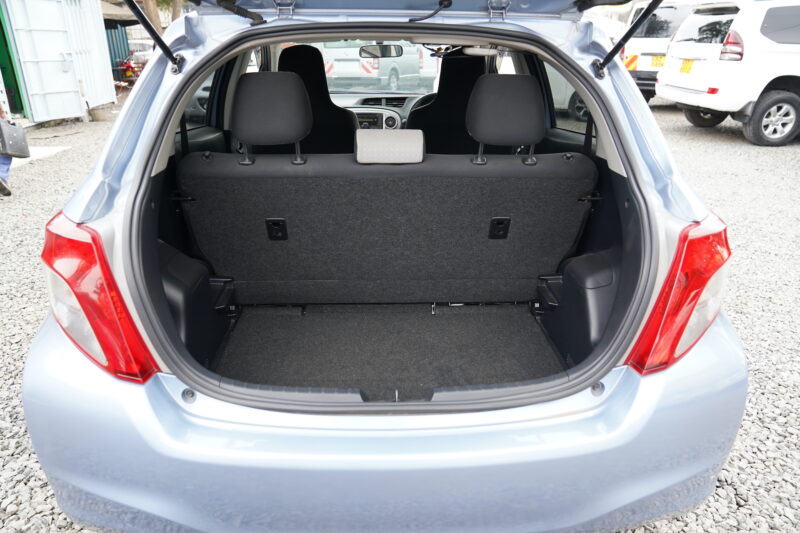 The four-door Vitz has 15.6 cubic feet (15.3 in the two-door) of cargo capacity behind its back seat, which is comparable to the Fiesta. But the Honda Fit (20.6 cubic feet) and Nissan Versa Note (13.0 cubic feet) offer significantly more cargo space (21.4 cubic feet). Nonetheless, the LE and SE versions' split-folding rear seats maximize the available capacity.
Exterior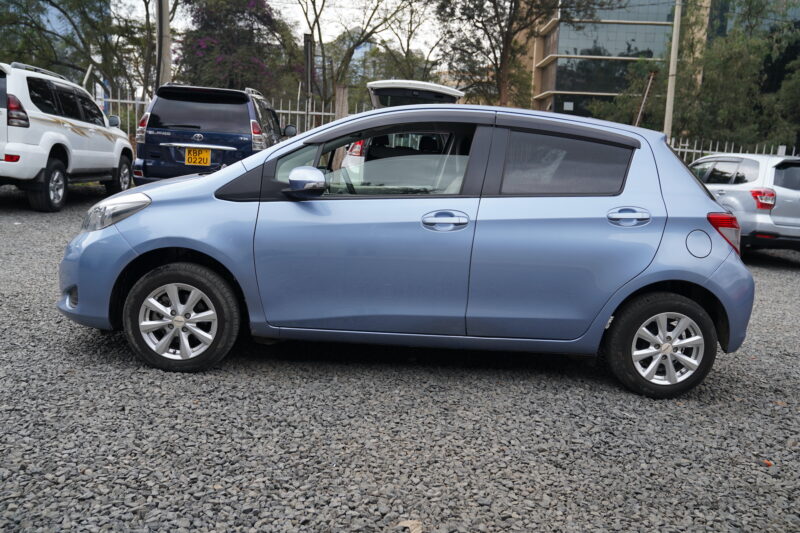 The exterior design of the 2014 Toyota Vitz lacks visual appeal. It is a compact hatchback with a family resemblance to other Toyotas with lines that are neat and functional. It appears more robust and chiseled, with a pronounced side crease, massive door handles, and tail lamps that protrude from the body. The sporty SE model's rear bumper shield gives it a rally-car appearance.
Safety Features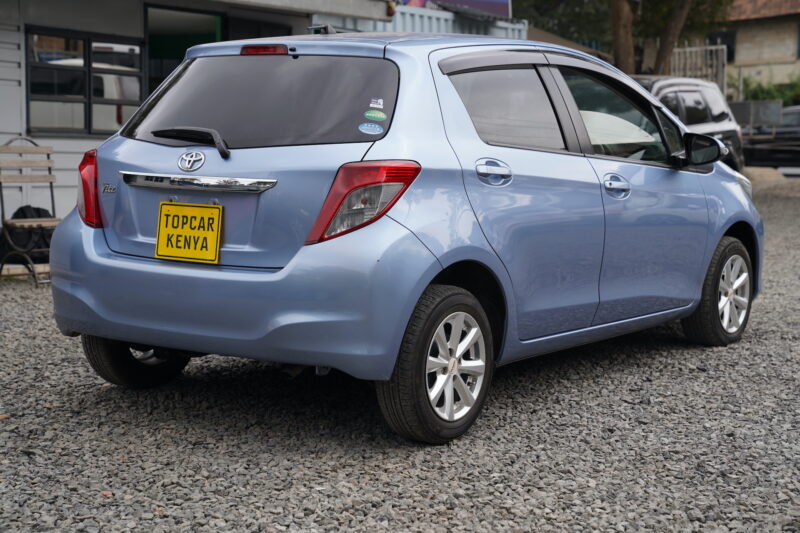 Standard safety features in the 2014 Toyota Vitz include; antilock brakes (rear drums for all models except the SE, which gets four-wheel discs), traction and stability control, active front head restraints, front-seat side airbags, front and rear side curtain airbags, front-seat cushion airbags and a driver knee airbag.
Fuel Efficiency
The 2014 Toyota Vitz has an average fuel consumption of 18KM/L.
Ground Clearance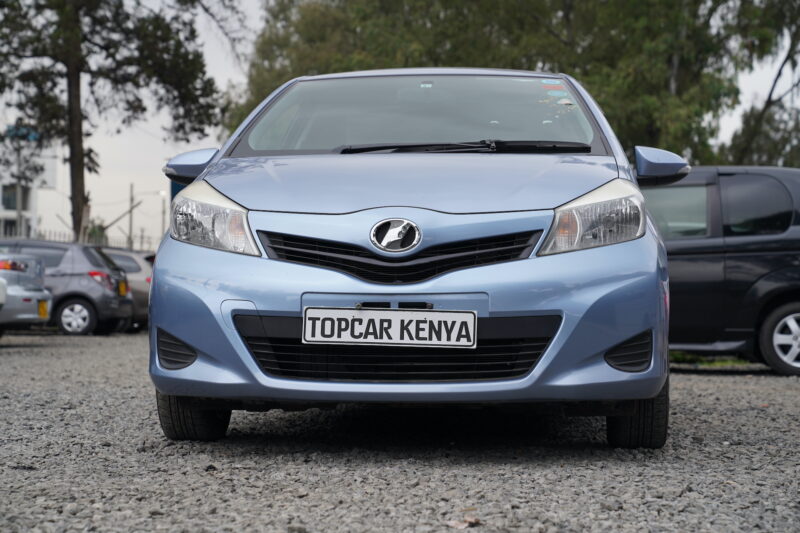 It has a ground clearance of  5.5 Inches(140mm) which is below the recommended clearance of 6.5 inches.
Conclusion
Nothing beats the Toyota Vitz when it comes to fuel economy and maintenance costs. It's perfect for folks on a tight budget who want a basic car to go around in.
---
If you have a question about this model or any other automotive questions, you can now get answers on our forum.
If you want to sell or trade-in you vehicle, you can list it for free via our seller portal.
If you wish to purchase this model local or abroad, you can do that via our marketplace.
You can get more about this
Toyota Vitz