2015 Honda CR-V Review
The Honda CR-V has been one of the bestselling SUVs over the years due to its practicality, comfort, usability, fuel economy, driver involvement, reliability, and low ownership costs that its competitors can't match. It competes with established brands such as the  Nissan X-Trail, Toyota Vanguard, Mitsubishi Outlander, Subaru Forester, Mazda CX-5 Toyota RAV4
You can get more about this
Honda Cr-v
Detailed Review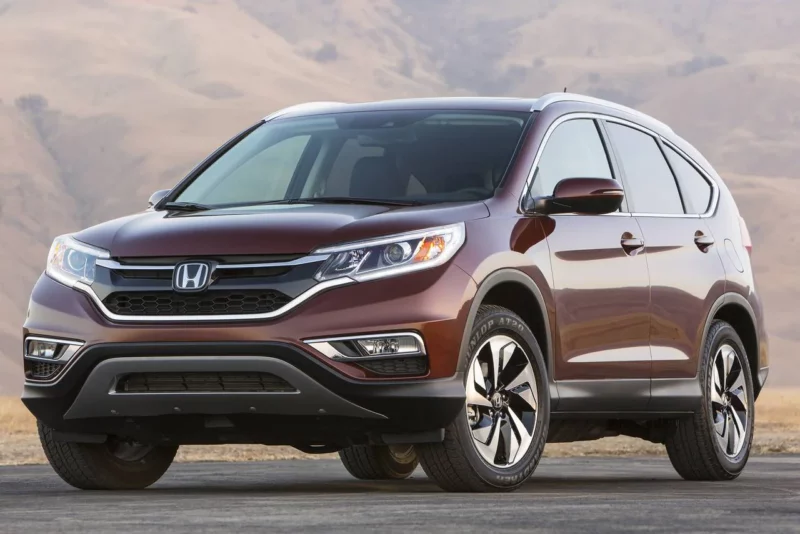 The Honda CR-V has been in production for 5 generations since 1995. the first generation known as the RD1 was in production from 1995 to 2001, the second generation known as the RD4 from 2001 to 2006, the third generation known as the RE3 from 2006 to 2011, the fourth generation known as the RM1 from 2011 to 2016 and the fifth-generation known as the RW1 from 2016 to present.
The 2015 Honda CR-V comes with 3 engine options: a 2.4 Litre K24A i-VTEC petrol engine, a 2.0 Litre R20A i-VTEC petrol engine, and a 2.2 Litre i-DTEC turbodiesel engine.
2015 Honda CR-V Grades
2015 Honda CR-V LX– It comes standard with 16-inch steel wheels, a blind-spot mirror, full power accessories, keyless entry, a rearview camera, cruise control, air-conditioning, a height-adjustable driver seat, a 60/40-split-folding and reclining seat with trunk-mounted fold handles, Bluetooth phone and audio connectivity, an iPod/USB audio interface and Pandora Internet radio control.
2015 Honda CR-V EX- It adds 17-inch alloy wheels, a sunroof, fog lights, body-colored mirrors and door handles (instead of the LX's black plastic), rear privacy glass, a cargo cover and a six-speaker sound system.
2015 Honda CR-V EX-L– This trim adds roof rails, automatic headlights, heated mirrors, dual-zone automatic climate control, a leather-wrapped steering wheel, eight-way power driver seat with two-way power lumbar, heated front seats, leather upholstery, satellite radio and a seven-speaker sound system that includes a subwoofer.
Interior legroom & Space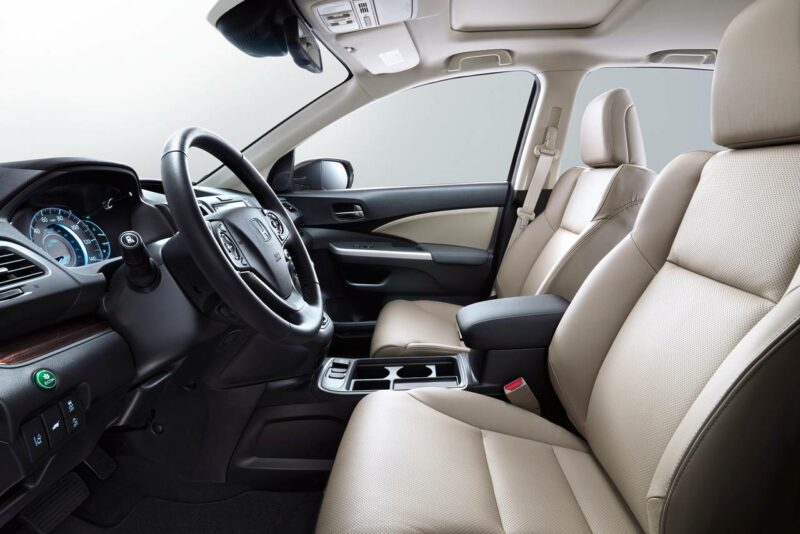 Overall, the 2015 Honda CR-V continues to offer one of the most accommodating cabins in the class. There is ample space for rear passengers, and all three sitting positions recline and incorporate LATCH anchor points for child safety seats. Additionally, there is ample space up front, especially with the enhanced flexibility of the optional power driver seat, which provides improved visibility and a sense of spaciousness.
Cabin Storage
At the front, there are 2 cup holders, 2 bottle holders, door panel storage, a glovebox, and a cubby box. For the second row, there is storage on the front seat pockets and door pockets.
Boot Space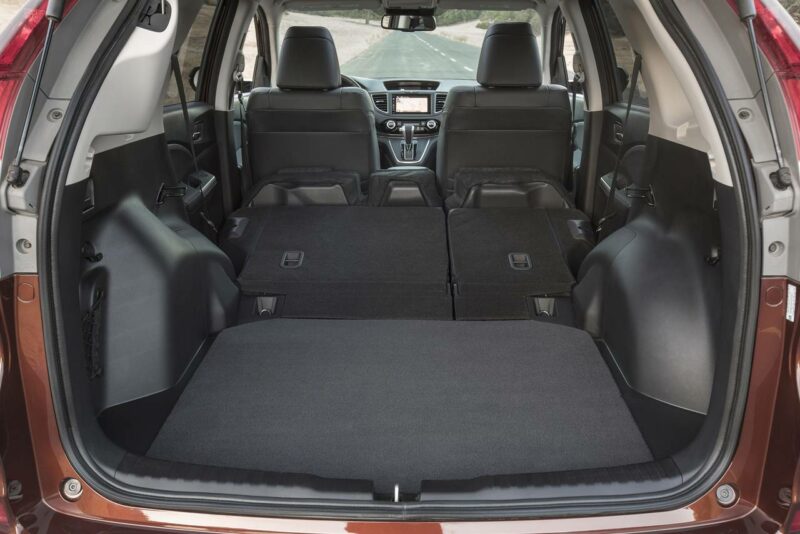 The 2015 CR-V can carry 35.2 cubic feet of cargo behind the rear seats which can extend up to 70.9 cubic feet when the rear seats are folded down making it among one of the SUVs with big cargo space.
Exterior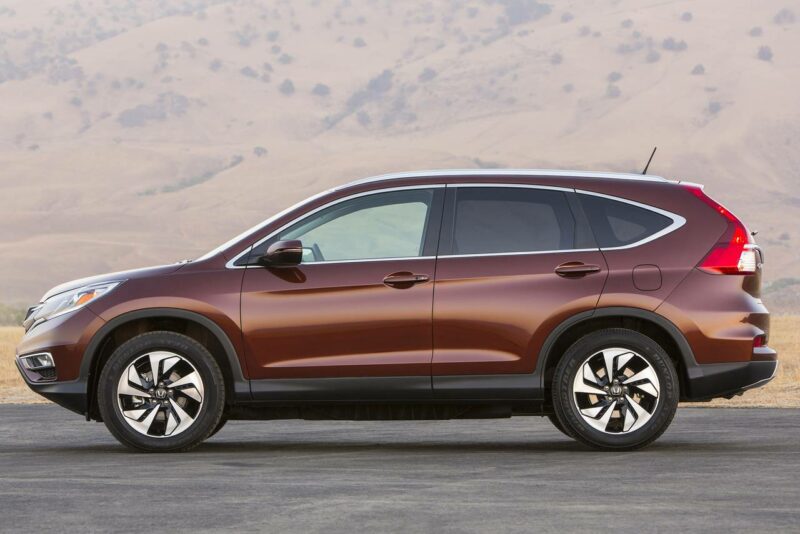 The 2015 Honda CR-V has received a number of styling improvements that give it a little more premium appearance, reducing some of the grey-plastic dreariness of its predecessor. There is more chrome and the lighting is more exquisite; on the interior, the materials are superior and Honda has completely revamped the center console. Similar to the 2012 model, the current CR-V is primarily a boxy station wagon with a relatively vertical rear end. It is a businesslike design, but not very graceful.
2015 Honda CR-V Fuel Tank Capacity: 58 Litres
2015 Honda CR-V 2.4L Petrol Fuel Consumption: 8.4L/100KM
2015 Honda CR-V 2.0L Petrol Fuel Consumption: 77L/100KM
2015 Honda CR-V 2.2L Diesel Fuel Consumption: 5.6L/100KM
2014 Honda CR-V Acceleration
2015 Honda CR-V 2.4L Petrol accelerates from 0-100 km/h in 10.1 secs
2015 Honda CR-V 2.0L Petrol accelerates from 0-100 km/h in 12.8 secs
2015 Honda CR-V 2.2L Diesel accelerates from 0-100 km/h in 9.7secs
Service Intervals
Minor Service – Done at 10,000 km. Requires Air Cleaner, Oil Filter, and Engine Oil
Major Service – Done at 15,000km. Requires Air Cleaner, Oil Filter, Fuel Filter, ATF Filter, Cabin Filter, Plugs, Front Brake Pads, Rear Brake Pads, ATF Oil, and Engine Oil
Spare Parts Availability, Cost & Where to buy
A few years back, Honda spares parts were expensive and not easily available in Kenya. Things have significantly improved with the parts now being cheaper and easier to find. Service parts are readily available in major towns and comparable in price to those of its competitors. On the other hand, body parts such as headlights can be expensive and sometimes hard to find.
Performance and Handling
Honda has gone to considerable lengths to give the CR-V the aura of sophistication you would expect from a car that has been around for so long and to make it competitive with the better-driving cars in the compact SUV market. Although there is more ground clearance than before, its manufacturer notes that this has not come at the expense of a higher center of gravity.
From a handling perspective, the CR-V is not one of the more engaging or composed compact SUVs on the market. Although handling is safe and grip levels are adequate, body control is just average and the car does not change directions in a particularly agile manner.
The suspension is effective in both city traffic and at leisurely cross-country speeds; however larger lumps and bumps experienced at higher speeds do disturb the cabin's softly sprung calm.
Resale Value: Average
Honda CR-V Competitors: Nissan X-Trail, Toyota Vanguard, Mitsubishi Outlander, Subaru Forester, Mazda CX-5 Toyota RAV4
Cost of Ownership
See Latest Honda CRV Prices
What We Like
Modern design
 Good interior space
Good fuel efficiency
Conclusion
Overall, the 2015 Honda CR-V is an improvement over its predecessor in most respects, and while it cannot match the class leaders in terms of power, performance, or driving dynamics, it does a better job than most in this market of being a family-friendly midsize SUV.
---
If you have a question about this model or any other automotive questions, you can now get answers on our forum.
If you want to sell or trade-in you vehicle, you can list it for free via our seller portal.
If you wish to purchase this model local or abroad, you can do that via our marketplace.
You can get more about this
Honda Cr-v