2013 BMW X5 Review
When it comes to luxury SUVs, the BMW X5 sits at the top of a tree that features heavyweights such as the Mercedes M-Class, VW Touareg, Range Rover Sport, Volvo XC90, Audi Q7 and Porsche Cayenne. This balance of power in the European axis has existed for a long time and it doesn't look like it will change anytime soon. A choice of any of these is as good as the other and it usually boils down to personal preference. The newly added 7 seat option in the X5 is a game changer and a clear advantage only shared with the XC90 and the Q7.
Detailed Review
The BMW X5 is a five to seven seater luxury SUV that has been in production for four generation starting from 1999 till present. The first generation known as the E53 was in production from 1999 to 2006, the second generation known as the E70 from 2006 to 2013, the third generation known as the F15 from 2013 to 2018 and the fourth generation known as the G05 from 2018 to present.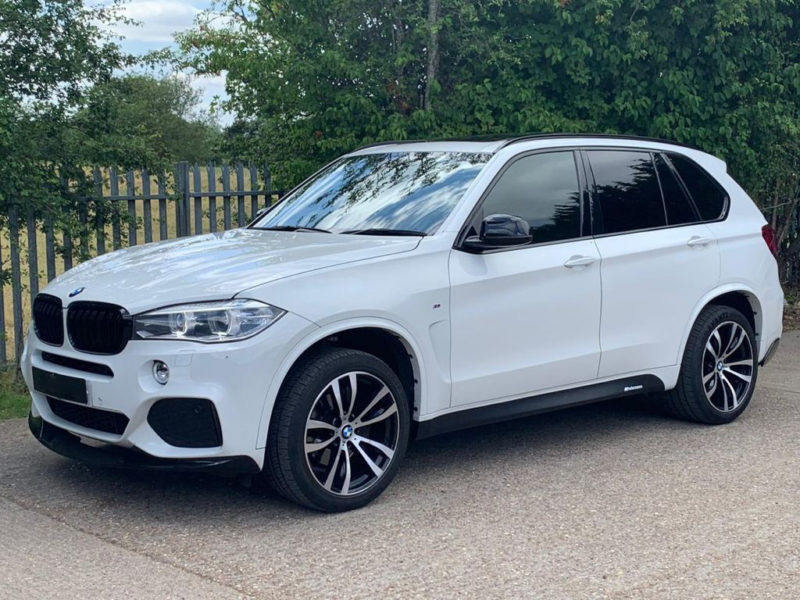 The 2013 BMW X5 is largely different from previous generations in many aspects such as what BMW calls new standards in luxury, versatility and driving dynamics. It's also the first time that an X5 has been offered with rear-wheel-drive. Much as these may sound like marketing gimmicks, the 2013 BMW X5 is without question a trendsetter.
It's offered with 3 engine options; these are a 4.4L 450 HP twin-turbo V8 petrol engine, a 3.0L 381 HP tri-turbo inline 6-cylinder diesel engine and a 3.0L 258 HP twin-turbo inline 6-cylinder petrol engine. These are linked to an 8-speed Automatic Transmission and available in 2WD and 4WD.
2013 BMW X5 Engine Classifications
xDrive30i – Inline 6-cylinder, Petrol, 3.0L, 258 HP, Twin-Power Turbo, 4WD
sDrive30i – Inline 6-cylinder, Petrol, 3.0L, 258 HP, Twin-Power Turbo, 2WD
xDrive30d – Inline 6-cylinder, Diesel, 3.0L, 381 HP, Tri Turbo, 4WD
xDrive50i – Inline 6-cylinder, Petrol, 4.4L, 450HP, Twin Turbo, 4WD
2013 BMW X5 Grades
BMW X5 SE – This is the entry level grade that comes with 18-Inch alloy rims, cruise control, satellite navigation, Bluetooth connectivity, six speaker stereo, 20GB hard drive for music and maps, DAB digital radio , leather upholstery, LED Fog lights.
BMW X5 M Sport – This is a sports grade that builds on the SE with 19-Inch alloy rims, body kit, adaptive suspension, M badges, powered seats, upgraded interior trim.
Interior & Exterior
The X5 has always been a luxurious car but BMW has amplified this in the fourth generation with higher quality materials and a modern cabin replete with LCD mood lighting and a touchscreen iDrive infotainment system.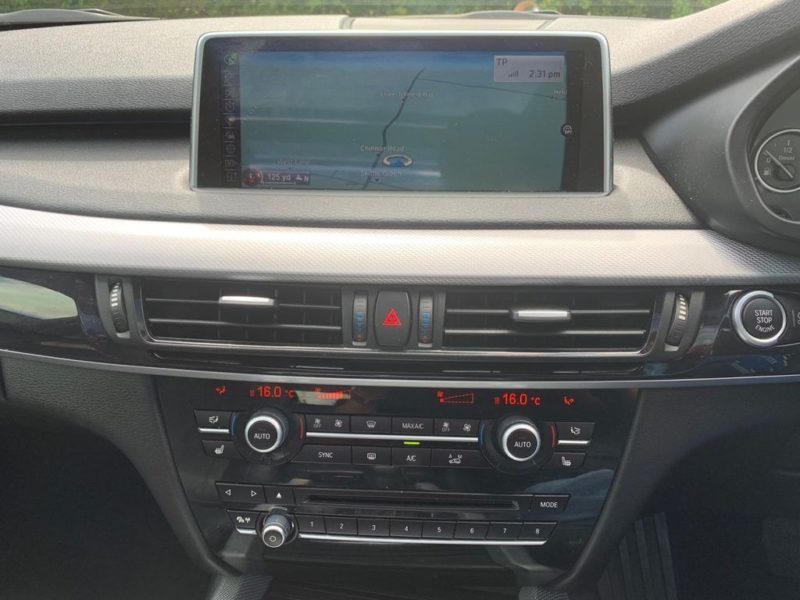 There's more legroom and space in the cabin thanks to an increase in length in this model. At the first row, the legroom is excellent and the seats can adjust to fit any desirable position. At the second row, the legroom is similarly impressive with split seats that can independently recline. At the third row, the seats are comfortable but the legroom is tight for adults.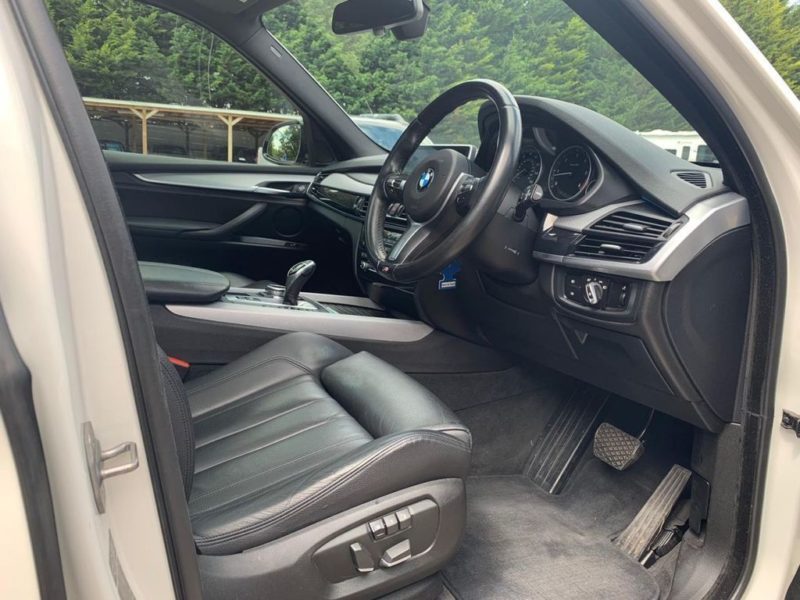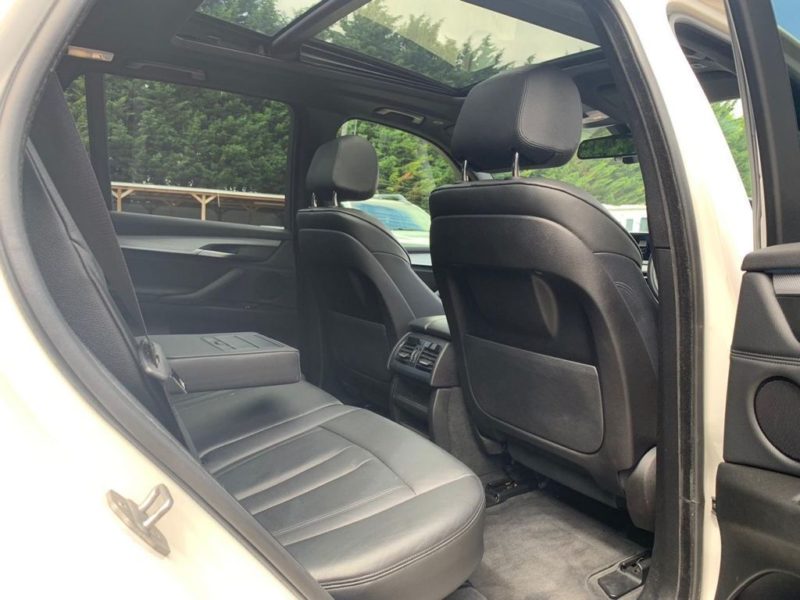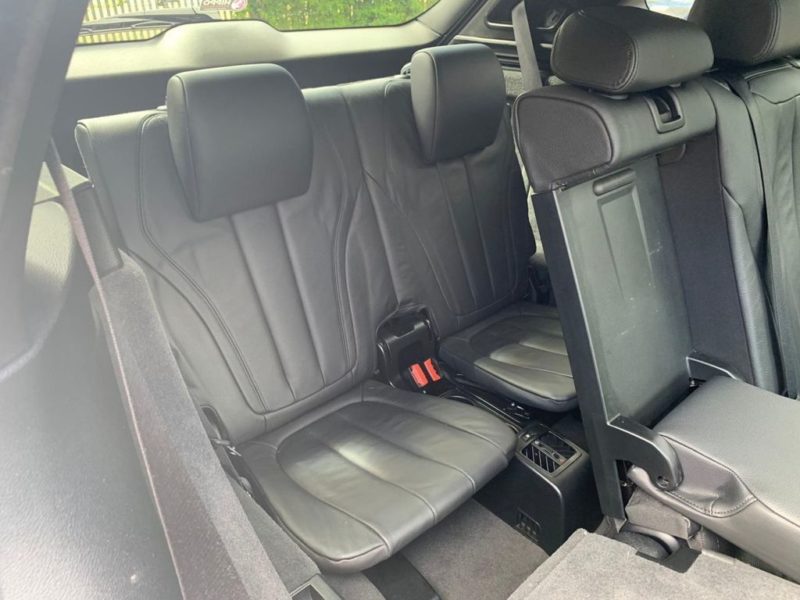 On the outside, much as the 2013 X5 may look smaller than its predecessors, its actually bigger in terms of width and length. It's more angular with a prominent grille, LED adaptive headlights and a general display of top craftsmanship that gives it regal character and poise.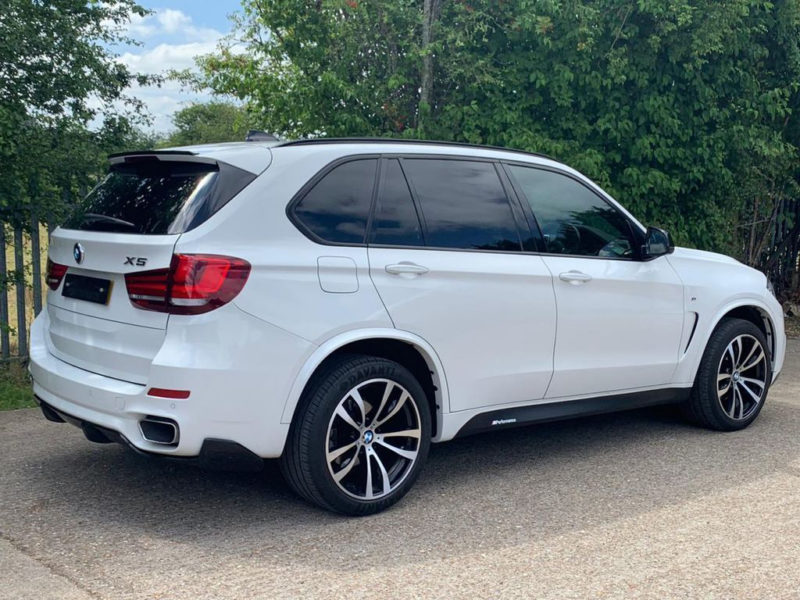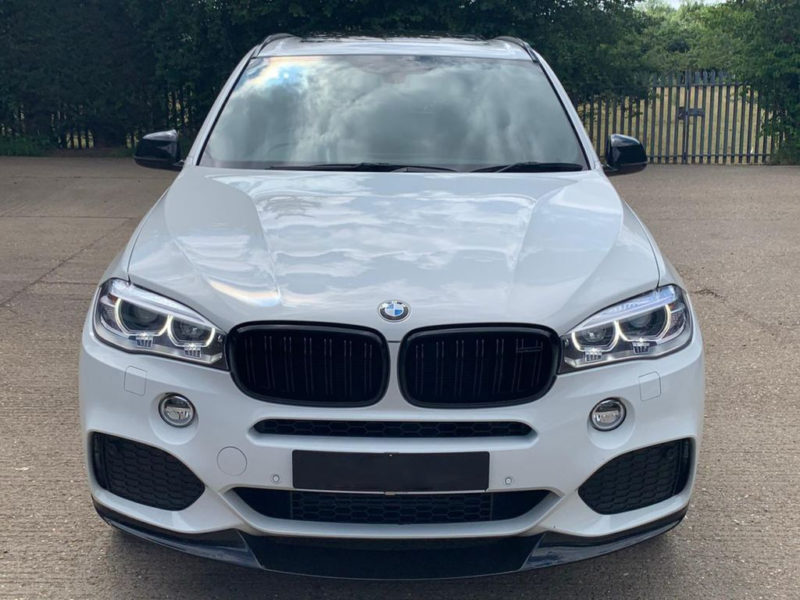 Cabin Storage
There are several storage compartments in the cabin that are useful for storing items such as smartphones, beverages, goggles, handbags etc. At the first row there are 4 cup-holders, door panel storage, a glovebox and the center-box. For the second row, there are 4 cupholders, front seat jacket pockets and door pockets. For the third row, there are 2 cup-holders.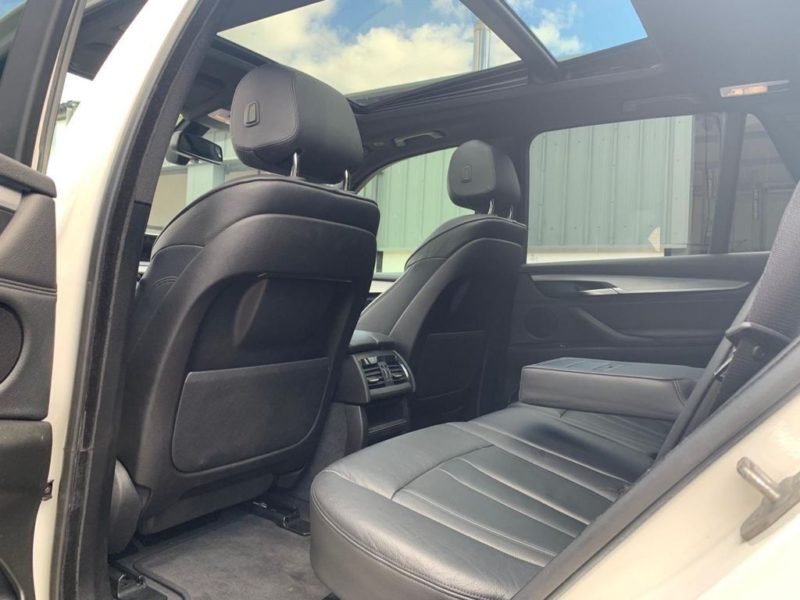 2013 BMW X5 Boot Space
In the 7 seater setup, the boot is virtually non existent. In the 5 seater setup, the boot is big enough and can carry luggage for a family of five. When extra space is required, the second row seats can be folded in a split configuration to free up a sizable amount of boot space.
Other Extras: USB Charging Ports, Heads-up Display, heated seats, Adaptive Dynamic Suspension, Panoramic Sunroof.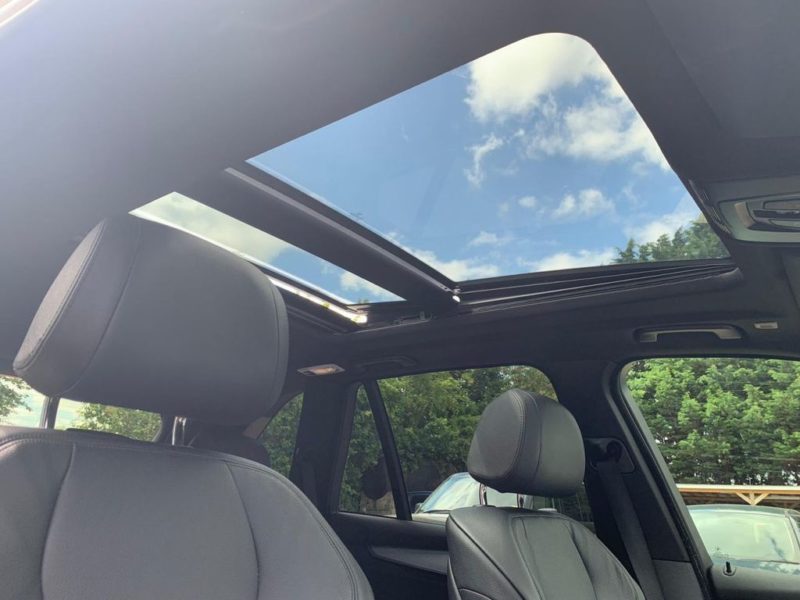 2013 BMW X5 Safety Features
SRS Airbags, Curtain airbags, DCS and TCS, ABS, Electronic Stability Control, Pre-crash Safety System, Radar Cruise Control, Blind Spot Detection, Pedestrian Warning, Lane Departure Alert, Frontal Collision Warning, Automatic High Beam, Run Flat tyres, Active Roll Stabilization, Electronic Damping Control
2013 BMW X5 Consumption
2013 BMW X5 4.4L 450 HP Petrol twin-turbo fuel consumption: 11.5 km/L
2013 BMW X5 3.0L 381 HP diesel tri-turbo fuel consumption: 14.9 km/L
2013 BMW X5 3.0L 258 HP diesel TwinPower turbo fuel consumption: 16.1 km/L
2013 BMW X5 Acceleration
2013 BMW X5 4.4L 450 HP Petrol twin-turbo accelerates from 0-100 km/h in 5.0 sec.
2013 BMW X5 3.0L 381 HP diesel tri-turbo accelerates from 0-100 km/h in 5.3 sec.
2013 BMW X5 3.0L 258 HP diesel TwinPower turbo accelerates from 0-100 km/h in 6.9 sec.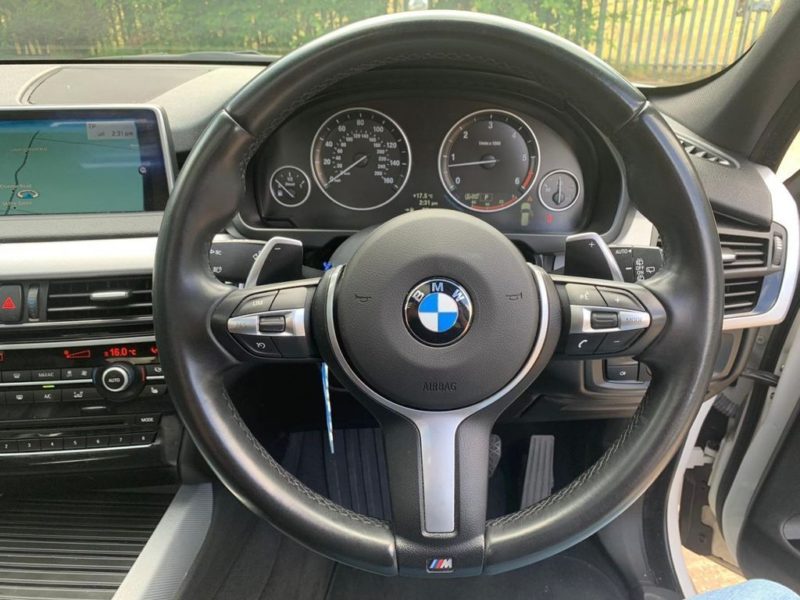 2013 BMW X5 Fuel Tank Capacity: 85 Litres
2013 BMW X5 Stability and Handling
The BMW X5 is a supremely powerful car that operates in sports car territory. There are few SUVs that can outrun the X5 and that's probably the Porsche Cayenne Turbo and the Range Rover Sport, the rest are fair game. When it comes to driving dynamics, the X5 is perfectly engineered and it feels solid even at high speeds. It comes with an optional Adaptive Suspension system that gives it incredible stability that allows it to take corners at speeds where most normal cars will topple over.
Service Intervals
Minor Service: At 5,000 km. Requires Air Cleaner, Oil Filter, and Engine Oil
Major Service: At 10,000km. Requires Air Cleaner, Oil Filter, Fuel Filter, ATF Filter, Cabin Filter, Plugs, Front Brake Pads, Rear Brake Pads, ATF Oil, and Engine Oil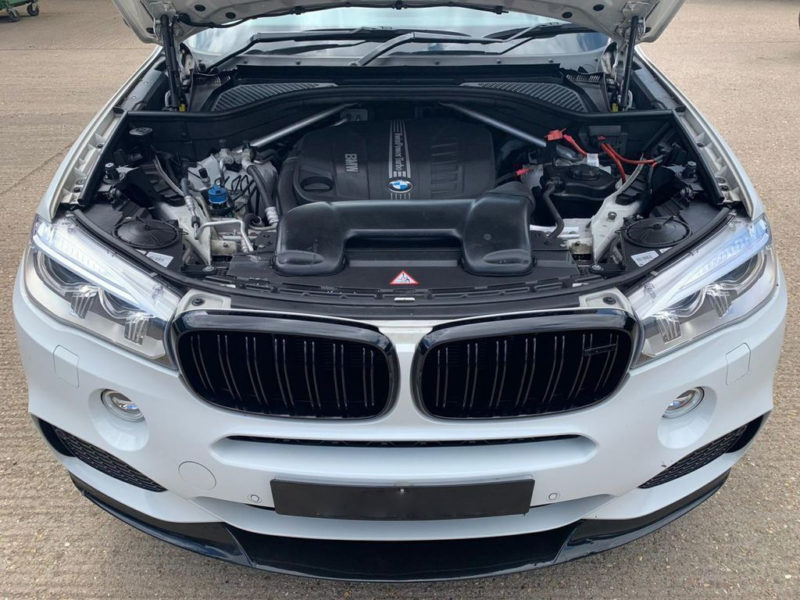 Spare Parts Availability and Cost
Service parts are available and fairly priced in Kenya. Body parts on the other hand are expensive and not as easily available.
2013 BMW X5 Reliability
The driving conditions in Kenya are significantly different from those in Japan and Europe. Reliability reviews done for those markets largely do not apply to the Kenyan market. There are differences in roads, fuel, climate, spares, and technical expertise. To give you accurate and reliable local insights, we interview experts such as mechanics and car dealers, who have in-depth knowledge of the Kenyan market. We also test the cars ourselves. Our aim is to give you the right information to enable you make an informed decision when buying a car.
German cars historically aged well but now, newer models come with a host of sensors that control virtually everything. These cars can be problematic with age and its advisable to buy them at very low mileage. It's absolutely important to buy them from credible dealers that can guarantee their quality. We will give you their contacts at the end of this review.
Another factor to consider is the quality of maintenance and the service history of the car. These greatly determine the long-term reliability of the car and its important to have the car thoroughly examined by a qualified technician before you purchase it. Once this is done and you have purchased the right car, you then have to ensure that service is done on time using genuine parts. If you skimp on maintenance, then be prepared to pay heavily down the line.
If you are planning to own or currently own the 2013 BMW X5, it's vital that you read the Owner's Manual. If you need the manual, you can request it from us via [email protected]
Resale Value: Average
2013 BMW X5 Competitors: Mercedes M-Class, VW Touareg, Range Rover Sport, Volvo XC90, Audi Q7 and Porsche Cayenne
Cost of Ownership
Purchase Price: from Ksh.3,500,000
Comprehensive Insurance: Average Ksh. 120,000/ per annum- Or
3rd Party Insurance: Ksh. 7,000/- per annum
Change of Tyres(If neccessary) Ksh. 100,000/- for 4 Tyres
See latest BMW X5 prices here
What we like about the 2013 BMW X5
Powerful acceleration
Luxurious interior
Seven Seater Capacity
 Exceptional build quality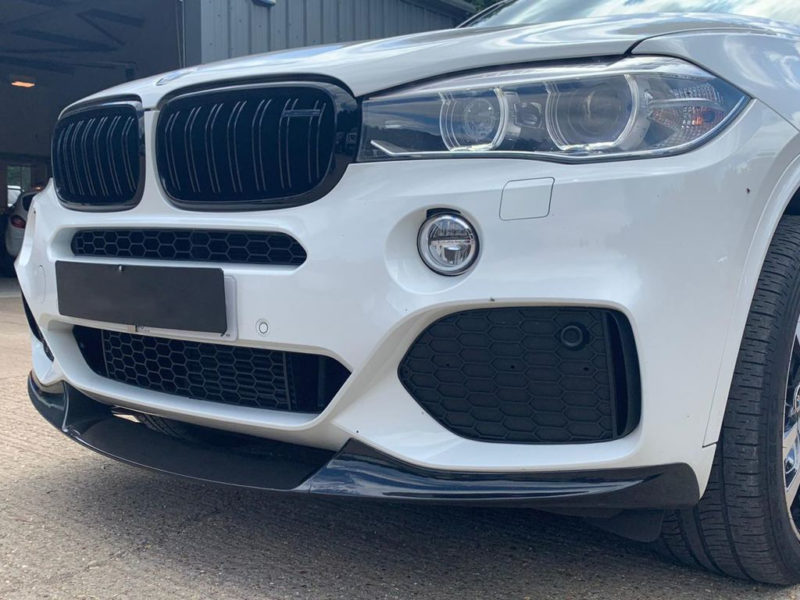 What we don't
Expensive parts
Conclusion
The BMW X5 is a top tier SUV that sets new standards in design, performance, luxury and driving pleasure. Its available in a choice of petrol and diesel engines that are designed to fit every kind of driving style, be it the need for speed or a fuel efficient luxurious drive. It's now a legitimate family car thanks to the 7-seater option and excellent safety ratings.
Where to Buy the 2013 BMW X5 in Kenya
If you are looking to either import or buy the BMW X5 locally, we can help you with this process. Over the years, we have developed a network of trusted dealers both in Kenya and UK who supply us with exceptional cars. Simply call us or send us a message through our contacts below and we'll get you the right car at the right price.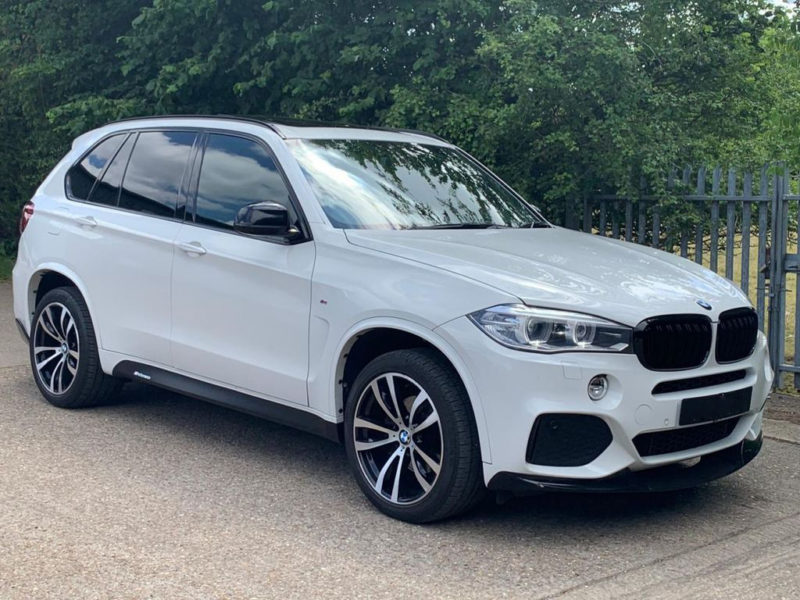 ---
If you have a question about this model or any other automotive questions, you can now get answers on our forum.
If you want to sell or trade-in you vehicle, you can list it for free via our seller portal.
If you wish to purchase this model local or abroad, you can do that via our marketplace.