2013 Lexus RX Review
The Lexus RX is popular in Kenya and is well known for its close resemblance to the Toyota Harrier with which it shares a common heritage. Lexus introduced the RX in a bid to boost sales and offer competition to the SUV market that was heavily dominated by German cars. It was released alongside the Toyota Harrier which targeted the Japanese Domestic Market while the RX targeted the North American market where it became an instant hit. It competes with the BMW X5, VW Touareg, Mercedes M-Class, Audi Q5, Porsche Cayenne and Volvo XC60.
You can get more about this
Lexus Rx
Detailed Review
This review covers the Lexus RX270, the Lexus RX350 and the Lexus RX450h
The Lexus RX has been in production since 1998. The first generation concept combined the characteristics of an SUV and the luxury of a sedan and has gradually evolved over the years. The first generation RX codenamed XU10 was in production from 1998-2003. The second generation RX codenamed XU30 was in production from 2003-2009. The third generation RX codenamed AL10 was in production from 2009-2015. The fourth generation RX codenamed AL20 has been in production from 2015 to present.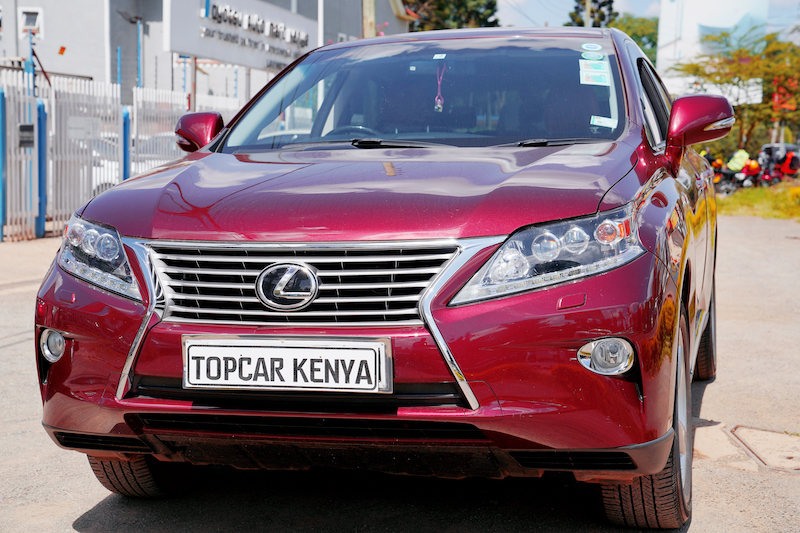 Highlights
Premium build
Luxurious cabin
Good handling
The 2013 Lexus RX is offered with 3 engine options; The 2.7-Litre 1AR-FE petrol engine in the RX270, the 3.5-Litre 2GR-FSE petrol engine in the RX350 and the 3.5-Litre 2GR-FXE hybrid petrol engine in the RX450h. These are mated to a 6-Speed Super ECT and an electric CVT for the hybrid version. They are available in both 2WD and 4WD options.
2013 Lexus RX Grades
Lexus RX Version S – This is the entry level grade that comes with 19-Inch alloy rims, synthetic leather seats, and sports suspension. This grade is available with the RX270, the RX350 and the RX450h.
The Lexus RX Version L – This is a luxury grade that comes with semi-aniline genuine leather seats, wood grain panels, power tailgate and rear side airbags.
Lexus RX Version L/ Air Suspension – This is the highest grade that comes with the same features the Version L and adds air suspension. The air suspension can be adjusted to three different heights and has a function to lower the height by about 3 centimeters when loading and unloading luggage. This grade is only available with the RX350 and the RX450h
Interior & Exterior
The interior is built for comfort with a classy finish. The three-spoke leather-wrapped steering wheel and mono-color cabin with leather finishing look inviting to the eye. There's ample space in the front row and back row with multiple seat adjustments. However, this SUV is only available in a 5-seater option. It's also equipped with modern technology to improve the driving experience including an HDD Navigation system, USB ports, memory seat, adjustable steering wheel, sunroof, heated seats and leather upholstery.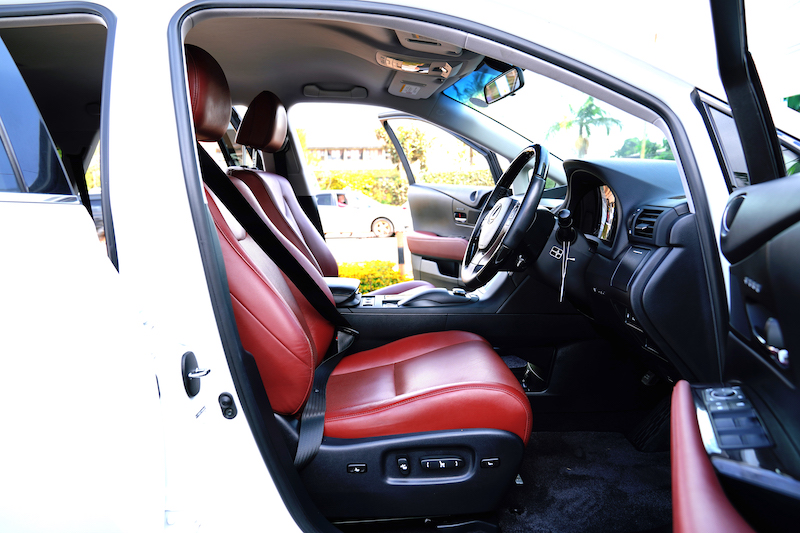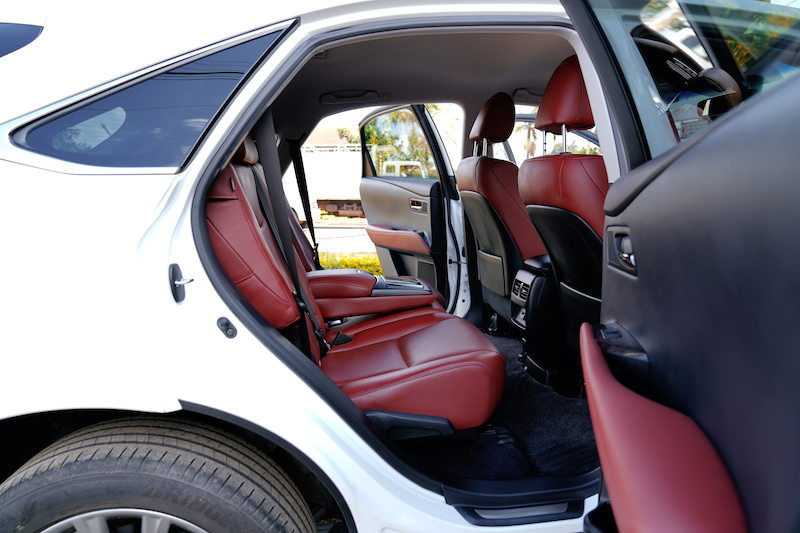 As mentioned, the Lexus RX closely resembles the Toyota Harrier but with a more premium quality. The 2013 model comes with spindle front grille which gives it a sportier look, unlike its predecessor. The front has a stylish design that will captivate any onlooker while the back maintains a simple yet elegant design. It has a curvy body with continuous lines running from the front to the back coupled with new LED headlights and L-shaped taillights. The most distinctive feature about the Lexus RX series has to be its design which has inspired both high end and mid-end SUVs.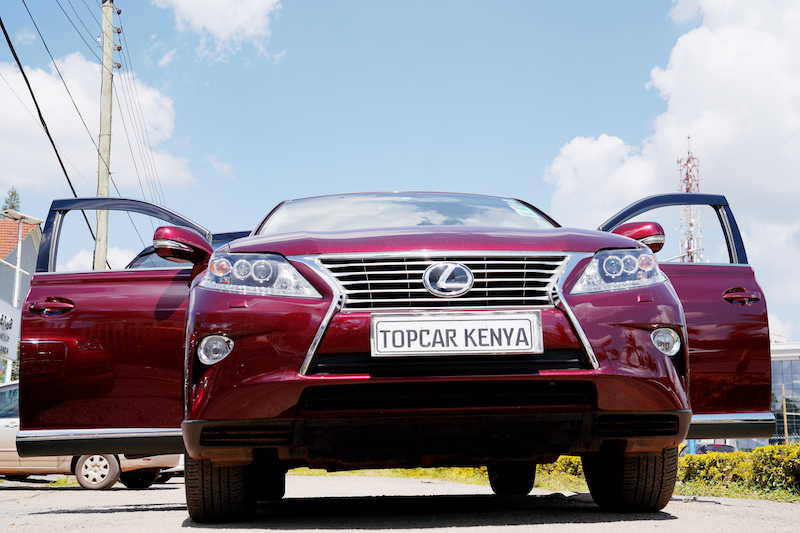 Storage Space
The 2013 Lexus RX has plenty of storage space both in the cabin and boot. At the front, there are 2 cup holders, door panel storage, a glovebox and a cubby box. For the second row, there are 2 cupholders, storage on the front seat pockets and door pockets.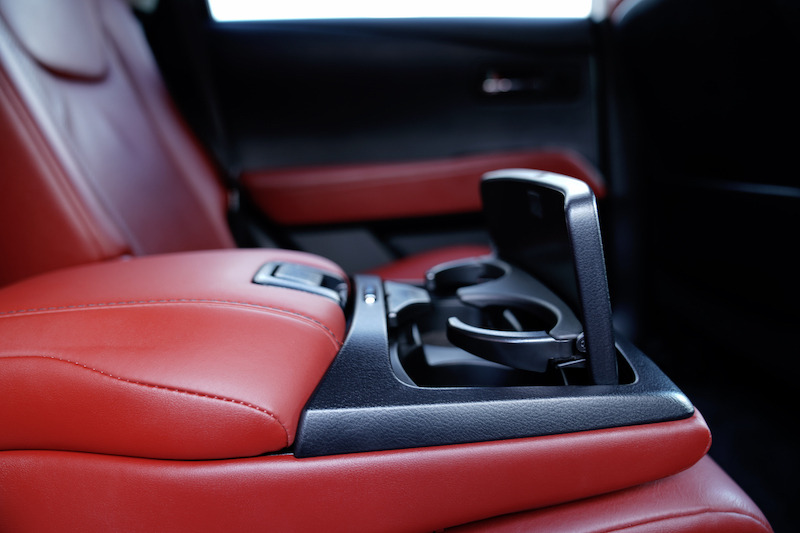 2013 Lexus RX Boot Space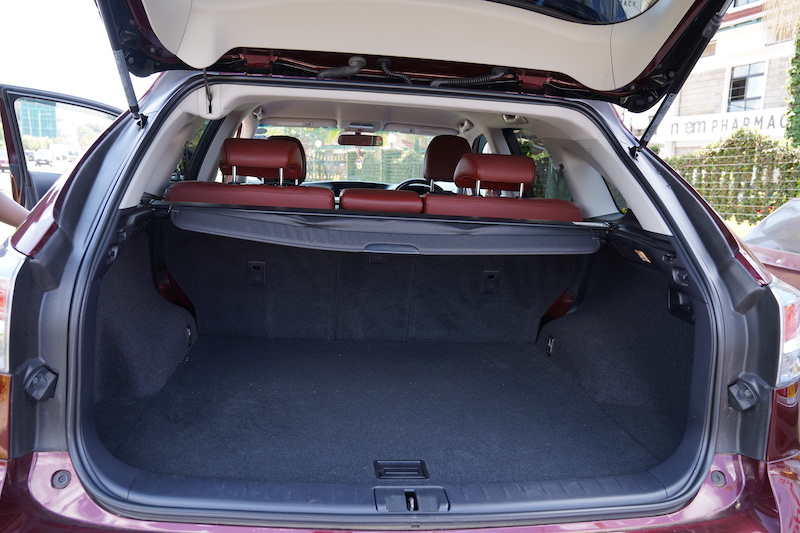 Other Extras: DVD player, Dual Zone Climate Control, Reverse Camera, Multi-function steering controls, Cruise Control.
2013 Lexus RX Fuel Consumption
Lexus RX270 Fuel Consumption: 10.4 km/L
Lexus RX350 Fuel Consumption: 8.5 km/L
Lexus RX450h Fuel Consumption: 17.4 km/L
2013 Lexus RX Acceleration
Lexus RX270 accelerates from 0-100 km/h in 10.7 sec.
Lexus RX350 accelerates from 0-100 km/h in 7.8 sec.
Lexus RX450h accelerates from 0-100 km/h in 7.8 sec.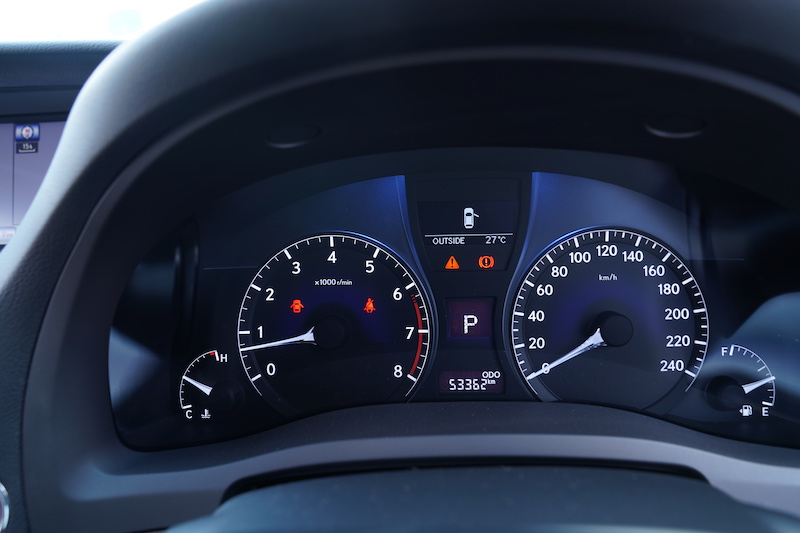 2013 Lexus RX Fuel Tank Capacity: 58 Litres
Performance and Handling
The 2013 Lexus RX270 produces 187 horsepower. It has a six-speed automatic transmission and a front-wheel drive. It's a bit slow for an SUV but it still offers great performance. It also offers steering and handling that are sharper and more rewarding than its competitors. The major disadvantage is that the RX270 is a rather heavy car for its 2.7 litre, four-cylinder engine. It struggles to keep up on the road when it's loaded. However, for a daily commute, it picks up speed effortlessly.
2013 Lexus RX Ground clearance: 7.3 Inches
Service Intervals
Minor Service – Done at 10,000 km. Requires Air Cleaner, Oil Filter, and Engine Oil
Major Service – Done at 15,000km. Requires Air Cleaner, Oil Filter, Fuel Filter, ATF Filter, Cabin Filter, Plugs, Front Brake Pads, Rear Brake Pads, ATF Oil, and Engine Oil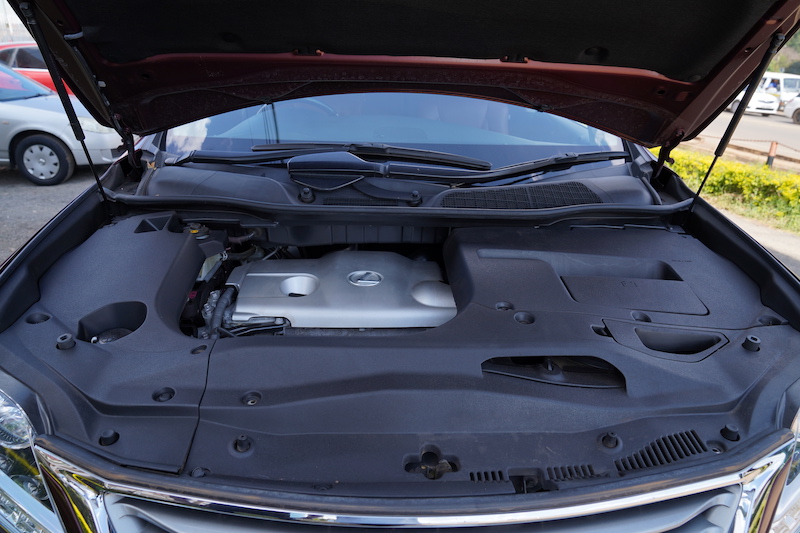 Spare Parts Availability, Cost & Where to buy
A few years back, Lexus spares parts were expensive and not easily available in Kenya. Things have significantly improved with the parts now being cheaper and easier to find. Considering that Lexus is an affiliate of Toyota, service parts are readily available in major towns and are shared with other Toyotas such as the Harrier. On the other hand, body parts such as headlights can be expensive and sometimes hard to find. For a list of spare part prices and dealers in Kenya, follow this link.
2013 Lexus RX Reliability
The driving conditions in Kenya are significantly different from those in Japan and Europe. Reviews done for those markets largely do not apply to the Kenyan market. There are differences in roads, fuel, climate, spares, and technical expertise. To give you accurate and reliable local insights, we interview experts such as mechanics and car dealers, who have in-depth knowledge of the Kenyan market. We also test the cars ourselves. Our aim is to give you the right information to enable you make an informed decision when buying a car.
The Lexus RX is a fairly complex car that tends to develop sensor problems with time. The Hybrid version is particularly sensitive to develop more problems than the rest. The commonly reported problems are;
Transmission Failure
Air Suspension Failure
Loss of power
Check engine
Resale Value: Average
Lexus RX Competitors: BMW X5, VW Touareg, Mercedes M-Class, Audi Q5, Porsche Cayenne and Volvo XC60.
Cost of Ownership
Purchase Price: From Ksh.3,300,000
Comprehensive Insurance: Average Ksh. 88,000/ per annum- Or
3rd Party Insurance: Ksh. 7,000/- per annum
Change of Tyres(If necessary) Ksh. 40,000/- for 4 Tyres
See the Latest Lexus RX Prices here
What We Like
Relatively affordable
Premium build
Elegant interior
Good driving experience
Good fuel consumption
Excellent ground clearance
Conclusion
The Lexus RX doesn't compromise on the Lexus reputation and is a luxurious car that offers a comfortable driving experience. If you're not a fan of massive SUVs, the Lexus RX will appeal to your taste. Its smaller body is an advantage for city dwellers as it's easier to maneuver and park.
Where to Buy the 2013 Lexus RX in Kenya
If you are looking to either import or buy the Lexus RX locally, we can help you with this process. Over the years, we have developed a network of trusted dealers both in Kenya and Japan who supply us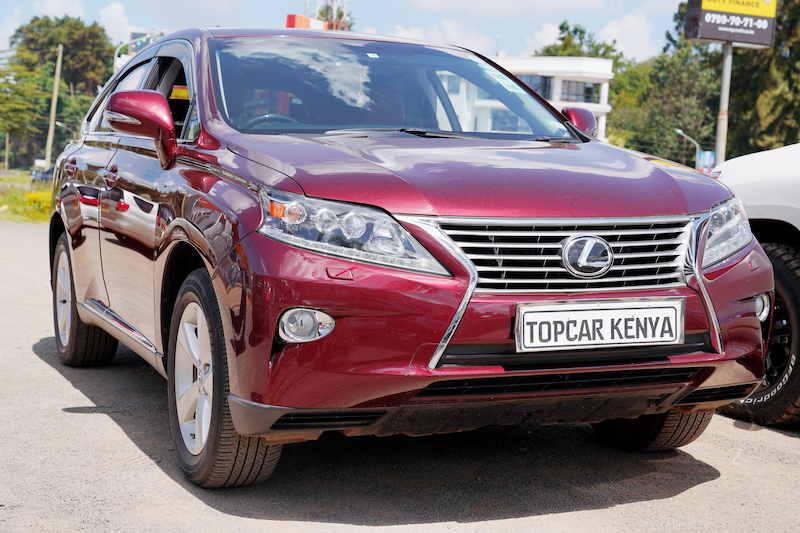 ---
If you have a question about this model or any other automotive questions, you can now get answers on our forum.
If you want to sell or trade-in you vehicle, you can list it for free via our seller portal.
If you wish to purchase this model local or abroad, you can do that via our marketplace.
You can get more about this
Lexus Rx