2013 Toyota Prado Review
The Toyota Prado is one of the top selling SUVs globally. It competes with the Land Rover Discovery, Mitsubishi Pajero, Nissan Pathfinder and the Ford Everest. The 2013 Toyota Prado falls in the J150 series that has been in production from 2009 to Present.
You can get more about this
Toyota Prado
Detailed Review
The Prado is a large SUV that is powered by both petrol and diesel engines. The petrol engine is prevalent in Kenya because most Prados are shipped from the Japanese Domestic Market where petrol is preferred.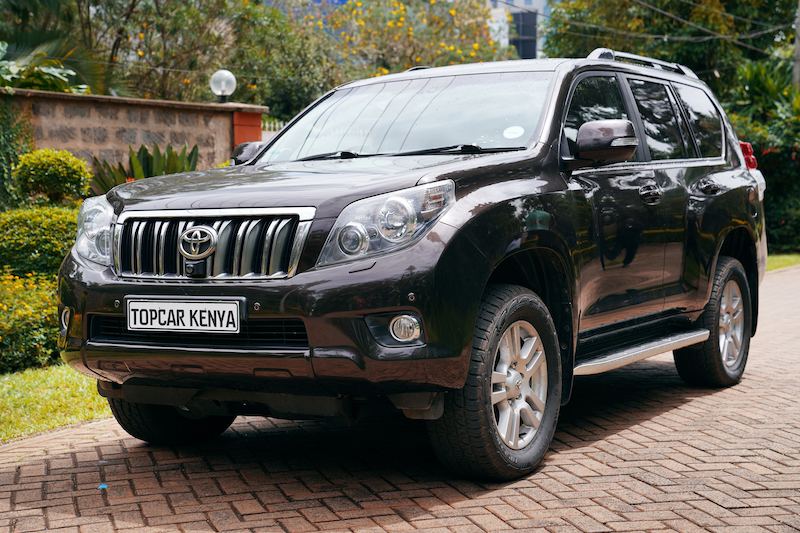 There are 3 engines offered with the 2013 Toyota Prado. These are;
The 2.7 Litre petrol 2TR-FE Engine
The 4.0 Litre Petrol 1GR-FE Engine
The 3.0 Litre Diesel 1KD -FTV D4D Engine
2013 Toyota Prado Grades
The Toyota Prado is a diverse car with grades ranging from the rudimentary GX to the highly advanced VX-L and TZ-G. If you are looking to buy the Prado 150, it is important to understand these grades.
For more details on these grades and the right engine to buy refer to the Toyota Prado Buyer's Guide
2013 Toyota Prado Interior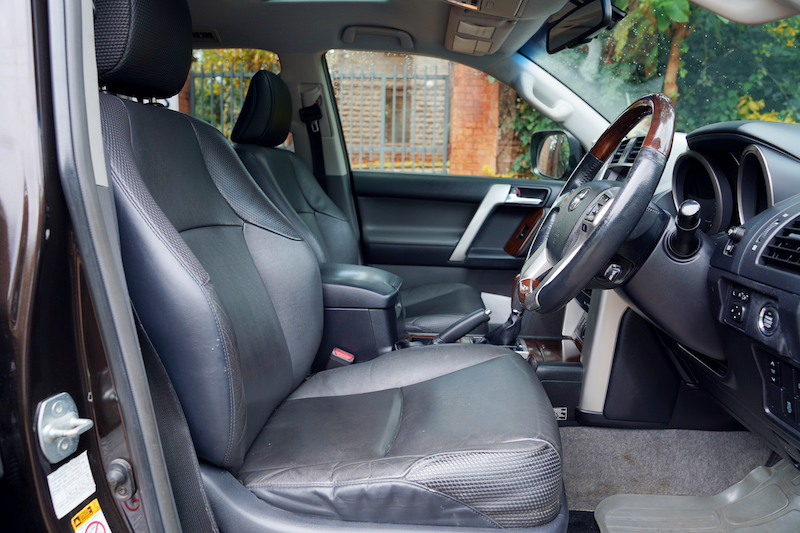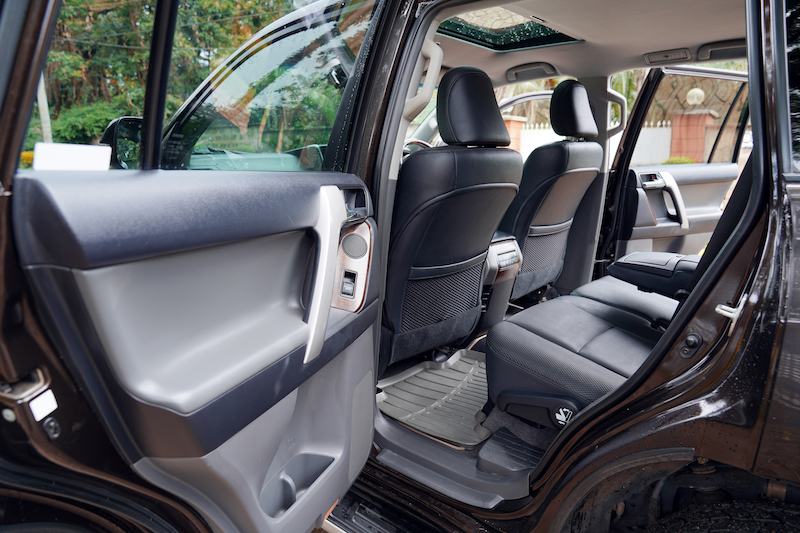 2013 Toyota Prado Cabin Storage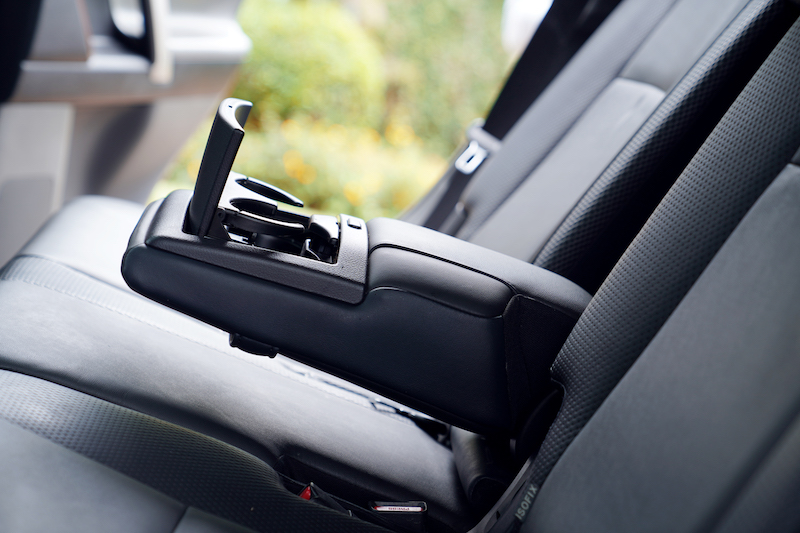 2013 Toyota Prado Fuel Consumption
The 2013 Toyota Prado TX Consumes an average of 8.5 km/L
The 2013 Toyota Prado VX Consumes an average of 10.0km/L
The 2013 Toyota Prado TZ Consumes an average of 6.5 km/L
2013 Toyota Prado Acceleration
The 2.7L Petrol Toyota Prado TX accelerates from 0-100 km/h in 12.7 secs.
The 3.0L Diesel Toyota Prado VX accelerates from 0-100 km/h in 9.2 secs.
The 4.0L Petrol Toyota Prado TZ accelerates from 0-100 km/h in 9.6 secs.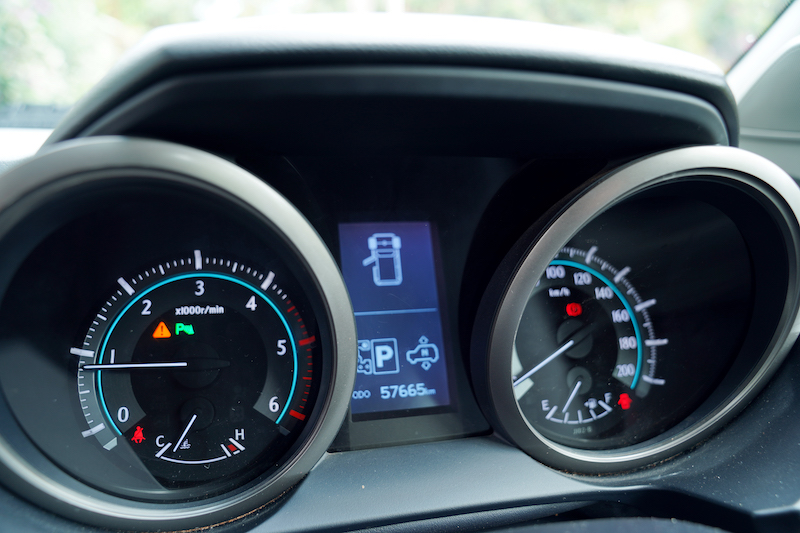 Fuel Tank Capacity: 150L
2013 Toyota Prado Stability and Handling
The Toyota Prado J150 has a ground clearance of 220mm(8.67 Inches). It is a tall vehicle by all standards and it has a high center of gravity. Aggressive driving especially around corners is not advisable(This is a general rule for all 4x4s). Some grades benefit from a raft of stability control sensors and a hydro-pneumatic suspension- KDSS – that lowers the vehicle at speed. These grades are much more stable and have better handling. For more details on this grades refer to the Toyota Prado Buyer's Guide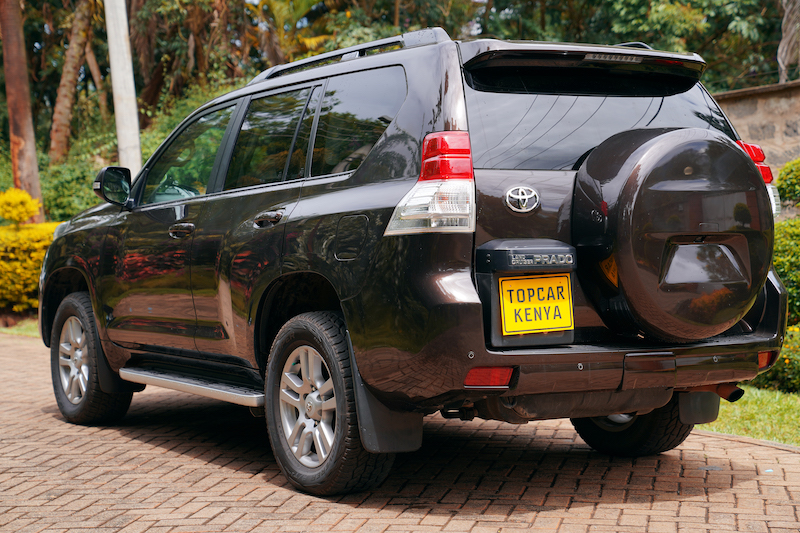 Service Intervals
Minor Service: Done at 10,000 km. Requires Air Cleaner, Oil Filter, and Engine Oil
Major Service: Done at 15,000km. Requires Air Cleaner, Oil Filter, Fuel/Diesel Filter, ATF Filter, Cabin Filter, Plugs, Front Brake Pads, Rear Brake Pads, ATF Oil, and Engine Oil
Spare Parts Availability, Cost & Where to buy
The Toyota Prado J150 is not a particularly cheap car to maintain but when compared to its closest rival, the Land Rover Discovery, it is significantly cheaper. In our research, we found that most spare parts for the Toyota Prado J150 are available in Nairobi. We found that body parts and sensors can get very expensive(such as headlamps and height sensors). Service parts, mechanical parts and suspension parts are generally well priced.
2013 Toyota Prado Reliability
For this review, we interviewed Toyota mechanics and specialists to get insights on the Toyota Prado J150. Please refer to the Toyota Prado Buyer's Guide for a more detailed Reliability report.
Resale Value: Very Good
Toyota Prado Competitors: Land Rover Discovery, Mitsubishi Pajero, Nissan Pathfinder, Ford Everest
Cost of Ownership: See the Latest Toyota Prado Prices Here
Petrol or Diesel? Which Prado Should You Buy
The Toyota Prado 150 is offered in both petrol and diesel engines. Many buyers struggle with the choice of which one to buy. In Kenya, diesel engines are preferred by 4×4 owners due to a number of reasons. Firstly, diesel fuel is significantly cheaper than petrol. Therefore, with a diesel engine, drivers greatly save on fuel costs. Secondly, diesel engines generally handle the rough work better than their petrol counterparts. This is due to the extra torque at low range, ideal for off road driving and carrying load.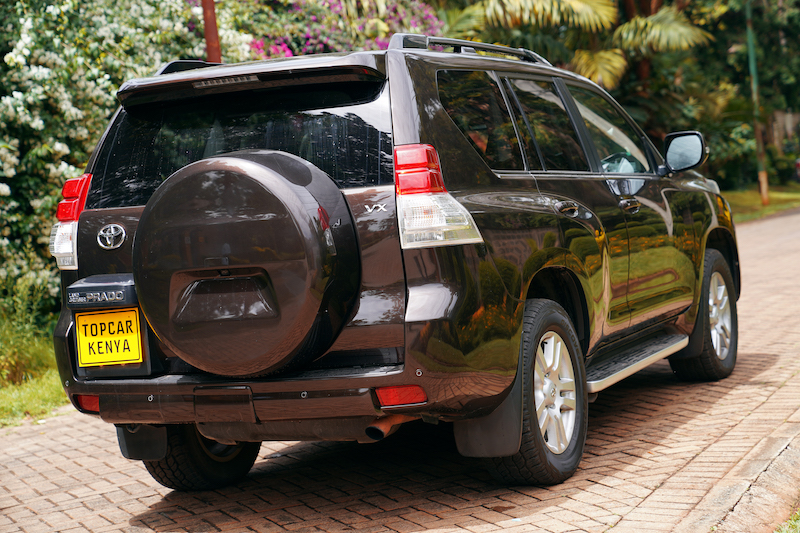 But diesel engines have not been without fault. They have traditionally been expensive to maintain and less forgiving when poorly maintained. Modern diesel engines have changed greatly with the arrival of new technologies such as the common rail fuel injection system. Diesel engines are now clean, silent, powerful and cheaper to maintain while still retaining their traditionally desirable features.
The petrol engines are loved for being refined, smooth, clean, and silent. They are best suited for people with an urban lifestyle who occasionally go off-road. The petrol engines are easier to maintain and last longer than diesel engines.
The choice of engine greatly depends on your lifestyle. If you are an urban dweller with minimal requirement for towing and off-road ventures, then petrol will work just fine. But if you are the adventurous with regular towing and off road activities, then diesel is the most ideal.
What we like about the 2013 Toyota Prado
1. A great family car that can take you to the end of the world and back
2. Off road capability
3. 7 Seater Capacity
4.  Proven reliability
What we don't
Hesitant acceleration on the 2.7L Petrol
Conclusion
The Toyota Prado competes closely with the Land Rover Discovery which has been haunted by a history of unreliability. The Toyota Prado is a proven vehicle with stellar reliability which makes it the preferred option by many buyers.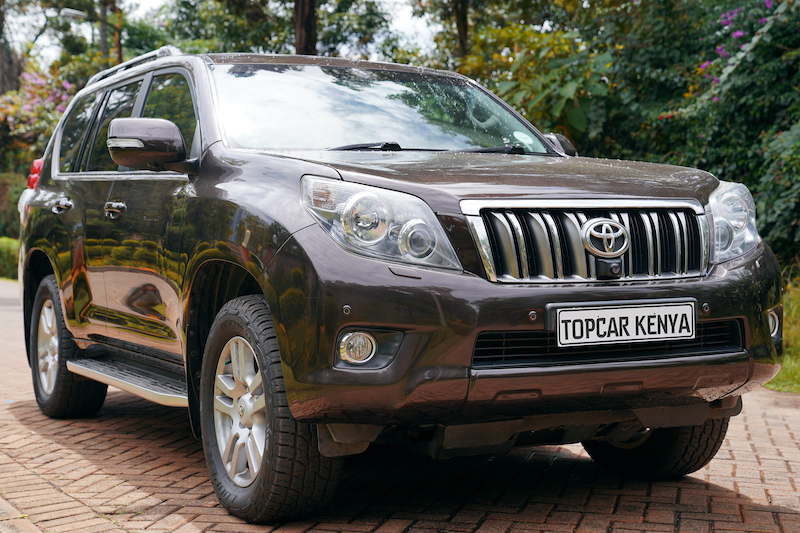 We recommend that you thoroughly read the Owner's Manual before operating the 2013 Toyota Land Cruiser Prado. Download the 2013 Toyota Prado Owner's Manual in English here.
---
If you have a question about this model or any other automotive questions, you can now get answers on our forum.
If you want to sell or trade-in you vehicle, you can list it for free via our seller portal.
If you wish to purchase this model local or abroad, you can do that via our marketplace.
You can get more about this
Toyota Prado