2013 Toyota RAV4 Review
The Toyota RAV4 has greatly improved in terms of interior space and driving dynamics. This has been achieved through clever design and new technologies but still, it lacks the crucial third row seat that made the Toyota Vanguard so popular in Kenya. Regardless, the Toyota RAV4 is an excellent SUV that has undergone change and is now in pole position to compete with the Honda CR-V, Mazda CX-5, Nissan X-Trail, Subaru Forester, VW Tiguan and Mitsubishi Outlander.
You can get more about this
Toyota Rav4
Detailed Review
The Toyota RAV4 has been in continuous production for five generations starting from 1994 to present. The First generation known as the XA10 was in production from 1994 to 2000; the second generation known as XA20 was in production from 2000 to 2005; the third generation known as the XA30 was in production from 2005 to 2012; the fourth generation known as the XA40 was in production from 2012 to 2018; the fifth generation known as the XA50 has been in production from 2018 to Present.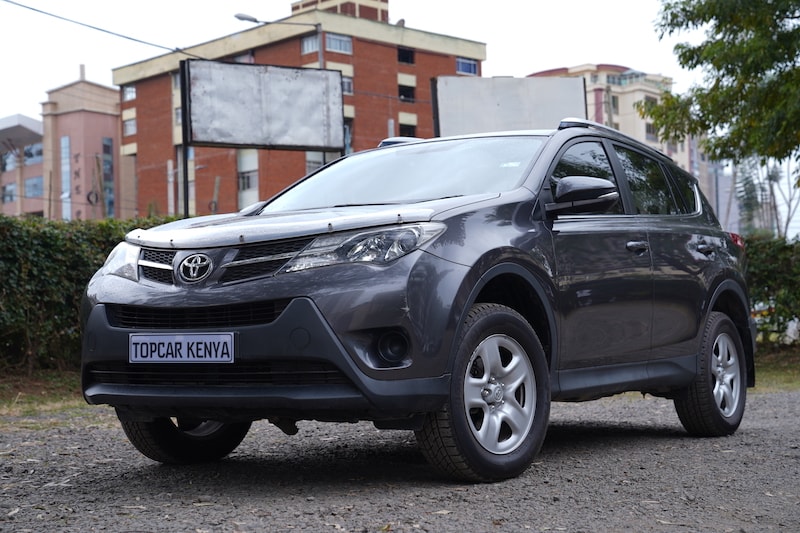 The 2013 Toyota RAV4 comes with a choice of three engines, these are; a 2.0-Litre 3ZR petrol engine, a 2.2-Litre 2AD turbo diesel engine and a 2.5-Litre 2AR petrol engine. These are linked to either a 6-Speed automatic transmission or a 6-Speed manual transmission and available in either 2WD or 4WD.
2013 Toyota RAV4 Grades
Toyota RAV4 GX – This is the base package that comes with 17-Inch steel rims, steering audio controls, rear parking sensors, cruise control, projector headlights, cloth upholstery, Bluetooth connectivity, roof rails and cargo net
Toyota RAV4 GXL – This adds 17-Inch alloy rims, reversing camera, display audio system, dual zone climate, rain sensors, electric mirrors, keyless entry, push to start and sports seats.
Toyota RAV4 Cruiser – This is a luxury grade that adds leather accented seats, satellite navigation, blind sport monitoring, electric tailgate, HID headlights, eight way powered driver's seat and electric moonroof.
2013 Toyota RAV4 Interior
Legroom & Space
The 4th generation RAV4 has a larger interior space than the previous generation and this was achieved by removing the spare wheel from the tailgate and mounting it under the boot. The legroom on the first row is spacious and comfortable. Similarly the second row is spacious with good legroom and plenty of head space.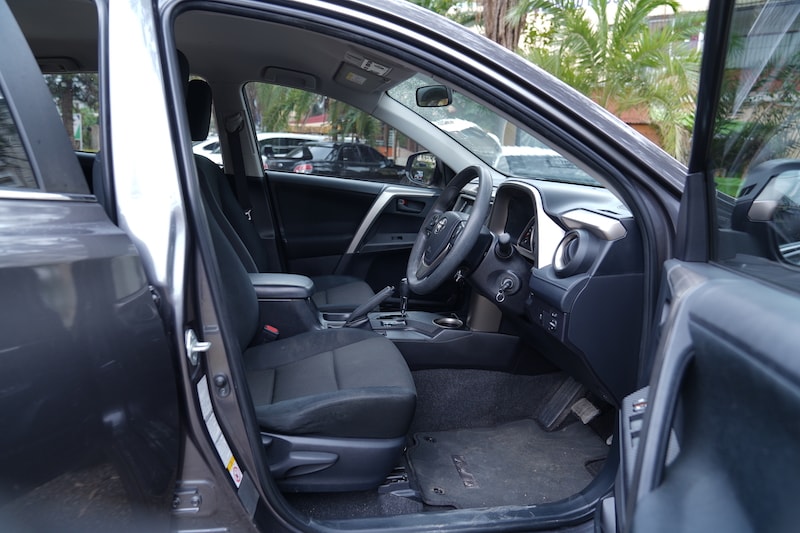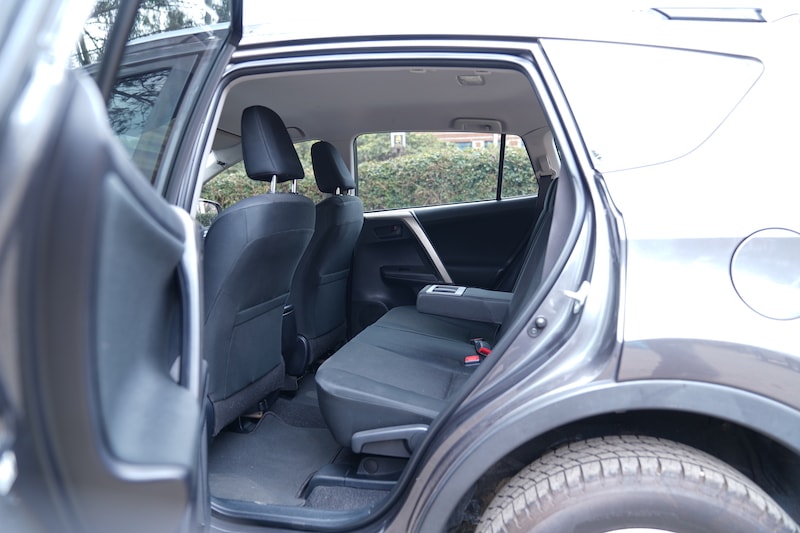 Cabin Storage
The Toyota RAV4 has plenty of storage spaces that are essential for storing items such as smartphones, water bottles and other hand luggage. For the first row there are 4 cup holders, side pockets, center box & glove box. For second row seats there are 2 cup holders – with middle seat folded and pocket storage on front seats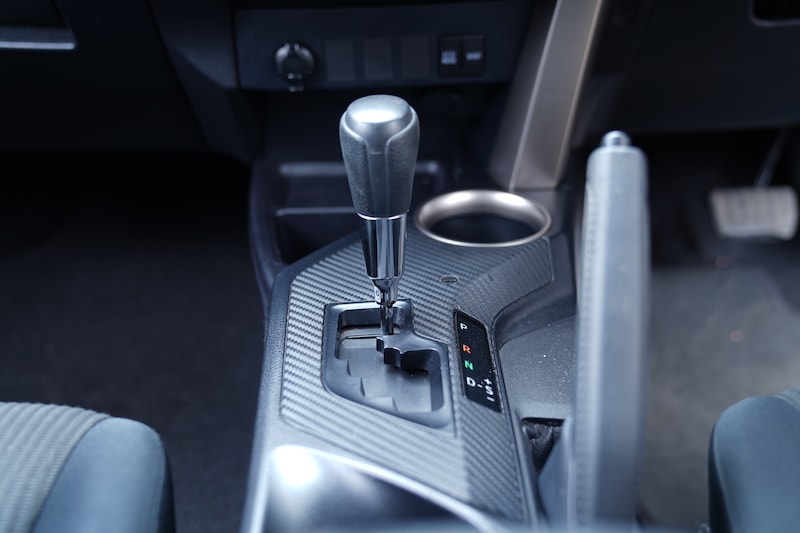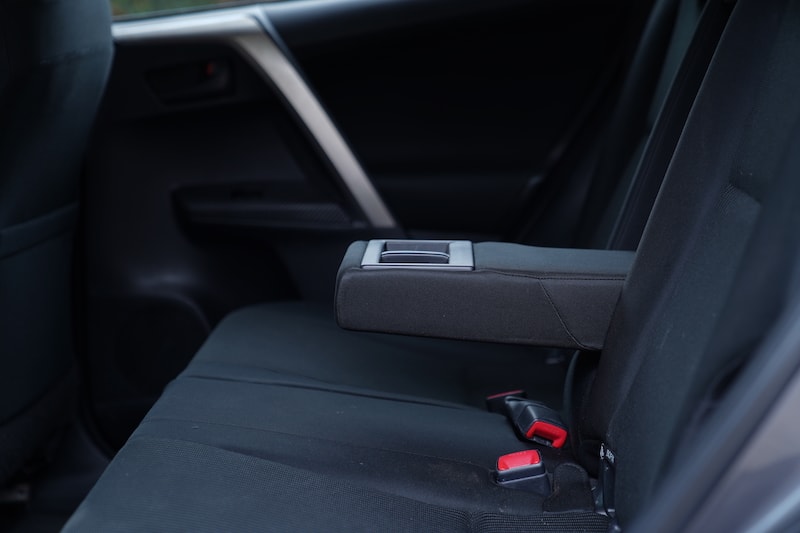 2013 Toyota RAV4 Boot Space
The Toyota RAV4 has a big boot that can comfortably carry luggage for a family of five with room to spare. When extra space is required, the second row seats fold neatly into the floor in a split format and it can carry bulky luggage.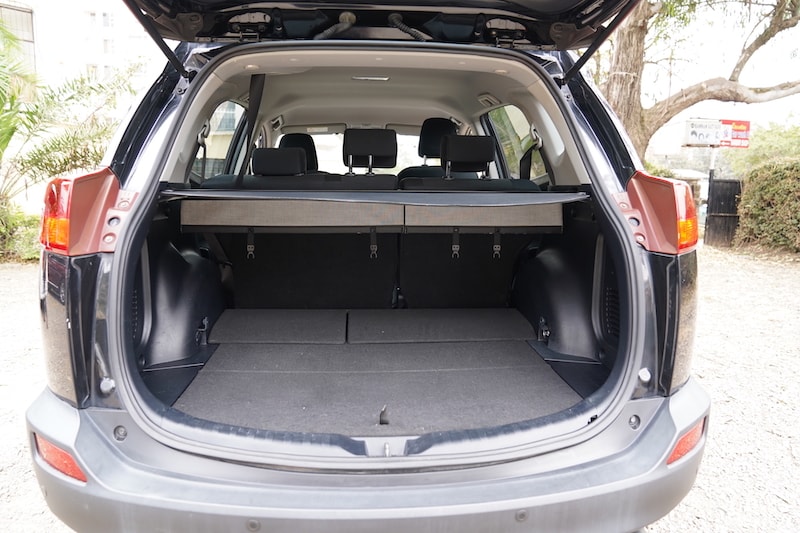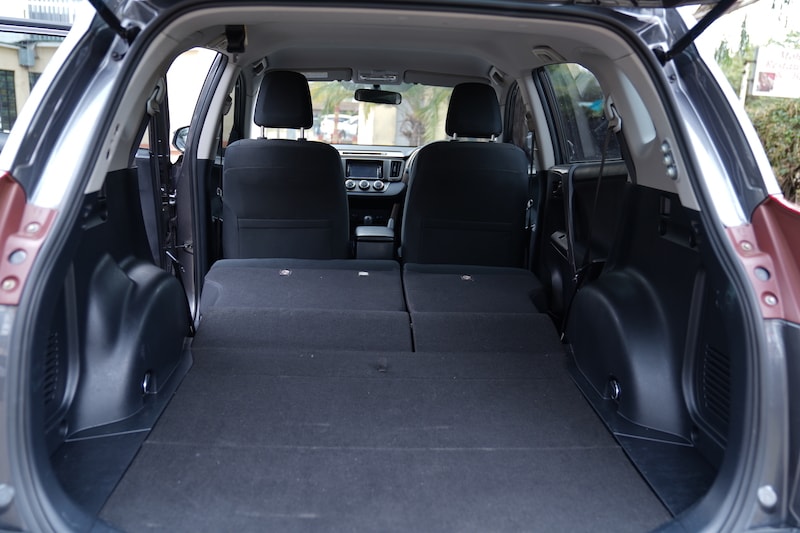 Extras: USB Charging Ports, Bluetooth Connectivity, Moonroof, Touchscreen DVD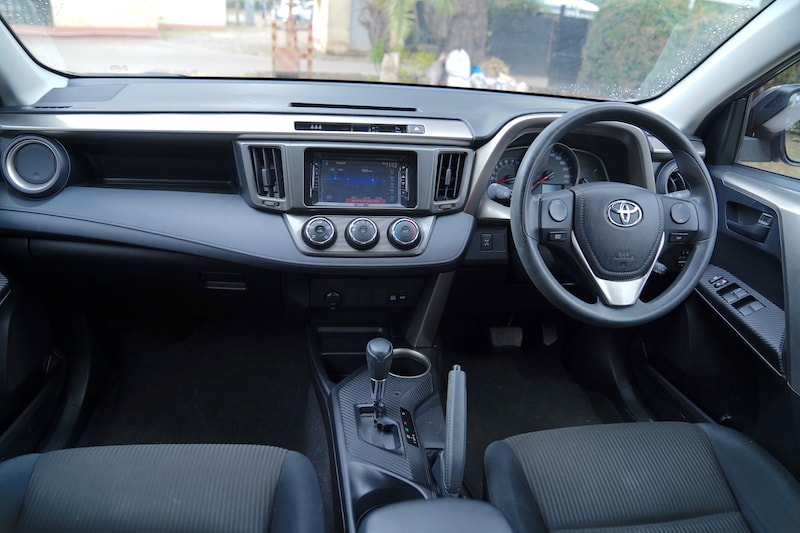 2013 Toyota RAV4 Safety Features: SRS Airbags, Dynamic Torque Control, ABS, EBD, DAC, TRC, VSC, Hill Assist, Brake Assist
2013 Toyota RAV4 Exterior
The 2013 Toyota RAV4 looks bigger than its predecessors though the overall dimensions have actually shrunk. It's more angular at the front and a beefier rear which gives it a more commanding look. The base grade comes with steel rims and no fog lights while the higher grades come with alloy rims, roof rails and fog lights.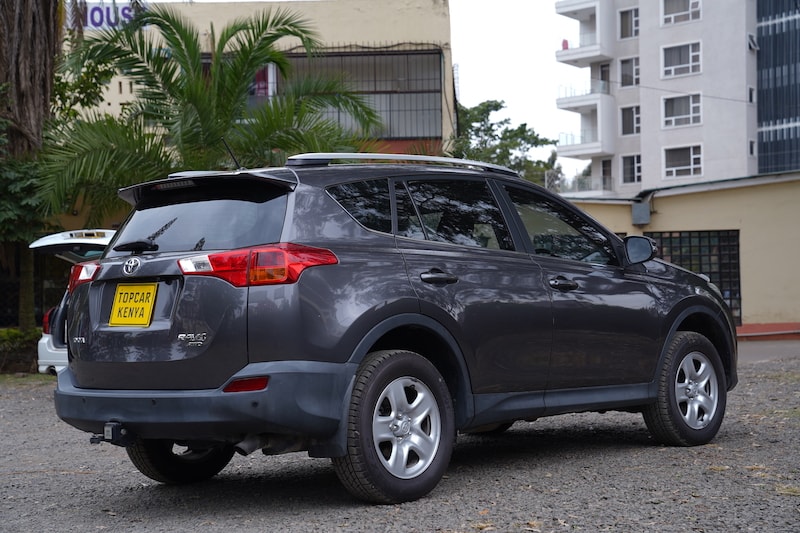 2013 Toyota RAV4 Fuel Consumption
2013 Toyota RAV4 2.0L Petrol consumes 13.51 Km/L
2013 Toyota RAV4 2.2L Turbo Diesel consumes 17.85 Km/L
2013 Toyota RAV4 2.5L Petrol consumes 11.7 Km/L
2013 Toyota RAV4 Acceleration
2013 Toyota RAV4 2.0L Petrol Accelerates from 0-100 Km/h in 11.3 Sec
2013 Toyota RAV4 2.2L Turbo Diesel Accelerates from 0-100 Km/h in 8.1 Sec
2013 Toyota RAV4 2.5L Accelerates from 0-100 Km/h in 8.3 Sec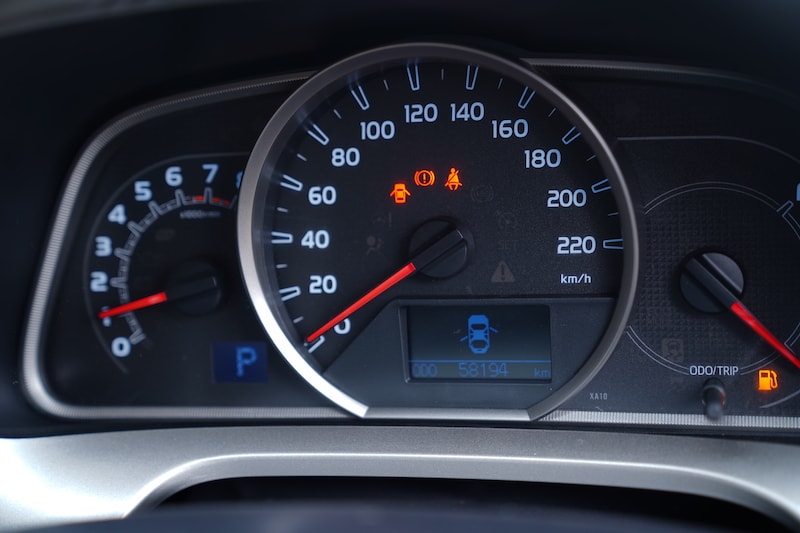 2013 Toyota RAV4 Fuel Tank Capacity: 60 Litres
2013 Toyota RAV4 Stability and Handling
The new RAV4 is much more quicker and responsive than the previous model with a sharp throttle that gives it quick acceleration. The ride is also more compliant and smooth with a quiet cabin that keeps conversations audible at higher speeds. There's a slight lean around corners especially at high speed but this is not of any concern for normal driving.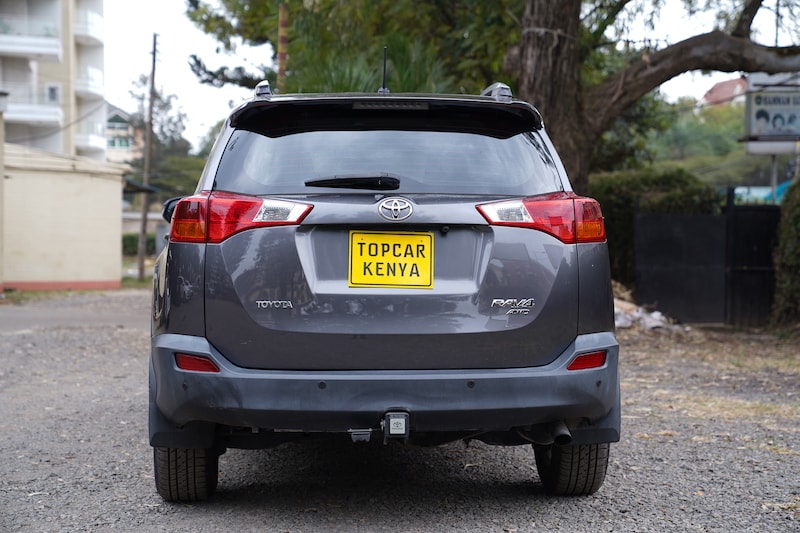 Toyota RAV4 Maintenance
Minor Service- At 10,000 km. Requires Air Cleaner, Oil Filter, and Engine Oil
Major Service – At 15,000km. Requires Air Cleaner, Oil Filter, Fuel Filter, ATF Filter, Cabin Filter, Plugs, Front Brake Pads, Rear Brake Pads, ATF Oil, and Engine Oil
Toyota RAV4 Spare Parts Availability, Cost &Where to buy
The Toyota RAV4 Spare Parts are easily available in Kenya, especially service and suspension parts. For body parts, it's a mixed bag as some such as headlamps can be hard to find. The price for service and suspension parts is affordable. Body parts can get expensive depending on the part and its availability. Click here for a list of Toyota RAV4 Spares in Kenya
2013 Toyota RAV4 Reliability
The newly introduced diesel engines are yet to be fully proven in the Kenyan market and it's too early to tell. The petrol engines on the other hand have been extensively used and we expect no major problem here. The commonly reported Toyota RAV4 problems are;
1. Gearbox failure
2. Engine loss of power
3. Smoking
4. Rough idling
Resale Value: Good
Toyota RAV4 Competitors: Honda CR-V, Mazda CX-5, Nissan X-Trail, Subaru Forester, VW Tiguan and Mitsubishi Outlander.
Cost of Ownership
Purchase Price: From Ksh. 2,700,000
Comprehensive Insurance: Ksh. 109,000/- Or
3rd Party Insurance: Ksh. 7,000/-
Change of Tyres(If neccessary) Ksh. 60,000/- for 4 Tyres
See Latest Toyota RAV4 Prices Here
What we like about the 2014 Toyota RAV4
1. Spacious interior
3. Good fuel economy
4. Affordable to maintain and easily available spares
5. Good resale value
What we don't
Lack of a 7-Seater Option
Conclusion
The Toyota RAV4 is a versatile and functional vehicle that can serve medium sized families well. As much as possible, go for the 4wd option as it offers better handling and off road capability. Whether buying locally or from abroad, be sure to inspect the vehicle for engine faults and underbody damage.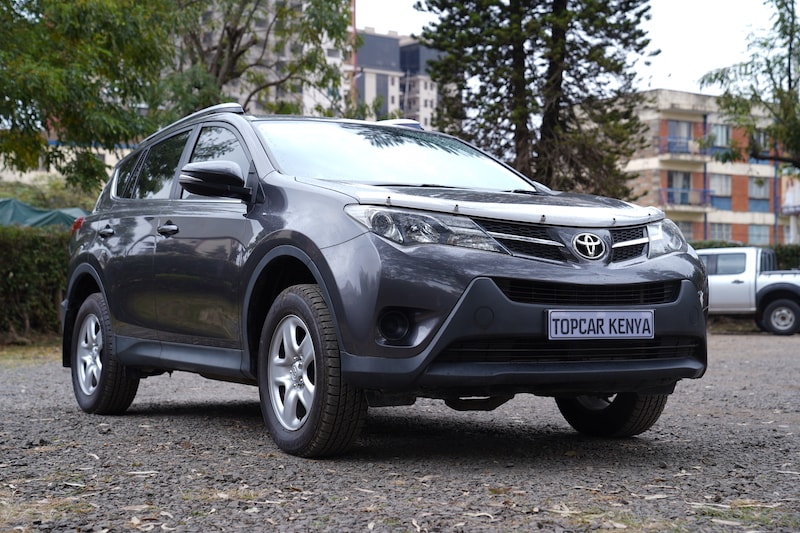 Where to Buy the 2013 Toyota RAV4 in Kenya
If you are looking to either import or buy the Toyota RAV4 in Kenya, we can help you with this process. Over the years, we have developed a network of trusted dealers both in Kenya and UK who supply us with exceptional cars. Simply call us or send us a message through our contacts below and we'll get you the right car at the right price.
---
If you have a question about this model or any other automotive questions, you can now get answers on our forum.
If you want to sell or trade-in you vehicle, you can list it for free via our seller portal.
If you wish to purchase this model local or abroad, you can do that via our marketplace.
You can get more about this
Toyota Rav4