2014 Audi Q5 Review
The Audi Q5 is not getting the proper attention it deserves in Kenya and we feel it's our duty to put the good word out there. Its capabilities manifest themselves in many ways but more so when stacked up against its competitors such as the BMW X3, VW Tiguan, Volvo XC60, Land Rover Discovery Sport, Subaru Forester and Mazda CX5. The Q5 was always a top performer but the equilibrium shifted in 2013 with the arrival of the SQ5 that totally blew the competitors out of the window. Of course it comes with its fare share of problems as with any modern SUV but when all factors are considered, the Q5 emerges tops.
You can get more about this
Audi Q5
Detailed Review
The Audi Q5 is a five seater compact SUV that has been in production for two generations starting from 2008 till present. The first generation was in production from 2008 to 2017 and the second generation has been in production from 2017 to present. A performance version known as the SQ5 was added to the lineup in 2013 that's capable of accelerating from 0-100 Km/h in 5.2 seconds.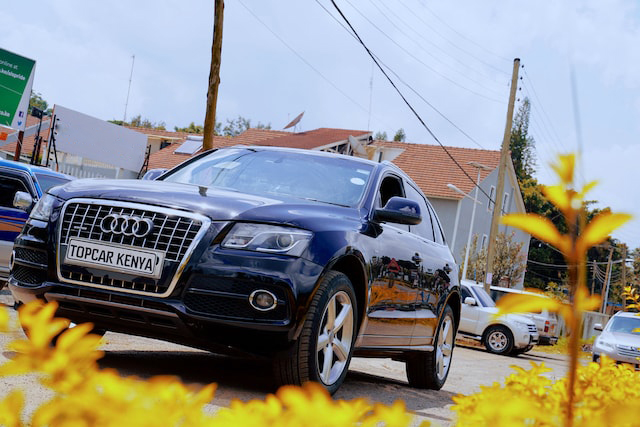 Since its launch in 2008, the Q5 has connected well with buyers and its demand is always strong which consequently translates to a better resale value compared to its European rivals. On the downside, it's a considerably expensive car to run and buyers have to be prepared to spend more to keep it on the road.
The 2014 Audi Q5 is offered with 4 engine options; a 2.0-Litre TFSI quattro engine(Turbo FSI), a 2.0-Litre TDI quattro engine, a 3.0-Litre TDI quattro engine and a 3.0-Litre BiTDI quattro engine. These are linked to a choice of 3 transmissions; a 6-Speed Manual Transmission, a 7-Speed S tronic automatic transmission and an 8-Speed tiptronic transmission.
The Q5 is available in fulltime 4WD – known as Audi quattro which is an all wheel drive system that supplies asymmetrical dynamic torque distribution that controls the flow of power to the front and rear axles.
2014 Audi Q5 Grades
Audi Q5 SE – This is the entry level grade that comes with 18-Inch alloy rims, Audi Concert Radio, Bluetooth Interface, 4-Spoke multi function leather steering wheel, cruise control, deluxe 3-zone climate control, colour driver's information system and front centre armrest including 12-volt socket.
Audi Q5 S Line – This adds 19-Inch alloy rims, front seats in Fine Nappa Leather, S line sports suspension, S line 3-spoke leather multi function steering wheel, diffuser in platinum grey, S line exterior styling package, Xenon headlights
Audi Q5 S Line Plus – This grade adds 20-Inch alloy rims, Audi Music Interface, MMI Navigation system plus, Audi parking system, Electric tailgate, Metallic paint, privacy glass
Audi SQ5 – This is a performance grade that adds, 20-Inch parallel spoke design alloy rims, 'S' Sports suspension, LED interior light package, 3-spoke 'S' Sports multi-function leather steering wheel with paddle shift, 'S' instrument dials, aluminium scuff plates with SQ5 logo, electrically adjustable fronts seats with SQ5 embossing, fine Nappa leather upholstery, leather door armrests, xenon headlights, rear LED lights, 'S' radiator grille, front black painted brake calipers with 'S' logo, 'S' body styling, Active Sound exhaust system and chrome door handles
2014 Audi Q5 Interior
Similar to its big brother the Audi Q7, the cabin is premium, spacious and comfortable. The upholstery is made from high grade material and higher grades come with leather seats. At the first row, the legroom is good and the seats can adjust to fit any desired position. At the second row, the legroom is similarly good and tall passengers will find it comfortable.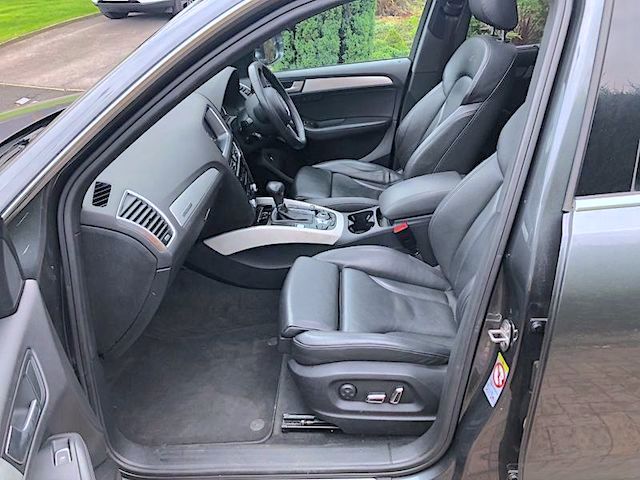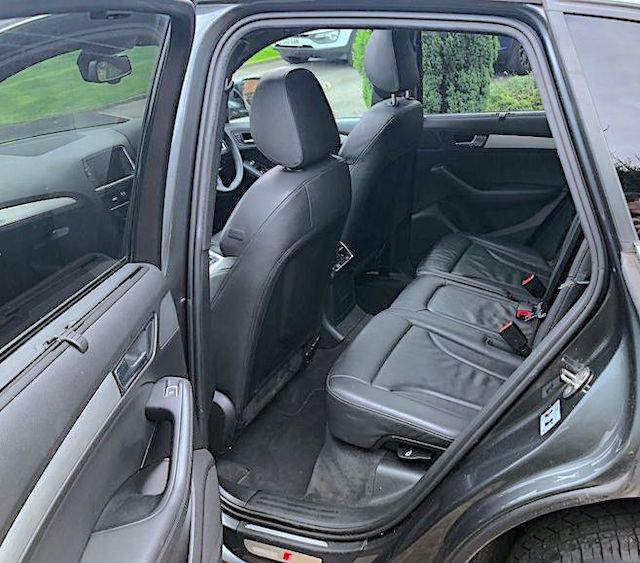 2014 Audi Q5 Exterior
As opposed to the Q7 that is a big lumbering SUV, the Q5 is compact and nimble. The exterior is well crafted with a perfectly flowing design that gives it the looks of a sports SUV. At the front, the headlights are attractive with daytime running lights and big grille with the iconic Audi rings. At the rear, it comes with a dual exhaust system and LED taillights.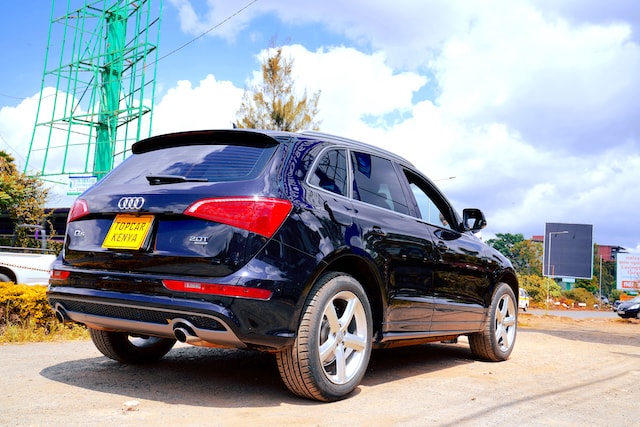 Cabin Storage
There are several storage compartments in the cabin that are useful for storing items such as smartphones, beverages, goggles, handbags etc. At the first row there are 4 cup-holders, door panel storage, a glovebox and the center-box. For the second row, there are 4 cupholders, front seat jacket pockets and door pockets.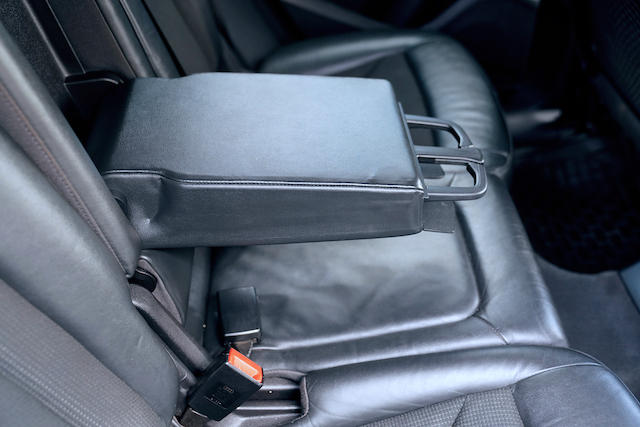 2014 Audi Q5 Boot Space
The Audi Q5 is a spacious car with enough luggage capacity to fit the needs of a family of 5 people. When extra space is required, the seats can fold flat into the floor in a split format to achieve a luggage volume of 1,560 Litres.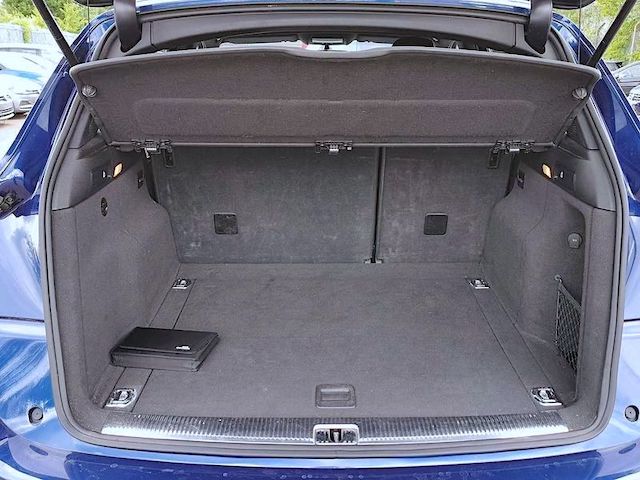 Extras: USB charging ports, panoramic sunroof, heated seats, powered tailgate, roof rails, navigation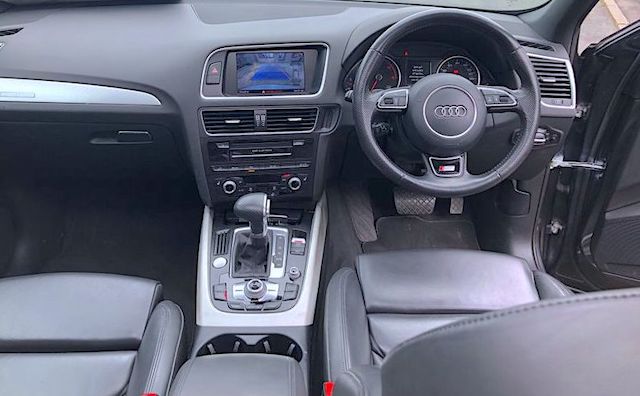 Safety Features: SRS Airbags, Curtain airbags, Blind Sport Detection and Warning System, Electronic Stability Programme, ABS, EBD, Emergency Brake Assist(ABA), Trailer Stability Assist(TSA), Hill Descent Control(HDC)
2014 Audi Q5 Fuel Consumption
2014 Audi Q5 2.0L TFSI petrol fuel consumption: 13.67 Km/L
2014 Audi Q5 2.0L TDI Diesel fuel consumption: 17.24 Km/L
2014 Audi Q5 3.0L TDI Diesel fuel consumption: 16.67 Km/L
2014 Audi SQ5 3.0L BiTDI Diesel fuel consumption: 15.5 Km/L
2014 Audi Q5 Acceleration
2014 Audi Q5 2.0L TFSI petrol accelerates from 0-100 km/h in 7.1 sec.
2014 Audi Q5 2.0L TDI Diesel accelerates from 0-100 km/h in 8.4 sec.
2014 Audi Q5 3.0L TDI Diesel accelerates from 0-100 km/h in 6.2 sec.
2014 Audi SQ5 3.0L BiTDI Diesel accelerates from 0-100 km/h in 5.2 sec.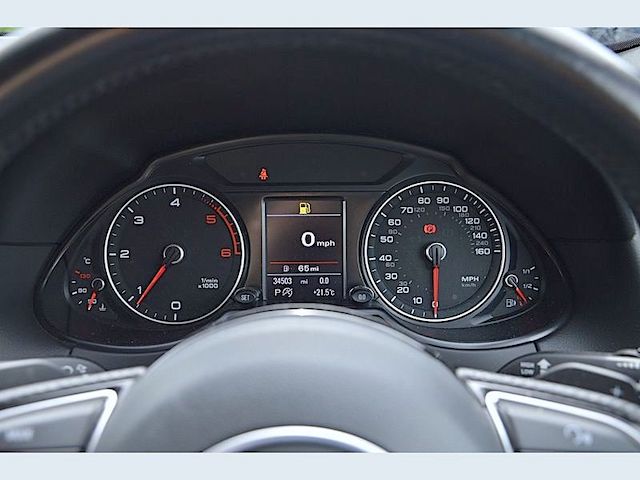 2014 Audi Q5 Fuel Tank Capacity: 75 Litres
2014 Audi Q5 Stability and Handling
The Audi Q5 is equipped with front and rear air suspension which gives it a very comfortable and fluid ride. It seems to float over potholes and none of the bumps are felt in the cabin. Around corners, the self levelling air suspension keeps the car on track and its stability is legendary. The SQ5 is a very quick SUV that performs in the sports car territory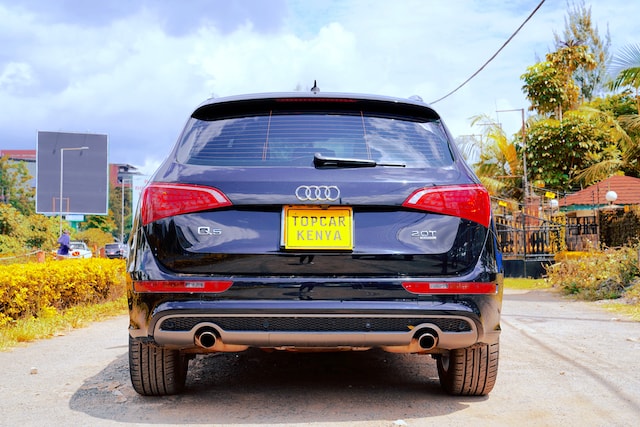 2014 Audi Q5 Service Intervals
Minor Service: At 5,000 km. Requires Air Cleaner, Oil Filter, and Engine Oil
Major Service: At 10,000km. Requires Air Cleaner, Oil Filter, Fuel Filter, ATF Filter, Cabin Filter, Plugs, Front Brake Pads, Rear Brake Pads, ATF Oil, and Engine Oil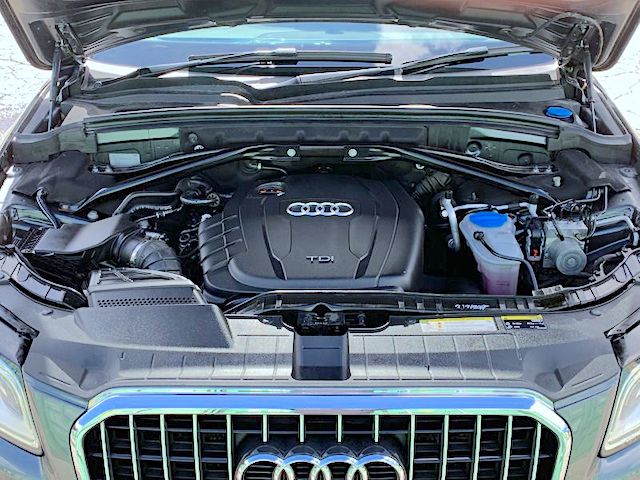 Audi Q5 Spare Parts Availability, Cost & Where to buy
The Audi Q5 service parts are available in Kenya and are reasonably priced. Body parts are available but are very expensive.
2014 Audi Q5 Reliability
The Audi Q5 is a complex car and tends to develop problems with age. The air suspension in particular is very problematic with age and it can be very expensive to repair when it breaks down. Other problems include sensor failures, engine warning light, loss of power and gearbox failure.
It's highly advisable that you read the Owner's Manual if you're planning to own or currently own the Q5, click here to download the Genuine Audi Q5 and SQ5 Owner's Manual
Resale Value: Good
2014 Audi Q5 Competitors: VW Tiguan, Subaru Forester, Mazda CX5, BMW X3, Volvo CX60, Land Rover Discovery Sport
Cost of Ownership
Purchase Price: from Ksh. 2,500,000
Comprehensive Insurance: Average Ksh. 100,000/ per annum- Or
3rd Party Insurance: Ksh. 7,000/- per annum
Change of Tyres(If neccessary) Ksh. 40,000/- for 4 Tyres
See Latest Audi Q5 Prices
What we like about the 2014 Audi Q5
1. Luxurious and spacious
2. Excellent power
3. Manoeuvrable
What we don't
Expensive parts
Conclusion
The Audi Q5 is an excellent SUV that offers the best in terms of safety, comfort and performance. It's ideal for people with families that are looking for a premium quality SUV that is affordable and yet classy.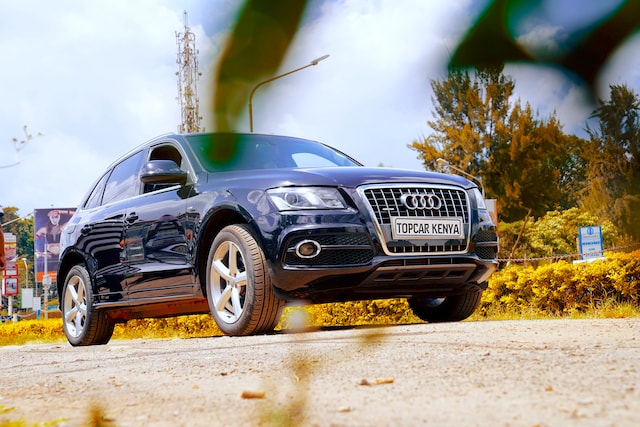 Where to Buy the 2014 Audi Q5 in Kenya
If you are looking to either import or buy the Audi Q5 in Kenya, we can help you with this process. Over the years, we have developed a network of trusted dealers both in Kenya and UK who supply us with exceptional cars. Simply call us or send us a message through our contacts below and we'll get you the right car at the right price.
---
If you have a question about this model or any other automotive questions, you can now get answers on our forum.
If you want to sell or trade-in you vehicle, you can list it for free via our seller portal.
If you wish to purchase this model local or abroad, you can do that via our marketplace.
You can get more about this
Audi Q5