2014 Audi Q7 Review
The Audi Q7 is an exciting piece of machinery, a true symbol of high-level automotive workmanship. Spend some time behind the wheel of this SUV and you'll begin a journey towards a deeper connection. The Q7 is a beast at your command and every order is perfectly executed. It's built for speed, luxury and family unto which it flawlessly delivers. It competes with the BMW X5, VW Touareg, Porsche Cayenne, Range Rover Sport and Mercedes Benz M-Class
Detailed Review
The Audi Q7 is a seven seater luxury SUV that has been in production for two generations starting from 2005 till present. The first generation known as 4L was in production from 2005 to 2015 and the second generation known as 4M has been in production from 2015 to present.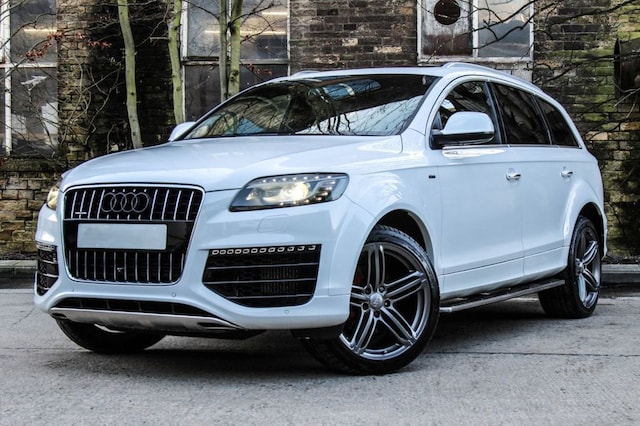 The Q7 is a big 4×4 that weighs 2.5 tonnes and seats 7 adult passengers. It hides it sheer size in a clever flowing design and a harmonious blend of material. It shares its underpinnings with the VW Toureg and the Porsche Cayenne. All grades come with a permanent quattro 4WD system and variable-height adaptive air suspension.
The 2014 Audi Q7 is offered with 2 engine options; a 3.0-Litre 240 PS TDV6 Diesel engine and a 4.2-Litre 326 PS TDV8 Diesel engine. These are linked to an 8-speed ZF 8HP70 Automatic Transmission with CommandShift manual shift mode.
2014 Audi Q7 Grades
Audi Q7 SE – This is the entry level grade that comes with 17-Inch alloy rims, HD satellite navigation, air suspension, cruise control, dual zone climate control and semi-leather upholstery.
Audi Q7 S Line – This adds 18-Inch alloy rims, LED daytime running lights, sports suspension, Valcona leather upholstery, S Line exterior and interior styling.
Audi Q7 S Line Plus – This grade adds 21-Inch alloy rims
Audi Q7 S Line Sport Edition – This is a top of the range grade that adds sports accessories such as steering shifters
2014 Audi Q7 Interior
As expected from the Audi stable, the cabin is premium, spacious and comfortable. The upholstery is made from high grade material and optional leather seats. At the first row, the legroom is good and the seats can adjust to any desired position. At the second row, the legroom is similarly impressive and the seats can adjust back and forth. The third row seats are moderately spaced, slightly less than the Discovery 4 but better than the BMW X5 and the Range Rover Sport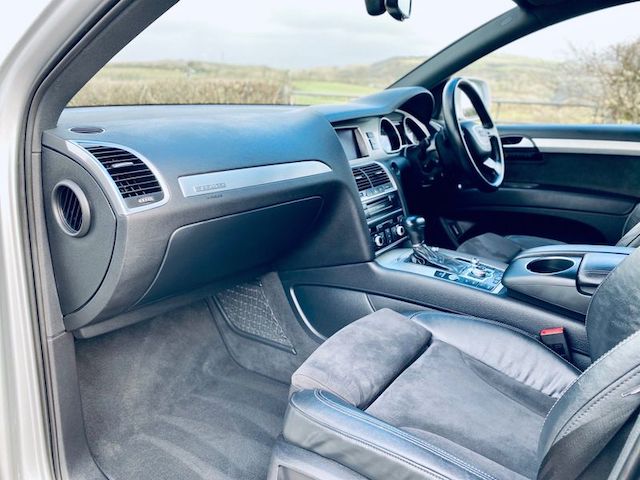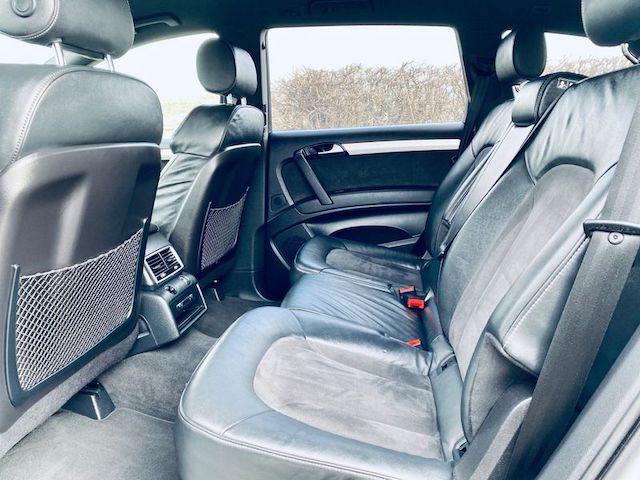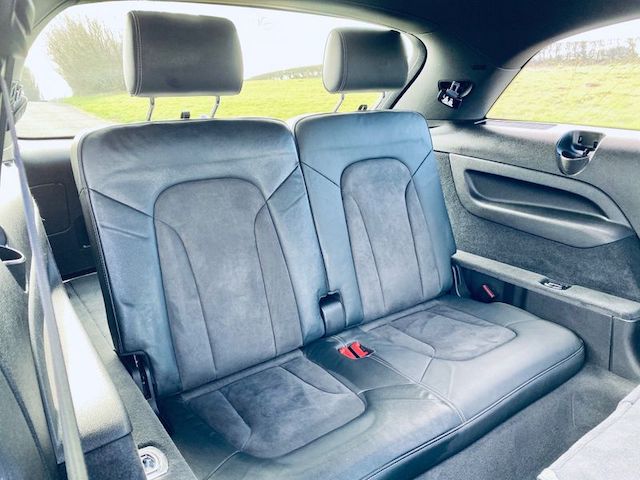 2014 Audi Q7 Exterior
The Audi Q7 is a big, long vehicle with an elegant and imposing stature. All grades come with alloy rims and daytime running lights on higher grades.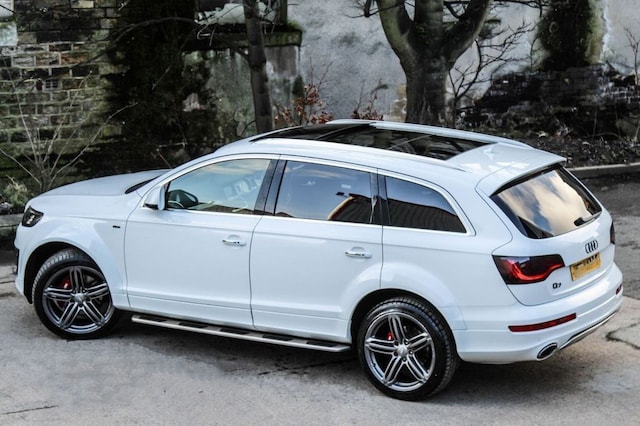 Cabin Storage
There are several storage compartments in the cabin that are useful for storing items such as smartphones, beverages, goggles, handbags etc. At the first row there are 4 cup-holders, door panel storage, a glovebox and the center-box. For the second row, there are 4 cupholders, front seat jacket pockets and door pockets. For the third row, there are 2 cup-holders.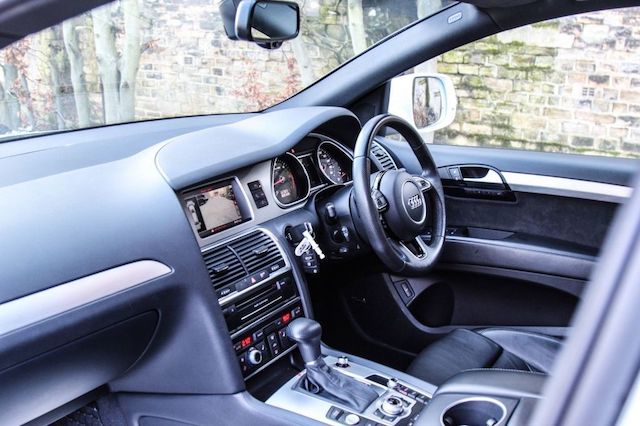 2014 Audi Q7 Boot Space
In the 7 seater setup, the boot is fairly decent and can carry medium sized luggage. In the 5 seater setup, the boot space is humongous and can a lot of luggage. When extra space is required, the second row seats can be folded in a split configuration to free up more space.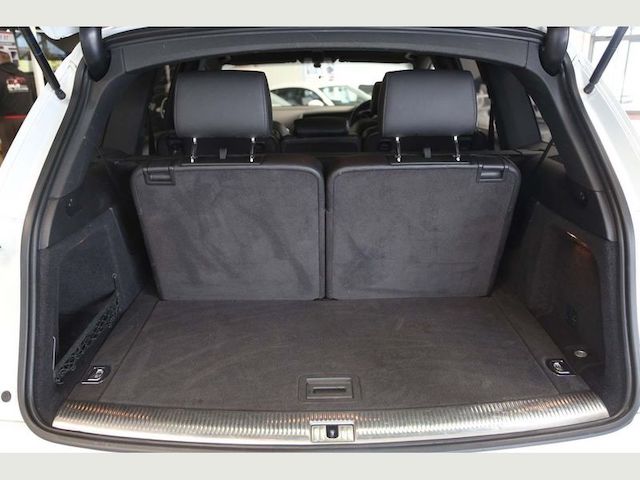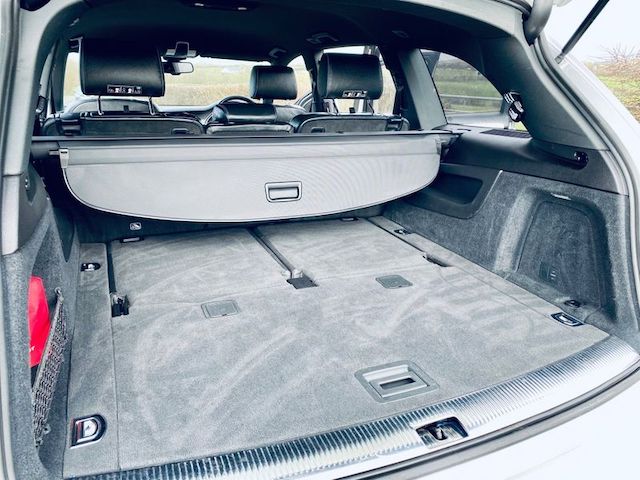 Extras: USB charging ports, heated seats, powered tailgate, side steps, panoramic sunroof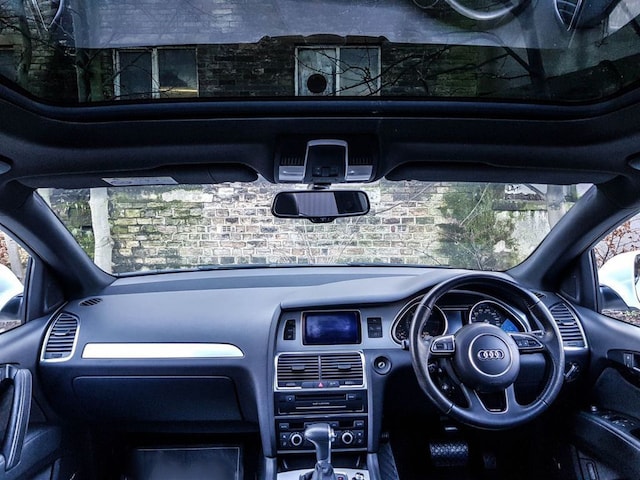 Safety Features: SRS Airbags, Curtain airbags, Blind Sport Detection and Warning System, Electronic Stability Programme, ABS, EBD, Emergency Brake Assist(ABA), Trailer Stability Assist(TSA), Hill Descent Control(HDC)
2014 Audi Q7 Fuel Consumption
2014 Audi Q7 3.0L TDV6 Diesel fuel consumption: 13.8 Km/L
2014 Audi Q7 4.2L TDV8 Diesel fuel consumption: 10.8 Km/L
2014 Audi Q7 Acceleration
2014 Audi Q7 3.0L TDV6 Diesel accelerates from 0-100 km/h in 8.3 sec.
2014 Audi Q7 4.2L TDV8 Diesel accelerates from 0-100 km/h in 6.4 sec.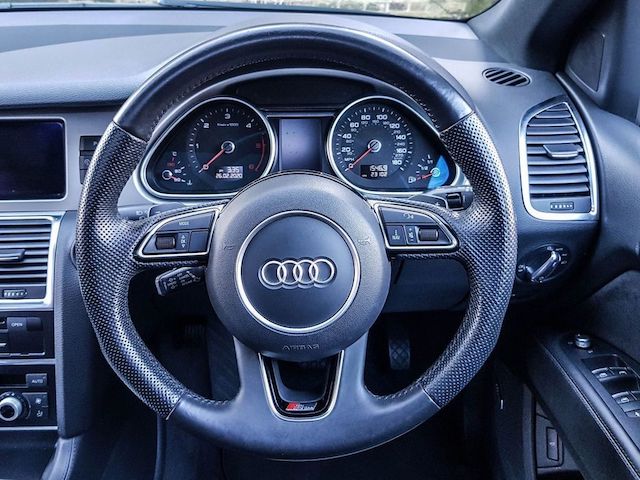 2014 Audi Q7 Fuel Tank Capacity: 100 Litres
2014 Audi Q7 Stability and Handling
The Audi Q7 is equipped with front and rear air suspension which gives it a very comfortable and fluid ride. It floats over potholes and minimal vibration is felt in the cabin. Around corners, the self levelling air suspension keeps the car on track and its stability is excellent. The 3.0L turbocharged diesel engine is brisk and accelerates fast from a standstill.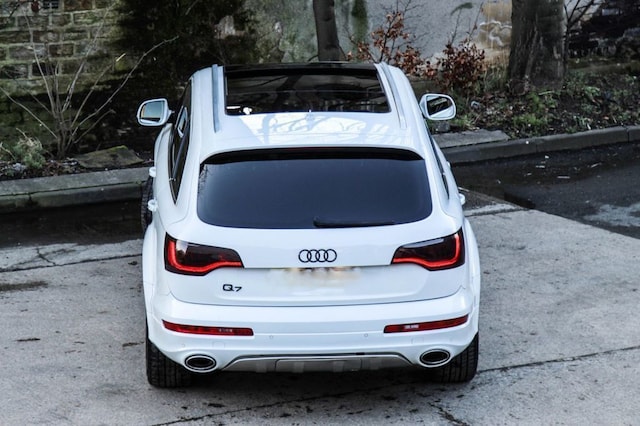 Service Intervals
Minor Service: At 5,000 km. Requires Air Cleaner, Oil Filter, and Engine Oil
Major Service: At 10,000km. Requires Air Cleaner, Oil Filter, Fuel Filter, ATF Filter, Cabin Filter, Plugs, Front Brake Pads, Rear Brake Pads, ATF Oil, and Engine Oil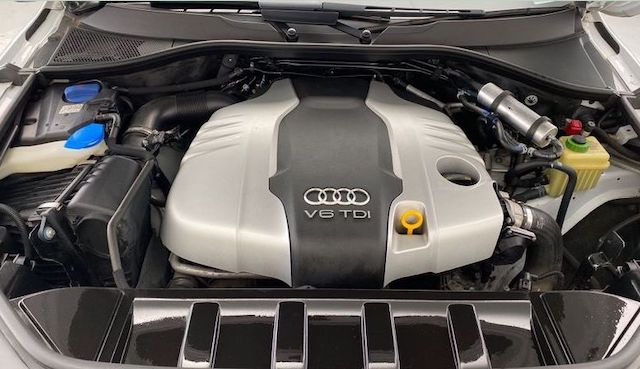 Spare Parts Availability, Cost & Where to buy
The Audi Q7 service parts are available in Kenya and are reasonably priced. Body parts are available but are very expensive. To buy Audi Q7 Parts, see the List of Audi spare part dealers here
2014 Audi Q7 Reliability
The Audi Q7 is a complex car and tends to develop problems with age. The air suspension in particular is very problematic with age and it can be very expensive to repair when it breaks down. Other problems include sensor failures, parking brake problems, engine warning light, loss of power and gearbox failure.
If you are planning to own the 2014 Audi Q7, it's vital that you read the Owner's Manual. If you need the manual, you can request it from us via [email protected]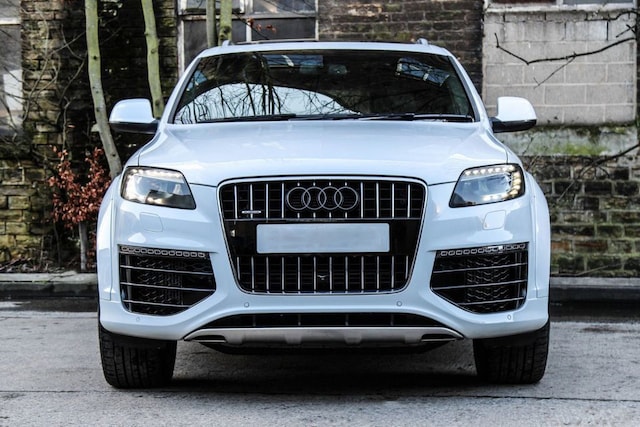 Resale Value: Average
2014 Audi Q7 Sport Competitors: Mercedes M-Class, VW Touareg, BMW X5, Range Rover Sport and Porsche Cayenne
Cost of Ownership
Purchase Price: from Ksh. 4,500,000
Comprehensive Insurance: Average Ksh. 180,000/ per annum- Or
3rd Party Insurance: Ksh. 7,000/- per annum
Change of Tyres(If neccessary) Ksh. 40,000/- for 4 Tyres
Check latest prices here
What we like about the 2014 Audi Q7
1. Premium Interior
2. Excellent power
3. 7-Seater Capacity
What we don't
Expensive parts
Conclusion
The Audi Q7 is a premium 7 seater SUV that is ideal for family people that value safety and comfort. It's a conspicuous but yet classy SUV that fits into the crowd without drawing much attention.
Where to Buy the 2014 Audi Q7 in Kenya
If you are looking to either import or buy the Audi Q7 in Kenya, we can help you with this process. Over the years, we have developed a network of trusted dealers both in Kenya and UK who supply us with exceptional cars. Simply call us or send us a message through our contacts below and we'll get you the right car at the right price.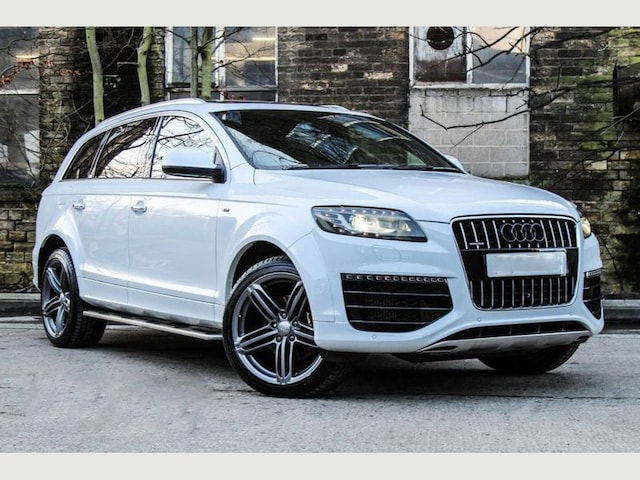 ---
If you have a question about this model or any other automotive questions, you can now get answers on our forum.
If you want to sell or trade-in you vehicle, you can list it for free via our seller portal.
If you wish to purchase this model local or abroad, you can do that via our marketplace.