2014 Jeep Wrangler Review
The Jeep Wrangler has a strong military heritage and the rugged retro design has deliberately been maintained over the years to reflect this lineage. Similar to the Land Rover Defender, the Wrangler appeals to both off-road enthusiasts and the urbane alike. It's considered to be a luxury car in some quarters and it can as well fit the bill but in actual sense, it's an adaptable 4x4 that can be stripped to bare bones for hardcore off-roading.
You can get more about this
Land-rover Defender
Detailed Review
The Jeep Wrangler is an SUV model range that have been in production for four generation from 1986 to present. It comes in short-wheelbase and long-wheelbase versions and it employs traditional 4×4 technology such body on frame construction, rigid axles and part-time four-wheel drive. It competes with the Land Rover Defender, Mercedes G Wagon, Toyota Prado, Toyota Land Cruiser and Suzuki Jimny.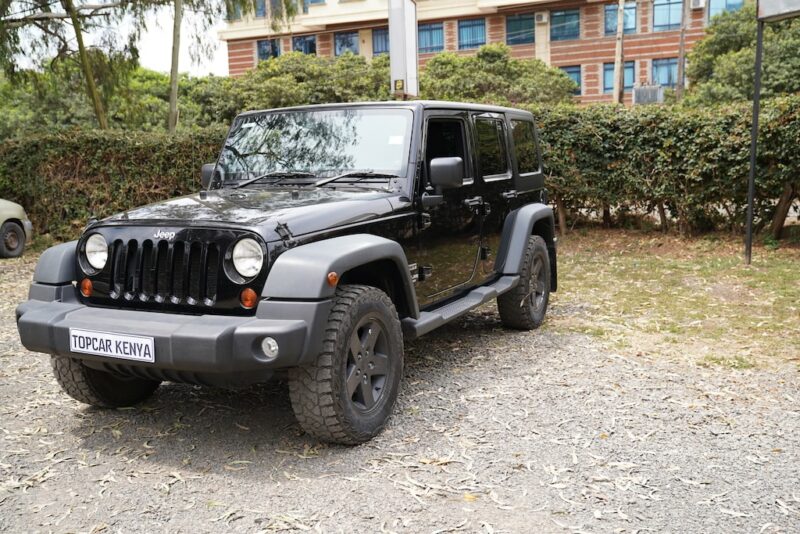 The 2014 Jeep Wrangler comes with three engine options, these are; a 2.8-Litre turbo diesel engine, a 3.6 V6 Pentastar petrol engine and a 3.8-Litre V6 petrol engine. These are linked to a choice of either manual or automatic transmissions.
2014 Jeep Wrangler Grades
Jeep Wrangler Sport – This is a base 2-door version that comes with clothe seats, AM/FM stereo, 16-Inch rims and basic features.
Jeep Wrangler X-S – This grade adds 17-Inch rims, AC, Uconnect, fog lights, cruise control and power windows.
Jeep Wrangler Sahara – This is a luxury grade that adds Yes Essential seats, USB charging ports, Bluetooth connectivity, SAHARA badging and other luxuries.
Jeep Wrangler Rubicon – This is an off-road equipped grade that comes with Dana 44 axles with electric locking functionality, Rock-Trac 4WD system, rock rails, infinity sound and many other off-road features.
2016 Jeep Wrangler Interior
The Jeep Wrangler maintains a simple interior that is comfortable and functional. The dashboard is monochromatic in dark black with simple dials are that are easy to use and within the driver's reach.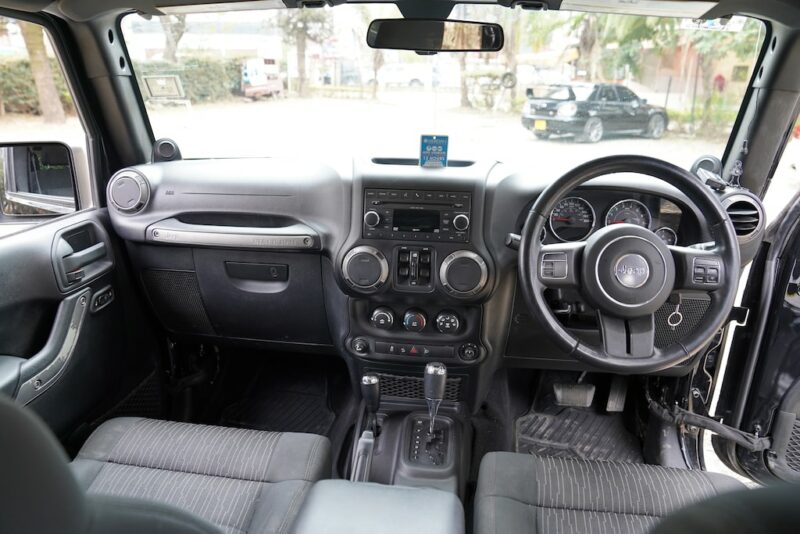 It comes with upright seats that are moderately comfortable and well padded. The legroom on both rows is excellent and tall people will find it comfortable. However, for long distances the seats can get uncomfortable and its advisable to take breaks in between.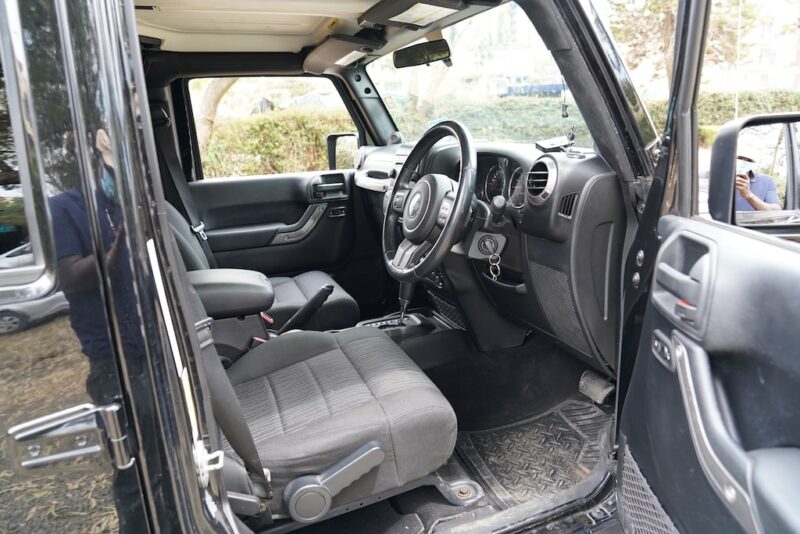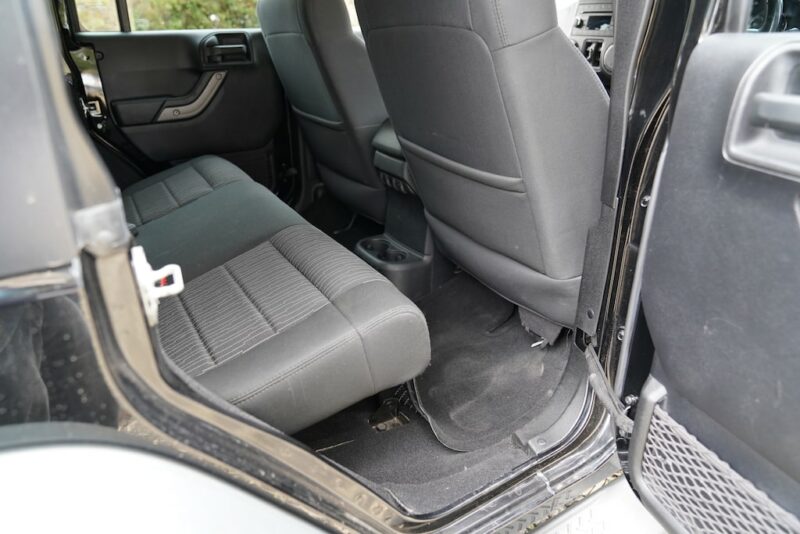 2014 Jeep Wrangler Exterior
The Wrangler inherits its looks from a military jeep and it has maintained this look throughout the years. The front comes with round headlights with a military styled grille and wide fenders. The bonnet is old school complete with rubber holders. Towards the rear, it's boxy with sharp edges and it's finished off by a two-part tailgate.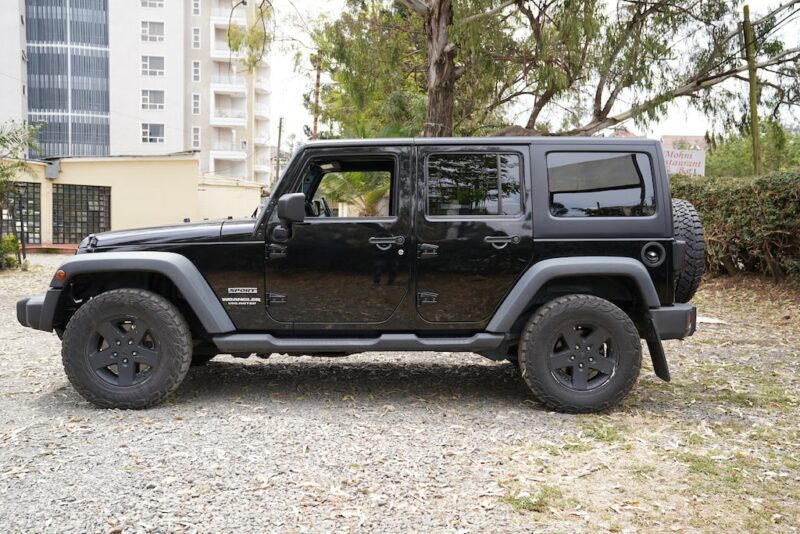 Cabin Storage
There are several storage compartments in the cabin that are useful for storing items such as smartphones, beverages, goggles, handbags etc. At the first row there are 4 cup-holders, door panel storage, a glovebox and the center-box. For the second row, there are 2 cup-holders, front seat pockets and door pockets.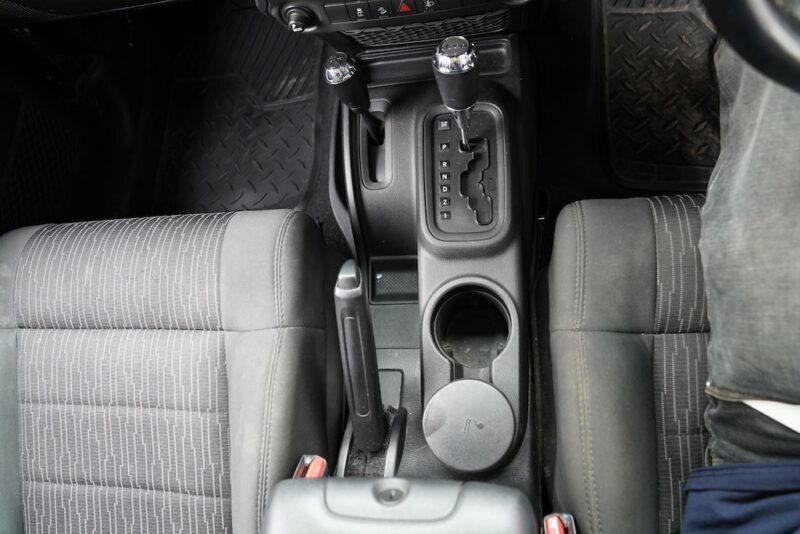 Extras: Cooler box
2014 Jeep Wrangler Safety Features: SRS Airbags, ABS with EBD, Electronic Stability Program, Cruise Control, Trailer Sway Control, Hill Start Assist
2014 Jeep Wrangler Fuel Consumption
2014 Jeep Wrangler 2.8L diesel fuel consumption: 12.6 Km/L
2014 Jeep Wrangler 3.6L petrol fuel consumption: 10.00 Km/L
2014 Jeep Wrangler 3.8L petrol fuel consumption: 9.35 Km/L
2014 Jeep Wrangler Acceleration
2014 Jeep Wrangler 2.8L diesel accelerates from 0-100 km/h in 10.6 sec.
2014 Jeep Wrangler 3.6L petrol accelerates from 0-100 km/h in 8.9 sec.
2014 Jeep Wrangler 3.6L petrol accelerates from 0-100 km/h in 10.6 sec.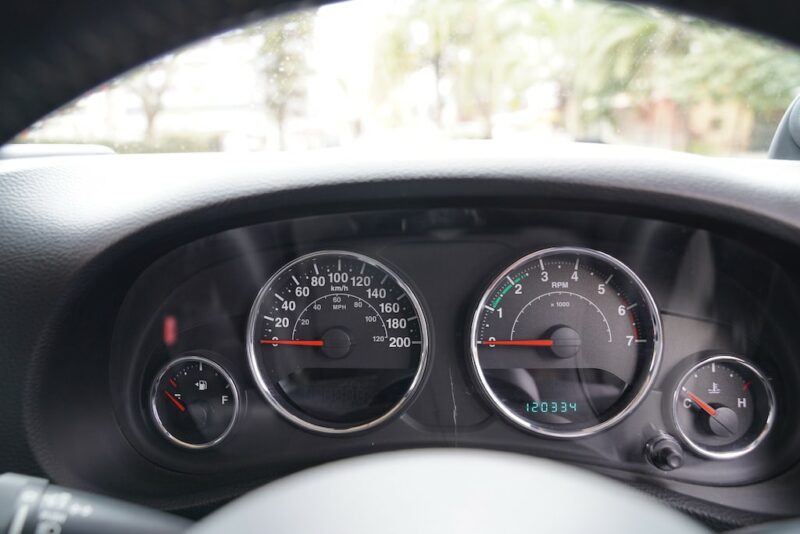 2014 Jeep Wrangler Fuel Tank Capacity: 85 Litres
2014 Jeep Wrangler Performance and Handling
The Jeep Wrangler is a heavy car but the 3.6-Litre V6 we tested accelerates fairly quickly and it picks speed faster than most SUVs of its size. Around corners, it feels top heavy and it's advisable to exercise caution. Also beware of the 'Death Wobble' which occurs when the Jeep hits a rough bump at high speed and starts to wobble dangerously. This is particularly applicable to the highly modified off-road types that come with heavy duty suspension and tyres. Besides this, the standard Jeep Wrangler is an excellent SUV that handles well both on-road and off-road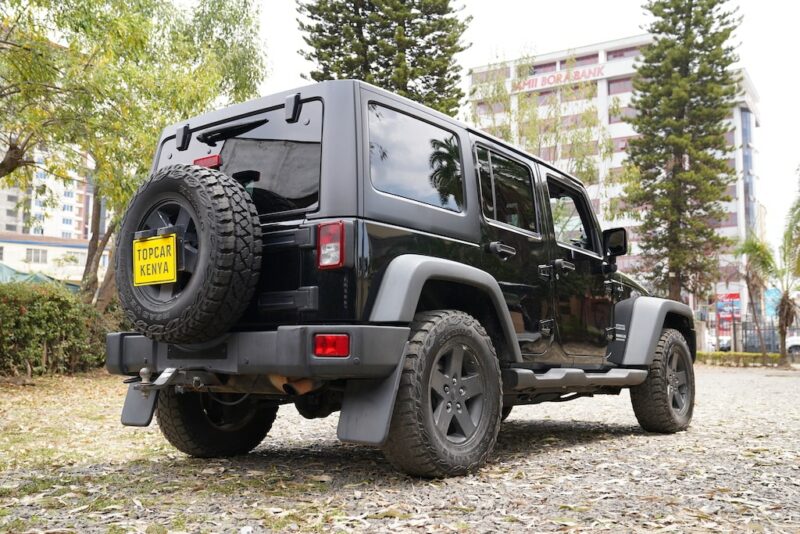 2014 Jeep Wrangler Service Intervals
Minor Service: At 5,000 km. Requires Air Cleaner, Oil Filter, Diesel Filter and Engine Oil, etc.
Major Service: At 10,000km. Requires Air Cleaner, Oil Filter, Diesel Filter, ATF Filter, Cabin Filter, Front Brake Pads, ATF Oil, and Engine Oil, etc.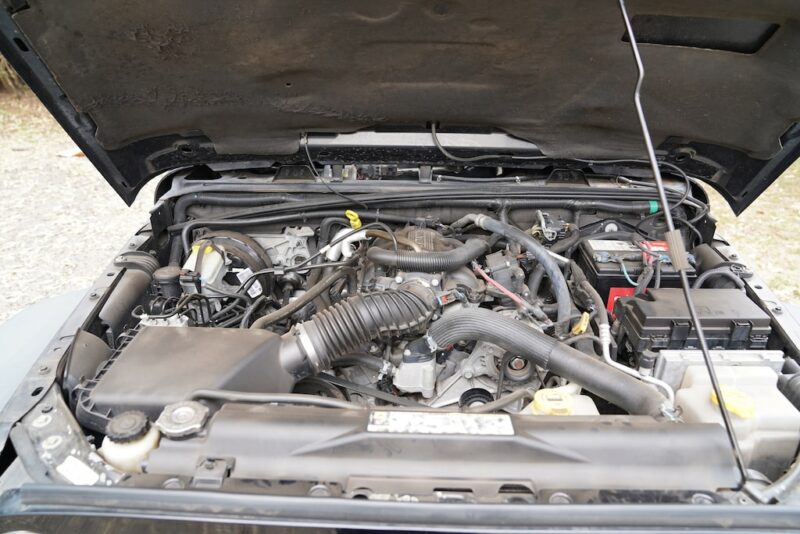 Jeep Wrangler Spare Parts Availability, Cost & Where to buy
Service parts are fairly and available in Nairobi. Body parts are expensive and available from specialist dealerships in Nairobi. For a list of Jeep spare part dealers, follow this link..
2014 Jeep Wrangler Reliability
Much as the Jeep Wrangler looks rugged and tough, it is a complex, modern SUV that comes with its fair share of problems. If not properly maintained, it can be problematic and can be expensive to fix. Commonly reported problems include
1. Transmission problems
2. Death wobble – Dangerous shaking and swaying at high speed that makes the car uncontrollable caused by hitting a bump on the road.
3. Engine problems
If you are planning to own the Jeep Wrangler, it's vital that you read the Owner's Manual . To request the 2014 Jeep Wrangler Owner's manual, write to us: [email protected]
Resale Value: Good
Jeep Wrangler Competitors: Land Rover Defender, Mercedes G Wagon, Toyota Prado, Toyota Land Cruiser, Suzuki Jimny
Cost of Ownership
Purchase Price: from Ksh 3,500,000
Comprehensive Insurance: Average Ksh. 140,000/ per annum- Or
3rd Party Insurance: Ksh. 7,000/- per annum
Change of Tyres(If neccessary) Ksh. 60,000/- for 4 Tyres
See Latest Jeep Wrangler Prices Here
What we like about the 2014 Jeep Wrangler
1. Excellent off-road capability
2. Unique body style
What we don't
1. Expensive parts
2. Basic interior
Conclusion
The Jeep Wrangler is an excellent SUV that boasts of excellent off-road capability and decent on-road manners. It's retro styling appeals to people that love adventure and outdoors.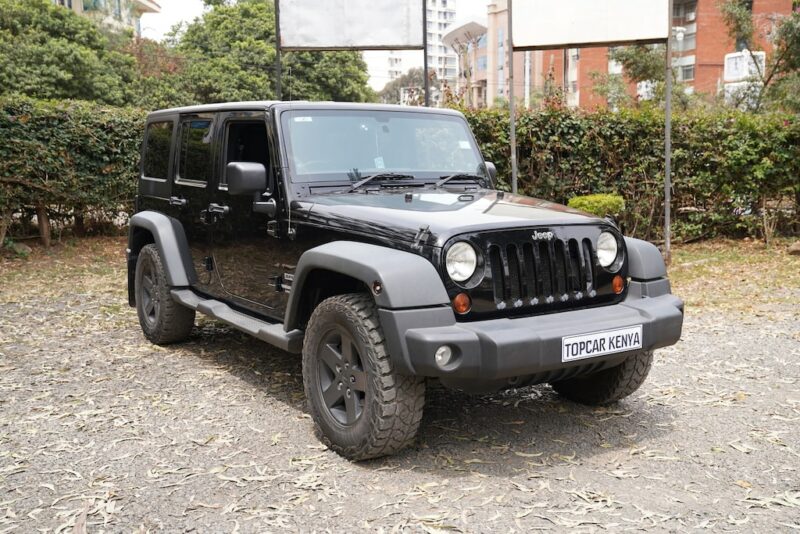 ---
If you have a question about this model or any other automotive questions, you can now get answers on our forum.
If you want to sell or trade-in you vehicle, you can list it for free via our seller portal.
If you wish to purchase this model local or abroad, you can do that via our marketplace.
You can get more about this
Land-rover Defender