2014 VW Beetle Review
The VW Beetle popularly known as the Bug is an iconic car that was in production for many years and became the global symbol of German engineering. It was simple, practical and affordable which made it very successful in virtually every market in the world including Kenya. It went out of production in 1974 but came back as the New Beetle in 1997 which never really hit the market as expected and was again retooled in 2011 as the Beetle A5.
Detailed Review
The VW Beetle A5 is a small family car that was in production from 2011 to 2019. It is built on the same platform as the Golf Mk6 and it features a 2 door coupe body style. It has a strong resemblance to the original Beetle but it comes with modern luxuries and equipment.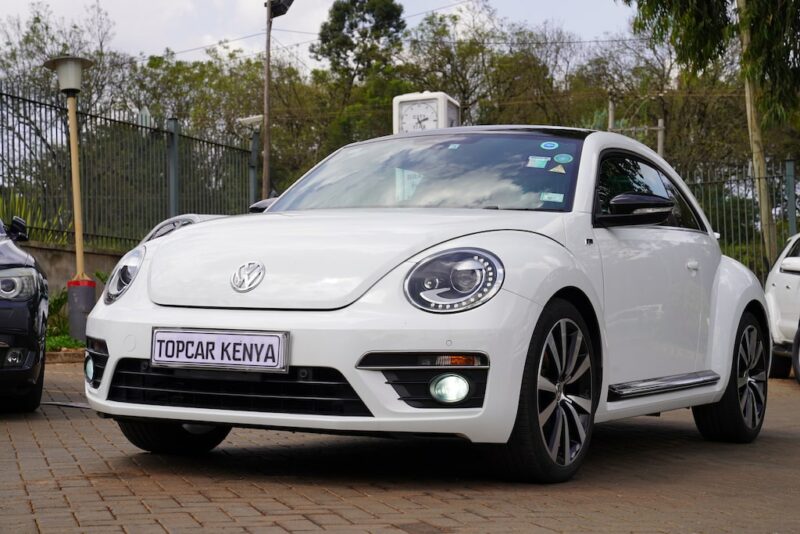 The Beetle A5 comes with a range of petrol and diesel engines, these are; a 1.2-Litre petrol TSI engine, a 1.4-Litre petrol TSI engine, a 1.6-Litre diesel TDI engine and a 2.0-Litre diesel TDI engine. These are linked to either an automatic DSG gearbox or a manual gearbox and available only in 2WD.
2014 VW Beetle Grades
VW Beetle – This is the base grade that comes with 15-Inch steel rims, plain steering wheel, Radio/CD player and manual A/C.
VW Beetle Design – This is a mid-level grade that comes with either 15-Inch steel or 16-Inch alloy rims, semi automatic AC, multifunction computer midline display, USB, Bluetooth, tyre pressure indicator, plain steering wheel and fog lights.
VW Beetle R-Line – This is the range topping grade that comes with two-tone 18-Inch alloy rims, body-coloured rear spoiler and tinted rear windows.
2014 VW Beetle Interior
It is longer and wider than the previous generations which translates to better interior space. The cabin is modern and the dashboard is decked with modern gadgetry that add a touch of class and luxury.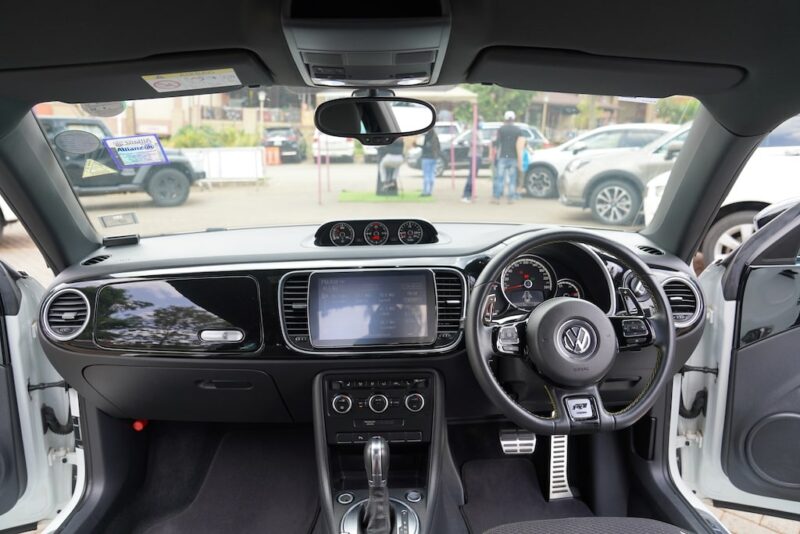 The legroom is good on the first row and the seats can be adjusted to fit any desired position. The second row space is is tight and tall people will find excruciatingly small. It's really ideal for children and small adults. Access to this quarter is via the front doors and it requires some level of flexibility to access.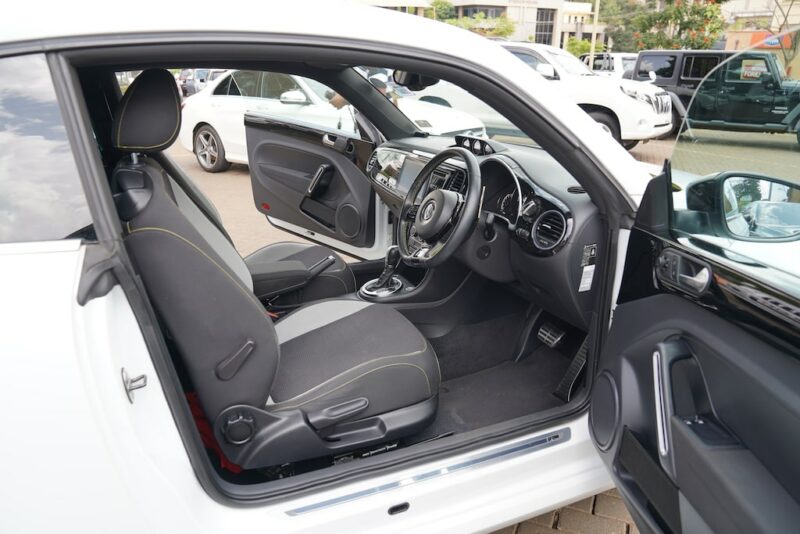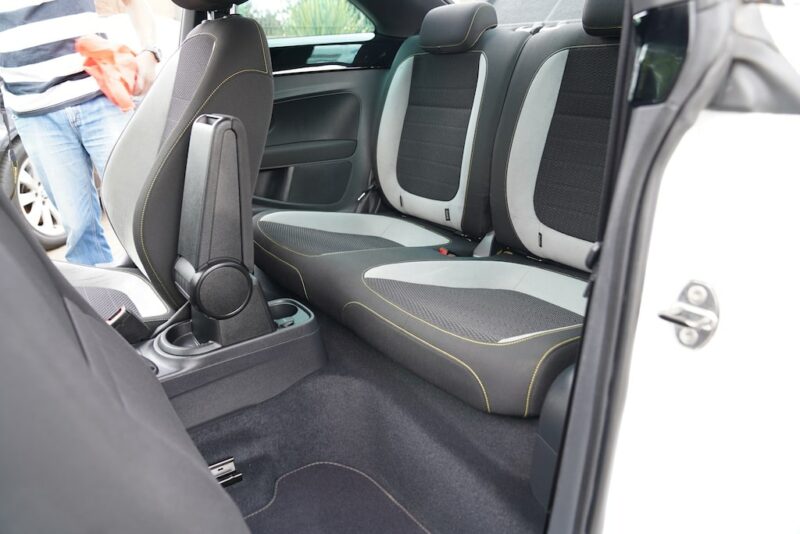 Cabin Storage
There are several storage compartments in the cabin that are useful for storing items such as smartphones, beverages, goggles, handbags etc. At the first row there are 4 cup-holders, door panel storage, a cubby box and glovebox. At the second row, there are 2 cupholders and storage pockets on the front seats.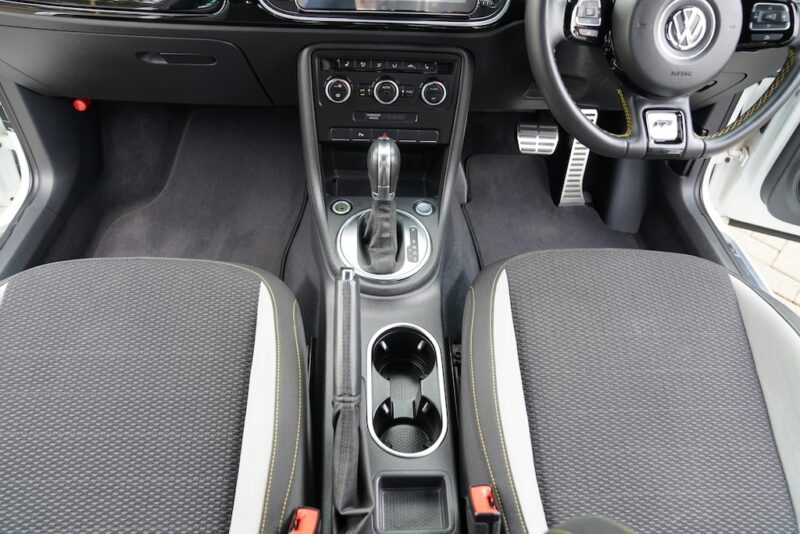 2014 VW Beetle Boot Space
The boot is small. The rear seats can also fold down to create extra space when needed.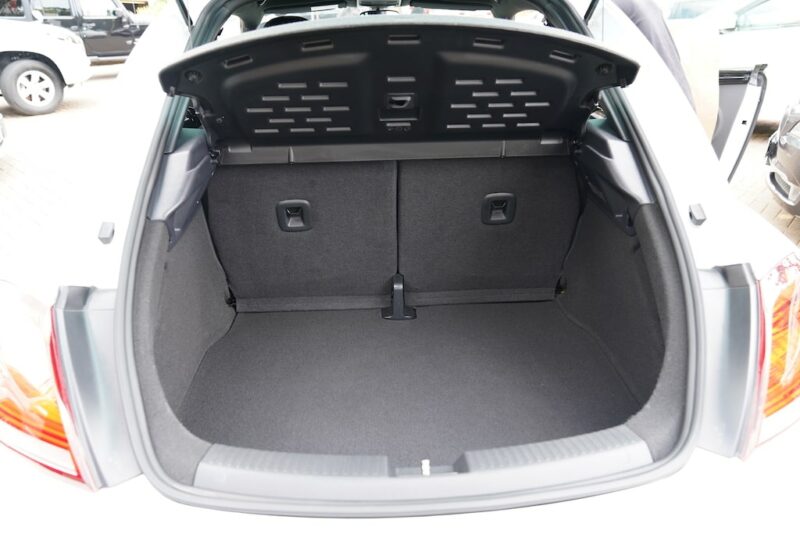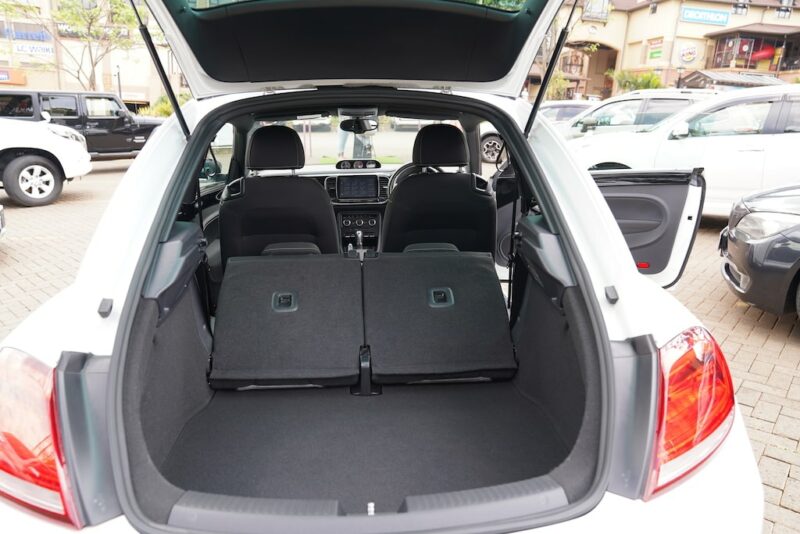 Extras: Sunroof
2014 VW Beetle Safety Features: SRS Airbags, ABS ESC(Electronic Stability Control), Post Collision Braking.
2014 VW Beetle Exterior
The VW Beetle A5 closely resembles the original Beetle with protruding wheel arches and round bug-eye headlights. The design is retro with a touch of modern tooling such as the LED lights, alloy rims and the aerodynamic form.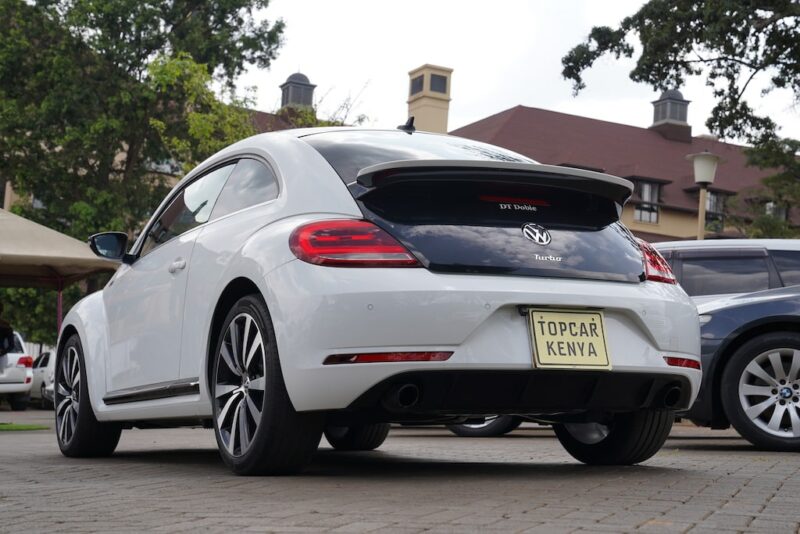 2014 VW Beetle Fuel Consumption
2014 VW Beetle 1.2L TSI Petrol fuel consumption: 22.27Km/L
2014 VW Beetle 1.4L TSI Petrol fuel consumption: 20.36 Km/L
2014 VW Beetle 1.6L TSI Petrol fuel consumption: 19.3 Km/L
2014 VW Beetle 2.0L TDI Diesel fuel consumption: 26.10 Km/L
2014 VW Beetle Acceleration
2014 VW Beetle 1.2L TSI Petrol accelerates from 0-100 km/h in 10.9 sec.
2014 VW Beetle 1.4L TSI Petrol accelerates from 0-100 km/h in 8.7 sec.
2014 VW Beetle 1.6L TSI Petrol accelerates from 0-100 km/h in 6.9 sec.
2014 VW Beetle 2.0L TDI Diesel accelerates from 0-100 km/h in 8.9 sec.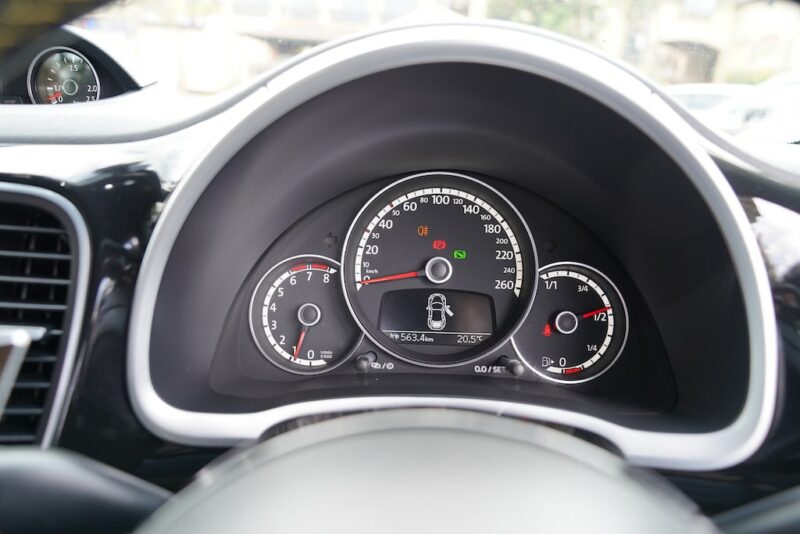 2014 VW Beetle Fuel Tank Capacity: 55 Litres
2014 VW Beetle Ground Clearance
It has a ground clearance of 5.7 inches which is below the minimum recommended ground clearance of 6.5 Inches for Kenyan roads and it may not clear some speed bumps. It might be necessary to modify the ground clearance to adjust the car to Kenyan roads. Read our guidelines here on how to safely increase a vehicle's ground clearance.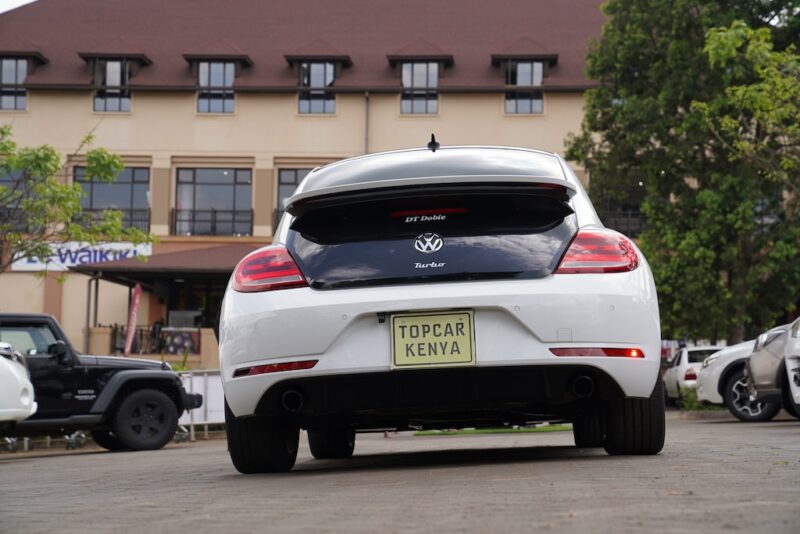 2014 VW Beetle Stability and Handling
The Beetle has the same feel as the Golf Mk6 with minor variations in engine power and ride characteristics. The steering is perfectly weighted and feels neither too heavy nor too light. Acceleration is excellent across the range and even the entry level 1.2-Litre engine packs a powerful punch. It feels surefooted around corners and it moves fluidly with no hint of understeer or oversteer.
VW Beetle Service Intervals
Minor Service: At 5,000 km. Requires Air Cleaner, Oil Filter, and Engine Oil
Major Service: At 10,000km. Requires Air Cleaner, Oil Filter, Fuel Filter, ATF Filter, Cabin Filter, Plugs, Front Brake Pads, Rear Brake Pads, ATF Oil, and Engine Oil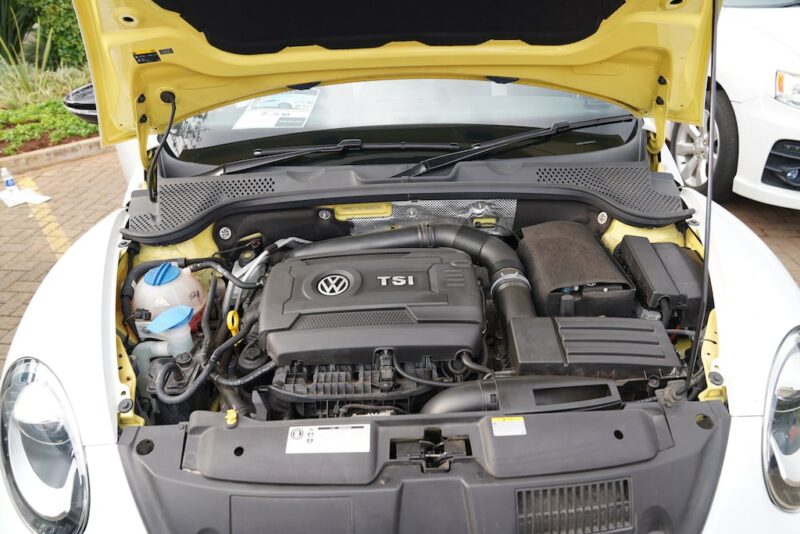 VW Beetle Spare Parts Availability, Cost & Where to buy
Service parts are fairly priced and shared with the Golf. Body parts on the other hand are expensive and mostly available in Nairobi. You can get listings for the shops that sell VW Spares in this link.
2014 VW Beetle Reliability
The VW Beetle is not as forgiving on poor maintenance as some of its Japanese rivals. The DSG gearbox has elaborate maintenance procedures and it should only be serviced by a qualified technician. It also requires an expensive transmission fluid with dedicated additives. Anything short of proper maintenance is catastrophic. Also, ensure you thoroughly read the Owner's Manual as it contains vital information on the maintenance and operation of the car. Send us an email at [email protected] for a copy of the 2014 VW Beetle Owner's Manual.
Resale Value: Average
VW Beetle Competitors: Toyota Passo, Nissan March, Mazda Verisa, Toyota Vitz and Mazda Demio
Cost of Ownership
Purchase Price: See Latest VW Beetle Prices here
Comprehensive Insurance: Average Ksh. 50,000/ per annum- Or
3rd Party Insurance: Ksh. 7,000/- per annum
Change of Tyres(If necessary) Ksh. 28,000/- for 4 Tyres
What we like about the 2014 VW Beetle
1. Comfortable
2. Unique design
3. Excellent power
What we don't
More expensive to maintain than its rivals
Conclusion
If you love elegance and flare, then the VW Beetle will get your juices flowing. The design is as retro as the original Beetle but touched with modern luxuries and equipment.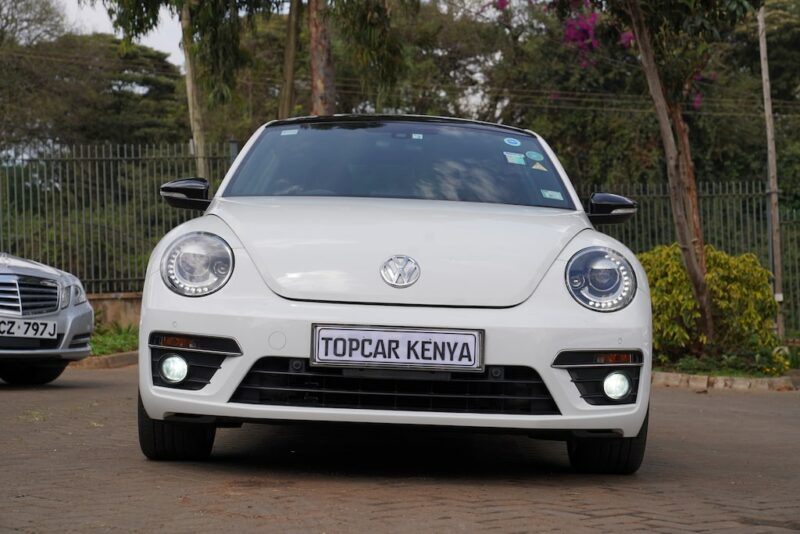 ---
If you have a question about this model or any other automotive questions, you can now get answers on our forum.
If you want to sell or trade-in you vehicle, you can list it for free via our seller portal.
If you wish to purchase this model local or abroad, you can do that via our marketplace.