2015 Mazda Demio Review
The Mazda Demio is one of the most sought hatchbacks in the Kenyan Market. It has gained popularity across the world thanks to its reliability and affordability. It competes with Suzuki Swift, Honda Fit, Toyota Vitz, Nissan Note and VW Polo. 
Detailed Review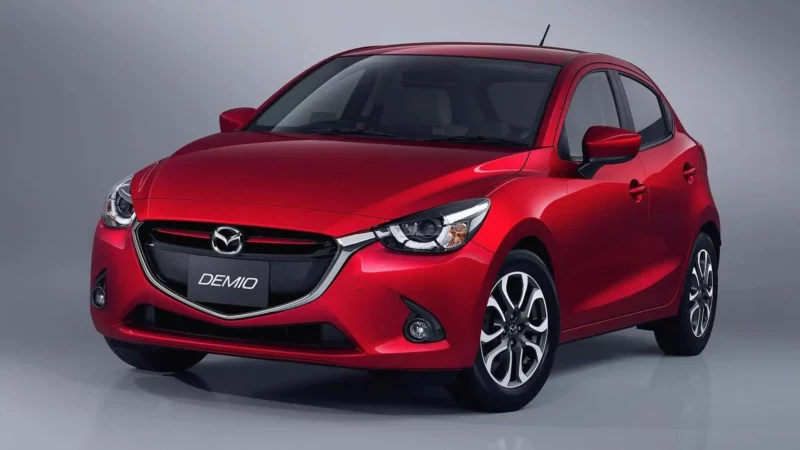 The Mazda Demio is also known as the Mazda 2 and has been in production since 1996 and is currently in its fourth generation. 
The 2015 Mazda Demio is available in 3 petrol engine choices in 74bhp, 89bhp and 113bhp form or a 104bhp turbocharged diesel engine, all coming in 1.5-liter capacity. 
2015 Mazda Demio Grades
SE– Highlights in grade include; air conditioning, a USB port, hill-start assistance, and a roof spoiler. 
 SE-L– This grade comes with cruise control, alloy wheels, a 7.0in screen infotainment system complete with DAB radio, Bluetooth, and access to Internet Radio. 
SE-L Nav– This trim boasts sat nav with three-year of map updates included, lane departure warning, and Mazda's city braking system 
Sport Nav– This trim level comes with come with keyless entry, climate control, LED headlights, rear parking sensors, and auto lights and wipers all as standard. 
Red Edition– This trim is only available in Mazda's Soul Red metallic color, which it shares with other models in the lineup, while the trim level is equivalent to SE-L Nav versions.
 Sport Black– This grade is available in two color choices, metallic Soul Red or pearlescent Snowflake White. It is equipped with a sporty body kit, black wing mirror caps, and 16 alloy wheels. 
Interior Legroom & Space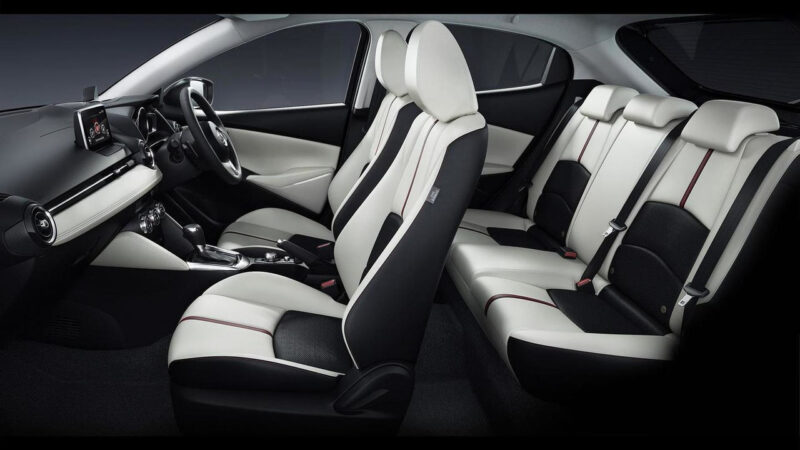 A compact instrument binnacle with a single round dial center and dual squared-off displays flanking give the interior a modern flair. The driver can customize these electronic displays in a variety of ways, especially in the top-of-the-line Genki models. The legroom is however limited as the Demio is a small car. The first row seats can be adjusted to increase the legroom. The legroom in the second row is enough for the outer seats, while space in the mid seat is limited.
Boot Space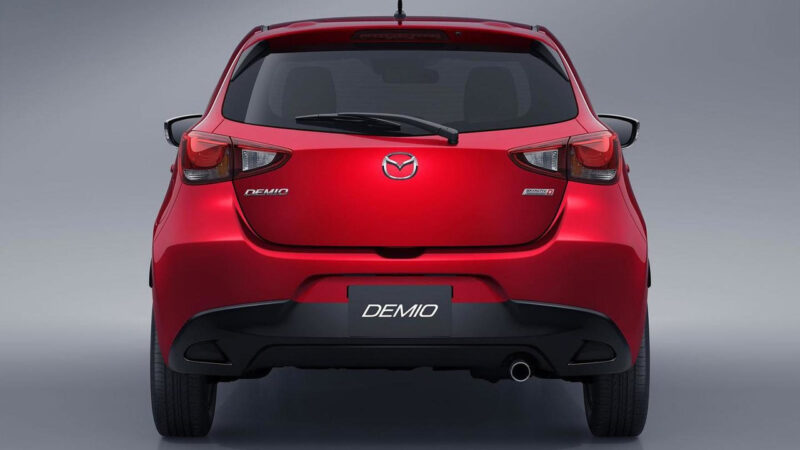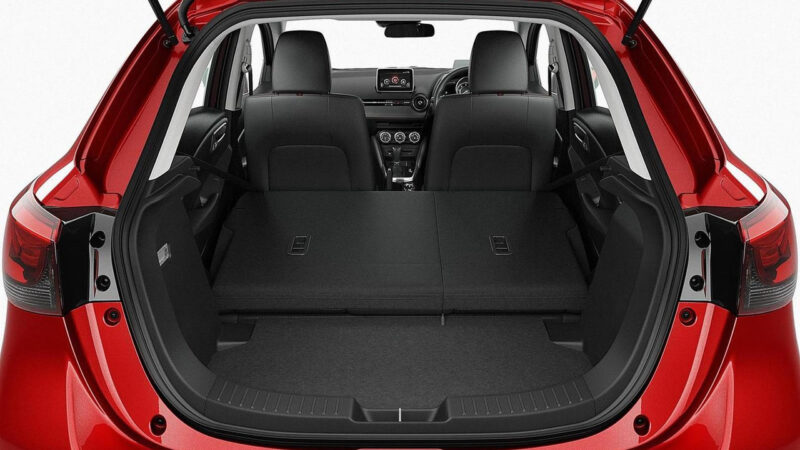 The '15 Demio has a boot space of a 280-liter boot which is arguably the smallest in its class. when the rear seats are folded the bootspace expands to 950-litres.
Exterior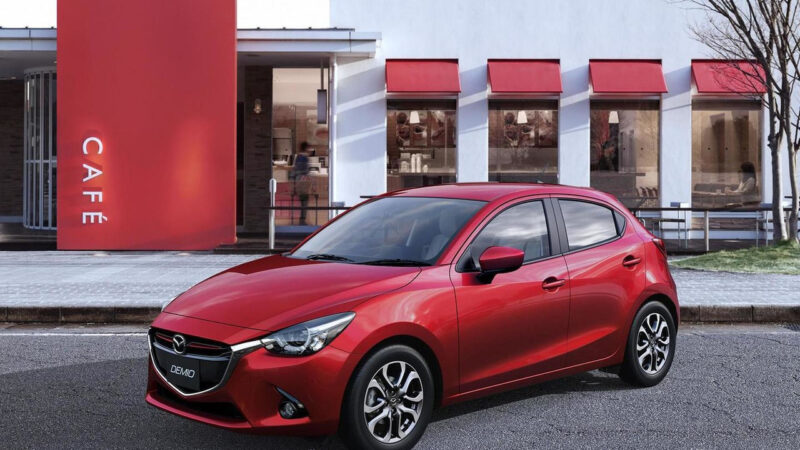 The 2015 Mazda Demio has a striking family resemblance to the Mazda3 as well as other recent releases.  
Whereas the previous model favored something more akin to a mono cab design that reportedly placed those two parts closer together, here Mazda has pushed the front axle 80mm forwards and the pillars 80mm back. The 2015 Demio uses the same Skyactiv platform as the Mazda 3. This boosts the proportion of high-strength steel by 12%, and ultra-high-tensile steel now accounts for 30% of the entire structure. Consequently, despite being larger, the 2015 Demio is not only 22 percent stiffer than the model it replaces, but also 7 percent lighter.
Ground Clearance
The 2015 Mazda Demio has a ground clearance of 152 mm. 
Safety Features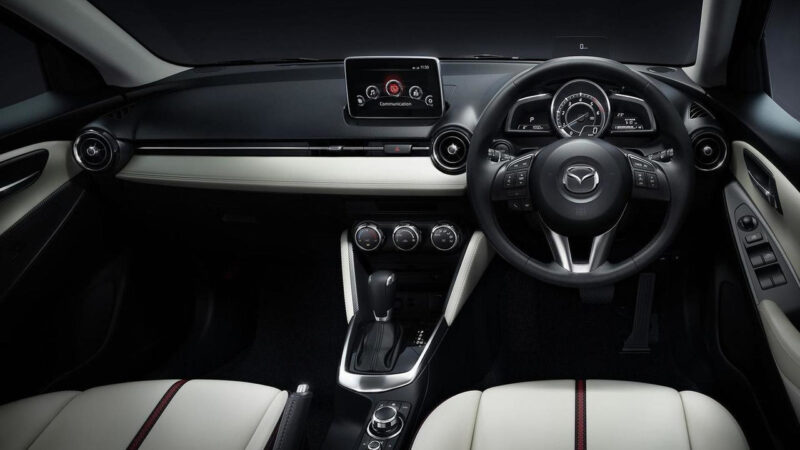 The 2015 Mazda Demio features front and side airbags, side curtain airbags, ABS, traction control, EBC, EBD, and brake assist. 
Fuel Tank Capacity
The Mazda Demio has a fuel tank capacity of 44 liters. 
Fuel Consumption
The 2015 Mazda Demio consumes 7 to 7.9 liters per 100km
Stability and Handling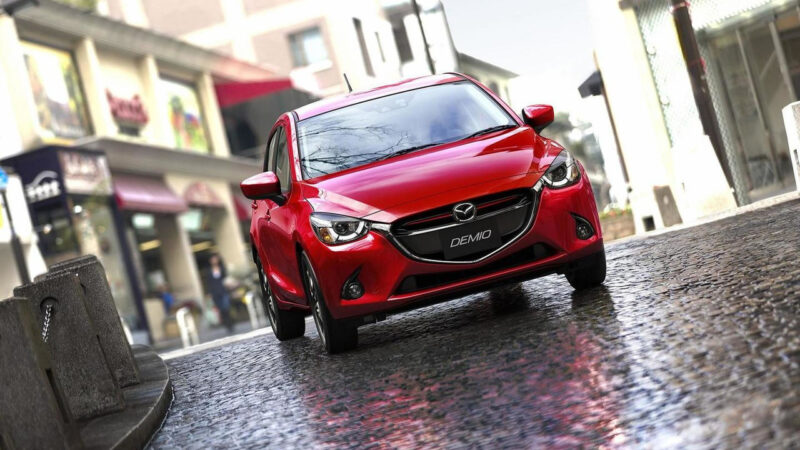 It is rare to find a small car such as the Mazda Demio having good stability& handling. Just like its bigger sibling, the Mazda 3, the 2015 Demio's handling is remarkable and natural, since it is easy to steer and goes precisely where you direct it. However, its springs and dampers are more forgiving and flexible unlike the Mazda 3.
Acceleration 
The 2015 Mazda Demio claims acceleration of 9.4 seconds from 0-62mph. 
---
If you have a question about this model or any other automotive questions, you can now get answers on our forum.
If you want to sell or trade-in you vehicle, you can list it for free via our seller portal.
If you wish to purchase this model local or abroad, you can do that via our marketplace.