2015 Toyota Harrier Review
The Toyota Harrier is a 5-seater mid-size SUV that is common in the Kenyan market and is loved due to its styling and reliability. It competes with established brands such as the Nissan Murano, Mitsubishi Outlander, BMW X5, Mercedes M Class, and VW Touareg
You can get more about this
Toyota Harrier
Detailed Review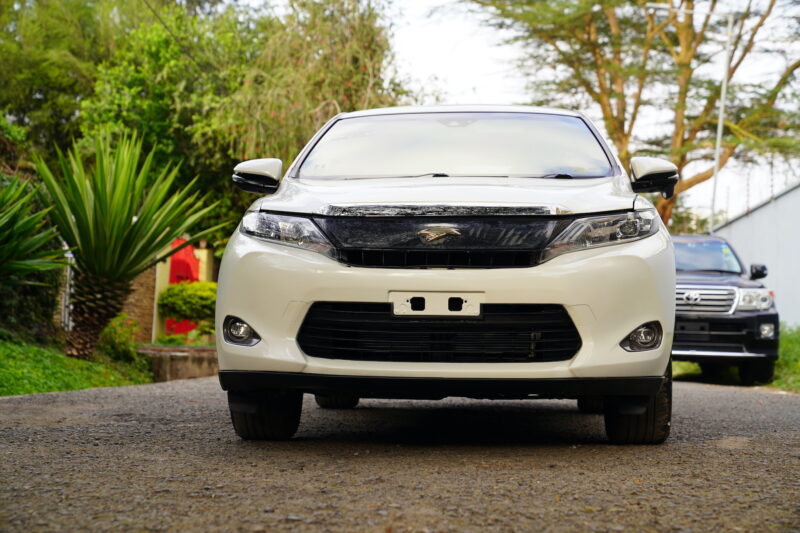 The Toyota Harrier has been in production for four generations starting from 1998 to present. For the first and second generation, it was virtually the same as the Lexus RX with minor variations. However, from the third generation, the Harrier is a distinct brand with no relationship with the Lexus RX.
The 2015 Toyota Harrier comes with 2 engine options; A 2.0-Litre 3ZR-FAE petrol engine and a 2.5-Litre 2AR-FXE petrol Hybrid engine.
2015 Toyota Harrier Grades
Toyota Harrier Grand – This is the entry-level grade that comes with a choice of either the 2.0L or 2.5L hybrid engines, clothe seats manual seats, and 17-Inch alloy rims.
Toyota Harrier ELEGANCE – This is the medium-level grade that comes with a choice of either the 2.0L or 2.5L hybrid engines, clothe seats electric seats and 17-Inch alloy rims, an optional sunroof, and chrome finish.
Toyota Harrier Premium – This is the luxury grade that comes with a choice of either the 2.0L or 2.5L hybrid engines, leather seats electric seats and 18-Inch alloy rims, an optional sunroof, chrome finish and the complete Toyota Safety Sense suite.
Interior Legroom & Space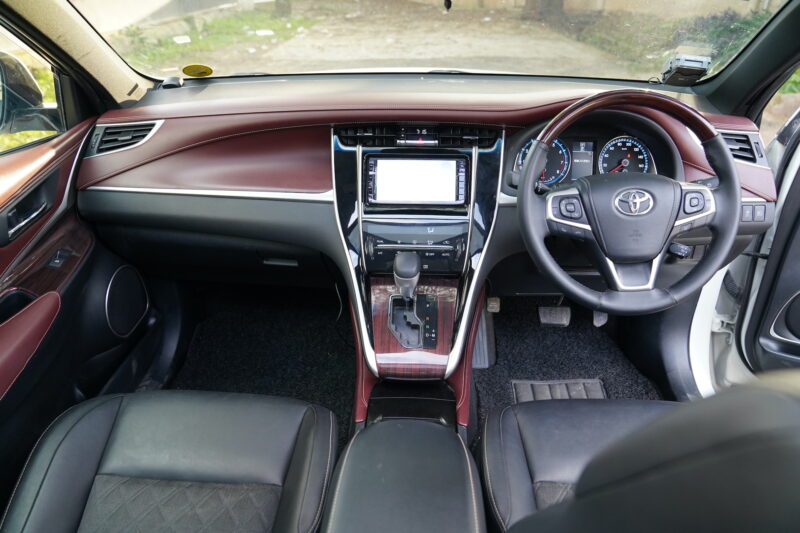 The interior of the Toyota Harrier 2015 is a show of true elegance and comfort. It has a black-leather upholstery with a deep Burgundy leather-wrapped console and side panel, unlike its Lexus RX counterparts. Furthermore, the top trim levels are available in Mahogany, which will delight any fan of this model. The dashboard also features smooth contours that follow the interior panels and steering wheels. It also boasts a large HD touch-screen on the dashboard.
Cabin Storage
There are several storage compartments in the cabin that are useful for storing items such as smartphones, beverages, goggles, handbags etc. At the first row there are 4 cup-holders, door panel storage, a glovebox and the center-box. At the second row, there are 4 cupholders and front seat jacket pockets.
Boot Space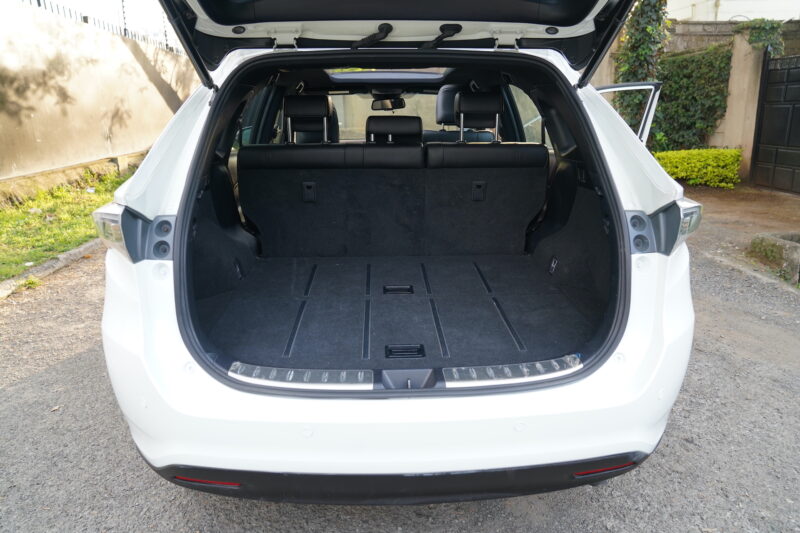 The 2015 Harrier has a sizable boot, which increases further, when the rear seats are folded.
Exterior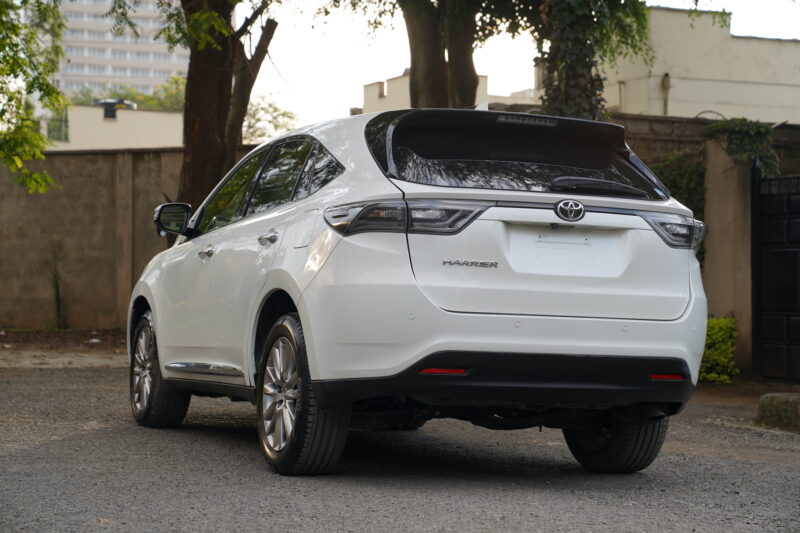 The exterior of the 2015 Toyota Harrier is elegantly crafted, with particular upgrades in the curves and hexagonal-shaped lower grille. The upper grille features a Harrier emblem that distinguishes it from other Toyota vehicles. In addition, Toyota designers added Fenders and robust rear pillars to the 2015 Harrier. This creates exceptionally gorgeous headlights and taillights. It is tastefully and exquisitely crafted with a slim and streamlined body. In conclusion, car owners will have no complaints regarding design and aesthetics.
Ground Clearance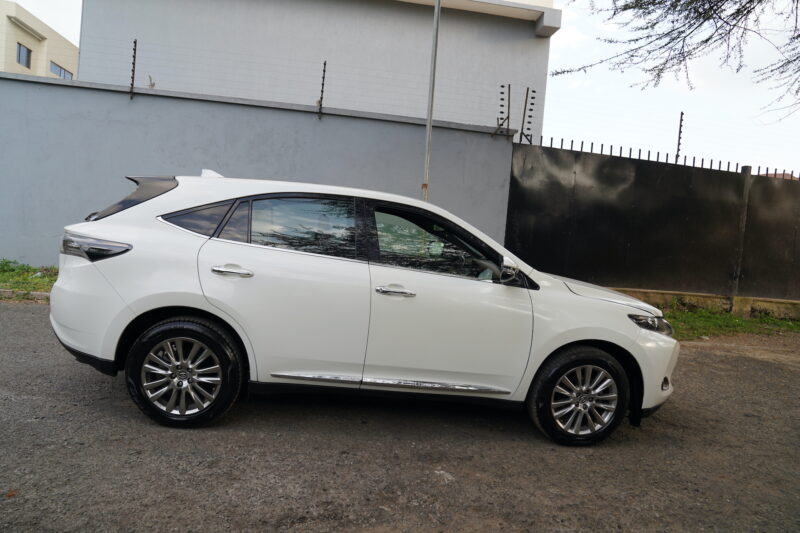 The 2015 Toyota Harrier has a 155mm/6.1 inches ground clearance
Safety Features
Standard safety features in the Toyota Harrier include an anti-lock braking system, child safety locks, side airbag, driver airbag, passenger airbag, brake assist, vehicle stability control system, parking sensor, crash sensor, traction control, and front impact beams.
Fuel Consumption
The 2015 Toyota Harrier has an average fuel consumption of 6.5L/100 km with a fuel tank of 55 liters.
Conclusion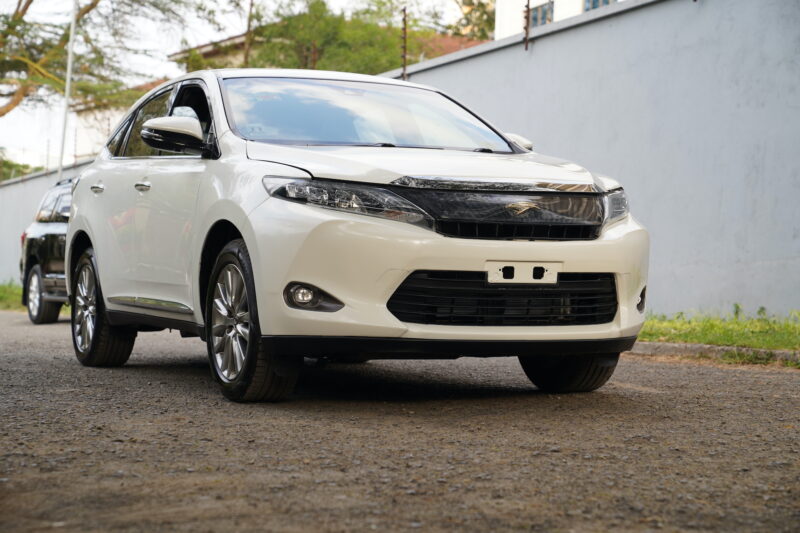 The Toyota Harrier is a car that tries to convey its passengers in luxury while providing the driver with a hassle-free and straightforward driving experience, and it certainly fits the bill as a spacious and more opulent family SUV.
---
If you have a question about this model or any other automotive questions, you can now get answers on our forum.
If you want to sell or trade-in you vehicle, you can list it for free via our seller portal.
If you wish to purchase this model local or abroad, you can do that via our marketplace.
You can get more about this
Toyota Harrier