2010 Toyota Harrier Review
The Toyota Harrier is a mid sized SUV sold exclusively in Japan since 1998 and sold in other markets as the Lexus RX. It competes with the Nissan Murano, BMW X5, Porsche Cayenne, VW Touareg, Mercedes M Class and Toyota Vanguard. Both the Harrier and the Lexus RX are sold in Kenya as imports from other markets.
You can get more about this
Toyota Harrier
Detailed Review
There have been four generations of the Toyota Harrier; the first generation was in production from 1998 to 2003, the second generation was in production from 2003 to 2013, and the third generation was in production from 2013 to 2020 and the fourth generation has been in production from 2020 to present.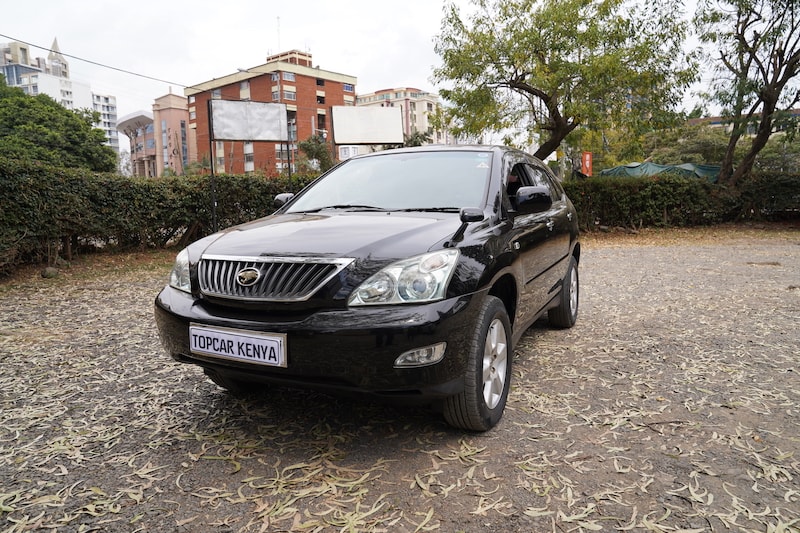 Under the bonnet, the 2010 Toyota Harrier comes with 4 engine options, all petrol. These are, a 2.4 Litre 2AZ engine, a 3.0 Litre 1MZ engine, a 3.3 Litre 3MZ hybrid engine and 3.5 Litre 2GR Engine. All are mated to a 5-speed automatic transmission and no manual options are available. Its offered in both 2WD(model code ACU30W) and 4WD(model code MCU30W). There are air suspension options that are distinguished by an AIRS badge on the tail.
2010 Toyota Harrier Grades
Toyota Harrier Grade G – This is the base model that comes with 17-Inch alloy rims, CD/Radio player with no touchscreen, key-start, clothe seats, manual seats, no steering controls
Toyota Harrier Grade G L Package – This comes with 17-Inch alloy rims, DVD player with touchscreen, key-start, Leather seats, electric seats, steering multi-function controls and an optional three panel sunroof
Toyota Harrier Premium Alcantara – This comes with the same features as the L Pacakge plus 18-Inch alloy rims, a beige Alcantara interior and an optional three panel sunroof
2010 Toyota Harrier Hybrid
The hybrid version comes with a 3.3 Litre 3MZ-FE engine and same trims as the standard Harrier. It is important to note that it is different from the standard Harrier in many ways . It is silent, efficient and refined with very distinct driving characteristics. The boot space and fuel tank have been made smaller to create space for the battery pack. For more on Hybrid cars in the Kenyan market, read the following article.
2010 Toyota Harrier Interior
Legroom and Interior Space
The Toyota Harrier is a fairly spacious car with capacity to comfortably carry 5 people. The L Package and the Alcantara grades are much more luxurious with a premium feel similar to the Lexus RX. At the first row, the legroom is excellent and can accommodate tall people. On the second row, the seating space is decent including the middle seat. The ability of the rear seats to recline adds a touch of comfort. We also love the three panel sunroof that extends over the two rows giving the cabin an airy feel.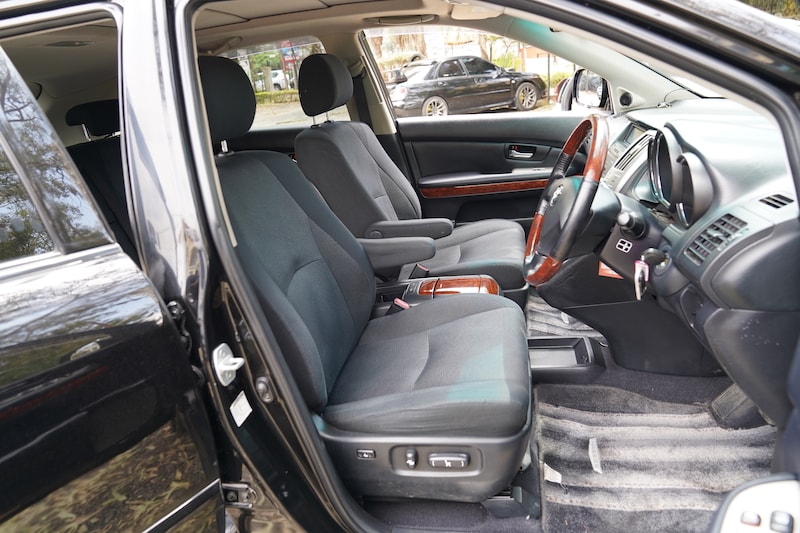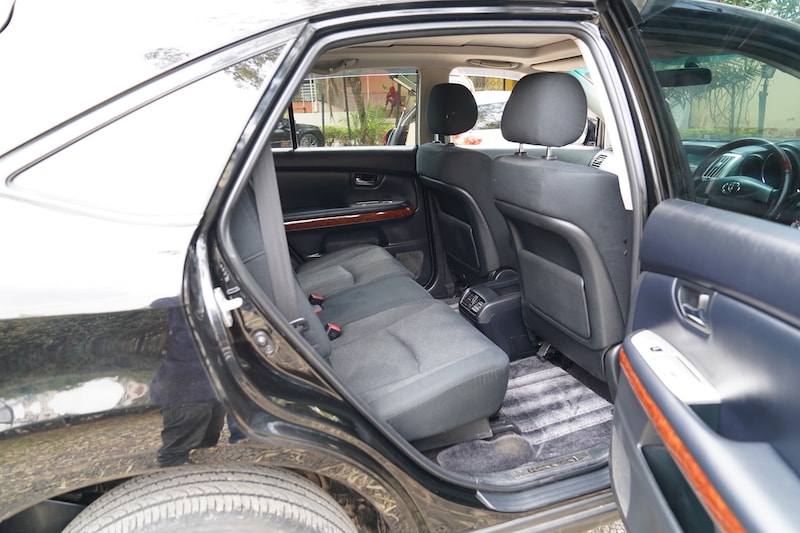 Cabin Storage
For the 1st row, there 2 cup/bottle holders, door panel storage, a storage tray on the floor, a glovebox and a cubby box. For the second row, there is storage on the front seat pockets and door pockets.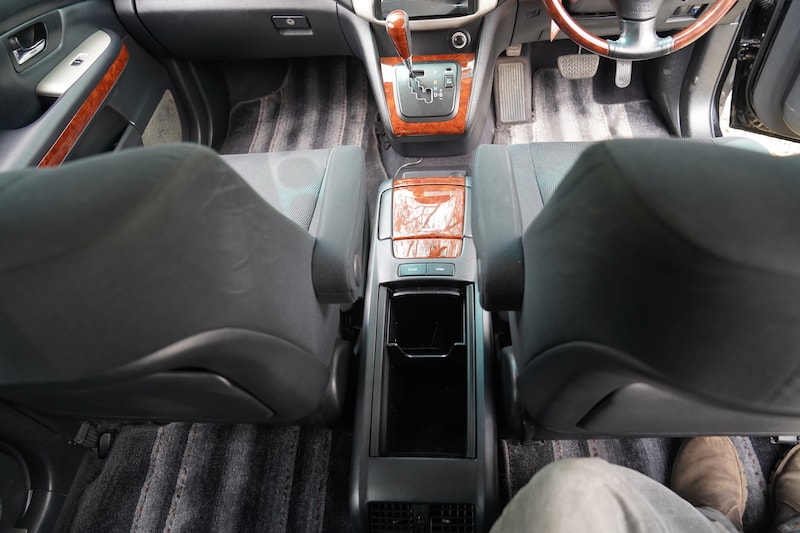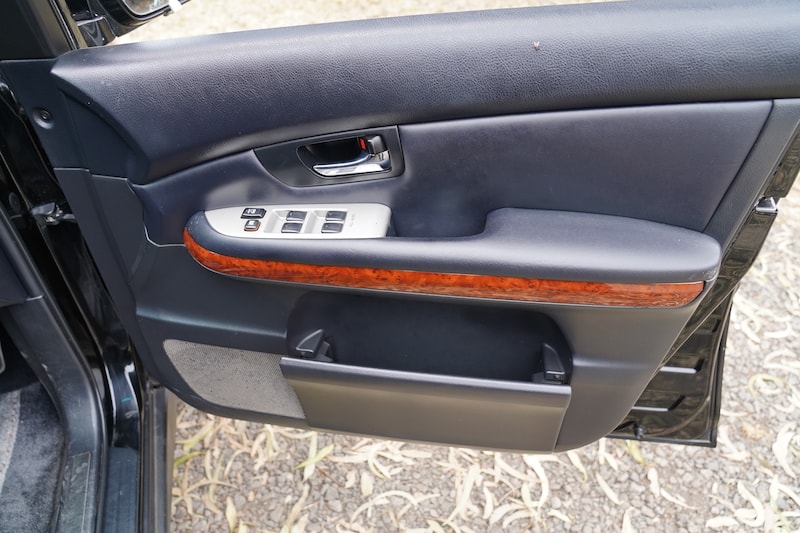 2010 Toyota Harrier Boot Space
The Toyota Harrier has a small boot when compared to its competitors such as the Toyota Vanguard. This is due to the slanted roof and narrow rear. Regardless, the space is still sufficient to carry luggage for a family of five. When extra boot space is required, the rear seats can be folded down in a split fold format. The electric boot is a really nice feature that allows you to open the boot before you arrive.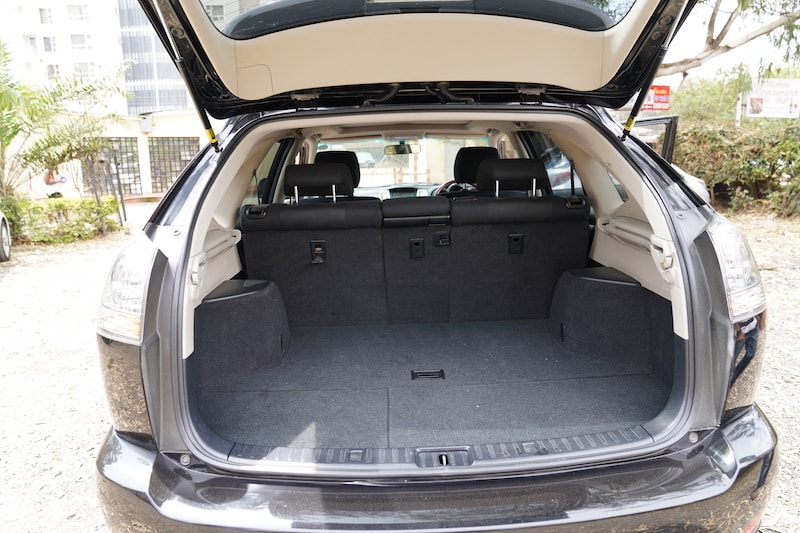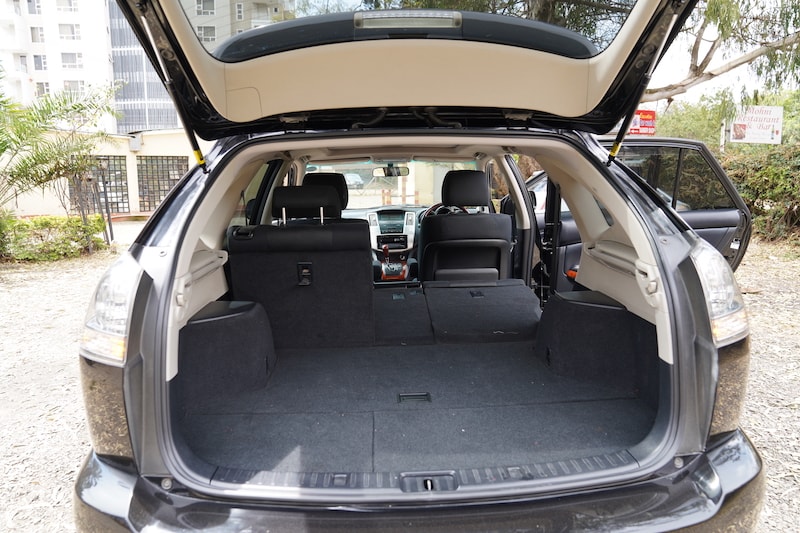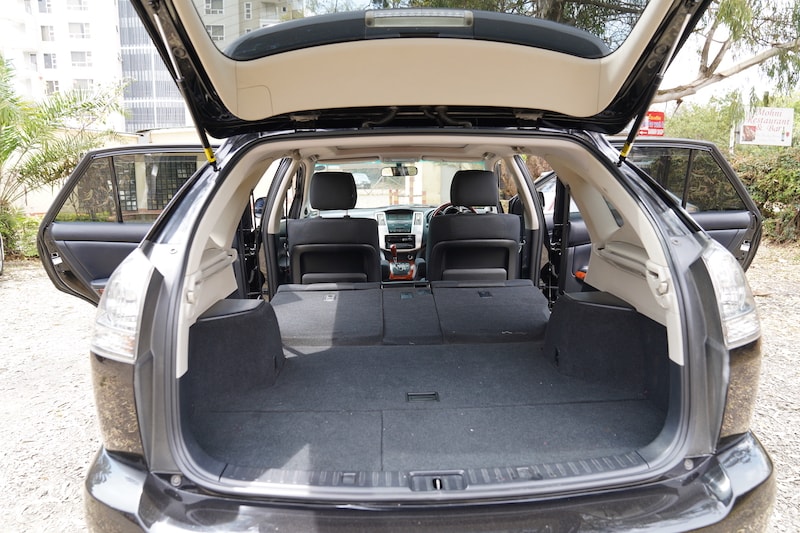 Other Extras: DVD player, Navigation, Dual Zone Climate Control, Reverse Camera, Multi function steering controls, power tailgate, Wood trim, Tilt Telescopic steering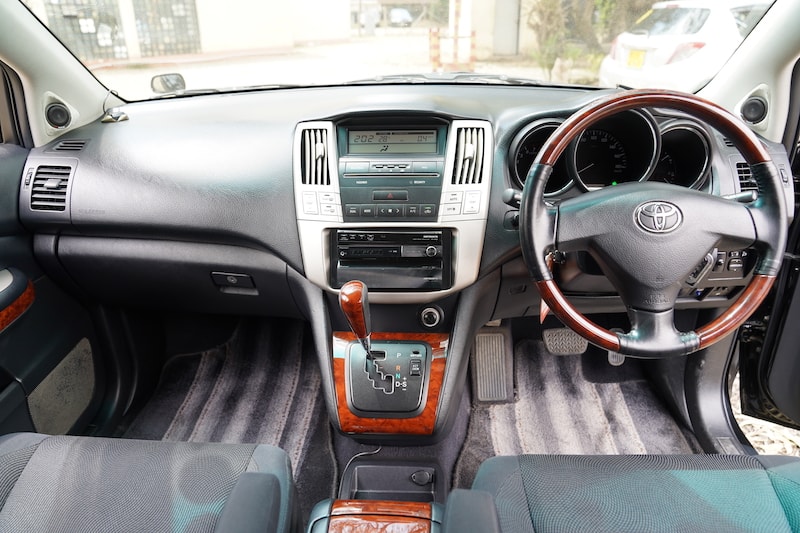 Safety Features: 6 Airbags, 3 Point Seatbelts, ABS, Traction Control, EBD
2010 Toyota Harrier Exterior
The Toyota Harrier is a sleek SUV that has a sporty and stylish look . Its got one of the few eye-turning designs from the Toyota stable. All grades come with alloy rims and fog lights.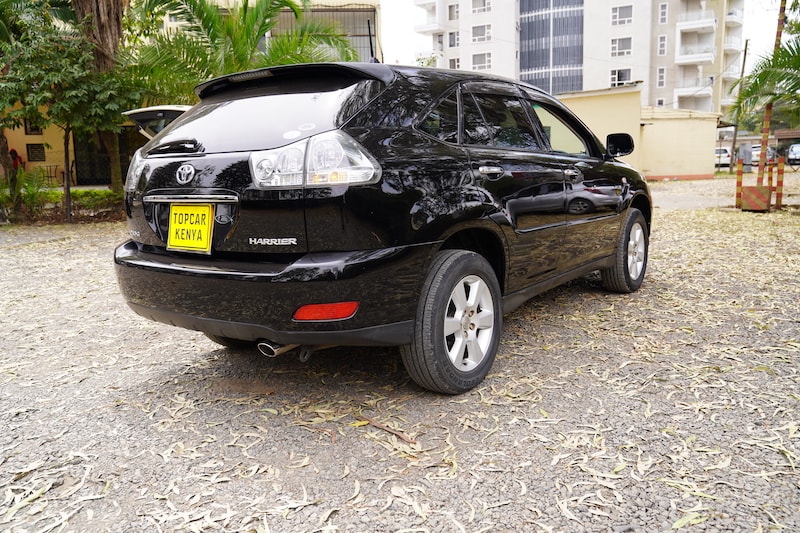 2010 Toyota Harrier Fuel Consumption
2010 Toyota Harrier 2.4L Fuel Consumption: 11.5 km/L (On Average)
2010 Toyota Harrier 3.0L Fuel Consumption: 9.7 km/L (On Average)
2010 Toyota Harrier 3.3L Hybrid Fuel Consumption: 18.0 km/L (On Average)
2010 Toyota Harrier 3.5L Fuel Consumption: 7.8 km/L (On Average)
2010 Toyota Harrier Acceleration
2010 Toyota Harrier 2.4L accelerates from 0-100 km/h in 10.5 sec.
2010 Toyota Harrier 3.0L accelerates from 0-100 km/h in 7.6 sec.
2010 Toyota Harrier 3.3L Hybrid accelerates from 0-100 km/h in 7.0 sec.
2010 Toyota Harrier 3.5L accelerates from 0-100 km/h in 6.4 sec.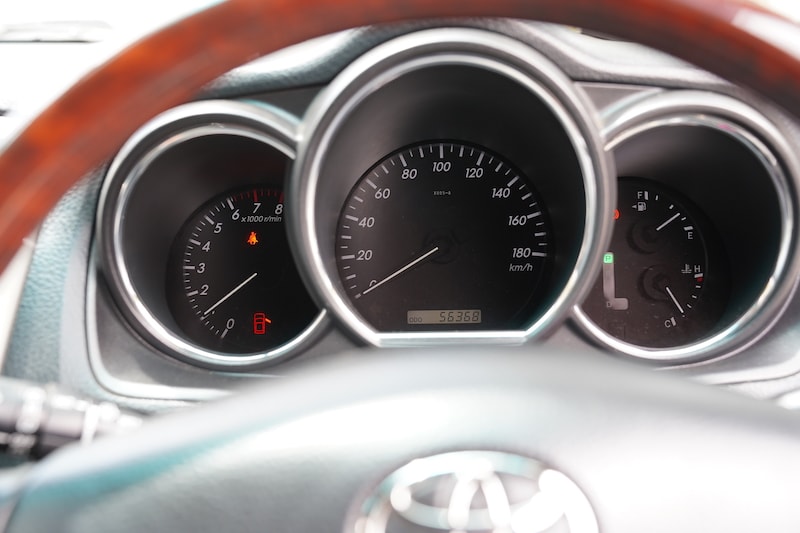 2010 Toyota Harrier Fuel Tank Capacity: 72 Litres for the standard Harrier and 65 Litres for the Hybrid.
Note: the Hybrid has better range than the standard Harrier.
2010 Toyota Harrier Stability and Handling
The Toyota Harrier is fun to drive with the agility and maneuverability of a small car. Around corners, there is a hint of body lean but not of great concern for moderate driving. Off the tarmac, the Harrier has serious shortcomings. On slippery ground, the 2WD loses traction very fast and does not hold the ground. The 4WD does a better job and can pull out of slippery ground easily but anything harder than that and the Harrier struggles.
Service Intervals
Minor Service – Done at 5,000 km. Requires Air Cleaner, Oil Filter, and Engine Oil
Major Service – Done at 10,000km. Requires Air Cleaner, Oil Filter, Fuel Filter, ATF Filter, Cabin Filter, Plugs, Front Brake Pads, Rear Brake Pads, ATF Oil, and Engine Oil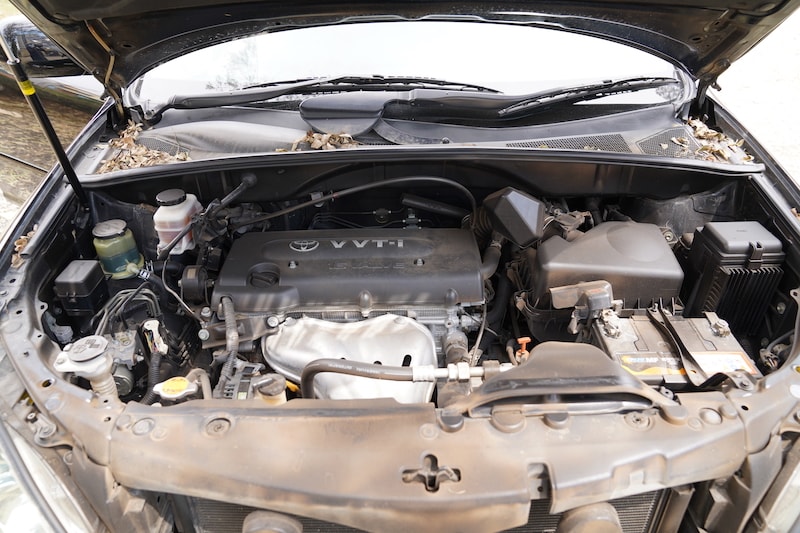 Spare Parts Availability, Cost & Where to buy
The Harrier shares many parts with other Toyotas such as the RAV4, Crown, Vellfire and the Prado. The parts are well priced and available in major towns across the country. However, suspension parts for the AIRS model are expensive and hard to get. Electronic components for the Hybrid model are also expensive and not readily available in the market. For a list of Toyota Harrier Spare Part dealers in Kenya, follow this link
2010 Toyota Harrier Reliability
The driving conditions in Kenya are significantly different from those in Japan and Europe. Reviews done for those markets largely do not apply to the Kenyan market. There are differences in roads, fuel, climate, spares, and technical expertise. To give you accurate and reliable local insights, we interview experts such as mechanics and car dealers, who have in-depth knowledge of the Kenyan market. We also test the cars ourselves. Our aim is to give you the right information to enable you make an informed decision when buying a car.
The Toyota Harrier has a solid reputation for reliability and durability. However as with most modern cars, the introduction of new technologies worries many buyers. To some extent, the Harrier has been affected by this but not in a significant way. In fact on the contrary, it is now much more safer, efficient, and powerful than before. For this review, we interviewed Toyota mechanics and also pored over hundreds of maintenance records to dig out information. Below is what we found out.
The 250G, 300G and 350G are most reliable and suffer from few problems. Be on the look out for transmission failure and engine knock problems as this are most reported. However, with proper maintenance and regular service this should not be a concern.
The AIRS models have an air suspension that is expensive and complex to maintain. For these the advice is buy low mileage with a good maintenance history. The air suspension can be a major headache when it fails.
Toyota Harrier Hybrid – See below
Toyota Harrier Hybrid Reliability
The Harrier Hybrid shares many components with the standard Harrier and therefore most issues are common across the board. However, the Hybrid has additional components such an electric motor, battery packs and sensors. It is a complex system that requires a specialized skill to repair. For the most part, the hybrid system works without problems and no additional maintenance is required. The Harrier Hybrid is reliable when well maintained as per the Owner's Manual. However, poor maintenance can lead to some costly problems. When buying a used Harrier Hybrid, make sure its well maintained and low mileage. Otherwise, there is no major concern that should stop you from buying one.
Difference Between Toyota Harrier and Lexus RX
The Lexus RX engine options start from 3.0 Litre while the Harrier starts from 2.4 Litre
The Lexus RX is heavier and taller than the Harrier
From 2008 onwards, the Lexus RX and the Toyota Harrier do not share generations. Therefore the 2010 Toyota Harrier and 2010 Lexus RX are of different generations and not similar.
The Lexus RX is better equipped.
The Lexus RX is luxury grade while the Harrier has both basic and luxury grades.
Resale Value: Very Good
Toyota Harrier Competitors: Nissan Murano, Mitsubishi Outlander, BMW X5, Mercedes M Class and VW Touareg. Toyota Vanguard
Cost of Ownership
Purchase Price: From Ksh.1,400,000
Comprehensive Insurance: Average Ksh. 60,000/ per annum- Or
3rd Party Insurance: Ksh. 7,000/- per annum
Change of Tyres(If neccessary) Ksh. 60,000/- for 4 Tyres
See Latest Toyota Harrier Prices
What we like about the 2010 Toyota Harrier
1. Eye turning design
2. Cheaper to maintain than its competitors
3. Excellent engine options
What we don't
1. Lack of a 7 seat capacity
Conclusion
The Toyota Harrier is an excellent family car that is ideal for people that value comfort and safety.
---
If you have a question about this model or any other automotive questions, you can now get answers on our forum.
If you want to sell or trade-in you vehicle, you can list it for free via our seller portal.
If you wish to purchase this model local or abroad, you can do that via our marketplace.
You can get more about this
Toyota Harrier