2014 Range Rover Review
The Range Rover is a premium SUV that inhabits the pinnacle of luxury and a preeminent symbol of affluence around the world. A distinction it has held for the last 50 years and doesn't look to relinquish any time soon. In Kenya, it's favoured by the old money and the wealthy patriarchy, more so for its legendary safety than its luxury. The political class largely avoid it preferring the Toyota Land Cruiser and its lesser brother, the Toyota Prado.
You can get more about this
Land-rover Range-rover
Detailed Review
The Range Rover is a five seater luxury SUV that has been in production for four generations starting from 1969 to present. The first generation was in production from 1969 to 1996, the second generation was in production from 1994 to 2002, the third generation was in production from 2002 to 2012 and the fourth generation has been in production from 2012 to present.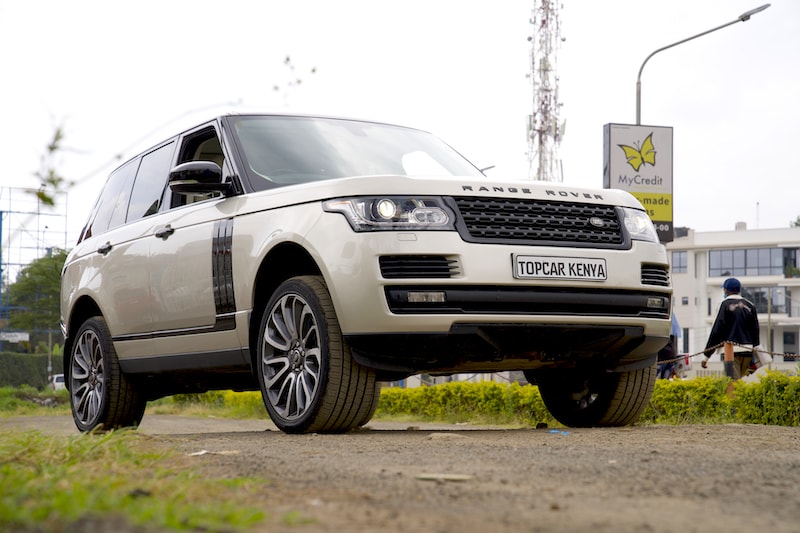 A hybrid version was launched in 2013 that combines Land Rover's popular 3-litre SDV6 diesel engine with a 35kW electric motor that can either drive alone in EV mode or boost acceleration for the diesel engine. In EV mode, the Hybrid can travel at speeds of up to 48km/h for a range of up to 1.6km before the diesel engine kicks in.
A long wheelbase version was launched in 2013 and it features all the Range Rover luxuries plus an extra 200mm length. This affords it greater legroom at the rear and the ability for the rear seats to move further back and recline to an almost flat position.
The 2014 Range Rover is offered with a choice of 4 engines. These are; a 3.0-Litre Supercharged V6 Petrol engine, a 3.0-Litre SDV6 Diesel Hybrid engine, a 4.4-Litre SDV8 Diesel engine and a range topping 5.0-Litre Supercharged V8 petrol engine. These are linked to an 8-speed ZF 8HP70 Automatic Transmission.
2014 Range Rover Grades
Range Rover Vogue – This is the entry level grade that comes with 20-Inch alloy rims, Terrain Response system, air suspension, full matrix LED headlights, panoramic glass roof, auto lights and wipers, heated steering wheel, full leather seats, hands-free split powered tailgate, centre armrest cooler and WiFI hotspot.
Range Rover Vogue SE – This adds 21-Inch alloy rims, soft-close doors, LED ambient lighting, 360-degree parking cameras, automatic climate control, Meridian sound system, heated/cooled electric seats and Aniline leather.
Range Rover Autobiography – This is the top of the range grade that comes in either Standard Wheelbase(SWB) or Long Wheelbase(LWB). It adds luxuries such as heated seats, fine leather, wood steering wheel and large alloy rims.
2014 Range Rover Interior
The Range Rover is a supremely luxurious SUV that is unmatched by its competitors. The level of craftsmanship and attention to detail is extraordinary and reminiscent of the quality in the Mercedes S Class. The interior space is cavernous all round and passengers are treated to luxurious amenities. At the first row, the legroom is generous and the seats can adjust to fit any desired position. At the second row, the legroom is executive with split seats that can independently recline.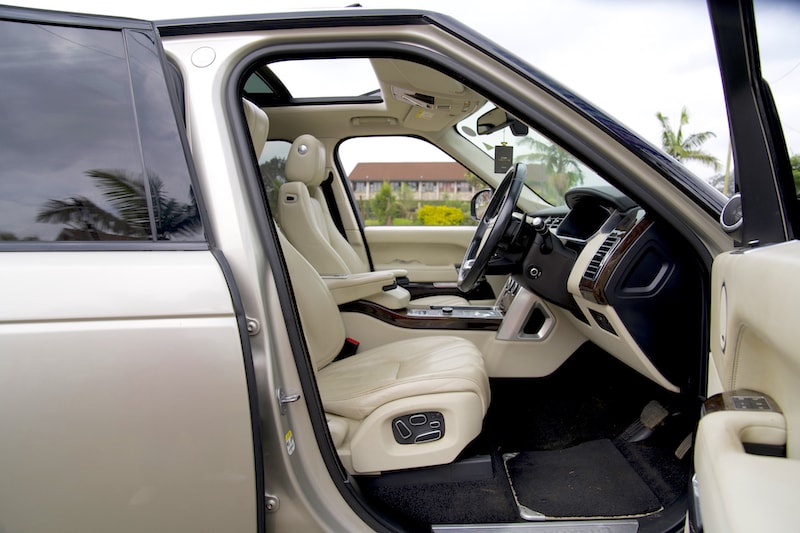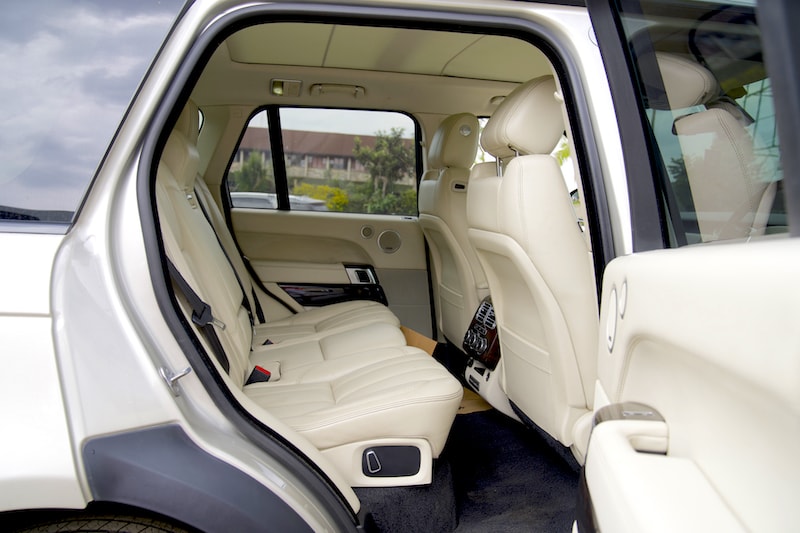 2014 Range Rover Exterior
On the outside, the Range Rover is imposing and regal. It commands respect everywhere it goes, gates will be opened without questions and parking spaces will become available. The front is aerodynamic with smooth headlights and the unmistakable vents on the sides. The rear is angular and sporty with a split tailgate that doubles up as a bench.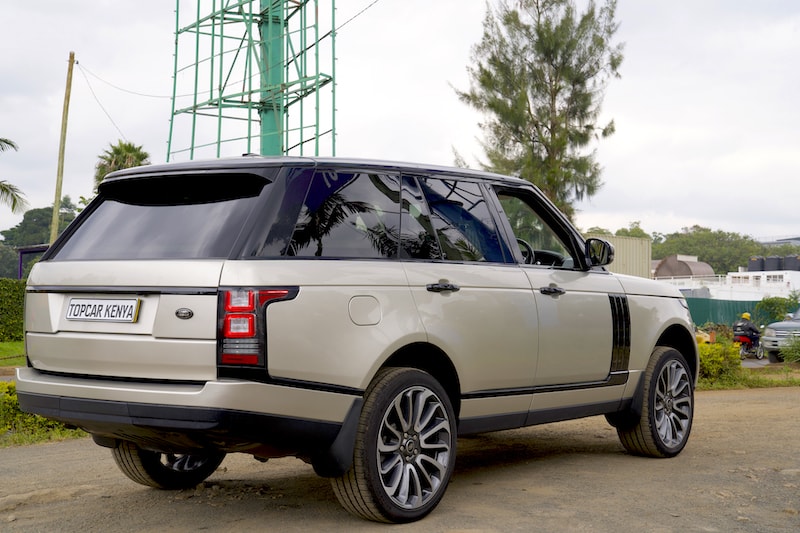 Cabin Storage
There are several storage compartments in the cabin that are useful for storing items such as smartphones, beverages, goggles, handbags etc. At the first row there are 4 cup-holders, door panel storage, a glovebox and the center-box. For the second row, there are 4 cupholders, front seat jacket pockets and door pockets.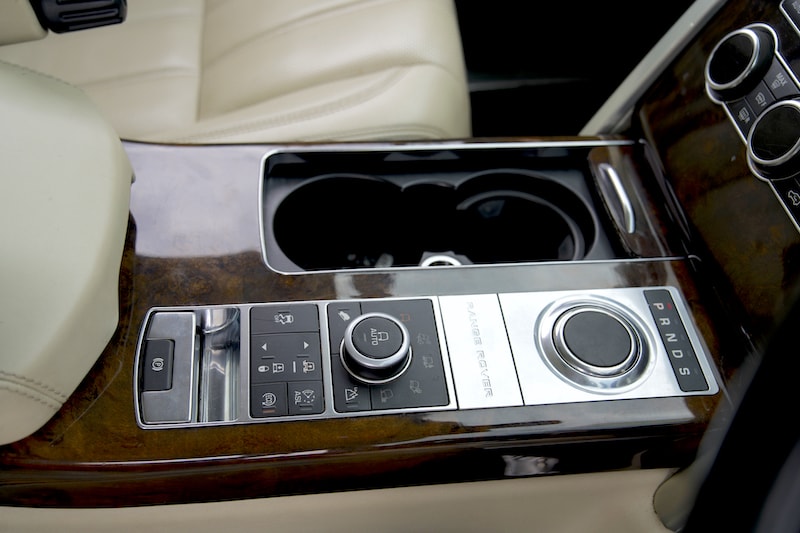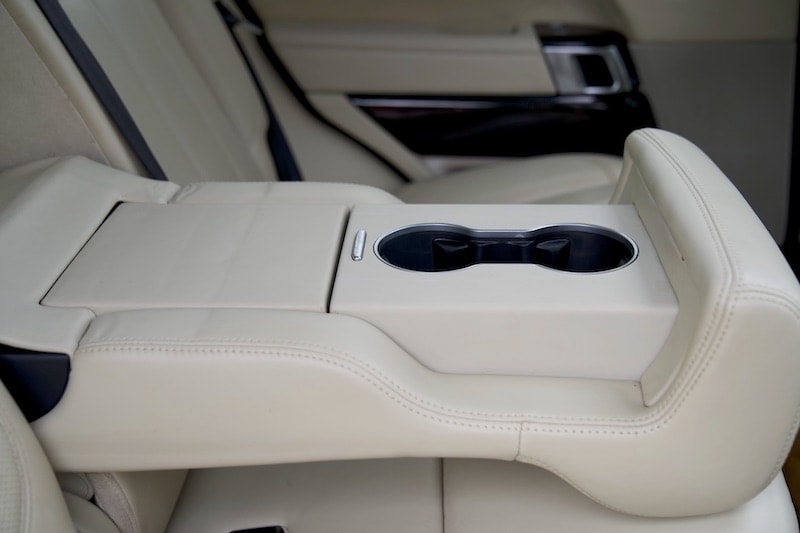 2014 Range Rover Boot Space
The boot is huge and ideal for family travels. It can sufficiently carry luggage for a family of five with room to spare. When extra space is required, the rear seats can be electrically folded into the floor.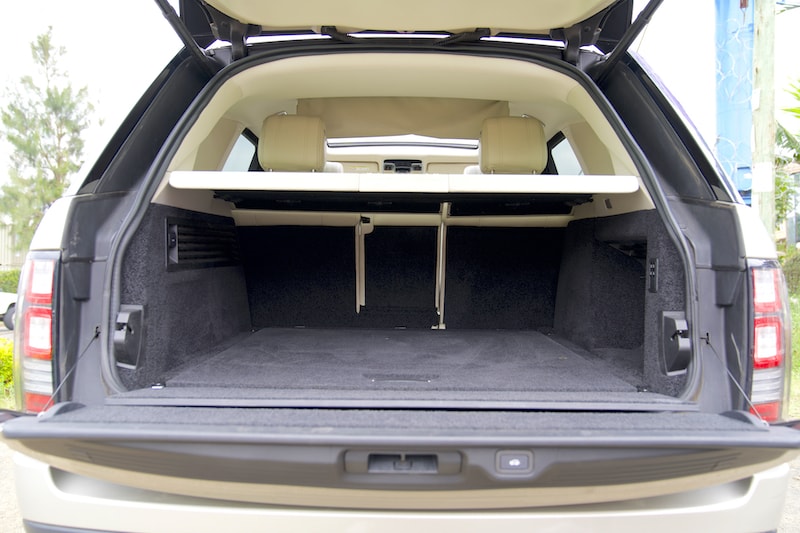 Extras: USB charging ports, heads-up display, panoramic sunroof, heated seats, cooler compartment, powered tailgate, soft close doors, LCD Touchscreens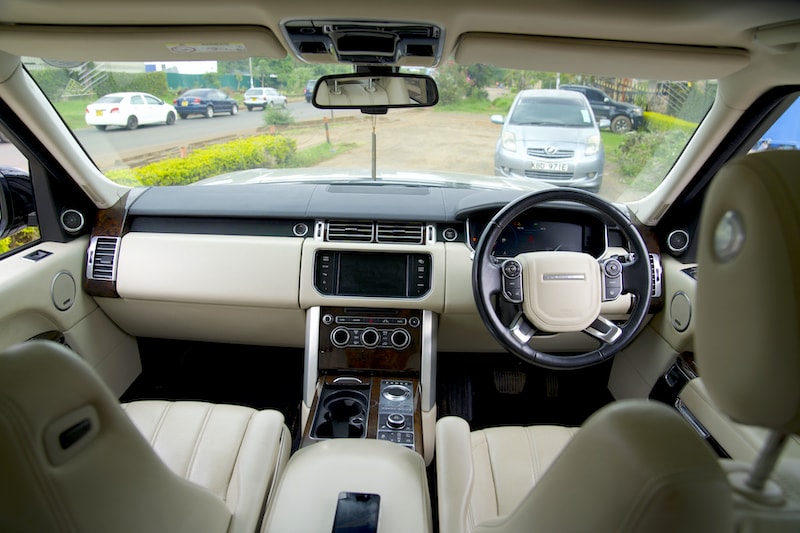 Safety Features: SRS Airbags, Curtain airbags, Adaptive Dynamics with Continuously Variable Dampers(CVD), Dynamic Stability Control(DSC), ABS, EBD, Emergency Brake Lights(EBL), Emergency Brake Assist(ABA), Corner Brake Control(CBC), Roll Stability Control(RSC), Electronic Traction Control(ETC), Trailer Stability Assist(TSA), Hill Descent Control(HDC), Gradient Release Control(DRC), Hill Start Assist(HSA), Engine Drag torque Control(EDC), Torque Vectoring, Adaptive Cruise Control(ACC), Blind Spot Monitoring, Pedestrian Warning, Closing Vehicle Sensing, Frontal Collision Warning, Automatic High Beam, and Wade Sensing
2014 Range Rover Fuel Consumption
2014 Range Rover Acceleration
2013 Range Rover 3.0L V6 Supercharged petrol accelerates from 0-100 Km/h in 7.2
2014 Range Rover 3.0L SDV6 Diesel accelerates from 0-100 km/h in 7.5 sec.
2014 Range Rover 4.4L SDV8 Diesel accelerates from 0-100 km/h in 6.6 sec.
2014 Range Rover 5.0L V8 Supercharged Petrol accelerates from 0-100 km/h in 5.2 sec.
2014 Range Rover Fuel Tank Capacity: 125 Litres
2014 Range Rover Stability and Handling
Much as the Range Rover looks big and bulky, it's actually responsive and moves fluidly like a sports car. On the open road, it drives smoothly and is as quiet as the S Class. Around corners, the air suspension does its job perfectly and the big SUV feels as stable as a limousine. In tight urban spaces, it can get difficult to park but a host of sensors gets the job done.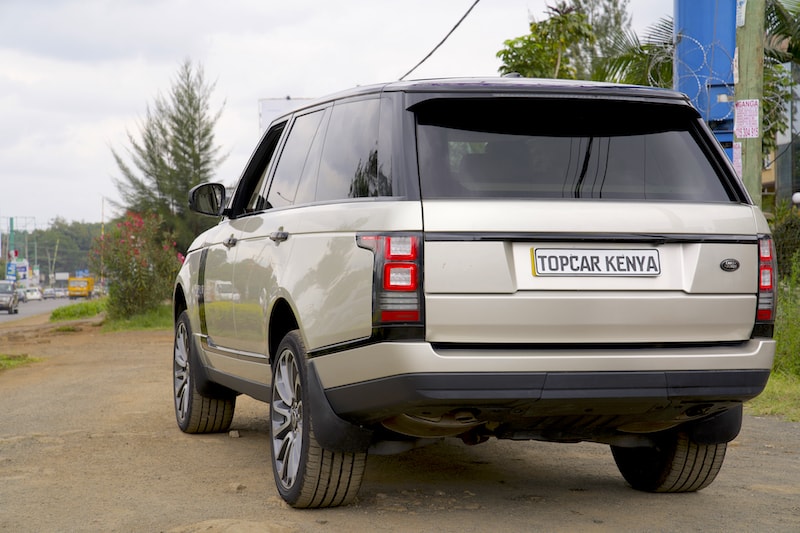 2014 Range Rover Service Intervals
Minor Service: At 10,000 km. Requires Air Cleaner, Oil Filter, and Engine Oil
Major Service: At 15,000km. Requires Air Cleaner, Oil Filter, Fuel Filter, ATF Filter, Cabin Filter, Plugs, Front Brake Pads, Rear Brake Pads, ATF Oil, and Engine Oil
Range Rover Maintenance Costs: Spare Parts Availability, Cost & Where to buy
The Range Rover is one of the most expensive cars to keep on the road and it drinks fuel with reckless abandon. It demands the most meticulous maintenance procedures and it gets more expensive to maintain with age.
Range Rover spare parts are not cheap and costs can be as high as the price of buying a small car. Service Parts are shared with the Range Rover Sport and are available in dealerships like RMA and CMC. Body parts can be difficult to find locally and sometimes the best option is to import from the UK. For Range Rover Spare Part dealers in Kenya, click this link.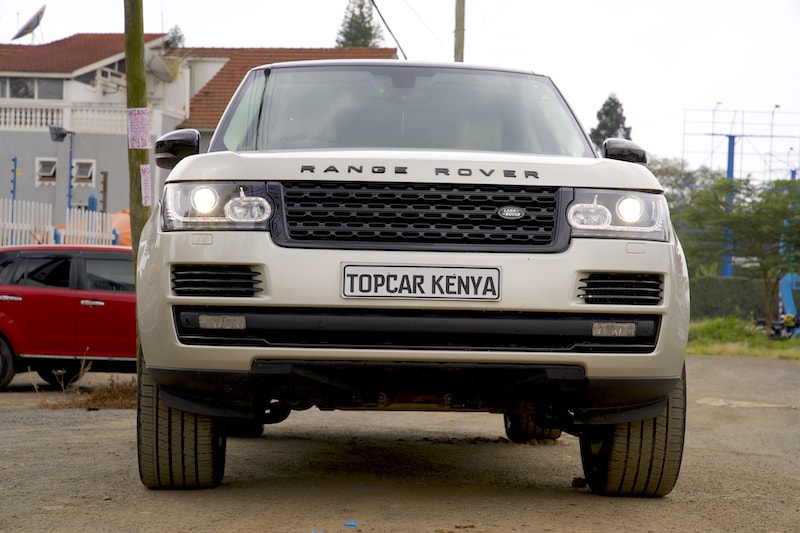 2014 Range Rover Reliability
The Range Rover is as reliable as the maintenance it gets. The quality of maintenance determines its long-term reliability and it's therefore important to get this done as specified by the manufacturer. Of course with age and mileage, problems start to develop and its advisable to buy it at low mileage.
The most commonly reported Range Rover problems are;
1. Air suspension problems
2. Electrical and sensor problems
3. Engine Warning Vehicle going into limp mode
If you are planning to own the 2014 Range Rover, it's vital that you read the Owner's Manual. If you need the manual, you can request it from us via [email protected]
Resale Value: Average
2014 Range Rover Competitors: Bentley Bentayga, Toyota Land Cruiser, BMW X5, Mercedes GLS, Audi Q7, Volvo CX90
Cost of Ownership
Purchase Price: from Ksh. 12,000,000
Comprehensive Insurance: Average Ksh. 480,000/ per annum- Or
3rd Party Insurance: Ksh. 7,000/- per annum
Change of Tyres(If neccessary) Ksh. 200,000/- for 4 Tyres
See Latest Range Rover Prices in Kenya
What we like about the 2014 Range Rover
1. Premium quality
2. Spacious
3. Off road capability
What we don't
Expensive to maintain
Conclusion
The Range Rover is by far the most dominant SUV in the market today and it packs a heavy punch in terms of luxury, performance and off road capability.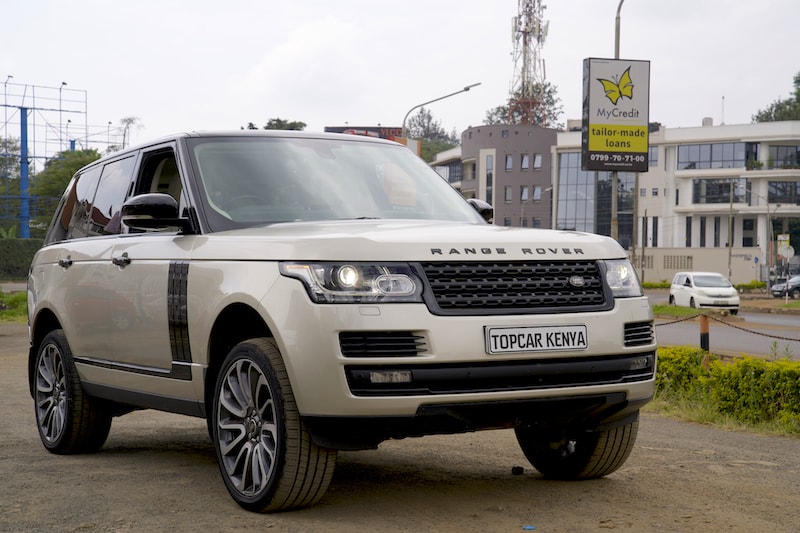 Where to Buy the 2014 Range Rover in Kenya
If you are looking to either import or buy the Range Rover in Kenya, we can help you with this process. Over the years, we have developed a network of trusted dealers both in Kenya and UK who supply us with exceptional cars. Simply call us or send us a message through our contacts below and we'll get you the right car at the right price.
---
If you have a question about this model or any other automotive questions, you can now get answers on our forum.
If you want to sell or trade-in you vehicle, you can list it for free via our seller portal.
If you wish to purchase this model local or abroad, you can do that via our marketplace.
You can get more about this
Land-rover Range-rover