2015 Toyota RAV4 Review
The Toyota RAV is one of the most common SUVs in the market despite not leveling up to the quality of its competitors such as the Honda CR-V, Mazda CX-5, Nissan X-Trail, Subaru Forester, VW Tiguan, and Mitsubishi Outlander. The RAV4 has however improved its interior space and driving dynamics.
You can get more about this
Toyota Rav4
Detailed Review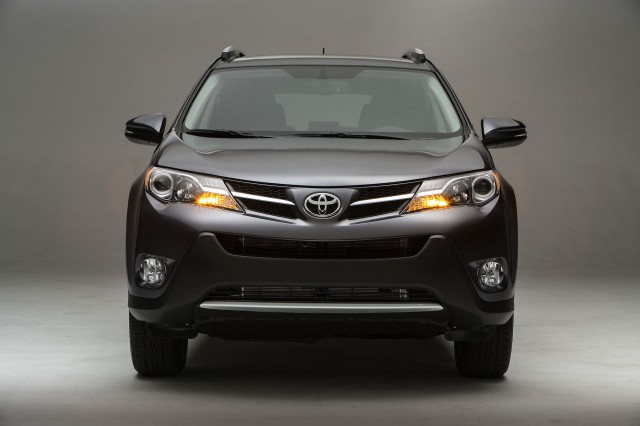 The RAV4 has been in production for five generations since 1994. The First generation known as the XA10 was in production from 1994 to 2000; the second generation known as XA20 was in production from 2000 to 2005; the third generation known as the XA30 was in production from 2005 to 2012; the fourth generation known as the XA40 was in production from 2012 to 2018; the fifth-generation known as the XA50 has been in production from 2018 to Present.
The 2015 RAV4 is offered in 3 engine options namely a 2.0-Litre 3ZR petrol engine, a 2.2-Litre 2AD turbo diesel engine, and a 2.5-Litre 2AR petrol engine.
Toyota RAV4 Grades
Toyota RAV4 GX – This is the base package that comes with 17-Inch steel rims, steering audio controls, rear parking sensors, cruise control, projector headlights, cloth upholstery, Bluetooth connectivity, roof rails, and cargo net
Toyota RAV4 GXL – This adds 17-Inch alloy rims, reversing camera, display audio system, dual-zone climate, rain sensors, electric mirrors, keyless entry, push-to-start, and sports seats.
Toyota RAV4 Cruiser – This is a luxury grade that adds leather accented seats, satellite navigation, blind-spot monitoring, electric tailgate, HID headlights, eight-way powered driver's seat, and electric moon roof.
Interior Legroom & Space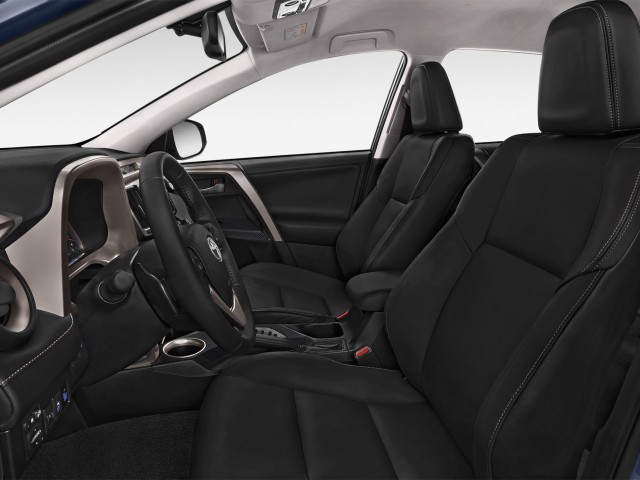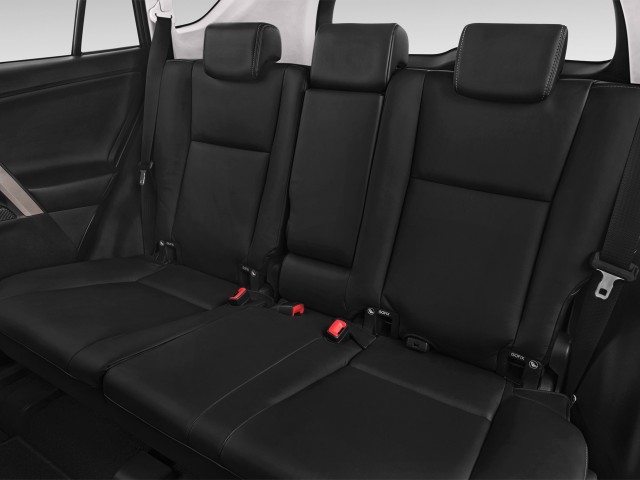 The 2015 Toyota RAV4's interior style is comparable to that of the current Camry and Avalon. Pronounced angles and lines form a sleek and modern-looking dashboard. The cabin is larger than the previous model since the spare wheel was removed from the tailgate and mounted under the boot. The first row's legroom is generous and pleasant. Similarly, the second row is roomy, with lots of legroom and headroom. It's simple to find a comfortable driving posture in the front, but lumbar support is only available on higher-spec RAV4 models. High-spec Design versions come with black leather and alcantara upholstery, while the top-spec Excel trim comes with even softer leather and power adjustable front seats with driver memory.
Cabin Storage
For the first row, there are 4-cup holders, side pockets, a center box & glove box. For second-row seats, there are 2-cup holders with the middle seat folded and pocket storage on the front seats
Safety Features
Standard safety features in the 2015 RAV4 include antilock disc brakes, a rearview camera, stability control, traction control, whiplash-reducing front head restraints, front-seat side airbags, and full-length side curtain airbags.
Boot Space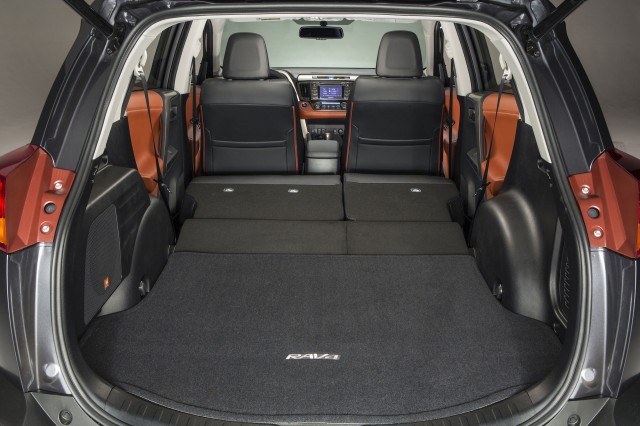 The 2015 RAV4 is one of the SUVs that have large cargo space. With the seats up it has 38.4 cu. ft. of room, and if you fold the seats down it has 73.4 cu. ft. It is enough room to fit a family of four and all their luggage into the vehicle.
Exterior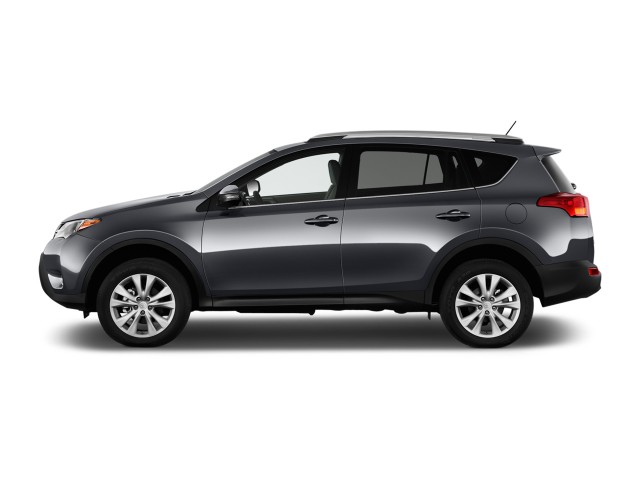 The exterior style of the 2015 RAV4 is based on Toyota's best-looking crossover, the Venza. The RAV4's front end has a prominent underbite, with sharp angles and crisp fender lines. The shoulder lines appear muscular due to the anticipated back uplift. A Scion xD's taillights are pointed and set high. The base model has steel rims and no fog lights, whereas the higher grades include alloy rims, roof rails, and fog lights.
Fuel Consumption
The 2015 RAV4 has an average fuel economy of 10L/100KM
Fuel Tank Capacity
60 Litres
Stability and Handling
The new RAV4 is far quicker and more responsive than its predecessor, with a crisp throttle that provides rapid acceleration. Additionally, the ride is more compliant and smooth, and the cabin is quiet enough to keep conversations heard at higher speeds.
What We Like About the 2015 RAV4
The 2015 RAV4 offers excellent technology across all models. It has above-average reliability ratings. The RAV4 has class-leading cargo space.
What We Don't Like
Interior material quality is below average. It has a noisier cabin than previous models.
Conclusion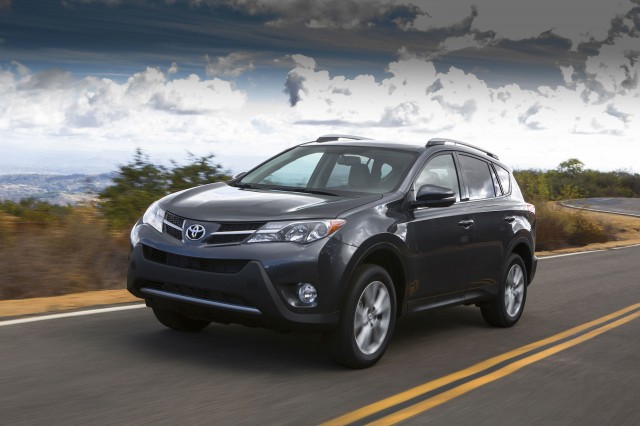 The 2015 Toyota RAV4 is a respectable SUV. It is one of the most reliable vehicles in its class and features superior standard safety technology. Where it falls short is in its monotonous driving experience. Additionally, the cabin is noisier than it was in previous years. Overall, the RAV4 is a fascinating compact SUV and an excellent option if you are looking for a durable vehicle.
---
If you have a question about this model or any other automotive questions, you can now get answers on our forum.
If you want to sell or trade-in you vehicle, you can list it for free via our seller portal.
If you wish to purchase this model local or abroad, you can do that via our marketplace.
You can get more about this
Toyota Rav4