2016 Toyota RAV4 Review
Despite not matching the quality of its competitors such as the Honda CR-V, Mazda CX-5, Nissan X-Trail, Subaru Forester, VW Tiguan, and Mitsubishi Outlander, the Toyota RAV4 is one of the most popular SUVs on the market. The RAV4 has however improved its interior space and driving dynamics.
You can get more about this
Toyota Rav4
Detailed Review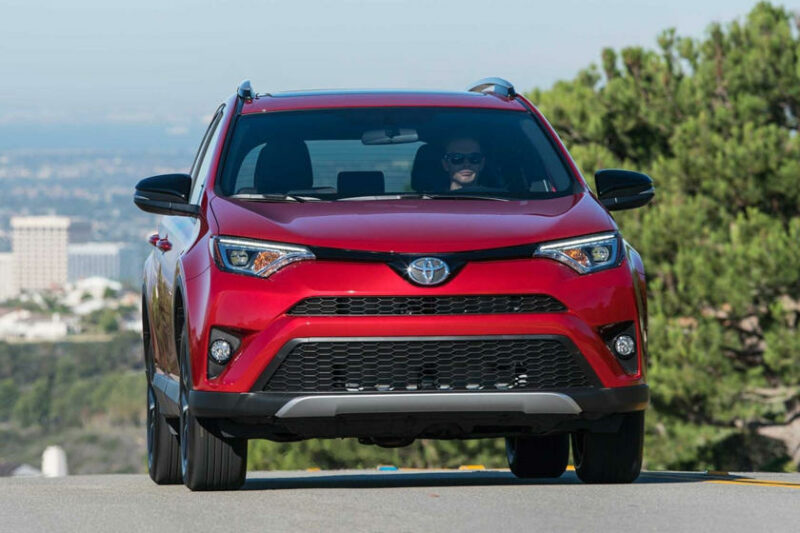 The RAV4 has been in production for five generations since its debut in 1994. The First generation known as the XA10 was in production from 1994 to 2000. The second generation known as XA20 was in production from 2000 to 2005; the third generation known as the XA30 was in production from 2005 to 2012; the fourth generation known as the XA40 was in production from 2012 to 2018; the fifth-generation known as the XA50 has been in production from 2018 to Present.
The 2015 RAV4 is offered in 3 engine options namely a 2.0-Litre 3ZR petrol engine, a 2.2-Litre 2AD turbo diesel engine, and a 2.5-Litre 2AR petrol engine.
Toyota RAV4 Grades
Toyota RAV4 LE – This is the base package that comes with 17-Inch steel rims, steering audio controls, rear parking sensors, cruise control, projector headlights, cloth upholstery, Bluetooth connectivity, roof rails and cargo net
Toyota RAV4 XLE – This adds 17-Inch alloy rims, foglights, heated mirrors, a sunroof, a height-adjustable power liftgate, dual-zone automatic climate control, and more aggressively bolstered front seats, and a leather-wrapped steering wheel.
Toyota RAV4 Limited – This is a luxury grade that adds 18-inch wheels and exterior trim, an auto-dimming rearview mirror, the Toyota Safety Sense package, adaptive cruise control, a 7-inch higher-resolution touchscreen, and a navigation system, and smartphone app integration.
 Toyota RAV4 SE- This trim adds 8-inch wheels, LED exterior lighting, keyless ignition and entry; heated front seats; an eight-way power driver seat, driver memory settings; synthetic leather upholstery, and steering wheel paddle shifters, a blind-spot warning system and rear cross-traffic alert.
Interior Legroom & Space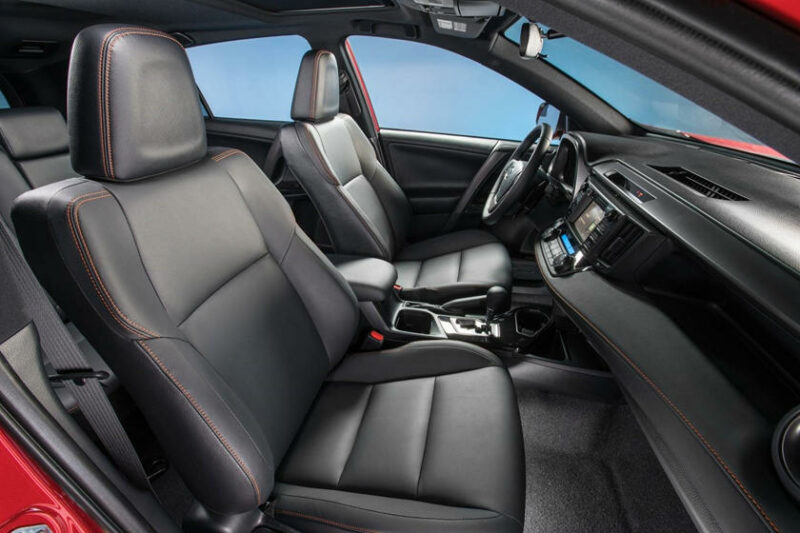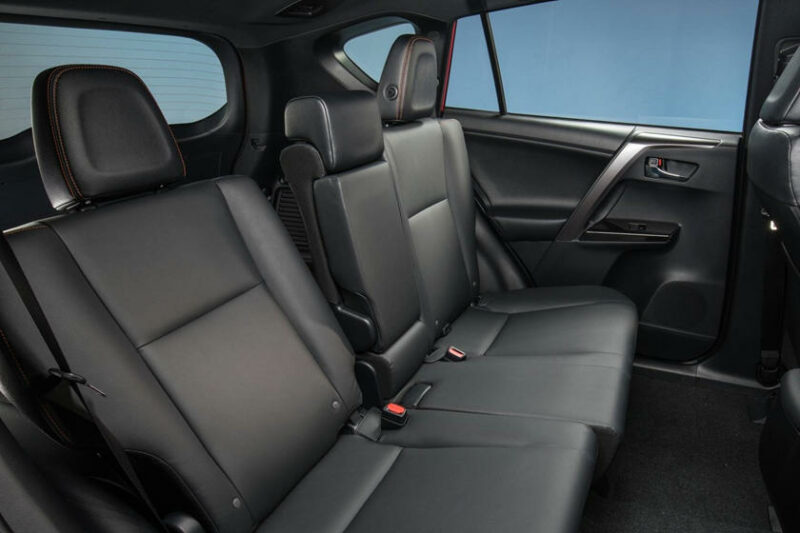 The interior dashboard continues to appear cluttered, but Toyota has updated some of the materials and added more storage compartments. The modifications are gradual, and while the materials are improved, what looks to be two-tone, stitched, and padded upholstery on the upper trims in photographs is actually stamped and molded like the more basic plastics on the lower trimmings.
The first row's legroom is generous and pleasant. Similarly, the second row is roomy, with lots of legroom and headroom. It's simple to find a comfortable driving posture in the front, but lumbar support is only available on higher-spec RAV4 models
Cabin Storage
For the first row, there are 4-cup holders, side pockets, a center box & glove box. For second-row seats, there are 2-cup holders with the middle seat folded and pocket storage on the front seats
Safety Features
Standard safety features in the 2016 RAV4 include antilock disc brakes, a rearview camera, stability control, traction control, whiplash-reducing front head restraints, front-seat side airbags, and full-length side curtain airbags.
Boot Space
The 2016 RAV4 is one of the SUVs that have large cargo space. With the seats up it has 38.4 cu. ft. of room, and if you fold the seats down it has 73.4 cu. ft. It is enough room to fit a family of four and all their luggage into the vehicle.
Exterior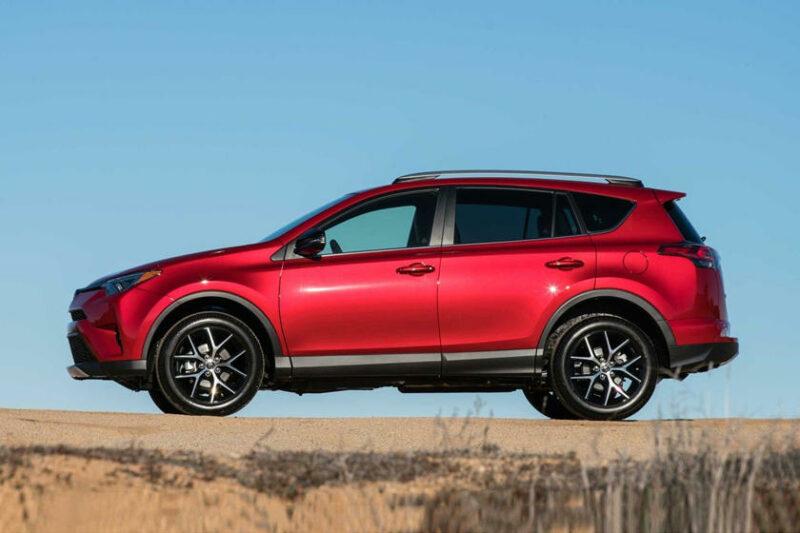 The 2016 Toyota RAV4 receives a slight stylistic update,but its square crossover utility vehicle design remains recognizable after two decades. The front fascia has been redesigned to be even more angular, and various interior trim fittings and features have been improved.
The general profile of the RAV4 is comparable to those of its rivals, including the Ford Escape, Hyundai Santa Fe, and even the sportier Mazda CX-5. The front end shares emerging design aspects with Toyota's most recent passenger cars, but the rear end remains upright and bulky, with distinctive taillights that protrude from the body. The back has been slightly modified, and the bumper has been updated, although only enthusiasts are likely to notice the difference.
Fuel Consumption
The 2016 RAV4 has an average fuel consumption of 10L/100Km
Fuel Tank Capacity
60 Litres
Ground Clearance
6.3 inches.
Stability and Handling
When cruising around town, an efficient transmission will often change to a higher gear as soon as possible. In Sport mode, the transmission smooths out downshifts by briefly blipping the throttle, so responses are a little bit crisper. The paddle shifters on the SE variant seem mainly to highlight the very flat engine power delivery. The RAV4 is responsive on the road, but it's much less athletic than a Mazda CX-5.
Toyota RAV4 Maintenance
Minor Service- At 10,000 km. Requires Air Cleaner, Oil Filter, and Engine Oil
Major Service – At 15,000km. Requires Air Cleaner, Oil Filter, Fuel Filter, ATF Filter, Cabin Filter, Plugs, Front Brake Pads, Rear Brake Pads, ATF Oil, and Engine Oil
Toyota RAV4 Spare Parts Availability, Cost &Where to buy
The Toyota RAV4 Spare Parts are easily available in Kenya, especially service and suspension parts. For body parts, it's a mixed bag as some such as headlamps can be hard to find. The price for service and suspension parts is affordable. Body parts can get expensive depending on the part and its availability. Click here for a list of Toyota RAV4 Spares in Kenya
Resale Value: Good
Toyota RAV4 Competitors: Honda CR-V, Mazda CX-5, Nissan X-Trail, Subaru Forester, VW Tiguan and Mitsubishi Outlander.
Cost of Ownership
Purchase Price: From Ksh. 3,300,000
See Latest Toyota RAV4 Prices Here
What we like about the 2016 Toyota RAV4
1. Good fuel economy
2. Affordable to maintain and easily available spares
3. Good resale value
Conclusion
The 2016 Toyota RAV4 is a respectable SUV. It is one of the most reliable vehicles in its class and features superior standard safety technology. The RAV is neither the smoothest nor the sportiest car in its class, but it's highly competent, very practical, and living with it is easy.
Where to Buy the 2016 Toyota RAV4 in Kenya
If you are looking to either import or buy the Toyota RAV4 in Kenya, we can help you with this process. Over the years, we have developed a network of trusted dealers both in Kenya and UK who supply us with exceptional cars. Simply call us or send us a message through our contacts below and we'll get you the right car at the right price.
---
If you have a question about this model or any other automotive questions, you can now get answers on our forum.
If you want to sell or trade-in you vehicle, you can list it for free via our seller portal.
If you wish to purchase this model local or abroad, you can do that via our marketplace.
You can get more about this
Toyota Rav4