A smaller predecessor to the Suzuki SX4, the Suzuki Aerio was designed to be a worthy competitor to the Toyota Corolla but it failed to capture international attention despite its six years in the market. It came into production in 2001 combining a minivan and a hatchback design. It's available as a sedan and a 5-door hatchback wagon. There are several things that can be linked to the Aerio's short-lived run.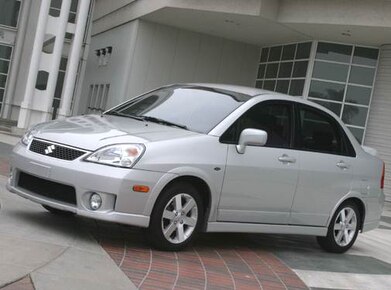 Thanks to the sedan-minivan combination, the Aerio boasts of a roomy cabin and a large boot space. If you can look past the subpar design, the Suzuki Aerio is a pretty good car for a small family.
Generations
First Generation (2001-2007)
Suzuki Aerio Maintenance Costs In Kenya
The Suzuki Aerio is a cheap car to maintain and its spare parts are affordable.
Suzuki Aerio Reliability In Kenya
Some of the common complaints about the car include;
Suspension problems
Clutch failure
Gearbox problems
Suzuki Aerio Alternatives you can buy in Kenya: Toyota Allion, Toyota Premio, Nissan Sylphy,Subaru Impreza, Mazda Axela,VW Golf
Price of the Suzuki Aerio in Kenya and where to buy it: https://cars.topcar.co.ke/vehicles/suzuki
Import the Suzuki Aerio in Kenya: https://topcar.co.ke/import-your-car/
Trade in or Sell Your Car
If you currently own a car that you want to sell or trade-in, we can help you to;
1. Sell it quickly and conveniently to thousands of buyers on our website.
2. Trade-it in for a new one. We work with trusted dealers and you get the car of your choice.
3. Get financing and hire purchase terms on the car you choose.
Simply list your car on our website through this link and let us do the rest. You get these services for only Ksh. 500.
Related Cars for Sale on Topcar
---
Categories:
Cars in Kenya