A smaller predecessor to the Suzuki SX4, the Suzuki Aerio was designed to be a worthy competitor to the Toyota Corolla but it failed to capture international attention despite its six years in the market. It came into production in 2001 combining a minivan and a hatchback design. It's available as a sedan and a 5-door hatchback wagon. There are several things that can be linked to the Aerio's short-lived run.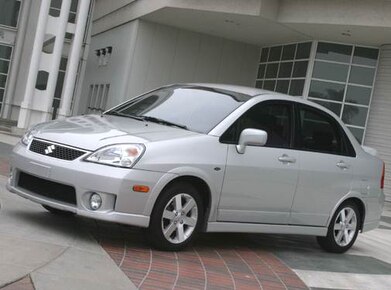 Thanks to the sedan-minivan combination, the Aerio boasts of a roomy cabin and a large boot space. If you can look past the subpar design, the Suzuki Aerio is a pretty good car for a small family.
Generations
First Generation (2001-2007)
Suzuki Aerio Maintenance Costs In Kenya
The Suzuki Aerio is a cheap car to maintain and its spare parts are affordable.
Suzuki Aerio Reliability In Kenya
Some of the common complaints about the car include;
Suspension problems
Clutch failure
Gearbox problems
Suzuki Aerio Alternatives you can buy in Kenya: Toyota Allion, Toyota Premio, Nissan Sylphy,Subaru Impreza, Mazda Axela,VW Golf
Price of the Suzuki Aerio in Kenya and where to buy it: https://cars.topcar.co.ke/vehicles/suzuki
Import the Suzuki Aerio in Kenya: https://topcar.co.ke/import-your-car/
Categories:
Cars in Kenya