2014 Mercedes M-Class Review
The Mercedes M-Class is an imposing SUV that stands out in a crowded playing field that features heavyweights such as the VW Touareg, BMW X5, Audi Q7 and Porsche Cayenne. It leads in aspects such as comfort, safety and performance but lags in other aspects such off-road capability and 7-seater capacity.
Detailed Review
Mercedes ML 250 Review, Mercedes ML350 Review, Mercedes ML63 Review
The Mercedes M-Class is a seven seater luxury SUV that has been in production for four generations starting from 1997 to present. The first generation type W163 was in production from 1997 to 2015. The second generation type W164 was in production from 2006 to 2011. The third generation type W166 was in production from 2011 to 2019 and the fourth generation type W167 has been in production from 2019 to present.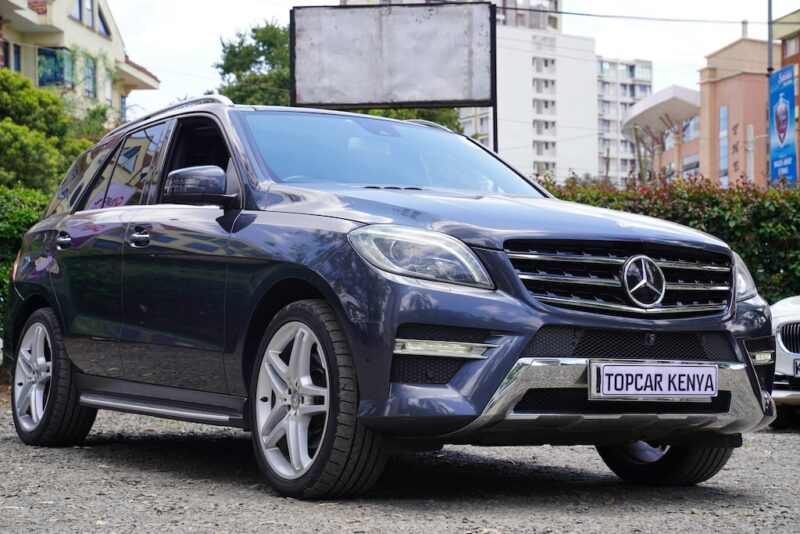 The 2014 Mercedes M-Class is offered with 3 engine options; a 2.1-Litre diesel engine, 3.0-Litre V6 diesel engine and a 5.5-Litre V8 petrol engine. These are linked to a 7G-Tronic Plus automatic transmission.
2014 Mercedes M-Class Grades – SE Executive and AMG Line
Mercedes ML250 CDI – This is the entry level grade that comes with the 2.1L diesel engine, 19-Inch alloy rims, HD satellite navigation, air suspension, cruise control, dual zone climate control and semi-leather upholstery.
Mercedes ML350 CDI – This adds the 3.0-L diesel engine, LED daytime running lights and pneumatic suspension.
Mercedes ML63 AMG – This is a top of the range AMG grade that adds sports accessories such as steering shifters, suspension, sports upholstery and AMG badging.
2014 Mercedes M-Class Interior
The Mercedes M-Class is spacious and comfortable with a luxurious cabin that is fit for loyalty with top quality finishing. The dashboard is neatly laid out and all the dials and buttons are easily accessible to the driver. The legroom is the best in its class. At the first row, the driver and passenger are afforded with excellent space and the seats are electrically adjustable. The rear seats come with adjustable headrests and are able to split one-third or two-thirds to give the maximum interior versatility.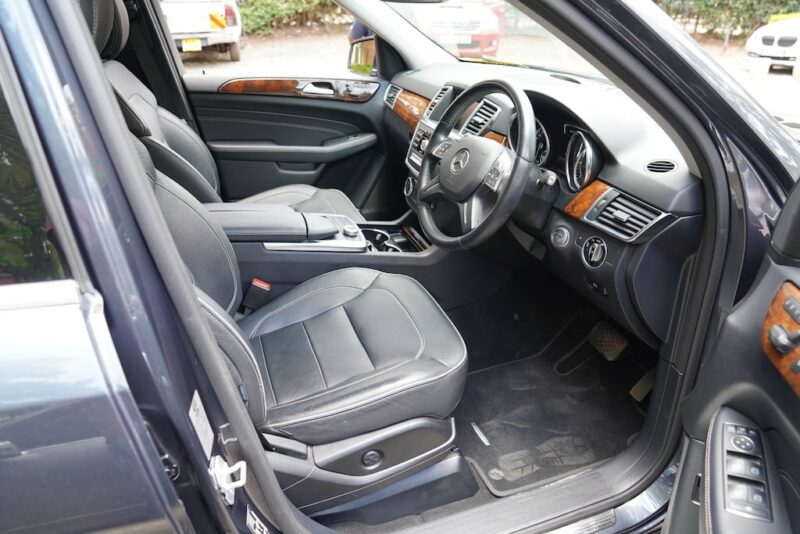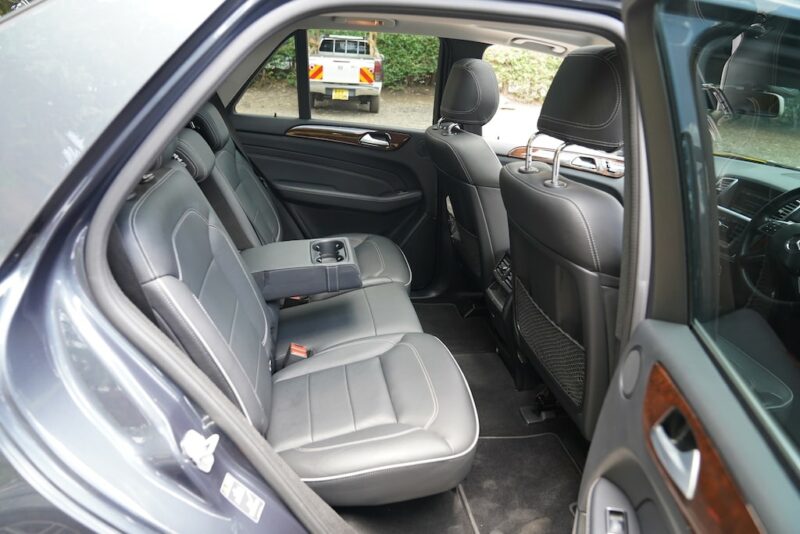 2014 Mercedes M-Class Exterior
The exterior is well crafted and as imposing as the larger GL Class. At the front the large grille is accentuated with modern headlights that come with daytime running lights. Towards the rear, it gets angular with a flat tailgate and chrome finishing. The exhaust assembly is neatly hidden from view.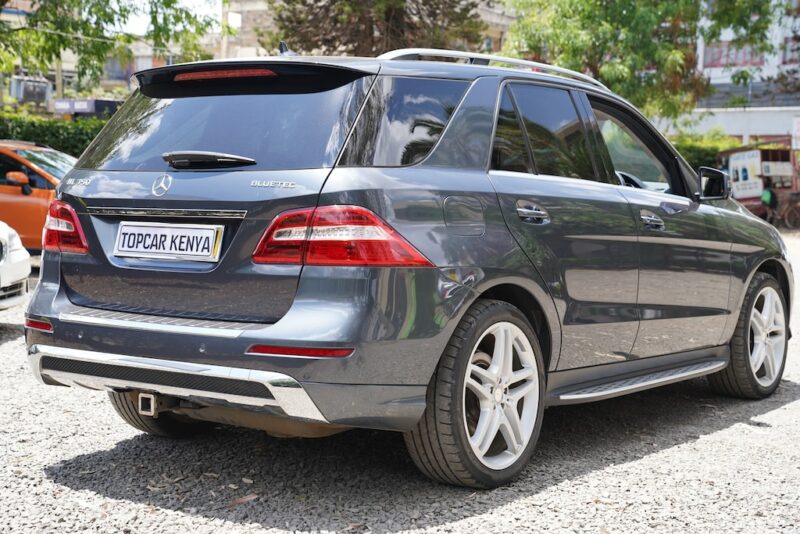 Cabin Storage
There are several storage compartments in the cabin that are useful for storing items such as smartphones, beverages, goggles, handbags etc. At the first row there are 4 cup-holders, door panel storage, a glovebox and the center-box. For the second row, there are 2 cupholders in the armrest compartment, front seat jacket pockets and door pockets.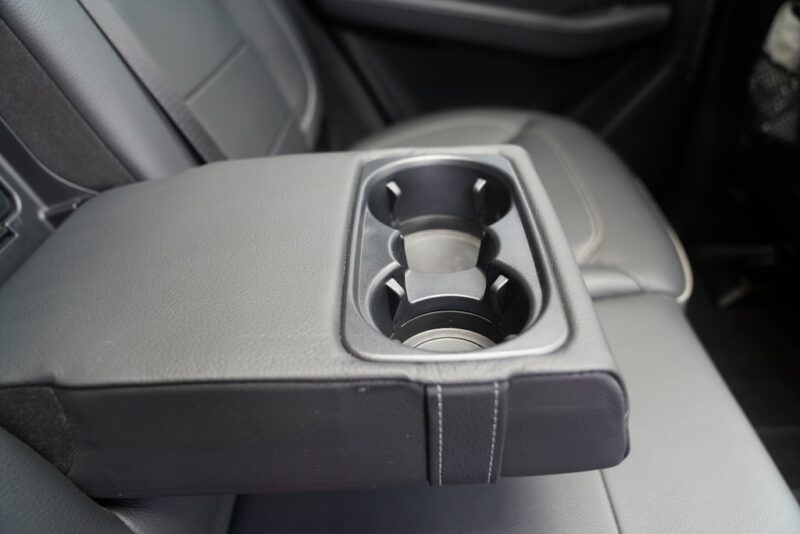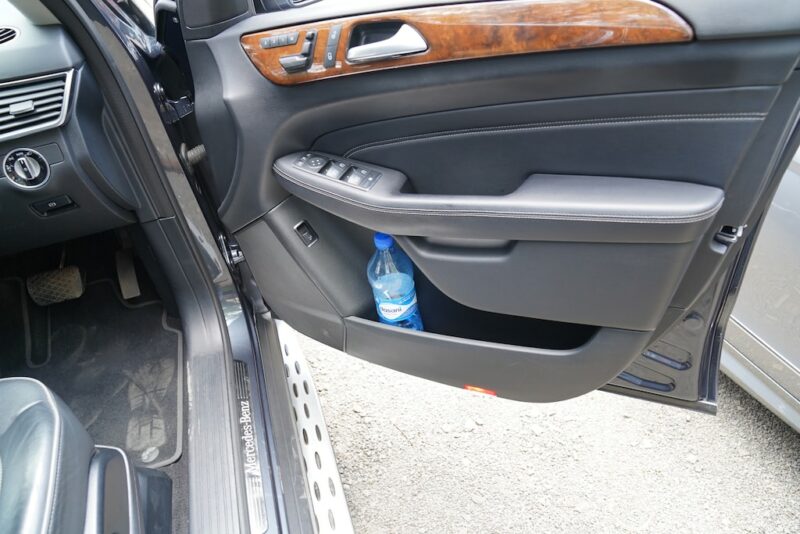 2014 Mercedes M-Class Boot Space
The boot is highly configurable and large enough to carry luggage for a family of 5. When extra space is required, the rear seats can be folded to free up 2,010 litres of boot space.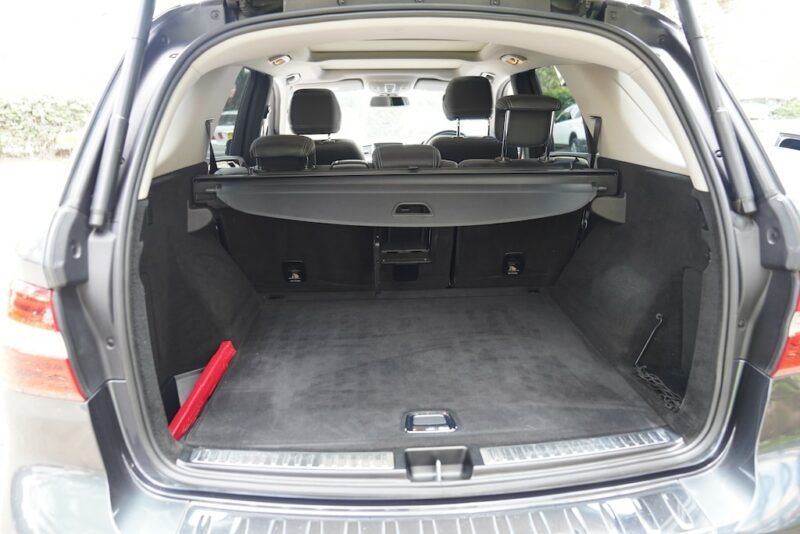 Extras: USB charging ports, panoramic sunroof, heated seats, powered tailgate, side steps, bluetooth connectivity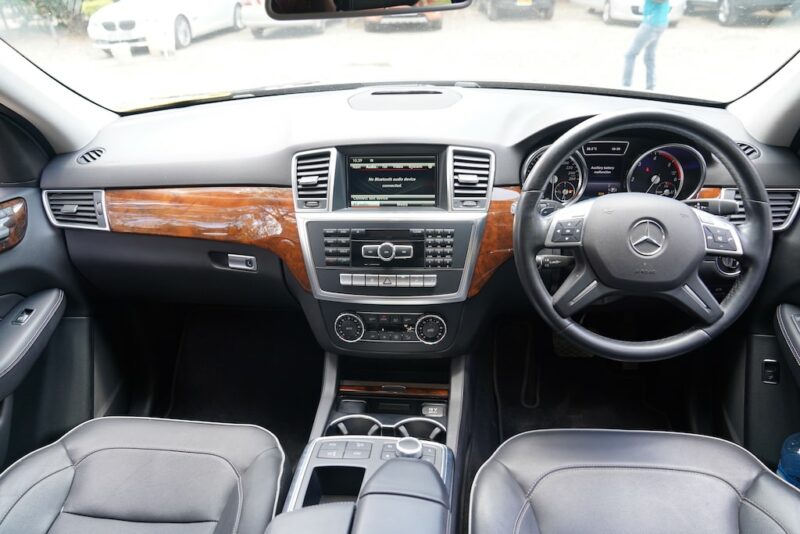 2014 Mercedes M-Class Safety Features: SRS Airbags, Curtain airbags, Adaptive Cruise Control, Active Lane Departure Warning System, Active Anti-roll Bars, Electronic Stability Programme, ABS, EBD, Brake Assist(BA)
2014 Mercedes M-Class Fuel Consumption
2014 Mercedes M-Class 2.1L Diesel fuel consumption: 19.38 Km/L
2014 Mercedes M-Class 3.0L Diesel fuel consumption: 16.66 Km/L
2014 Mercedes M-Class 5.5L Petrol fuel consumption: 10.16 Km/L
2014 Mercedes M-Class Acceleration
2014 Mercedes M-Class 2.1L Diesel accelerates from 0-100 km/h in 8.3 sec.
2014 Mercedes M-Class 3.0L Diesel accelerates from 0-100 km/h in 7.4 sec.
2014 Mercedes M-Class 5.5L Petrol accelerates from 0-100 km/h in 4.8 sec.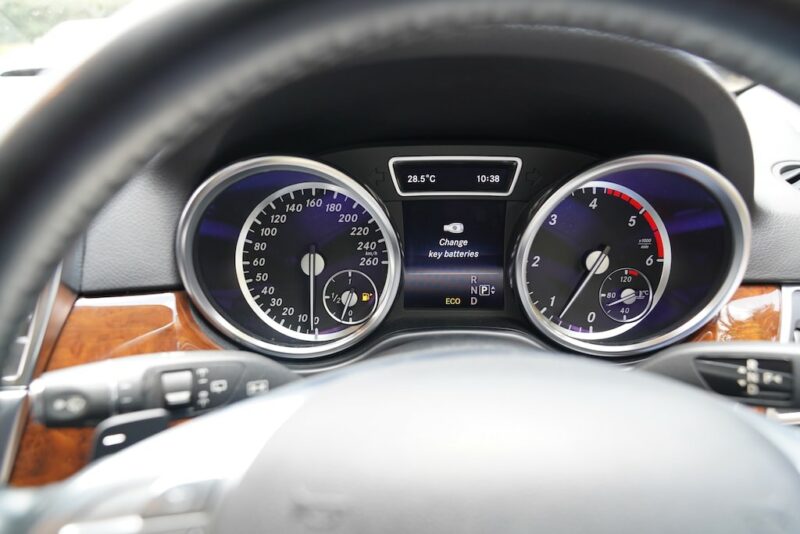 2014 Mercedes M-Class Fuel Tank Capacity: 93 Litres
2014 Mercedes M-Class Stability and Handling
As expected, the M-Class is perfectly engineered and its handling is precise. The suspension comes with selective damping, which automatically takes into account the speed of the car and the terrain to choose the shock absorber responses. High grades come with AirMATIC air suspension and a host of systems such as Self-levelling, Adaptive Damping System, Active Curve System, cornering roll stabilization and the On & Off-Road Package. This gives the M-Class unparalleled handling and stability characteristics.
Mercedes M-Class Service Intervals
Minor Service: At 5,000 km. Requires Air Cleaner, Oil Filter, and Engine Oil
Major Service: At 10,000km. Requires Air Cleaner, Oil Filter, Fuel Filter, ATF Filter, Cabin Filter, Plugs, Front Brake Pads, Rear Brake Pads, ATF Oil, and Engine Oil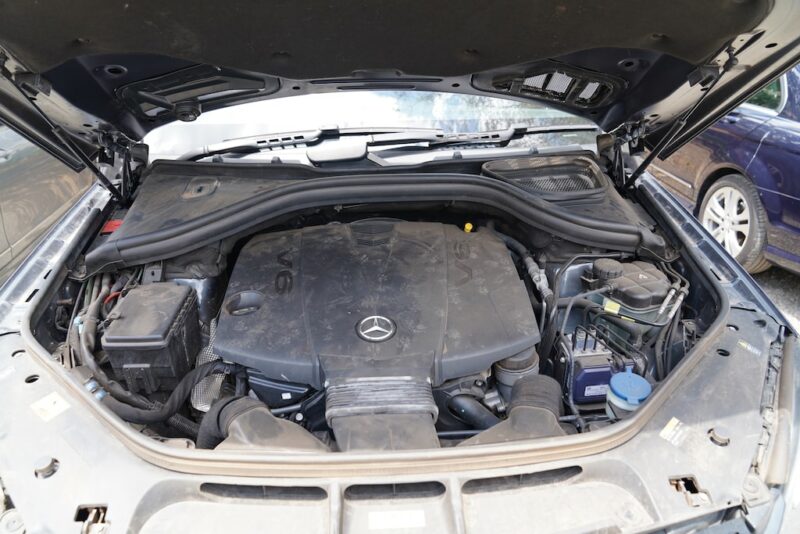 M-Class Spare Parts Availability, Cost & Where to buy
M-Class service parts are available in Kenya and reasonably priced. Body parts are available but are very expensive. You can get listings for Mercedes Benz spare part dealers in this link
2014 Mercedes M-Class Reliability
The M-Class is good when new but tends to develop problems with age. Maintenance plays a huge role in this as some owners are known to skip it due to its heavy price. If you're buying a used one, ensure that its properly inspected by a qualified technician.
Resale Value: Average
2014 Mercedes M-Class Competitors: Audi Q7, VW Touareg, BMW X5, Range Rover Sport and Porsche Cayenne,
Cost of Ownership
Purchase Price: from Ksh. 4,900,000
Comprehensive Insurance: Average Ksh. 180,000/ per annum- Or
3rd Party Insurance: Ksh. 7,000/- per annum
Change of Tyres(If neccessary) Ksh. 40,000/- for 4 Tyres
See Latest Mercedes ML Prices here
What we like about the 2014 Mercedes M-Class
1. Spacious
2. Luxurious
3. Excellent handling and driving characteristics
What we don't
Lacks 7-seater capacity
Conclusion
The Mercedes M-Class is a premium SUV that is ideal for people with an active lifestyle who desire a comfortable and safe car. It's not cheap to maintain by all standards but this is a small price to pay for the level of comfort and safety you get.
Where to Buy the 2014 Mercedes M-Class in Kenya
If you are looking to either import or buy the M-Class in Kenya, we can help you with this process. Over the years, we have developed a network of trusted dealers both in Kenya and UK who supply us with exceptional cars. Simply call us or send us a message through our contacts below and we'll get you the right car at the right price.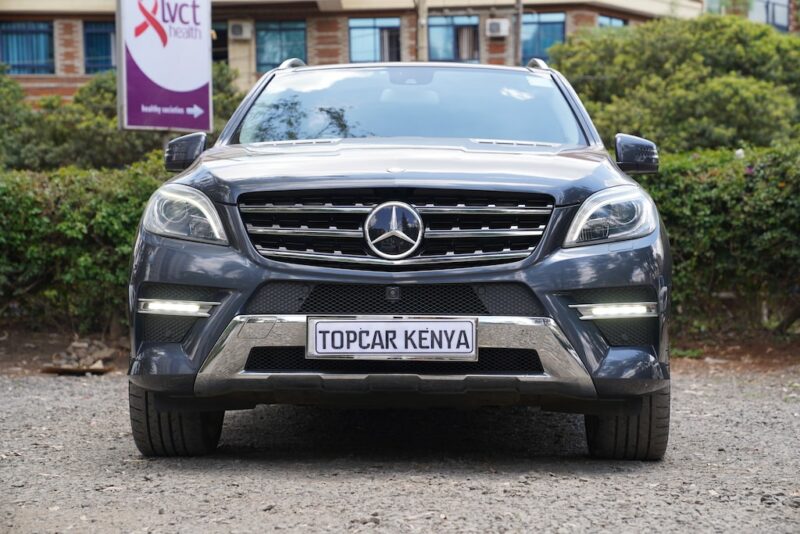 ---
If you have a question about this model or any other automotive questions, you can now get answers on our forum.
If you want to sell or trade-in you vehicle, you can list it for free via our seller portal.
If you wish to purchase this model local or abroad, you can do that via our marketplace.