2016 Toyota Fortuner Review
Since its launch in 2005, the Toyota Fortuner has established itself as a legitimate SUV that performs almost at the same level as the Toyota Prado but it was historically hindered by rear leaf springs that gave it a bumpy truck-like ride. But now the second generation comes with coil springs all round and a new 2.8-Litre turbo diesel engine that transforms the Fortuner into a silky smooth SUV. This leads us to think it could be a better value for money than the Prado considering its lower price point. It competes with the Toyota Prado, Mitsubishi Pajero, Nissan Pathfinder and Ford Everest.
You can get more about this
Toyota Fortuner
Detailed Review
The Toyota Fortuner is a 7-Seater SUV that has been in production for two generations starting from 2005 to present. It's built on the same platform as the Toyota Hilux and they differ mainly in interior styling and body type. The first generation (Type AN50/AN60) was in production from 2004 to 2015 and the second generation (Type AN150/AN160) has been in production from 2015 to present.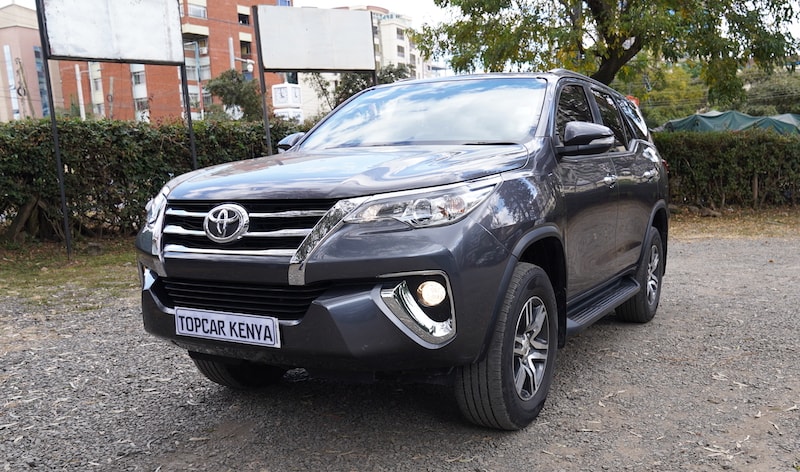 The Toyota Fortuner is not sold in the Japanese domestic market and consequently second-hand imports are mainly sourced from Australia, South Africa and Thailand.
The Toyota Fortuner comes with a choice of 6 engines, these are;
Petrol
1. 2.7-Litre 2TR-FE engine
2. 4.0-Litre 1GR-FE engine
Diesel
3. 2.4-Litre 2GD-FTV engine
4. 2.8-Litre 1GD-FTV engine
5. 3.0-Litre 5L-E engine
3.0-Litre 1KD-FTV engine
For a detailed analysis of these engines and the right one to buy, refer to the Toyota Fortuner Buyer's Guide here
2016 Toyota Fortuner Grades
Toyota Fortuner GX – This is the base grade that comes with 17-Inch steel rims, dot-type MID, projector halogen Headlights, six way adjustable driver's seat, brown fabric seat trim and power windows with driver auto.
Toyota Fortuner GXL – This adds 17-Inch alloy rims, paddle shifters, Downhill Assist Control, rear parking sensors, 4.2-Inch colour MID, keyless smart entry, premium steering wheel, roof rails, fog lights, privacy glass, chrome trim, power windows all auto and meter illumination control.
Toyota Fortuner Crusade – This is the luxury grade that adds 18-Inch alloy rims, auto air conditioning, satellite navigation, 8-way power adjustable driver's seat, Projector LED headlights, auto headlight levelling, LED daytime running lights, leather accented seats and woodgrain finish.
2016 Toyota Fortuner Interior
Legroom & Space
The cabin is spacious and comfortable with a similar feel and layout as the Toyota Prado. The legroom is excellent on both the first and second rows and tall people will find it comfortable. The third row seats are tolerable at short distances but uncomfortable for long distance especially for tall people due to the low elevation that makes people seat with a slouch.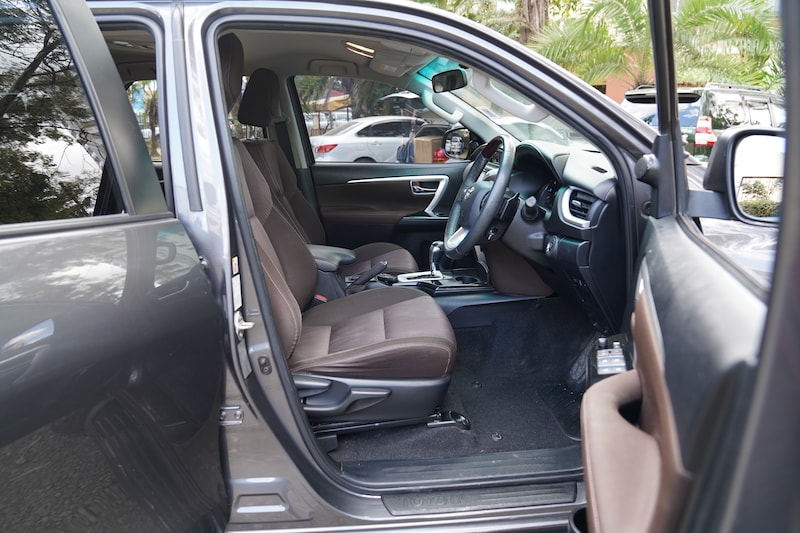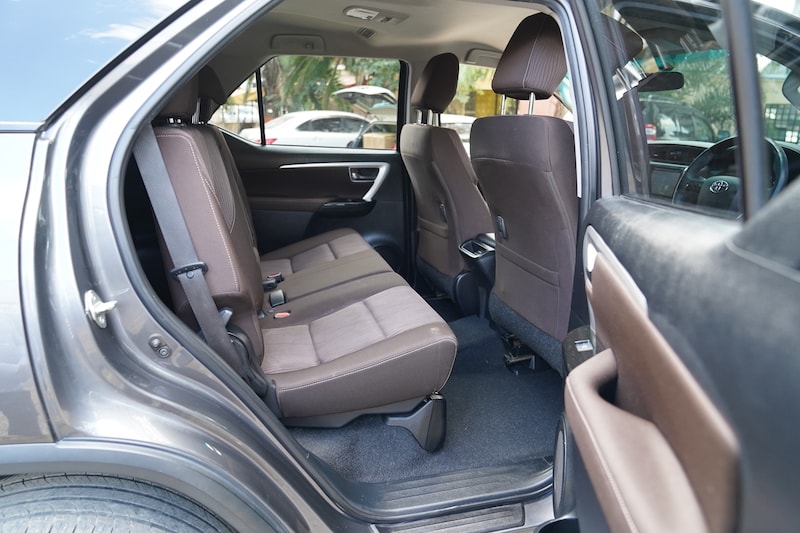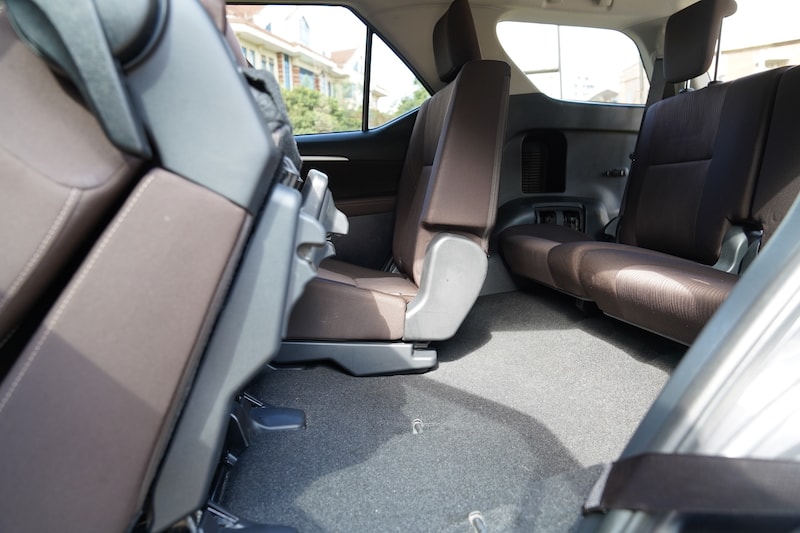 2016 Toyota Fortuner Exterior
On the outside, the new Toyota Fortuner looks sleek and aerodynamic with a sharp front and an angular exterior. Higher grades come with fog lights and alloy rims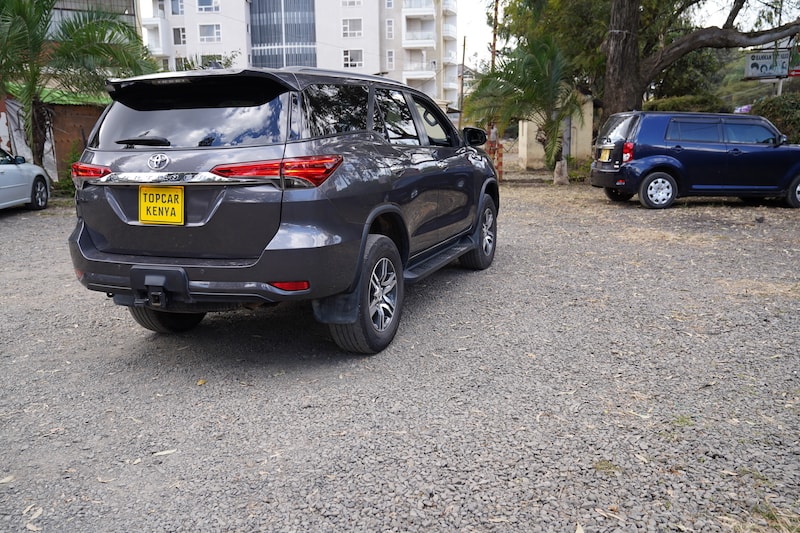 Cabin Storage
There are several storage compartments in the cabin that are useful for storing items such as smartphones, beverages, goggles, handbags etc. At the first row there are 4 cup-holders, door panel storage, a glovebox and the center-box. For the second row, there are 4 cup-holders in the armrest compartment and door panels. For the third row, there are two cupholders.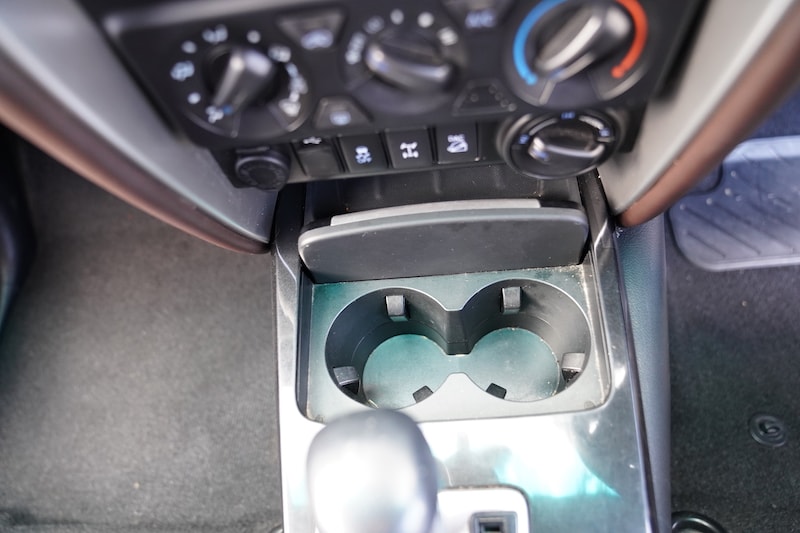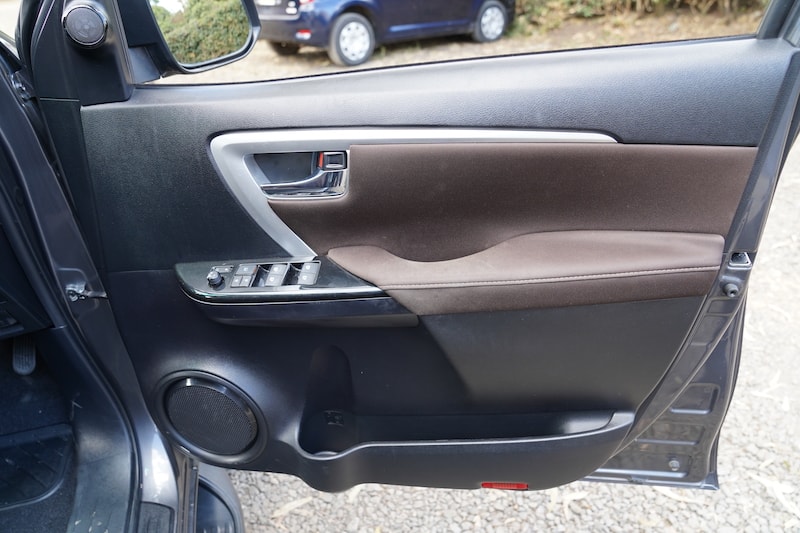 Extras – ECO Mode, Power Mode, USB Ports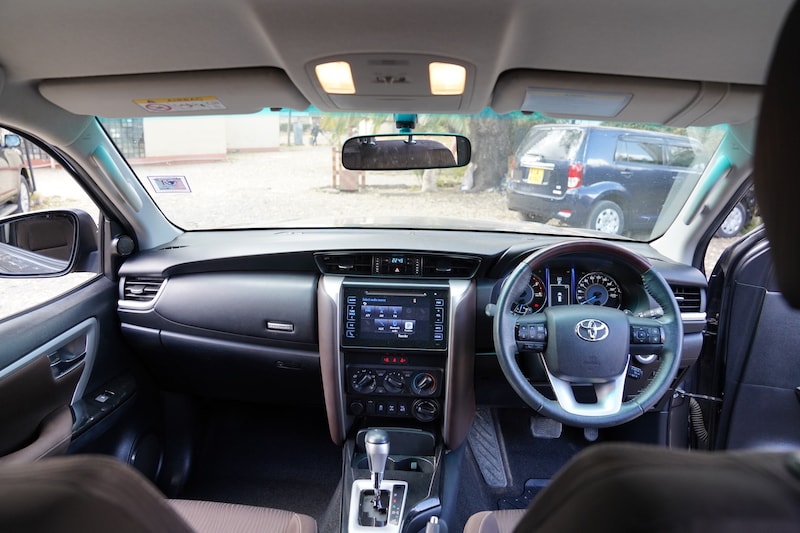 2016 Toyota Fortuner Safety Features: SRS Airbags( Driver Knee airbag, side airbags, curtain airbags) ABS with EBD, 3-Point ELR seatbelts, Brake Assist
2016 Toyota Fortuner Fuel Consumption
2016 Toyota Fortuner 2.8L fuel consumption: 12.5 km/L
2016 Toyota Fortuner Acceleration
2016 Toyota Fortuner accelerates from 0-100 km/h in 12.0 sec.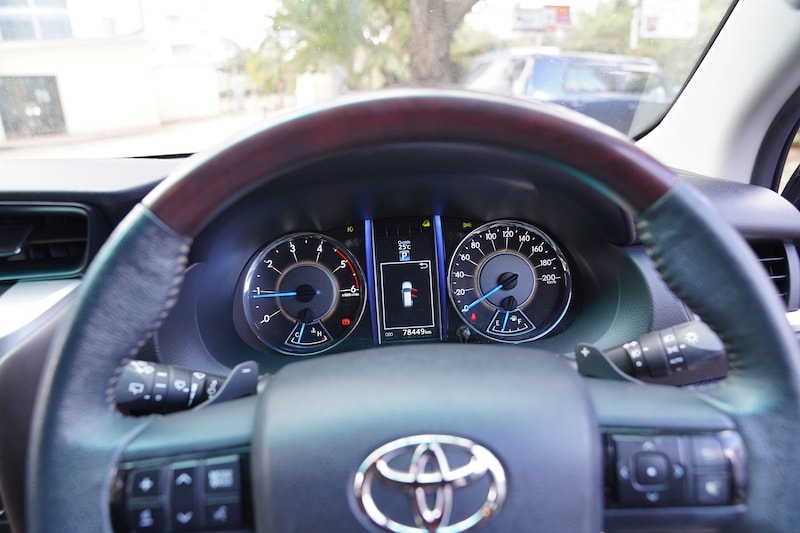 2016 Toyota Fortuner Fuel Tank Capacity: 80 Litres
2016 Toyota Fortuner Performance and Handling
The Toyota Fortuner is a big car that moves swiftly and is responsive and fun to drive. The 2.8-Litre turbocharged diesel engine is well powered and it provides plenty of low-end torque that is ideal for off-road driving. Due to its tall height, the Fortuner leans a bit too much into corners and its advisable to drive cautiously around corners.
2016 Toyota Fortuner Service Intervals
Minor Service: At 5,000 km. Requires Air Cleaner, Oil Filter, Diesel Filter and Engine Oil, etc.
Major Service: At 10,000km. Requires Air Cleaner, Oil Filter, Diesel Filter, ATF Filter, Cabin Filter, Front Brake Pads, ATF Oil, and Engine Oil, etc.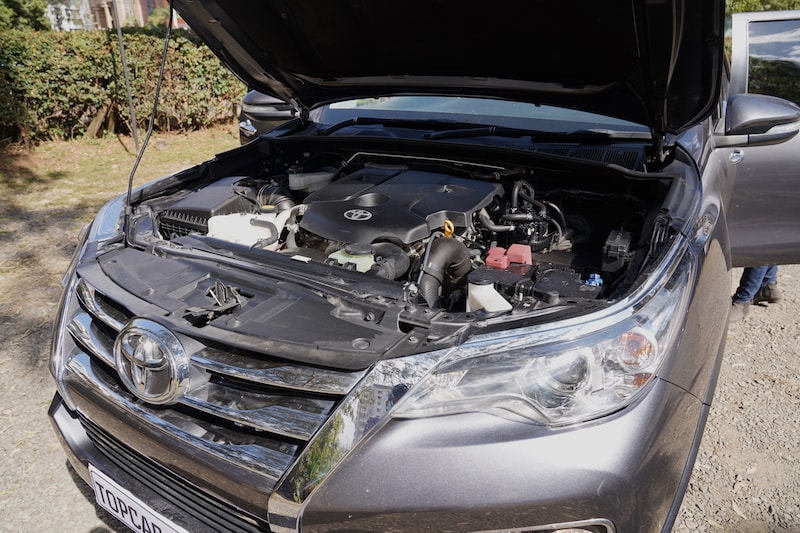 Toyota Fortuner Spare Parts Availability, Cost & Where to buy
Service parts are affordable and widely available in Kenya. Body parts are expensive and available from major Toyota dealerships in Kenya.
2016 Toyota Fortuner Reliability
For an in-depth analysis of the Toyota Fortuner and its long term reliability, please refer to the Buyer's Guide. click here to download the Toyota Fortuner Buyer's Guide
Resale Value: Good
Toyota Fortuner Competitors:  Toyota Prado, Mitsubishi Pajero, Nissan Pathfinder and Ford Everest
Cost of Ownership
See Latest Toyota Fortuner Prices in Kenya
What we like about the 2016 Toyota Fortuner
Spacious Interior
Excellent Performance
Attractive design
What we don't
Sensitive diesel engine
Conclusion
The Toyota Fortuner is an excellent family car that offers the same level of comfort and performance as the Toyota Prado albeit at a lower price point. It's best suited for people that value space and off-road capability.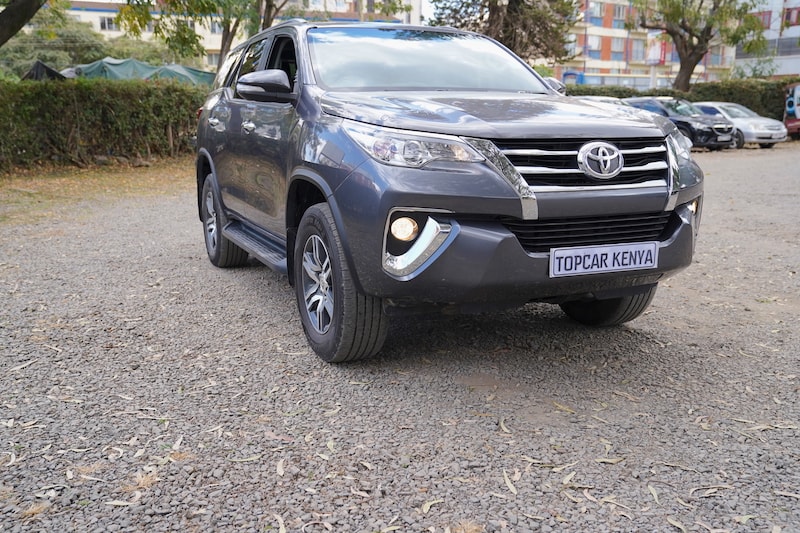 ---
If you have a question about this model or any other automotive questions, you can now get answers on our forum.
If you want to sell or trade-in you vehicle, you can list it for free via our seller portal.
If you wish to purchase this model local or abroad, you can do that via our marketplace.
You can get more about this
Toyota Fortuner